As we navigate the healthcare landscape in 2024, video has become an essential tool for healthcare providers to connect with patients in a digital-first environment. 
Video content has emerged as a powerful asset in healthcare marketing, offering an opportunity for providers to educate, inform, and build relationships with their communities. Platforms like YouTube have seen a surge in healthcare content—from physician-led information sessions to patient testimonials. Meanwhile, social media channels are bustling with bite-sized health tips, live Q&As with experts, and even virtual hospital tours. 
According to a 2022 survey by Charity RX, 1 in 5 Americans consult TikTok for health advice before contacting a physician. Consumers are most likely to consult TikTok for anxiety, depression and weight loss advice. Add to that the new wave of video-focused features being rolled out by platforms and software developers, and it's evident that ignoring video is no longer an option for healthcare marketers.
Not to mention, in an era where traditional tracking pixels are increasingly restricted in healthcare due to growing privacy concerns, the role of video in a full-funnel advertising strategy becomes not just valuable, but essential.
But what does this mean for you as a healthcare provider? How can video enhance your relationship with patients and also serve your marketing objectives? Let's dive deep into the 2024 video healthcare marketing trends that are not only shaping patient-provider interactions but also redefining the healthcare marketing playbook.
5 Video Marketing Trends for Healthcare in 2024
Video has always been a captivating medium, but its utility in healthcare marketing has evolved into something transformative. While other sectors often use video for brand promotion or entertainment, healthcare can leverage this medium to form meaningful relationships with patients—simplifying complex medical topics, sharing patient stories, or even offering a virtual walkthrough of a medical facility. When a medical professional appears on screen to discuss a health concern or treatment option, it isn't just informative; it's personal and relatable, making patients feel more connected and engaged.
If anything, the COVID-19 pandemic made us relate more to video than ever before. As everything from classrooms to offices to entertainment is now fed through Zoom teleconference and social media channels, video is playing a bigger role in how we see the world.
If a picture is worth a thousand words, a video clip might be worth millions. To help you seize the reigns of this powerful digital marketing tool, we're going to look over the cutting edge of video marketing trends in 2024 and explore where the fine art of video marketing in healthcare might be headed.
The Rise of Healthcare Webinars
Webinars are just another form of content marketing, where you put useful information in front of the audience to attract them to your practice.
Like any type of content, a webinar helps establish your organization as a trusted expert. It helps build your brand recognition and retain customer loyalty.
Webinars have surged in prominence, particularly in healthcare, serving as an invaluable channel for disseminating information, establishing expertise, and fostering community. The webinar format lends itself perfectly to healthcare; it's an arena where in-depth, specialized knowledge is often needed, and where the stakes for misinformation are high. In a field like healthcare, the continuity of information-sharing is crucial. From medical breakthroughs to policy changes, the landscape is always evolving, and webinars offer a timely way to keep both healthcare providers and patients up-to-date.
We see academic, medical, legal, and other white-collar professions jumping on the bandwagon. (Heck, we've been pumping out webinars too, just take a look at our Webinar & Events page).
One reason for the webinar format's popularity is that it doesn't use heavy video production values. To make educational videos for your healthcare organization, you could go with a snazzy animation and a professional actor voice-over like Kurzgesagt. Not all of us have that level of resources though. The pandemic created a sharp rise in demand for virtual replacements for live events, while the means of video production struggled to keep up. Hence the webinar, where all you need is a stationary camera. 
The use of webinars isn't a passing trend, and will only continue through 2024 and beyond.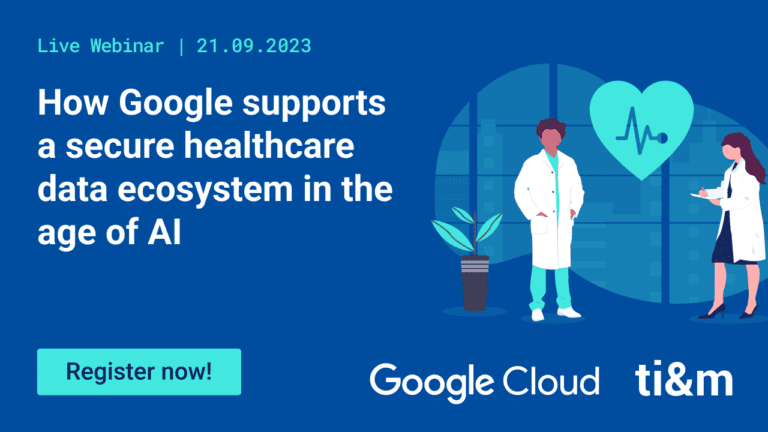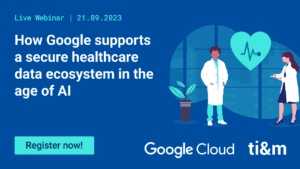 Google SERP Increasing Emphasis on Healthcare Video Content
To provide users with genuine human insights, Google recently launched "Perspectives," a new tab in its search results. This feature highlights videos, images, and written posts from various platforms, showcasing real people's views and discussions.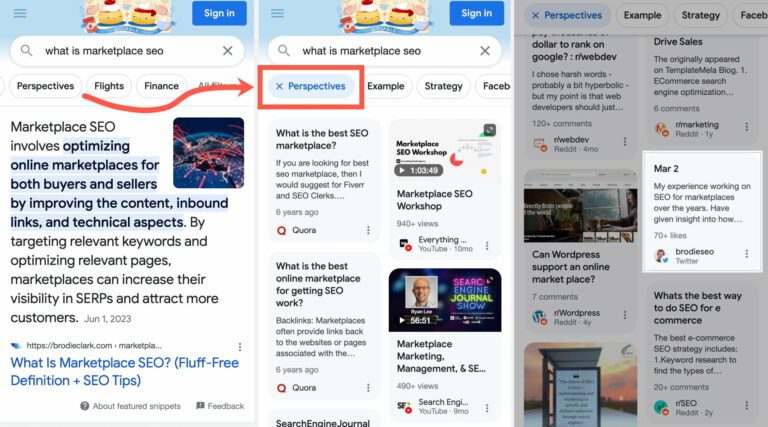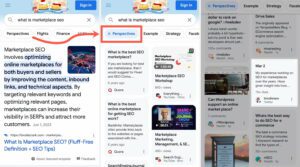 This tells us that making and posting more videos can help place us higher in search results. You can do this a number of ways piping off from your existing content marketing. You can repurpose blog posts, social media content, and recording of past webinars. Unlike written content, where Google prefers a thousand words or more, video content does just fine around the five-minute mark. Videos also tend to pop up in search results for simple "FAQ" queries. Therefore, you can consider making a series of short "explainer" videos for the kinds of questions your typical customers would have.
Going forward, you might consider taking an integrated approach to content, dividing between text and video. You could make a short blog post, record a video going into more depth on the subject, and embed it in the post. Meanwhile, the video on YouTube has links at the bottom directing new visitors from YouTube to your site. Plenty of content marketers are going this route.
More Live Video Streaming
The advent of live streaming in healthcare presents a multitude of opportunities for real-time engagement, education, and community building. Unlike pre-recorded videos, live streaming brings an immediacy and interactive element that can significantly enhance the patient experience.
Why should you use live video over pre-recorded content? There are several advantages:
Live chat. Viewers can type in questions to you, and you can read and respond to them in real-time.
More timely for breaking news, events you need to handle on a schedule, announcements you need to make, etc.
Far more personal and public-facing.
In the realm of healthcare, live streaming can offer a convenient avenue for post-operative care instructions or wellness programs, minimizing the need for patients to make unnecessary trips to healthcare facilities. This also enables healthcare providers to allocate resources more effectively.
If you can stand to go live and have a fairly controlled environment, streaming video is a valuable tool for connecting with patients. Any company can edit and publish a pre-recorded video. A live stream session tells your public, "you are worth our time, we care about you."
Possible venues for live streaming include Instagram, Facebook, and LinkedIn Live. YouTube, the mainstay of vloggers already, also allows a live stream option. In fact, major media companies offer streams of their 24/7 news broadcast on YouTube just like on TV. A distant last-place contender for streaming might be Vimeo, but they're just not as popular.
We should also note, that webinars are increasingly being conducted live. Instead of pre-recording the content, presenters are speaking off the cuff, taking audience questions in real-time, and adjusting the presentation as they go. This is likely in response to consumers' growing preference for live content and engagement.
Healthcare Video Content Going Omnichannel
Have you found a video on Twitter, Reddit, or LinkedIn and offered to show it to somebody else, only to hear them say they already saw it on Facebook, TikTok, or Instagram? That's happening a lot recently. For those of us with a rich multi-channel diet, we'll see the same post fly by six or seven times in a day on multiple content networks.
No one uses just one digital platform. The average healthcare consumer will bounce from website to website, conducting Google searches, visiting their favorite forums, checking Facebook and getting the latest news from LinkedIn and Twitter. While their needs and goals on each channel differ, video is becoming a larger part of the experience. After determining where your patients and potential patients spend their time online, consider incorporating video into your content strategy and sharing it across those digital channels. 
A growing number of websites and apps are offering video capabilities or features, including:
TikTok's meteoric rise in popularity has the other social networks scrambling to keep up, which is why we're seeing new, easier video sharing branch off from the major networks.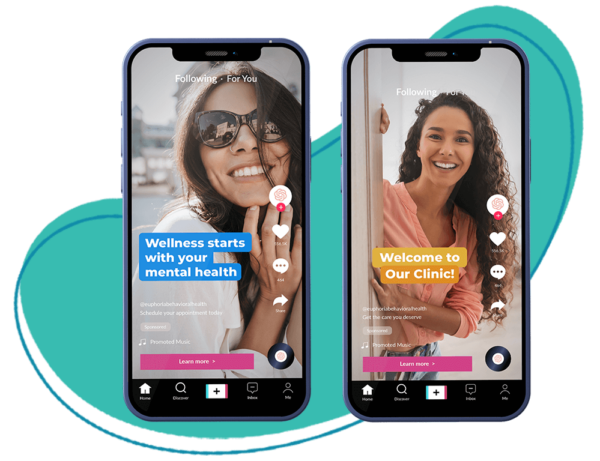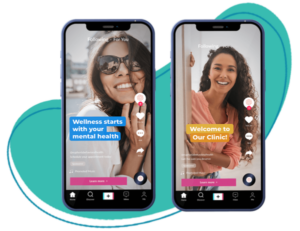 Should You Use TikTok?
What is so special about TikTok, and why is it singled out from the dozens of other platforms that can also host video? 
As Gen-Z steps into adulthood, they're increasingly using TikTok for healthcare information, a trend that also extends to tech-savvy Millennial parents. Unlike traditional healthcare platforms, TikTok's user-generated content offers authenticity and relatability, making it an ideal space for providers to engage these younger decision-makers. It creates a unique opportunity to influence healthcare choices among both younger individuals and parents, thanks to its interactive and community-driven environment.
TikTok marketing is particularly effective for specific healthcare specialties such as mental health, pediatrics, and dermatology.
If you're thinking about integrating TikTok into your media mix, it's essential to establish a well-defined content strategy and set social media usage guidelines to protect your reputation. Additionally, actively monitor audience feedback and comments to fine-tune your content, as effective social media engagement is a two-way conversation.
For more information on how to use TikTok in your healthcare marketing strategy, check out our article How Healthcare Marketers Should Use TikTok.
How Healthcare Providers Can Use Video to Connect with Patients
Use video to humanize your brand and connect with patients. Be empathetic in your messaging and let them know that you understand their challenges, and you're here to help them. This approach will go a long way with shaping a compassionate brand image.
Here are a few places where you can start using video immediately:
Website Landing Page: Embed a video here to let potential patients know what your practice is all about.

Paid PPC Ads: Video ads get attention, and can be targeted like any other kind of ad.

Your

"About Us" Page:

Include a friendly introduction to your company and staff or a tour of your facility. This could be especially important for Senior Care, Addiction Treatment, and Behavioral Health facilities.

Product or Service Pages: Create an explainer video for your product or services to give a more detailed instruction of what patients can expect from your treatment options.
Now, here are a few pointers to help you get started with video marketing:
☑ Don't forget SEO
Just because you're using video doesn't mean you can't optimize for search engines. Have a descriptive title for the video and use keywords and tags in your video description. Link to the video from your site, and nurture whatever other backlinks you normally would for any content. Give an accurate synopsis of the video in the provided text description.
On the content itself, try setting an engaging thumbnail for the video. Optimize it for mobile viewing. If possible, either create your videos from a script or transcribe your videos so you have text content that you can include with the video or share as a blog article. You might want to edit in a few simple features, such as captions, subtitles, or charts to help explain or clarify a point.
☑ Embrace the Medium
You want to take full advantage of the video medium, instead of making it like a dull slideshow or simply someone reading a script. Optimize your content to make full use of the format, thinking a little bit like a film director. Illuminate your subject with bright lighting and make sure distracting noises are eliminated. Use visuals, which can be some edited-in effects or even a simple whiteboard drawing in the background. Consider incorporating animations to highlight segments of the video or illustrate a concept.
Many brands develop a brand mascot or cartoon that makes appearances in their video content. Software like Powtoon and Moovly makes it easy to bring those characters to life. These tools are also great for creating educational or training videos.
☑ Optimize for Conversions
Just like any other content, you want to create a funnel for interested viewers to turn them into leads and patients. Have a call to action. Keep it simple, directing potential patients to click a button or follow a link. At the least, get them to subscribe, like, and share.
If you keep videos simple and short, with one topic per video, it is easier to nudge viewers along to another point, be that the next video topic, or the landing page if they're ready to convert. Do not be a vlogger here! Your average YouTube advertising-driven video-blogger personality has a rambling performance of some 25 to 40 minutes and up, like a whole episode of a variety show.
You're marketing, so make your videos five, ten minutes, tops.
☑ Practice Makes Perfect
Many people are nervous to get in front of the camera. Don't let this fear prevent you from embracing video marketing. It's one of the most effective ways to connect with patients. While it's scary in the beginning, the more you do it, the easier it'll get.
Whoever is doing the talking for the video, you might want to take some rehearsal time and work on your delivery, maybe with a few friends, family, or coworkers to guide you. We all have our unique strengths, and adjusting our performance can help play to them. Whatever you can do to feel relaxed and natural, like you're talking to a friend, will help your delivery.
And last but not least…
Be a Video Star!
Here's a few examples to get some inspiration:
As you can see, video content marketing can take any form at all. We have professionally produced and edited videos, we have plain "talking head" videos in an office, and we have dynamic personalities shooting videos from their car. The dog-robot was a one-off; the Massachusetts Institute of Technology can afford to let their robots do the marketing for them.
There are a few templates we can identify for video content marketing:
A simple answer to a frequently asked question

Facility/Office Tour

Service demo

Patient testimonial

Special announcements during circumstances like COVID-19

How-to, tutorial, or care instructions

Employee, faculty, or staff interview

Mission statements / About us
Building a video marketing program can seem intimidating. But remember: most of the content that you already have can be re-purposed as a video.  As the list above demonstrates, you don't have to start at square one. Identify your most popular text-based assets, like blog posts or treatment information and re-imagine them as videos. 
If you haven't incorporated video into your healthcare marketing strategy, it's never too late. Video isn't going anywhere and its use in marketing will only grow. 
Interested in enhancing your video content strategy? Cardinal offers a range of creative services and video capabilities designed to meet your diverse business needs. Reach out today!