The senior care industry is at an interesting turning point. Despite the availability of more than one million licensed beds for senior living in the United States, occupancy is way down. At the same time, private equity investments in senior care are on the rise. And according to the American Health Care Association and National Center for Assisted Living, 56% of senior living communities are chain-affiliated.
The COVID-19 pandemic has fundamentally changed the senior care industry, exacerbating existing challenges while introducing new ones. Apprehensive families and low referral pipelines have forced senior care facilities to embrace direct-to-consumer marketing strategies.
Those are just some of the senior care marketing trends we're helping our clients prepare for in 2023.
Rather than tightening their waist belts, some senior care organizations are finding new ways to reach prospects and sustain growth through digital marketing. They're making purposeful investments in scalable marketing strategies and seeing strong returns.
Just like these three clients from our senior care portfolio.
Digital Marketing for Senior Care: Three Real-World Case Studies
Let's talk about the nitty-gritty details. The following case studies are blueprints for senior care marketing. I invite you to borrow and steal our approach for your senior care facilities.
Abode Healthcare
You might recognize Abode Healthcare for its renowned holistic and individualized home health and hospice services. The group operates 50 locations across 12 states, providing palliative care and support services. With a 97% customer satisfaction rating, the Abode Healthcare network is built on a high standard of care.
Client Challenges and Goals
The Abode Healthcare team approached Cardinal with a few objectives in mind:
Launch a formal, multi-location digital marketing strategy for the first time
Meet ambitious monthly goals for new patient acquisitions
Build efficient lead-generation campaigns that minimize cost per acquisition
Make the most out of every dollar of marketing spend
Summary of Our Paid Search Strategy for Abode Healthcare
The first step in this engagement was to quickly revive the lead pipeline with new paid search campaigns. Why did the pipeline need reviving? Unfortunately, COVID-19 dramatically reduced hospital referrals, a lead source that Abode Healthcare previously relied on almost exclusively.
New Paid Search Ads
Within one month, Cardinal launched new paid search campaigns and landing pages that were delivering high-quality leads to Abode Healthcare.
Extensive competitor research and landscape analysis
Creation, launch, testing, and management of Google paid search campaigns
Conversion-optimizations, campaign-specific landing pages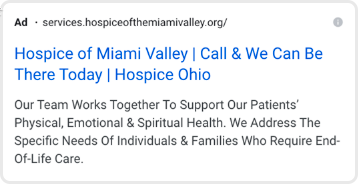 Within the first month of the new paid search campaign, Adobe Healthcare received more than 200 new leads and ten new admits at a cost per lead that was 60% less than our target. How'd we do it?
Increased bids on the highest-converting keywords
Paused low-performing ads
Added negative keywords
Improved relevancy on broad-match keywords
Added location to responsive search ads
Redirected budget to lower-tier keyword themes
We also deployed call analytics to more accurately understand which keyword themes were leading to new-patient admits. This gave our team data they could use to optimize the paid search budget by focusing on the right target keywords.
Redesigned Website
The Abode Healthcare site you see live today is the product of our full website rebuild that prioritized the client's digital experience. We built a UX-friendly template that could be reused for the group's other locations and brands. The template includes:
Site map that makes navigation and indexing easy
Interactive FAQs section
A state-of-the-art lead-tracking system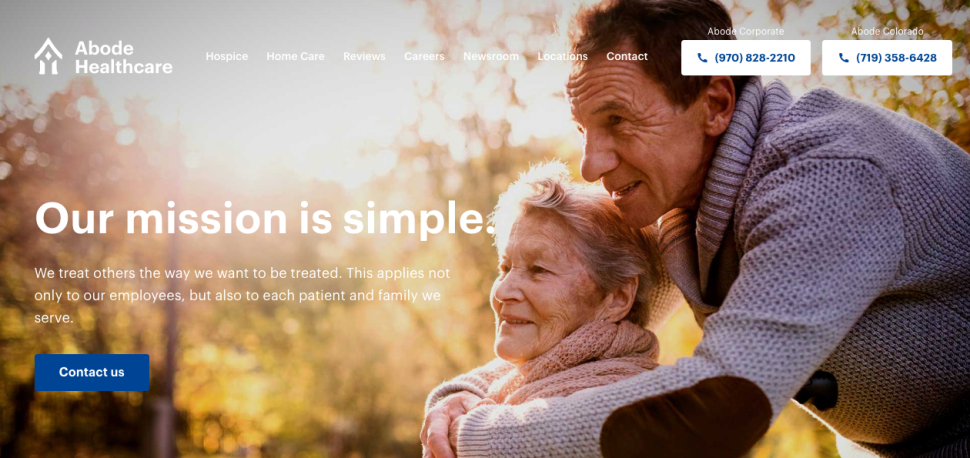 Key Results for Abode
This new approach to digital marketing, centered around paid search and website optimizations, has led to some impressive results in a short period of time:
Increased leads by 40%
Decreased cost per lead by 26%
Increased average phone call duration by 100%
Improved website conversion rates by 32%.
Read the complete Abode Healthcare case study.
Home Care Assistance
For more than fifteen years, Home Care Assistance (HCA) has offered top-tier in-home care for seniors. In the recent past, HCA has experienced rapid expansion to new locations across the United States. As a result, the group needed to accelerate its digital advertising efforts significantly.
Client Challenges and Goals
Lead acquisition and brand awareness were top of mind for HCA, which they needed to generate for two brands (HCA and The Key). With an in-house marketing team of just ten people, an omnichannel marketing strategy was a bit out of reach without a little help.
At the outset of its engagement with Cardinal, the HCA team had a couple of urgent business objectives:
Increase market penetration
Efficiently generate new leads
Improve top-of-funnel demand
Implement lead quality tracking
Summary of the Omnichannel Marketing Strategy We Built with HCA
HCA needed to overcome the limitations of its then decentralized marketing strategy. We began by consolidating their campaigns to maximize conversion data at the campaign level. We ended up with a national campaign structure that immediately improved cost per conversion by 67.5%.
From there, we built out new responsive search ads, then expanded the campaign portfolio to include display and discover ads. Here's an example:

Key Results for HCA
As suspected, the decision to consolidate campaigns into a national structure led to considerable gains:
445% increase in total conversions
71% decrease in CPA
Overall improvement in lead quality and intent
Beyond the metrics, we've developed a strong partnership with HCA, something we're quite proud of and seek to build with all of our clients. Read the complete HCA case study.
Centers Health Care
For skilled nursing, rehabilitation, and senior care services, Centers Health Care is a well-known player. As the largest post-acute care continuum in New York, Centers goes beyond being a provider—they're a longstanding member of their community. Given the local nature of senior care in New York, Centers Health Care wanted to build a highly localized direct-to-consumer lead pipeline.
Client Challenges and Goals
Like many senior care providers that rely on physician and hospital referrals, Centers was significantly impacted by the COVID-19 pandemic. After that lead pipeline slowed significantly, Centers decided to rebuild using a direct-to-consumer model. Their goals were to:
Drive a high volume of high-quality admissions
Strengthen brand awareness
Summary of Our DTC Ad Strategy for Centers Health Care
Our primary role was PPC management for one Centers Health Care nursing home and five skilled nursing centers. Through a variety of PPC strategies and best practices, we were able to deliver a high volume of leads likely to convert into admits, as follows:
Audited and adjusted account structure leverage Google's Smart Bidding
Segmented campaigns by location for better targeting
Grouped campaigns using a shared budget and shared Target CPA bidding strategy
Prioritized bottom-of-funnel traffic most likely to convert
Optimized demographic bidding adjustments to target the right age ranges
Added negative and high-performing terms to bid and budget on the best converting traffic
Created responsive search ads (RSAs) to leverage machine learning
Key Results for  Centers Health Care
Throughout this process, we've helped Centers Health Care integrate all campaigns within their Salesforce instance and call center. This gives them better visibility into campaign performance metrics, lead status, and geographic opportunities. The results have been considerable, including a 32% increase in conversions and 11% improvement in conversion rate (CVR). Read the complete Centers Health Care case study.
It's Time for Multi-Location Senior Care Groups to Get Organized
It's not entirely clear that the recent volatility in the senior care market has completely settled. Senior living occupancy is still way down. Staff shortages—some exacerbated by vaccine hesitancy—remain a serious challenge. Not to mention the fact that many senior care organizations have immature marketing operations.
As you can see from the three case studies above, there's a path toward more efficient growth—toward making more of the marketing spend you've budgeted for this coming year. Across all three case studies, you'll notice a fundamental commonality: proper account structure, better targeting through machine learning, and smart spend optimizations.
Even if that requires a total reboot, it's worth it considering what's on the horizon for the senior care sector.