The day your healthcare organization receives private equity investment is certainly worth celebrating. Real growth can now begin. Before long, it will be time to put down the champagne glasses and get to work. Most marketing leaders will need to immediately make changes to achieve the goals set by investors.
Let's face it: PE firms care about top-line growth. After an investment, they're focused on meeting ambitious growth targets over the next three years. To make that growth happen, many levers can be pulled, with marketing foremost among them. This puts a lot of pressure on the marketing team at the funded company.
For the in-house marketing teams, and the PE groups guiding them, here's a seven-part post-funding marketing roadmap designed to jumpstart sustainable growth.
1. Make Incremental Investments in Marketing
Money talks in the world of healthcare marketing and is the starting point for most growth strategies. Typically, marketing investments occur in two scenarios:
Award In-House Marketing Team New Budget Outright
In many cases, the PE firm will make an immediate change to the marketing budget, sometimes doubling or tripling their existing budget. Now flush with money, the in-house team will need to develop an optimal strategy for efficiently using those funds to achieve business goals.
New Budget Comes After Optimization Period
In this scenario, the PE firm lays out post-funding goals for the in-house team. At this point, the in-house team will rapidly plan against those goals, seeking answers to questions like:
How do I go get more from my existing marketing strategy and budget?
What optimizations can I make to advertising campaigns?
What can I cut that isn't working?
What should I fund and focus on to drive growth?
Here, the in-house team will be tasked to "make it work" with an incremental budget increase of some kind.
2. Scale the Media Mix
How are you reaching your target audience today, and how will you improve and scale those efforts for the future? During the post-acquisition or funding period, the marketing team will need to answer this question. This will require a thorough assessment of the existing media strategy.
Typically, you'll use the maturity of the company's marketing function as a starting point. On a fundamental level, there is a sliding scale from demand capture—the low end of marketing maturity, where efforts are put toward capturing existing demand—and demand generation—the higher end of marketing maturity, where the emphasis is on building brand and pipeline sooner in the buyer's journey.
Why Demand Capture Optimization Needs to Be Your First Priority:
Converting on capture tactics is more cost-effective and a great way to find efficiency gains to get more from your budget
Demand capture leads tend to be more qualified
Demand generation tends to mean a heavy creative lift (think multiple 30-second videos or video vignettes if using dynamic creative)
When to Invest in Demand Generation:
There is not enough interest to capture to meet lead volume goals
If capture tactics have become inefficient
If it's difficult to adequately differentiate yourself without brand stories at the top of the funnel.
The question is, where does your organization fall on this scale? To move forward in good faith, you'll need to assess how well you're capturing existing demand to make sure you are fully optimized and properly funded at the bottom of the funnel (that is, search engine optimization, Google Ads, and remarketing).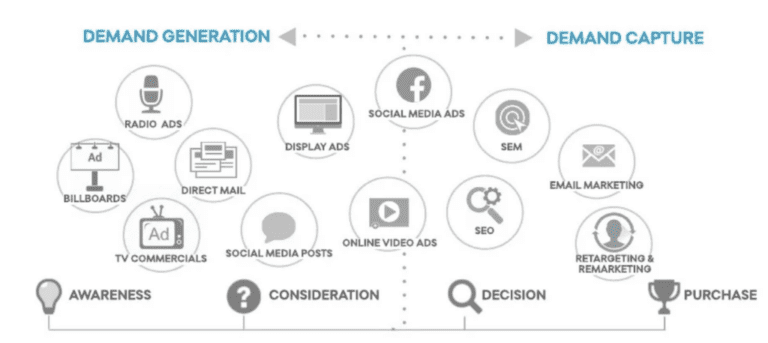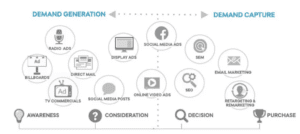 Once the in-house team has maximized demand capture and BOF activities, it will be time to layer in social media, video, display advertising, and so on (performance branding, essentially). Oh, and one other thing: if you're using a marketing agency and they're not talking about ways to remarket in a compliant manner, get a new agency.
It is possible and absolutely needs to be part of your patient acquisition strategy.
3. Formulate the Acquisition and Roll-Up Strategy
Assuming the post-funding phase goes as planned, your company will start acquiring smaller groups at a rapid pace. To prepare for this growth, you need to build a unified marketing strategy, one that accounts for brand roll-ups vs. managing individual local brands.
Questions to Ask:
What value propositions are universal and which need to be localized?
What elements of brand positioning are to be shared regardless of local presence?
Are there shared/similar audiences across locations?
How does the buying journey compare across locations?
In 5 Best Practices for Centralizing Marketing Post-Merger, we discuss the core tenets of a unified strategic direction at length. Suffice it to say that consistency and alignment should be top priorities—brand discord is a quick way to stymie growth while diminishing the overall patient experience.
4. Streamline the Marketing Tech Stack to Scale with You
Post-acquisition or funding is also an opportunity to centralize marketing tools and technology, wherever possible. A poorly integrated technology stack can create hidden costs, redundancies, and bad data. Here are some of the usual suspects you should include in your technology audit:
Customer relationship management (CRM)
Patient management system (PMS) or electronic health record system (EHRS)
Marketing automation software
Call tracking
Social media management
Citation management tools
Marketing analytics
Be thorough. Examine licensing for opportunities to consolidate and cut costs. Think about whether you'll manage individual websites for each new acquisition or roll them up into a single entity. Which EHRS or PMS will be used across brands? Do you need to consolidate appointment booking systems?
Lastly, consider how you're connecting the dots. Often, there's a way to layer on a CRM or marketing attribution tool between ad delivery networks (AdWords, Bing, Facebook) and the EHR to connect the dots in a HIPAA-compliant way. This is the kind of "streamlining" you're looking for.
5. Set Up Tracking to Understand Current vs. Future Performance
There's the marketing function's performance now, and then there's performance after you've grown 10x your current size. Once you've straightened out your tech stack, you'll need to set up tracking with this bright, high-growth future in mind.
Here's what we mean. We've been brought into situations where it was clear that the definition of a lead, qualified lead, or prospective patient—of an appointment, conversion, and so on—wasn't consistent across brands. Do all brands "count" the same activities in the same way? Are there key differences by service line, physical location, or even the brands themselves that need to be communicated to your media buying team? And how do these affect where the investment dollars are prioritized?
You also need to think about how you'll scale reporting as new locations come online. What KPIs do you need to track at acquired brands versus de novos? What processes need to be created to ensure call tracking, Google Analytics, and other reporting tools are set up for new locations and centralized into one reporting ecosystem?
This is precisely why we're so adamant about scrutinizing data tools as part of pre-acquisition due diligence. If, for example, inconsistency is rampant or closed-loop reporting is absent, it will be that much more difficult to achieve scalable performance tracking post-funding.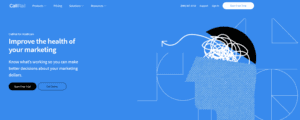 7. Build Out the Internal Team
When it comes to building out the marketing team, there's no one-size-fits-all approach. Across the board, however, you'll need to decide what you'll keep in-house and what you'll outsource to an agency.
One common approach is to build an in-house team that owns the brand internally. That is:
Messaging and value propositions
Copywriting
Brand look and feel
Photography and videography
Community management
Review responses
With that team in place, you can then use an agency to execute on specialized marketing tactics and fast-changing technical marketing strategies, such as: 
Paid media strategy
Advanced analytics and attribution projects
Conversion rate optimization
Can you build an in-house team capable of all of the above? Certainly. In our experience, this kind of hybrid structure is a lot leaner, meaner, and cost-efficient. In the end, the right mix will be up to both the PE firm and the marketing folks at the portfolio company.
Related: Lift Portfolio Value with the Right Digital Marketing Structure & Team
Heavy is the Hand that Holds the Funding
Whether you're advising the in-house marketing team or you are the in-house team, the post-funding phase is critical. Every decision will have a bearing not only on today's operations but your ability to grow and scale in the future. Hard decisions will abound, such as how to integrate websites, technology, and brands.
The list goes on. When you follow the seven items on our post-funding marketing roadmap, you'll be following the same playbook we recommend to all of our clients in PE and health care—on both sides of the coin. Sometimes we're brought in to execute marketing specializations; other times, we're asked to share strategy recommendations based on our experience working with other fast-growing healthcare groups.
Either way, we've seen this roadmap work wonders.