Consistent new patient acquisition is essential for dental practices. According to a report by Aldrich Advisors, every dentist needs at least 20 new patients monthly to achieve business growth and success. The question is, where are dental practices supposed to find those new patients?
Start by investing more in digital marketing.
The digital realm is where most prospective patients are these days, making your practice's digital presence—your website, listings, social media channels, and so on—the keys to scalable growth. A recent report by Pew Research, for example, shows that 77% of consumers go online to look for dentists and research dental treatments. Increasingly, those digital experiences are powered by smartphones and location-based searches. Indeed, 84 percent of "near me" searches are carried out on mobile devices.
Maybe you have an existing digital presence across a smattering of channels. Perhaps you're starting from scratch. Either way, here are our top 10 marketing strategies for dental practices. It's a list we've distilled directly from our own work in the field of dental marketing.
RELATED: How 3 DSOs Are Accelerating Growth with Digital Advertising
1. Create and Optimize Your Google My Business Page
Creating a Google My Business (GMB) account page tops our list of dental marketing tactics. Your GMB listing ought to be the centerpiece of your local SEO strategy. Essentially, your GMB listing is a verified source of information about your dental practice—location, hours, photos, and so on—that Google threads into various search experiences. As you might have guessed, a complete and robust GMB listing can help your practice show up in all kinds of Google search experiences, including patients actively seeking out a dentist of their own.
How to set up GMB for your dental practice
The process is easy:
Create a Google My Business account using your Gmail. If you have a multi-location practice, create a separate GMB page for each location!
Complete the location verification process, which can take days or weeks.
Once verified, complete as much of your GMB page as possible—the more rich detail, the better.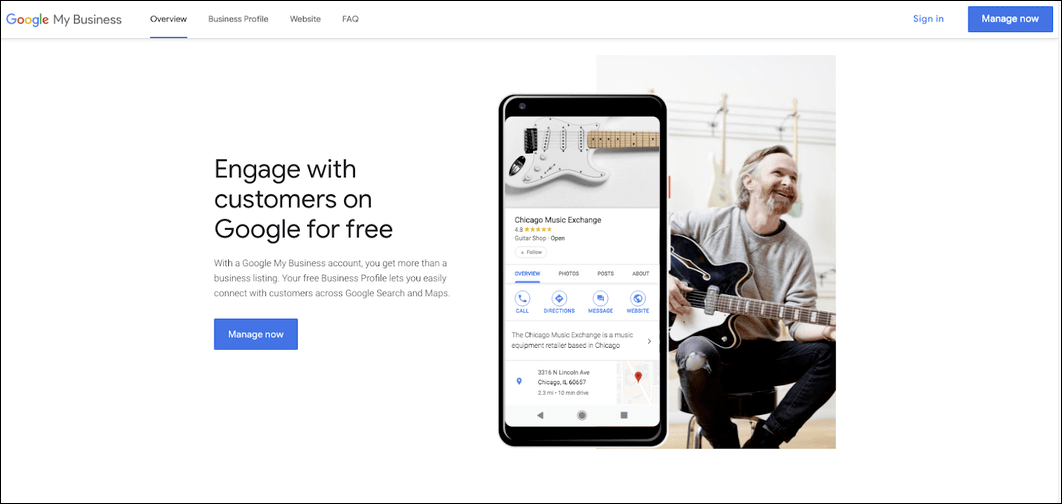 Create a Google My Business profile for your dental practice to ensure patients can find you.
After building your GMB page, you'll need to optimize your page by filling out each section. This is very important, as all of the information from your GMB page is automatically synced into Google's Local Map Pack. This is a listing that groups similar businesses by location and the dental practices located closest to the consumer's location will rank the highest.
As you can see in the real-world GMB dashboard below, there are many different parts of a GMB page. First and foremost, make sure all of your basic business information is complete and accurate, including:
NAP (name, address, operating hours)
Business category, description of services, contact information, site link
Service area(s)
Appointment link
Photos of your practice and staff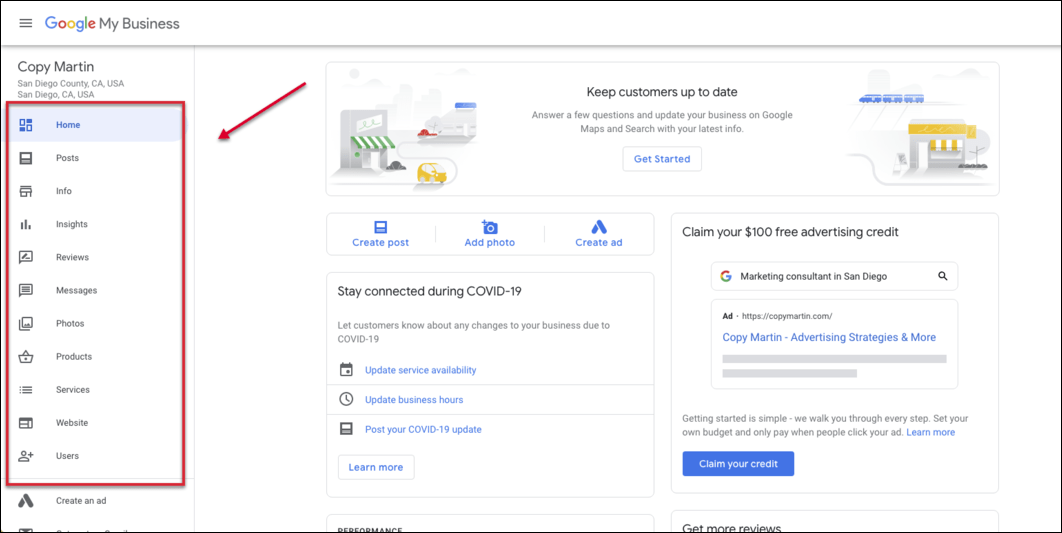 Include all pertinent information on your GMB listings such as NAP, business category, description of services, contact information, site link, service area(s), appointment link, and photos of your practice and staff. You can find where to place all of this information on the left-hand side of your GMB dashboard.
Once your GMB is established or refreshed, your next priority should be twofold:
Regularly post content (new offers, special details, etc.)
2. Optimize Your Website
You might have the most beautiful brick-and-mortar dental practice in all of Tallahassee, but it won't count for much without an A+ website. Your website is usually your practice's first point of interaction with patients and they will judge your practice based on how your website looks and performs.
That's why website design is so important. You want your practice's website to do a couple of things really, really well:
Make it easy for people to navigate to the information they want
Communicate the most relevant information about your services without using jargon or complicated language
Present a simple, consistent, and user-centered design
Provide authoritative content that helps patients practice good oral hygiene and maintain dental health
Introduces your dentists, staff members, and office environment
Makes online scheduling simple and easy
Weaves in interesting and informative images and videos
Showcases social proof like patient reviews and testimonials
Integrates online bill payment capabilities, prescription renewal, and account management
Offers online chat and other messaging capabilities so patients can communicate quickly with the dentist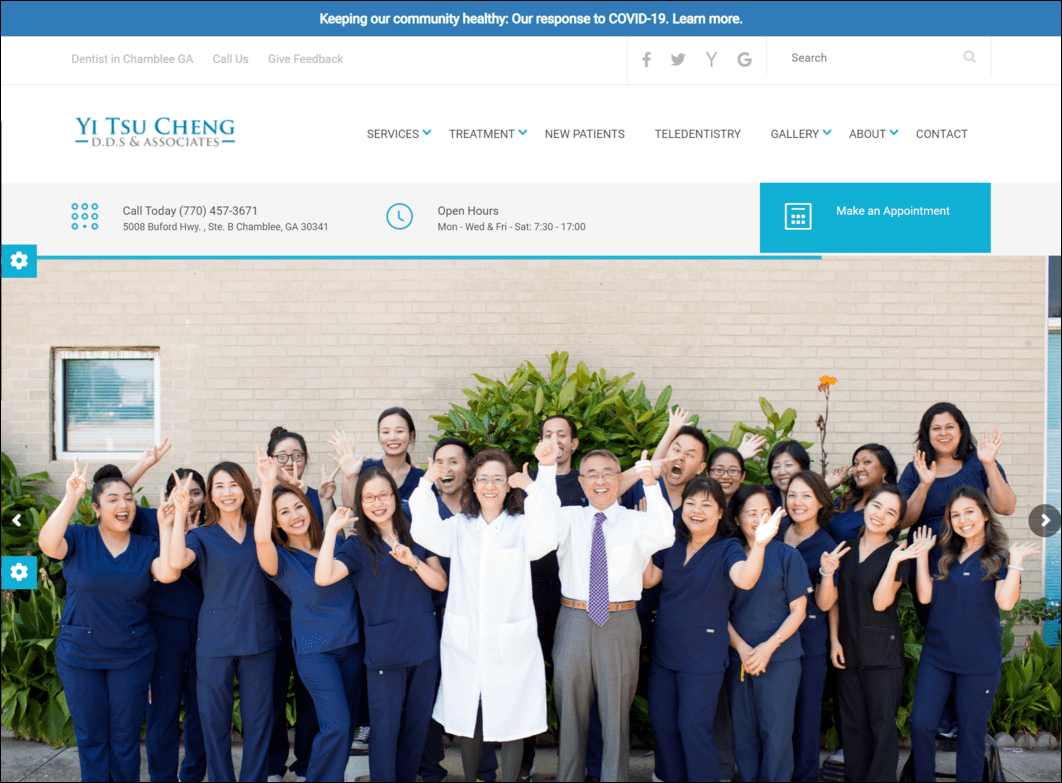 Optimize your dental practice's website by making it easy for people to navigate to the information they want and by presenting a simple, consistent, and user-centered design.
More than 90% of web users judge a business based on its website design, and more 38% of people will leave a website if its design is unattractive and difficult to navigate. Oh, and all of this needs to function seamlessly on mobile devices. Mobile optimization, page speed, and security are a really big deal. Consider this:
3. Invest in a Long-Term SEO Strategy
A big part of connecting with patients seeking dental care is SEO. As we pointed out in our extensive Insider's Guide to Local SEO for Dental Groups and DSOs, people tend to find and choose their dentists online, ideally in their local area. And as we alluded to above, a lot of dentists are acquiring new patients via local search experiences.
The good news is that steps 1 and 2 in this blog post—a well-optimized GMB listing and website—will have you well on your way to a successful SEO strategy. Digging a little deeper, however, you'll want to make sure you've checked a couple of other boxes:
Use Google PageSpeed Insights to address any issues that might be slowing your site down.
Streamline your site's page structure (parent pages, subpages, blog posts, etc.)—a lot of websites we come across are cluttered with way too much disorganized or irrelevant content.
Optimize URL, page title, meta description, image alt-tags, and page structure (H1, H2, etc) for each page (and according to your keyword strategy).
Build out longer-form, content-rich pillar pages for each of your core services, including videos, FAQs, and any other relevant information.
Link to authoritative websites as well as include internal links to related content on your website.
Finally, avoid "fluff" content. Instead, tap into your authority in the field of dentistry to inform and educate consumers that might be considering your services. Build content that speaks to common pain points, objections, and questions that dental patients often have.
A robust keyword strategy is a good source of content ideas and keywords that ought to be used throughout your site (including locally optimized keywords!). Of course, the list of strategies you can use to up your SEO game is long. If you need further assistance in SEO for your dental practice website, we've published a few resources that will help you get started:
4. Build Out and Publish a Consistent Content Calendar for Your Dental Blog
Is your blog in a state of disrepair or neglect? We see it a lot. Dated, disorganized, and irrelevant blog content is a common weakness among dental practices. It's also a missed opportunity! Your site's blog content can help you create value for your patients, rank on search engines, and establish your brand's authority in the field of dentistry.
To that end, consider writing blog posts in the following areas:
Address common dental problems
Introduce and explore dental procedures
Provide oral health tips
Explain new techniques in dentistry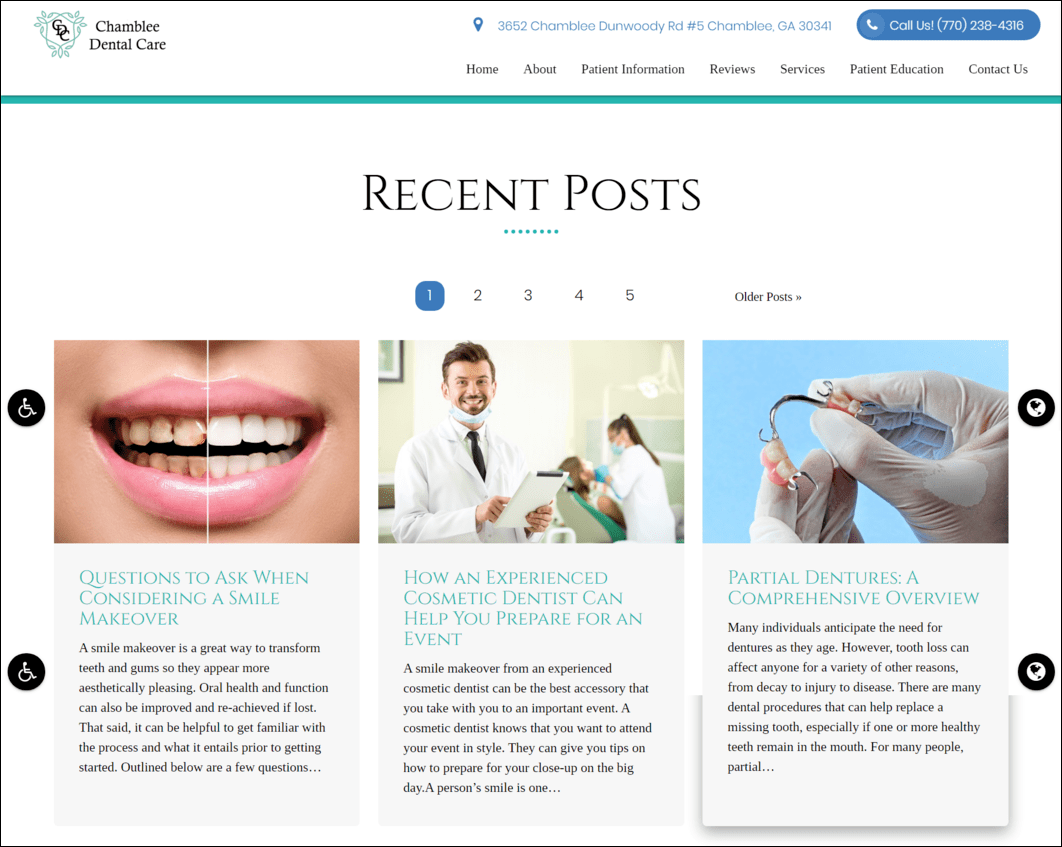 Your blog content can help you create value for your patients, rank on SERPs, and establish your brand's authority.
If you don't know where or how to start, try correcting an incorrect assumption. Most patients skip visiting a dentist because of false assumptions. According to Cigna, about 40% of patients claimed they didn't need to visit a dentist because they weren't in pain. In your blog, you can explain that dental problems don't always cause pain, and that's why regular check-ups are essential.
You can also cover trending dental topics, such as "natural" teeth whitening. Many people have been Googling the use of activated charcoal as a teeth whitener. Your blog post can discuss the pros and cons of this DIY treatment and recommend teeth-whitening services that your practice offers.
Healthy oral habits can be a great source of content, too. Most people are interested in preserving the teeth they were born with. Your blog posts can talk about healthy oral habits and encourage regular dental check-ups. You can also let patients know that most dental insurers will pay 100% for these services.
Not only does blogging help your website rank higher on the SERP, but it also helps you connect with potential and existing patients. People are constantly seeking information; use this as an opportunity to answer commonly asked questions and to position yourself as a dental expert.
BONUS TIP: If time and resources prevent you from building out blog content, consider outsourcing your content calendar to a third-party digital marketing agency or contracted content person. The key is to consistently publish high-quality content (weekly or monthly) that signals to both search engines and prospects that your practice knows what it's talking about.
5. Ramp Up Your Social Media Game
There are more than 3.5 billion active users on social media platforms and more than 54% of these people currently use social media to research products before they make a purchase. Facebook alone boasts more than 1.79 billion daily active users. This makes leveraging social media a good dental marketing idea.
Here are a few suggestions on how to get more out of your social media channels:
Remind people about the dental benefits they're paying for but not using. More than 25% of people with dental insurance are not aware of their full package of dental benefits, primarily cleanings, check-ups and x-rays. This is an easy way to get more patients into your chairs and income into your practice.
Create bite-sized infographics that introduce eye-popping statistics that might be relevant to a prospect
Build out video content that highlights your dental procedures and patient testimonials. This will show how professional, experienced, reliable, and trustworthy you are at handling prospects' dental cases.
Create before and after photos and videos, which are particularly effective with cosmetic dentistry and orthodontics
Repurpose client reviews, FAQs, and team photos for social posts
Launch social media ads that target particular audiences in particular locations (Facebook surpassed $15.6 billion for mobile ad revenue in 2019, in case you need motivation to advertise on social)
THINK OUTSIDE THE BOX! If you have a dentist or dental technician with some personality, you can create short Tik Tok or Instagram videos that playfully dispel misconceptions, or tackle the most recent trends from a position of authority. For example, we imagine you have an opinion about TikTok users shaving their teeth with nail files, right? Here's your opportunity to explain to your audience why this is a bad idea (and what to do instead).
6. Make Video Part of Your Marketing Mix
One of the quickest ways to consumers' hearts is through video. If you need convincing, we've written on the topic at length in How Healthcare Marketers Can Make Better Use of Video. Here are some highlights.
75 percent of US consumers use social media to watch video (Graybo)
60 billion U.S. users access YouTube daily (Statista)
56 percent of internet users watch videos on Facebook, Twitter, Instagram, or Snapchat every month (GlobalWebIndex)
Types of Video that Do Well in Dental Marketing
Welcome or introductory videos: Create a video to welcome and introduce prospective patients to your practice. Here is an example welcome video from Coastal Dental Arts.
Provider profile videos. You can create a video about your chief dentist, surgeon, or other staff members. Discuss background and training, practice philosophy, and areas of expertise. This goes a long way towards instilling trust and confidence in your dental practice.
Patient testimonial or review videos. Prospective patients who need dental care want to see people who have had similar needs met by your dental practice, specialty procedure, and so on.
Dental treatment and procedure overviews. Create videos of all your dental procedures and treatment, especially the "before and after." This gives people who have fears or objections an idea of what to expect.
Educational videos. Touch on the importance of proper oral health and hygiene, for example, or promote regular cleanings and check-ups.
FAQs. Talk about common dental procedures, anesthesia, what dental insurance your practice accepts, etc. Ask your staff about what types of questions they get from patients, either from phone calls or while they are in the office.
How to Create Video Content & Where to Post Them
As important as video is, it can also be time and resource-intensive to create. The good news is that, at least from an equipment standpoint, you don't need as much as you used to to create high-quality videos. In fact, the combination of a tripod/stabilizer, microphone, and modern smartphone will likely do. In terms of editing the video and getting it ready to publish on the web, keep it simple. If need be, hire a contract video professional to put it all together.
And don't forget user-generated content (UGC)! You can easily bring UGC about dentistry, experiences at the dentist, and so on into your own social media feeds simply by sharing, commenting, and—where appropriate—elaborating. If you have actual patients of your practice posting content related to their experience—or, better yet, tagging you in that content—interact with those posts and make that content work for you!
Finally, we recommend focusing on four primary channels for your video content:
7. Add Your Practice to Relevant Dental Directories
In the same Pew Research that we mentioned above, it was found that 25% of people prefer to use their state dental society or dental board. To reach that 25%, make sure that you and your practice are included in directories such as:
This doesn't only help people find you; it is an essential part of local SEO. These listings and citations directly impact your rankings. They send a signal to Google information about your business. So take the same approach to each of these listings that we recommended for GMB:
Make sure your listing is complete, accurate, and has a consistent name, address, and phone number (NAP) listed
Include information such as education, certifications, awards, services offered, and practice locations, hours, and a link to schedule an appointment (if possible)
Remember, if you only include partial information, it'll look sloppy and untrustworthy, which may give website visitors a negative impression of your practice. And it certainly won't bid well for SEO.
8. Use PPC Ads to Capture High-Intent Searches
Another way to make sure that your dental practice shows up at the top of the search engine results page (SERP) is to use PPC ads. Done correctly, PPC ads can help you place lead-generating content and CTAs at the top of search results for competitive keywords, connect with your target audience at the right time and place, and get results a lot faster than a long-term SEO plan.
Here is a very brief explanation of how PPC advertising works on Google Ads:
Choose relevant keywords that you want your PPC ads to rank for
Create a Google Ad targeting those keywords
Users search for your keywords or related keywords
Your PPC ad is displayed on top of the SERP
When someone clicks on your ad, you pay a certain amount of money to Google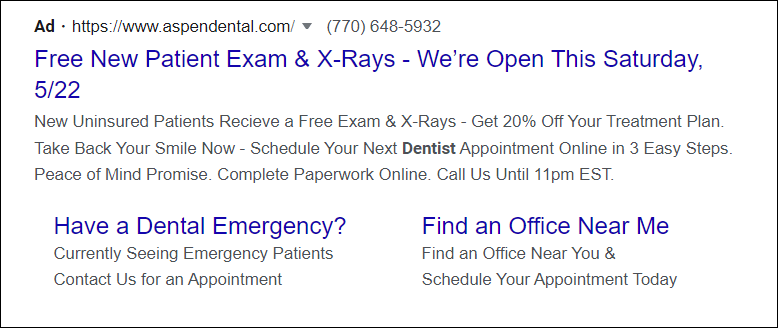 PPC ads are a great way to help you place lead-generating content and CTAs at the top of search results for competitive keywords, all while giving you faster results than SEO.
Facebook Ads work similarly. Instead of users searching for keywords, Facebook displays ads to your target audience within their newsfeed using demographic and behavioral information they have shared.
PPC ads are great for advertising special offers or discounts, which is often one of the biggest pain points of potential patients. If you decide to use PPC ads, it's best to get the advice of an experienced digital marketing agency. There is a lot of strategy and science behind PPC and if you don't have the expertise or time to keep on top of it, you will end up just wasting money and not getting the best results.
To that end, here are seven best practices from our full guide, 7 PPC Advertising Best Practices for Dentists:
Build out a robust keyword strategy
Optimize your campaign structure
Test call-only ad campaigns (often effective for dentists)
Deploy ad extensions to increase engagement
Create killer PPC landing pages
Target your ads based on specific locations
9. Ask Dental Patients for Reviews
If you've read any of our digital marketing tips, you know how seriously we take online reviews. Among the many signals you send to both people and search engines about your practice, reviews and ratings from actual patients are a hard currency.
Generating and responding to reviews on a regular basis is easier said than done. Too often, dental practices ignore their reviews altogether. Yet, A consistent flow of current positive reviews is free marketing. More than 80% of consumers trust online reviews as much as recommendations from friends and family. As if that's not evidence enough, 48% of patients would go out of their insurance network for a dentist with great reviews.
How to Generate Reviews on a Consistent Basis
Ask for them! Normalize asking for reviews in-person and train your staff to do so
Identify key points during the patient journey where it is appropriate to ask for feedback
Send request for feedback immediately after the patient interaction, when it is still fresh in their minds
Send request where the user spends most of their time (mobile device)
Make it extremely easy for patients to leave feedback
Personalize the request with the patient name & name of the practice
Ask for reviews for the listings you need to boost most, and prioritize reviews sites you know patients are actively using
Make a plan for responding to both positive and negative reviews
Repurpose glowing reviews for use in social media and your website
For more tips, check out Digital Reputation Management Strategy for Dental Practices.
10. Increase Brand Awareness with Facebook Advertising
We touched on the power of Facebook Ads in the PPC section above (#8). But this really is one of the best ways to accelerate your digital marketing program beyond organic growth strategies. The fact is, organic social media strategies have long suffered from low engagement rates that contribute to limited reach.
What makes Facebook Ads so effective at increasing brand awareness and generating leads comes down to targeting. With the right ads professional (or in-house strategy), you can make your marketing dollars go very far thanks to robust and, when needed, granular audience targeting capabilities.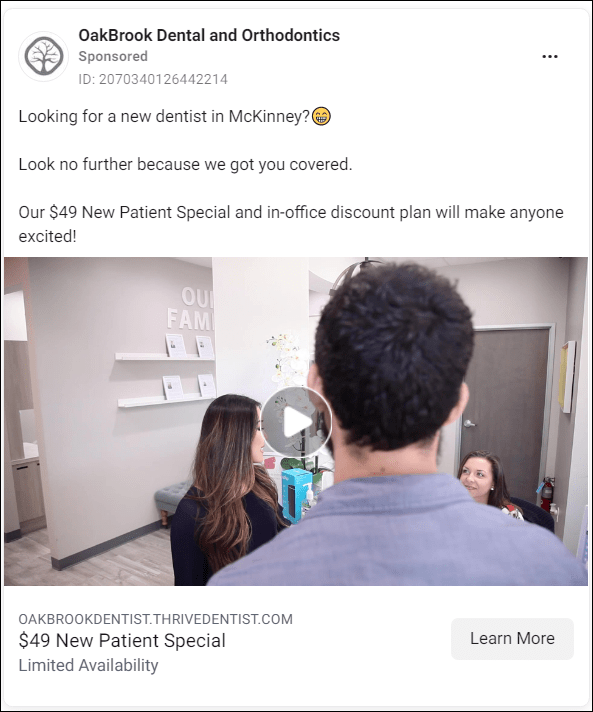 Incorporating Facebook Ads into your marketing strategy can help you increase brand awareness and generate leads. The right patient will be coming to your practice.
On top of that, the types of Facebook ad content you can leverage seem to evolve all the time, including new ways to engage your target audiences. As you embark on your own Facebook Ads strategy, consider the following best practices:
Invest in good ad creative (graphic design and copywriting)
Make mobile-first ads a priority
Create tailored landing pages for each Facebook Ads campaign
Leverage the power of video
Develop a full-funnel strategy for your Facebook Ads
Test and refine based on your findings
For a more comprehensive look at each of these best practices, check out 7 Ways Dentists Can Improve Facebook Ad Performance.
Dental Marketing Strategies That Just Don't Work
Now that you know about the best dental marketing strategies that work, let's take a quick look at some approaches that don't. Avoid these dental marketing strategies at all costs.
Not Keeping Up With Trends
When it comes to digital marketing trends, the healthcare sector is one of the slowest industries to adopt. However, this doesn't mean that your dental business has to fall behind as well.
In digital marketing, change is the name of the game. It's an ever-evolving landscape and you need to keep up to stay relevant. Otherwise, the fierce competition will leave your practice in the dust.
An up-to-date marketing strategy is essential for any business – including dental practices. Just because your current strategy is working, it doesn't mean that it will stay effective for the long haul. Pay attention to the current trends and adjust your campaign accordingly.
Using an Outdated Website
If you're still using the same dental website from years ago, it probably needs a much-needed update. Web design trends change at a lightning-fast pace and the last thing you want is a website that looks outdated, clunky to navigate, and fails to provide a positive user experience.
When 38% of people will stop engaging a website if the layout is unattractive, your dental website needs to be visually appealing, responsive, mobile-friendly, and loads quickly.
Your old dentist website may have been new and progressive years ago but you probably can't say the same today. Not updating your website will cause potential patients to question your credibility and expertise as a dental practitioner.
Not Determining Your Target Audience
Unlike the good old traditional advertising methods, such as TV, billboards, and radio, that lack targeting focus, digital marketing enables you to target specific groups of people with your marketing.
If you don't understand your target audience and don't cater your marketing strategies for them, you'll end up wasting time and money, and attract visitors that aren't potential patients.
For instance, your marketing approach can change whether you're an orthodontist, pediatric dentist, or general practitioner. Also, your dental marketing strategies can differ if you cater to low-income families or a cosmetic dental practitioner that takes on wealthier patients.
Fully understanding your target audience will help you develop your branding and marketing messaging.
Not Prioritizing Local SEO
Did you know that 97% of consumers learn about local businesses through search engines?
For dentists, using local SEO is a top priority. Otherwise, how will potential patients find your practice when they search for terms like "dentist near me?" If they don't immediately see your website in the search results, it's guaranteed that they'll go to one of your local competitors.
Local SEO helps you achieve increased visibility within your area of operation.
In local SEO, the competition for rankings is more forgiving due to geographic criteria, and most of the time, you don't have to compete for high-authority competitors. While success in local SEO is far from easy, it's far more doable to rank for local keywords – making it an ideal strategy for dentists.
Not Managing Your Online Reputation
Your online reputation can make or break your practice. A single negative review can drag your dental practice through the mud. On top of that, online reviews are a critical ranking signal for SEO.
Earlier in the post, I've asked you to encourage patients to leave reviews for your practice. However, that's just one piece of the puzzle. Monitoring and managing your online reviews can help strengthen your reputation and alert you of issues that must be addressed.
In addition to encouraging your patients to leave reviews, you should also ensure that you respond to every single feedback that you receive. If you're responding to satisfied clients, address them by name and promptly thank them. For negative feedback, you should also respond quickly, address them by name, and apologize for not meeting their standards.
Remember that HIPAA regulations and patient privacy must be taken into consideration when responding to online reviews.
Having a Poor Content Marketing Strategy
Many healthcare practitioners seem to think that having a blog with the occasional updates is enough. Even worse, there are healthcare websites that use duplicate content to build their content libraries.
Using duplicate content anywhere on your website is a surefire way to get penalized by Google. Duplicate content isn't just a huge blow to your search engine rankings, they're not likely to provide value to potential patients that visit your website.
Develop original, high-quality content that's relevant to your target audience. High-quality dental content will only help you rank in Google, it will also establish your brand as a reliable authority on the topic.
Not Tracking Your Results
The key to a winning dental marketing strategy is to stay on top of your campaign. If you're not tracking your campaign's performance and results, you'll…
Never know which areas of your campaign are working or not
Never know if you're getting your return on your investment
Tracking your results is just good business sense. Regardless of which tracking app you use, tracking your results raises the curtain on your marketing efforts. To be quite honest, there's no point in digital marketing if you don't track your results.
How will you know which of your strategies are underperforming so you can adjust accordingly? Which of your strategies are providing great results so you'll know when it makes sense to scale?
And yet, I constantly encounter clients that don't track their results. You can start by simply using a free website analytics app like Google Analytics.
Doing It All By Yourself
There's no shortage of healthcare practitioners that went the DIY digital marketing route. Then, they quickly realize that they either don't have the time or they never got the results they've wanted.
Digital marketing is a complex beast with numerous strategies and steps – definitely not something that you can do on the side.
Getting digital marketing right means that you need to develop a campaign that meets your needs, tracks results, and keeps up-to-date with the latest trends. Hiring a digital marketing agency to work on your practice will save you a lot of headaches.
In Closing: It All Starts with the Fundamentals
Are these world-beating strategies on the cutting edge of dental marketing? Not necessarily. But the ten strategies outlined above are fundamental to attracting more leads and patients online. If you use even a handful of these ideas and strategies, you'll be ahead of your competitors since too many dentists are stuck in the dark ages.
If you're on the fence about investing more time and resources toward your digital marketing strategy, you're already behind the ball. The online marketplace is crowded with dental providers. Competition for the eyes and ears of potential consumers is heavy. But we've seen even the smallest dental practices in flyover towns get their slice of the digital pie. How?
By implementing the above-mentioned fundamentals consistently and with intention.