Value-based care is a growing movement in healthcare in the U.S. Several states, including California, New York, and Texas, have already started shifting towards this new care model and are advancing programs, while the federal government is not too far behind. In this care model, the focus is on outcomes—is the patient getting better? As a result, healthcare providers are paid based on the results they deliver for patients rather than on the number of services they provide. 
Given the momentum behind value-based care, healthcare organizations are looking for more ways to improve outcomes. 
So what tools should healthcare providers and organizations consider to drive better patient outcomes? Operational and marketing technologies, like the ones we will dive into below. Everything from AI-driven tech to marketing automation solutions can be key to reaching the high benchmarks expected by value-based care. 
How Can Technology Help Improve Patient Outcomes?
Improving patient outcomes is not just about improving the quality of care. It also touches on improving other factors that impact the patient experience, including process and equity. How can technology impact all of these and more? Let's take a look at some of the most powerful options out there today. 
AI-powered Diagnostic Tools
While AI may have yet to conquer the written language, it has been making a big impact in diagnostics. Several recent studies have shown how AI can support both clinical decisions and the judgment of doctors. 
In 2020, global tech company, Babylon, began utilizing machine learning in the diagnosis of a range of diseases, developing an AI symptom checker which they believe will help to reduce errors in diagnoses in the long term. 
More recently, in Hungary, research demonstrated that AI was able to meet and even exceed success rates in the diagnosis of breast cancer by radiologists. Over in the world of dermatology, an AI tool used as a decision support system demonstrated 95% sensitivity and 86% specificity in diagnosing melanoma in a study conducted in primary care settings.
While this field is evolving, the message is clear—AI-driven tools will be a real differentiator in medical diagnoses in the years to come. 
AI-driven, Centralized EHR System
AI's impact is proving just as dynamic when it comes to Electronic Health Record (EHR) systems. AI has been shown to drive more efficient data discovery and the extraction of complex findings, allowing doctors to generate more personalized recommendations for treatment. Heavy hitters such as IBM, Microsoft, and Alphabet are all investing a good deal in this area of research, meaning that the future looks promising for yet another way in which AI can improve patient outcomes.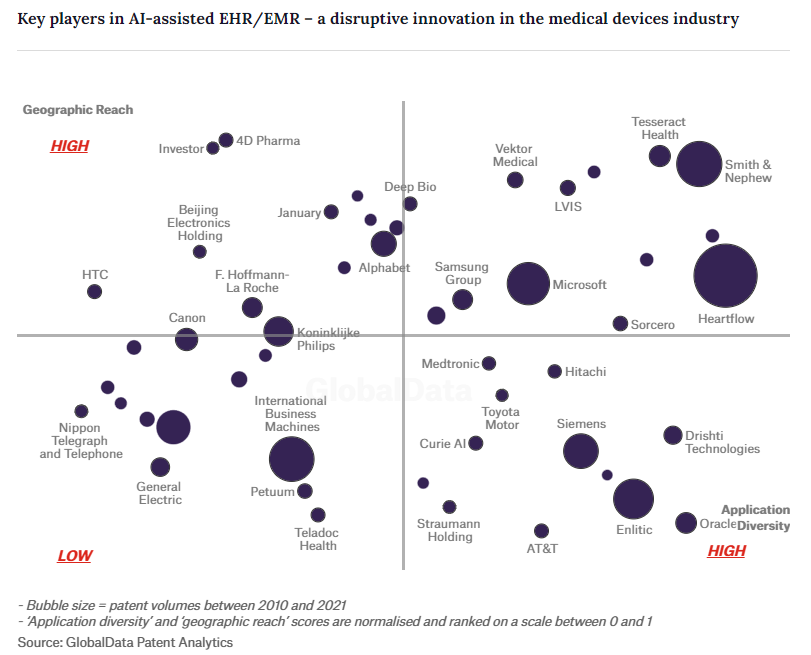 Patient Engagement & Communication Software
While AI and automation may seem like an easy fit in the world of diagnosis and data analysis, it may seem a more nuanced fit in the world of patient engagement and communication. The truth is, however, that AI is just as relevant here and can significantly impact patient outcomes. 
So, let's dig in and show how marketing automation can support better patient outcomes.
How Marketing Automation Supports Value-based Care & Patient Outcomes
Across the board, marketing automation makes it easy to remind patients of their care needs and increase patient engagement. Who hasn't missed an appointment before or neglected their physical therapy, right? 
To implement a robust patient communication strategy, you need an EHR or practice management system that either has marketing automation capabilities or can integrate with external technology providers.
Marketing automation technology allows healthcare providers to engage patients consistently and guide them toward the best quality of care. By leveraging automation, you'll be that much closer to fulfilling the mandate for value-based care. 
Let's look at two ways in which automation can improve patient outcomes.
Automated Appointment Alerts
Anyone in healthcare can confirm that ongoing and routine care is critical to better patient outcomes. Patients will frequently miss appointments or neglect routine and preventive care, such as mammograms, for example, or annual physicals. 
Why does this matter? Non-attendance is prolific right now in U.S. healthcare. Patient "no shows" in the past occurred at a rate of over 21 percent; more recently, studies have shown that no-show rates can be as high as 23 to 34 percent in outpatient clinical environments. 
Whether you look at these high numbers of no shows from the patient side or the clinician side, one thing is clear: no shows reduce the efficiency with which healthcare professionals can deliver care. 
When implementing automation solutions to reduce no show rates, remember—preferences can vary from one population to the next. What works for your patients? Ask them how they want to be reminded of appointments, then implement automated reminders based on those preferences. These can include but are not limited to:
appointment alerts via text;

email reminders; or, 

automated yearly, bi-annual, etc. reminders 
Providing Continuing Education and Information Access
Healthcare doesn't start and stop at a patient's appointment. For many patients, care is an ongoing process that may require continuing education. With automation technologies, healthcare practices can engage more effectively in ongoing care management and provide patients with the information they need to get the best quality of care. 
Patient Portal Onboarding
Another way automation can streamline processes to improve the patient experience is via patient portals. Patient portals are a valuable tool that allows patients to access their health information, communicate with doctors, schedule and confirm appointments, and more.
In and of itself, this is a dynamic tool that can help educate patients. However, it is not always the easiest tool for some patients to use. To view it from another angle, a portal has no value if your patients can't get into it. 
Marketing automation can help guide your patients through the onboarding process, sending step-by-step instructions on how to create an account, along with guided tours of available features. If a patient has failed to set up a patient portal account, automation software can send out a reminder to the patient or to a staff member, who can then call the patient and walk them through the process. All in, your patients will have an easier experience and feel potentially attended to by your staff from their first point of contact. An effective patient portal can then serve as a way to provide ongoing education throughout treatment. 
Post-discharge Follow-up Care
Automated reminders are a theme here throughout, and they have use cases again in post-discharge follow-up care. Many patients are vulnerable after surgery or treatments—as you know—they can relapse, get infections, or even not follow through with the recommended post-op care. Ensuring patients don't miss appointments is vital for early detection post-surgical care. 
Automated SMS and emails can help keep the process on track. These alerts can also remind patients of certain critical factors, including:
Symptoms to watch for 

Post-surgical care recommendations 

Next steps in the treatment plan 

Physical therapy reminders  
These automated reminders foment real change in the post-op process, as evidenced by a recent study done at the University of Pennsylvania. Researchers there used automated texts with patients discharged from the hospital. These efforts resulted in a 55% reduction in re-admissions. Another recent study showed that SMS alerts could potentially make a significant difference for patients engaging in rehabilitation after a stroke, including patients in low-income or underserved communities. While research continues, it's clear that automation could have a real and lasting impact on post-op care, thus improving the value of care, overall. 
Lifestyle and Health Recommendations
Healthcare groups can share effective and up-to-date treatment information and even make lifestyle recommendations to patients via automation in other ways, as well. What are just a few of the use cases? 
For patients whose doctors have made dietary recommendations, marketing automation solutions can serve as a helpful way to send patients suggestions that keep them on track. The same goes for patients engaged in exercise programs or physical therapy. A recent systematic review of reminder systems used in physical therapy, showed that these reminders could have a positive effect on improving patient adherence to recommended exercise programs. 
Even mental health care has a use case—doctors and therapists can use these solutions to check in with patients, make lifestyle recommendations, and ensure consistency of care for those long periods when patients are not in a clinical setting. 
At the end of the day, patients will not only receive a higher quality of care but also feel more supported by their providers and practitioners. 
Conclusion
It's an exciting time to be in the healthcare field as technologies continue to transform the space and improve care. While the adoption of new technologies may have been slow going in the past, it is clear that these innovations are poised to change the way practitioners and organizations deliver care in 2023 and beyond. Whether related to diagnostics or patient engagement efforts, AI and automation can and will continue to help healthcare professionals provide the best care possible.