Working in a high-growth environment is a bit of a whirlwind, isn't it? To keep pace with competition and grow at speed, private-equity firms must constantly look for ways to gain an edge. Today, you might be looking for operational efficiency gains and reduced headcount. Tomorrow, you might need to make a critical business investment based on your latest marketing ROI data.
Round and round it goes.
To get the edge and grow faster, you need a reliable stack of marketing technology. This is essential for scaling organizations. So whether you're starting from the ground up or looking to streamline what you have, this article will walk you through the must-have tools for high-growth organizations.
RELATED: Ignite Podcast Ep. 14 – Top 3 Marketing Technologies Every Healthcare Organization Needs
1. Citation and Listing Management
Updating the interwebs with your business' name, address, and phone number (NAP) might seem like small potatoes. But, take it from us: it's not. And far too many high-growth, multi-location businesses neglect their citations, leading to all kinds of incomplete or inconsistent information across various digital channels.
That's bad for the people looking for you, and it's bad for search engines, too.
All of your businesses' locations must have complete and consistent citations in relevant directories, social media pages, and elsewhere. This includes:
Local chamber of commerce pages
Business associations
Industry-specific digital lists (like Healthgrades, ZocDoc, Vitals for healthcare)
Commercial directories (Yelp, BBB, Angie's List, and so on)
Google My Business
Bing Maps
Facebook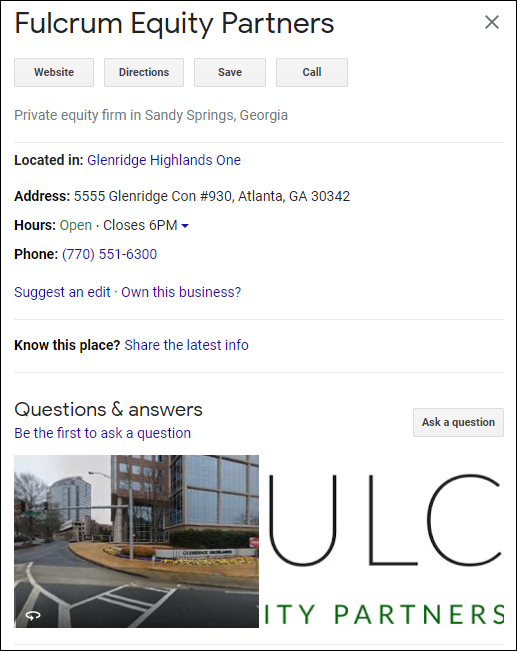 Your citations and listings are essential parts of a strong SEO foundation (they are ranking signals, after all). They also play a role in shaping your digital reputation. Can people reliably find your info online to get in touch? And what kind of impression will they get if they can never find reliable contact info?
All of that said, it can be difficult to manually manage citations for multiple locations. Luckily, many local listing management software solutions are out there, which can help you keep citations accurate and up to date across the board. From our perspective, this technology is a critical piece of any growth-oriented marketing stack.
2. Review Generation and Monitoring
Wherever your listings appear online, your reviews probably aren't too far away. From a digital marketing perspective, your reputation is your number one asset. Think about the last time you went looking for something online. Maybe you were looking for a restaurant or a new dentist. You could have been looking into that plastic surgeon airing ads on the radio. Did you take a peek at the online ratings and reviews? Most people do, with nearly 87% of consumers reading online reviews for local businesses.
That's why your digital reputation must be built and protected. Unfortunately, monitoring reviews, responding to negative ones, and soliciting new reviews become increasingly difficult to do manually, especially as you experience rapid growth. We find that most high-growth companies can't organically generate the number of reviews needed to make an impact across multiple locations.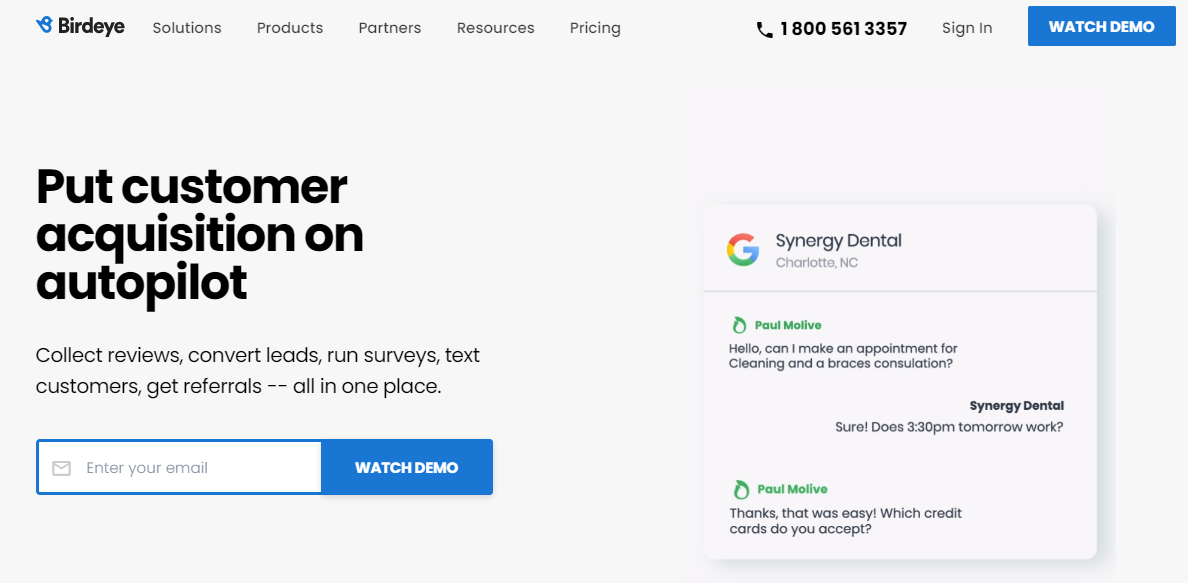 Review generation and monitoring software like BirdEye and Podium make this process far more manageable. First and foremost, high-growth businesses can use review generation software to monitor reviews, respond to customers directly, and get data-backed insights into consumer sentiment. You can also use these platforms to quickly build and sustain a thriving portfolio of digital reviews too.
Watch our webinar to learn more about listing and reputation management technologies.
3. Call Tracking and Analytics
Your inbound call volume might seem like a reactive relationship. When customers call with a question or concern, you answer. Yet, there's plenty of information, data, and insights that can be extracted from your conversations with your customers. Solutions like CallRail track your calls and provide granular visibility into calls, conversions, and conversations.

For multi-location firms, in particular, call tracking can be useful for determining the lead source. For example, what were the steps that led up to the call?. And which experience or issues are generating the most call volume? Call tracking software can help you close the loop on these calls and determine reliable marketing ROI, too.
Call tracking software also provides call analytics and conversation recording. These features help you understand customer sentiment and improve the customer experience based on those insights. For example, you can get hard data around the language customers use to describe their needs, ask questions, or seek support. You can then use those insights to directly inform your pay-per-click (PPC), search engine optimization (SEO), and content strategies.
Hello, voice of the customer. Our podcast digs into the ways conversational analytics can improve operational and marketing efficiency.
4. Customer Relationship Management (CRM)
Speaking of customers, a CRM solution can help your organization manage your customer relationships more closely. A CRM is a central place to store all contact information, patient preferences, history, and other important data in one central location. Examples of CRM solutions include:
Salesforce
SAP
Microsoft Dynamics
HubSpot
Oracle
Zoho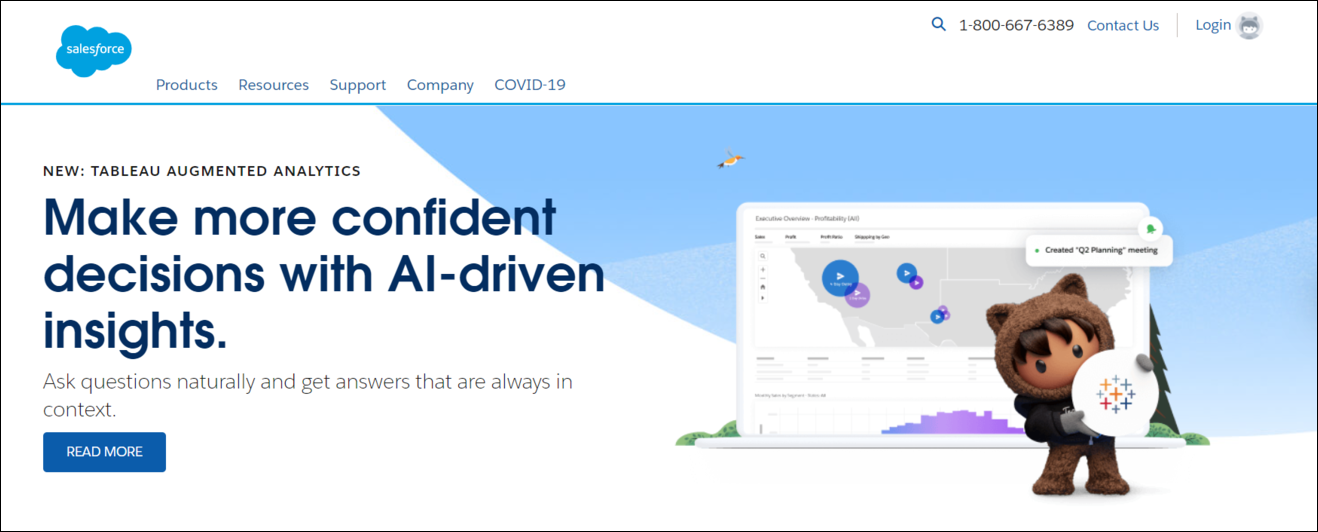 For multi-location businesses, a CRM can be a very powerful tool to help centralize marketing operations and drive growth. Many multi-location firms leverage CRMs to more effectively segment their marketing campaigns, personalize correspondence, and create a more seamless experience across channels. A good CRM solution can inform new sales and marketing strategies that keep leads warm, customers engaged, and revenue on track. Your CRM can also provide useful insights into customer behavior that you can use to improve operations.
Our own marketing analytics software, Leadstream, integrates with most CRM solutions to extract AI-powered marketing insights.
5. Marketing Automation
A while back, we came across a plastic surgery firm that was manually following up on all of its consultation requests by phone. These time slots were precious to the company, as they were essentially leads for high-revenue elective surgeries. Unfortunately, the manual process was far too time-intensive, while costly no-shows remained at an all-time high.
So the company implemented an automated appointment reminder and confirmation system powered by, of all things, automated text messages. Almost overnight, everything changed for the better. No-shows leveled off. Appointment confirmations were off the charts. Lead gen was thriving.
This real-world example embodies the need for marketing automation. At scale, it becomes challenging to manage and ensure timely customer communications. Without marketing automation, manual processes can create lost revenue opportunities and, worse, customer headaches.
On the other hand, marketing automation software can help to simplify the process in a way that's better for both company and the customer (as the plastic surgery example demonstrates). For example, you can use automation software to:
Automate email and text communications, including marketing campaigns
Nurture leads along your buyer's journey
Extract behavioral and demographic data for upsells/cross-sells
Streamline lead scoring
Re-engage past customers
Share content that creates value
Enhanced campaign management
For multi-location organizations looking to scale growth, this kind of automation is critical. Just imagine if the plastic surgery practice we mentioned above was a full-fledged group with hundreds of locations across the country? Life without marketing automation would be a cost sink for the company and a constant headache for customers.
Final Thought: Keep Your Tech Stack Simple and Intentional
Marketing technology can be a fantastic boon to a growing business. Unfortunately, it can also get out of hand very, very quickly. The last thing you need is to overcomplicate things or "overstack" your tech stack with useless bells and whistles. As you begin considering the best suite of marketing technologies for your acquisition, make the customer your north star. Will a given technology help you serve more customers, across more locations, better?
Assuming the answer is yes, your next step is to look for the technologies that provide the data-backed insights that help your company make more informed decisions. The goal is to tie marketing activities to revenue management software to understand ROI. And you'll need closed-loop reporting to be able to report on the success of portfolio companies, certainly. If you don't know where to start, the five marketing technologies we've described above will serve both your customers and your growth objectives quite well.