Healthcare has a problem, and we all know it: labor shortages. According to the US Bureau of Labor Statistics, jobs in healthcare are expected to grow at a rate of 13 percent through 2031, far outpacing the average for all occupations. In nursing alone, the US will need an additional 275,000 nurses through 2030.
One thing is clear—healthcare talent recruitment remains a top challenge for healthcare groups and practices right now, and action is needed both in the short and long term. What does this mean for practices and healthcare groups?
A lack of providers will stall growth and limit your ability to take on new patients, for one. Labor shortages will also impact patient care and, potentially, damage a practice's reputation over time if care suffers.
The good news? Marketing can make a significant difference in supporting provider recruitment strategies. If you're asking yourself, "How can I attract more doctors to apply for open positions?" or "What can marketing do to support recruitment efforts?" we have some answers.
Here are 3 ways marketers can rally the troops in support of recruitment teams to increase capacity, improve patient experience and care, and improve brand reputation.
1. Strengthen Your Brand Reputation as an Employer
Want to know a secret? The best recruitment campaign in the world will fall flat if you have a bad brand image. As an important first step, set your sights on enhancing your brand storytelling by optimizing your About Us and Career pages.
Ask yourself: What do applicants see and feel when visiting your website or other digital properties? Can they imagine themselves at your organization? If the answer is no, it's time to do some real work on your brand image.
How can you do this? On your career page, you want to focus first on showcasing your culture and brand values. Keep things engaging and informative, too— a boring page with no information will fail to persuade people to apply, full stop. What can you do to engage your potential hires? Get them excited! Show them that you are a great place to work. You can do this in several ways. Consider highlighting benefits, insurance, time off, and even the awards your team and office have received. You also want to show your team itself via photos, videos, and quotes. This will give applicants a personal and clear idea of your brand and its ethos. For good examples of how to show team culture in these ways, take a look at Cardinal's own about us page and career page.
Don't Forget About Your Image on Popular Digital Job Boards
Your brand image doesn't stop on your website. To ensure that your brand story is as resonant as possible, you will also want to take control of your image on other platforms, such as Glassdoor. Applicants who are vetting your healthcare organization won't stop at your website and will likely turn to these third-party sites, as well, in search of information and consistency. You don't want them to find a dead page with only poor reviews.
To optimize your brand storytelling on those platforms, use the same storytelling strategies you employ on your own site, sharing your team wins, awards, and testimonials. Make sure to add photos and videos, too, to showcase your culture. If you do get negative reviews on sites such as Glassdoor, address them promptly and respectfully— yet another indicator of your brand's culture.
2. Remove Job Application Barriers with Conversion Rate Optimization (CRO)
Is your career page clunky and hard to use? Do you have a high bounce rate? You may be attracting qualified applicants… but driving them away with a bad user experience.
As a next step, you want to eliminate any and all barriers in your UX that prevent people from applying for jobs. What might those barriers be? Assess your UX and make sure it includes none of the following:
Difficult to use forms

Exhaustive application steps

Slow-loading sites and pages that take forever to use

Confusing instructions

Missing information that applicants require
You will also want to conduct CRO testing to see if optimizations exist that will improve the application process. These tests can let you know if adding specific information (e.g., staff benefits like insurance information or PTO) can improve conversion rates. It can also let you know what messaging is more compelling to applicants. For example, will offering work-from-home (WFH) benefits pull in more qualified applicants? Use your CRO testing to parse out these finer points and ensure you get the qualified applicants you need.
3. Advertise to Create Touchpoints Along the Job Candidate Journey
Recruitment campaigns are complicated. There's no silver bullet that will generate a flood of new applicants. People choose to move to a new role for a variety of reasons, some of which you can impact and some of which you cannot. Your best approach is to tailor your messaging in the channels you use for each applicant type. Advertising can help you improve brand recall and support your outbound recruitment efforts by creating key touchpoints for applicants across the candidate journey.
Google Ads to Attract Job Seekers
Google Ads are impactful because applicants using Google already have an "ask." People turn to Google search and other job boards when they're actively searching, which means they are likely unhappy in their jobs, new graduates, or transplants relocating. Reaching these people is easier than those who are happy in their roles, so optimizing your Google Ad campaigns can deliver real results.
A well-optimized PPC campaign can get your brand to the top of the search results page when they go job hunting. What do you need to do to ensure that your PPC campaign is delivering as much as it can? Consider doing the following:
Hone in on the specific keywords most relevant to your open positions.

When applicants click on your ad, ensure they are sent to a strong career page.

Use the tips we outline above to ensure they have a good UX on your site to funnel them through the inquiry and application process quickly and easily.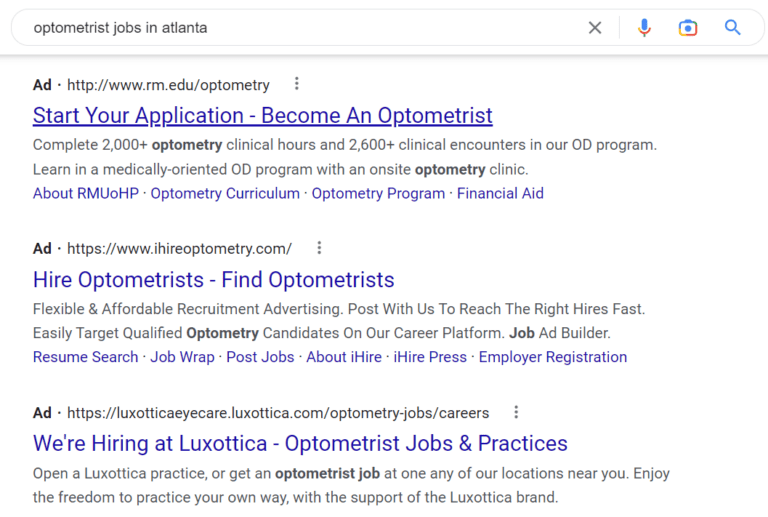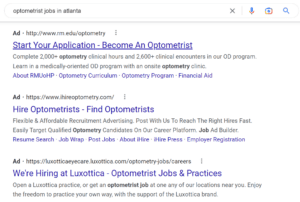 Social Ads (Instagram, TikTok, Facebook) to Build Brand Affinity
So, we covered the people who are already looking and are primed to engage with your recruitment process on their candidate journey. What about the people who are happy in their jobs? The most difficult type of person to persuade is someone happy in their existing role. These candidates are not looking for a job, not searching on Google, job boards, etc., and you will struggle to generate a direct response from these people via advertising.
What options do you have? Social media. With social advertising on Facebook, TikTok, and Instagram, you can build brand awareness and affinity with these individuals so that they will turn to you if and when they decide to start a candidate journey. We all have bad work days. When that happens, you want them to remember your brand and return to your site. Then, what they see should compel them to apply. 
Again, as with all our recommendations above, you want to show that your company is a desirable place to work. Use your social and your social advertising to demonstrate that your brand has a good and positive culture, strong perks, happy employees, growth opportunities, and more.
Use Video Ads To Tell Your Story
Video ads are one particularly powerful tool for doing this. When creating video ads for your healthcare brand, make sure to adhere to the following principles:
Make it authentic, and don't use fake actors

Show your employees happy at work

Capture testimonials and employee stories
With social outreach like this, you will create a connection with future applicants. Then, when they are ready to make a switch, they'll remember your brand and turn to you first or be more responsive when a recruiter reaches out to them.
Conclusion
Addressing the labor shortages in healthcare will take time. By employing your marketing team in these ways to act in support of your provider recruitment strategies, you will give your healthcare group a decided edge. Do you have any other questions about your digital marketing strategy or how you can leverage marketing to optimize your healthcare recruitment endeavors? Get in touch with our team at Cardinal Digital Marketing to discuss helpful solutions for your healthcare business today.