Over time, it's easy for inefficiencies to creep into your Google Ads account. If you're not closely monitoring performance or following new best practices, you may be wasting your media budget. Routine auditing and performance evaluation are critical if you want to maximize your PPC strategy's performance—and your budget. If you haven't looked under the hood of your account in a while, now is the time. This article shares common issues we see that can significantly impact performance. Then we'll share best practices for things like refining the keyword strategy, enhancing ad copy, and optimizing ad landing pages.
Read on to learn six strategies you can use to maximize your ad budget, improve conversion rates, and drive more leads immediately.
Refine Your Keyword Strategy
While healthcare service providers significantly benefit from full-funnel paid media strategies, your PPC campaigns should prioritize high-intent keywords to capture BOF consumers actively searching for a solution. If these campaigns aren't fully optimized, you're wasting your budget. Here are a few ways to refine your strategy and eliminate wasteful ad 
Remove Low-Intent, Low-Quality Keywords
Start with filtering out low-intent keywords and keywords that are two high up in the funnel. While these keywords may appear with a higher search volume, they rarely translate into buying intent.
For example, someone searching for "seasonal allergy remedy" or "allergy symptoms" probably isn't ready to speak to an allergy doctor. When we worked with North Atlanta Allergy, we increased call volume by 81% and conversion by 69% by targeting keywords with higher intent.
Target Relevant Keywords
Target only relevant keywords and be cautious with broad matching. Because broad matching will link you with keywords that may not have anything to do with your service, for example, broad matching "therapists near me," and your ad may appear in front of someone looking for the HOPE text line. In that case, your message is irrelevant because the user needs immediate attention, which a therapist cannot provide.
Similarly, balance how many negative keywords are in your campaign. While they're great ways to filter and specify your campaign target, overusing negative keywords may accidentally block out the keywords you actually need to be targeting.
Be Selective With Branded Keywords
Finally, don't be too reliant on branded keywords. This is especially true if your organization is relevantly new. Also, branded keywords are much easier to optimize with organic website content and Google Business Profile listings, which allows you to preserve ad budget on high-intent keywords instead of branded keywords, which requires the audience to be aware of your organization first.
Optimize Your Landing Pages
Your next action item is landing page optimization. Remember that your PPC landing pages serve one purpose and one purpose only: lead capturing. Therefore,  everything you do should help move consumers forward in the patient journey and make the conversion as easy as possible.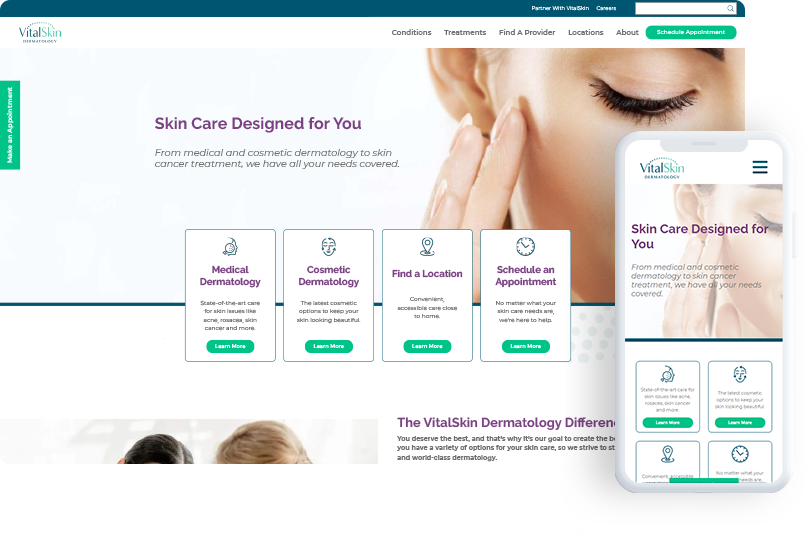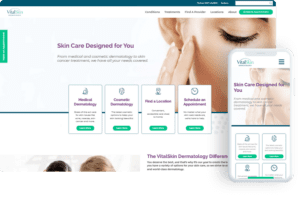 Enhancing User Experience
Landing page optimization is about improving the user experience and removing hurdles that block conversions. Your landing page must be informative, answer patients' top questions, and make it easy to book an appointment on all devices. Today, you can't forget about mobile optimization since over 50% of traffic in the US is now generated by mobile devices.
Unique Landing Page For Each Campaign
Having one optimized landing page is not enough for healthcare providers. Rather, create unique landing pages for each ad campaign.
For example, an ad targeting patients seeking seasonal allergy solutions should not use the same landing page for a campaign targeting those suffering from chronic sinusitis. Similarly, it is best to have separate landing pages if you run different ads to drive traffic for each treatment program.
Learn how to optimize landing pages for better ad performance
Refine Your Ad Game
Your messaging and ad copy forms the foundation of any Google PPC strategy. Therefore, you must have relevant, quality ad copy with a solid CTA and supportive information to capture those seeking immediate answers.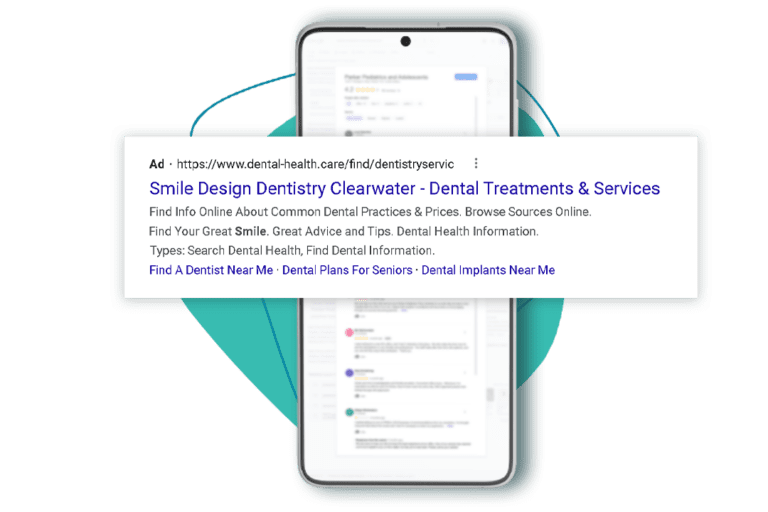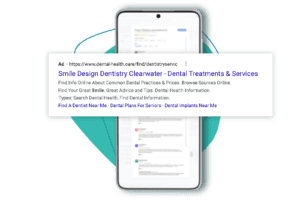 A/B testing is an effective tool for creating winning messaging as it examines ad quality by releasing two versions of the same ad. With A/B testing, you can run controlled tests on different headlines, body copy, extensions, and creatives if you use display ads.
Next, ensure your ad copy resonates with the ad's landing page to create relevancy and prevent user experience interruption. Highlight the service offered and the kind of information the landing page provides. Also, align your copy with keyword intent to maintain relevancy.
Increase Your Ad Quality Score
Quality Score is a diagnostic tool that tells you how well your ad quality is compared to other advertisers. It measures the relevancy of your ads and landing pages to users, and it's available at the keyword level. Therefore, you can identify what ads are performing poorly on what keywords and make informed optimization decisions.
However, the quality score is not a KPI and should not be aggregated with the rest of your marketing data. Instead, only use it to reference how each ad's user experience differs by each keyword.
Re-evaluate How You Bid
Your bidding strategy is another easy-to-fix low-hanging fruit to improve PPC campaign performance. Some common issues with bidding strategies include:
Hyper-segmented strategy that spreads your budget too thin 

Oversimplified strategy that doesn't reach the desired audience

Bidding strategy pointing to the wrong conversions
Since healthcare service providers use Google ad campaigns to capture BOF leads, you should focus bidding on maximizing impression and conversion rate. 
The most effective solution is combining manual and automatic bidding. Manual bidding gives you full control over your spending but can be complicated and time-consuming. Meanwhile, Google's AI-powered smart bidding strategy is great for maximizing impressions but doesn't always align with your goals. By combining both, you can continue to control spending for each location or program while still leaving most of the work to Google's algorithm.
Take Advantage of Remarketing Campaigns
As we mentioned earlier, healthcare service providers must implement a full-funnel paid media strategy. So then, it only makes sense to create remarketing campaigns to keep moving those higher in the funnel down.
The two major search ad remarketing types are
Standard Remarketing

: showing ads to past website visitors or consumers who searched terms related to your service in the past

Dynamic Remarketing

: showing tailored ads to a specific past visitor group based on past activity, such as browsed pages or button clicks.
Meanwhile, Google also allows users to build remarketing lists for search ads, combining standard and dynamic remarketing. By building a list, you can then serve a specific ad to a list of visitors demonstrating similar behaviors during past interactions.
Measure Performance More Efficiently
Finally, don't neglect your analytics and reporting process. For one, the more clarity you gain from past data, the more effectively you can optimize your campaigns to provide the desired user experience. Comprehensive data also helps optimize bidding strategies, ad schedules, and finding winning keywords and copies.
Run a Competitor Analysis
One of the most important steps in running high-performance PPC campaigns is conducting a competitor analysis. Data from more established competitors provide insight into targeting and bidding. 
Some competitor analysis tools include
With these tools, you can peek into your competitors' best practices and implement them yourself.
Select Reasonable KPIs to Track
KPIs are great, but tracking too many KPIs without separating them by goals would create nothing but chaos. Therefore, only choose important metrics that align with your campaign goals.
For PPC campaigns, some helpful KPIs to focus on are
Conversion rate (CVR)

is the percentage of consumers who saw your ad, clicked on it, and converted afterward. CVR provides insights into the quality of the full patient experience created by your ads and the corresponding landing pages.

Cost Per Click (CPC)

tells you how much each click on your ad is costing you. This is a great metric to use when optimizing bidding strategies.
Clickthrough Rate (CTR)

is the percentage of users that clicked on your ad and arrived on your landing page versus how many people saw your ad (impressions). It is a great metric to provide insight into whether your keyword targeting is effective.
Track Your Conversions
In addition to everything else, pay extra attention to conversion tracking since conversion-related data helps you make informed and profitable decisions. After all, what's the point if your ads don't turn leads into real patients? 
Furthermore, conversion data helps you identify low-performing keywords and ads so you can respond immediately.
Conclusion
Optimizing Google Ads can be complicated and time-consuming, but you can optimize your strategy by examining these six things. Meanwhile, maintaining good communication with your media team helps you refine your PPC campaign strategy. In the end, Google Ads is similar to other pieces in your digital marketing strategy: it's about making data-driven decisions to build a sustainable process that fills your patient pipeline with high-intent, high-quality leads.