As we point out often around here, Google wants your business to succeed. Google wants all businesses to succeed, and it wants all customers to spend a lot of money at those businesses. Google wants this because a thriving economy means more money for them. Google isn't the only one that wants this—so does Facebook. These two digital giants are competing for our attention, and in the process, they're adding new features to make them the preferred marketing channel for businesses.
Here we'll explore a curious little corner of eCommerce marketing that many businesses still seem to be barely aware of.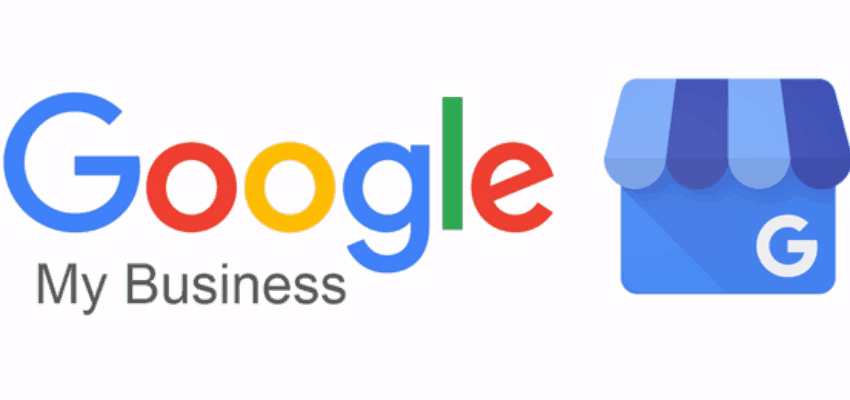 In this article, I'll first discuss why you need a strong Google My Business listing and then share:
Step-by-step instructions to optimize your listing
Recent changes to GMB
COVID-19 impact
Let's get started.
Why You Need a Strong GMB Listing
We covered quite a bit of this ground in our previous Google My Business (GMB) post, but that's a few years ago. It's so old that Google+ was still running at the time! Since then, there have been a few changes to features and new Google account integration, which we'll cover in a bit.
But the core message remains the same: for brick-and-mortar storefront businesses, 72% of consumers say they check local reviews to look for positive buzz about businesses, and 88% say they check reviews to help make a decision on whether a business gets their patronage.
Now, not every business can benefit directly from a Google My Business listing. If you don't have a storefront location but do all your business remotely on the web, run a shipping-only store, or you are in an industry that doesn't depend on "walk-in" clients, Google My Business might not give you a huge bump in revenue. But since it's free and takes only minutes to set up, there's no reason not to try. We have seen private residences run an Etsy shop selling hand-crafted doodads out of their garage with a listing on Google My Business, nobody bats an eye.
There has been a strong "shop local" trend growing among American consumers for the past decade. There's a number of consumer motivations for shopping local that we hear expressed regularly:
Growing distrust of giant mega-corporations like Walmart and Amazon
Desire to stimulate the local economy more
Interest in finding unique products and services that only boutique businesses offer
Favor for personalized customer service
The "retail apocalypse" closing down malls and large-chain retailers
And most recently, COVID-19 has prompted people to stay local and to support small businesses
As customers have taken to navigating around town with a phone or tablet in hand, advertising online but signaling to the local area has become an effective way to land foot traffic. It's like having a virtual "barker" on the street corner in front of your shop.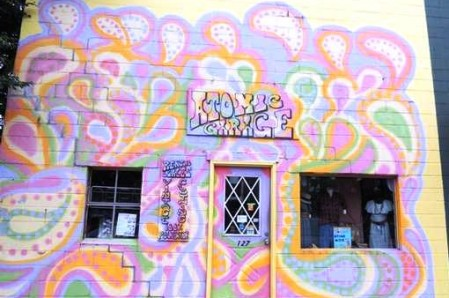 If you haven't done Christmas shopping in your local bohemian district discovering obscure nooks, cozy diners, and one-of-a-kind treasures you would never have thought to look for, you just haven't lived. Ordering online has its conveniences, but after so many years of this sterile convenience, shoppers are ready to venture out to their neighborhoods and see human faces again.
But the most compelling reason to use a Google My Business listing is that it's free. How can you argue with "free"? If you're investing in local search engine optimization (SEO), you want to be sure that when your business pops up, that there's a complete and persuasive GMB listing present.
How to Optimize Your Listing
Step One: Be Sure You Have a Google Account
This should go without saying, but there might be a few people who don't have one yet. If you sign in to Gmail or YouTube or any other Google property, you've got this already.
Step Two: Check if You're Already Listed
If you have a physical business location, you just might already have a Google My Business listing. To check, go to Google Maps, and enter any combination of the following into the search bar: your business name, business address, or business phone number.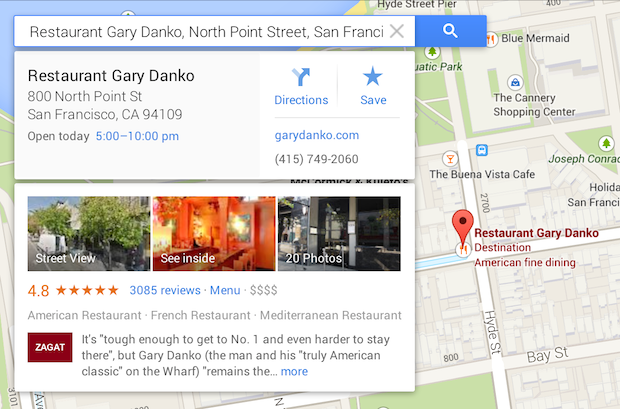 If your store pops up with a little red pin and an address listing in the sidebar, Google was already nice enough to take care of the address listing for you. Click "claim this business" next to your address and away we go to the next step.
If there is no "claim this business" link, the business might have already been claimed. There is a verification process for this, so if it was claimed already and it's not you, it's likely that a partner, associate, or employee claimed it already. Reach out to them to have the claim transferred if that's what's needed. If that's not possible (or somebody did manage to sneak in a bogus claim to your business), petition Google for "request ownership of a business profile," following the instructions there.
The point of the business profile is to link your account with your business, and let you control the listing. We want verification, of course, so rogue entrepreneurs can't lay claim to your business or go around telling people you're closed.
Step Three: Create a Business Profile Associated with Your Account
Assuming you didn't already start the process from a Maps find, you'll need to go to Google My Business start page to begin the listing from scratch.
This will ask for a business address if you did not claim one in step two.
The business address can be your storefront, office, or even nothing but your website link. You do not need a physical, brick-and-mortar, kick-it-with-your-foot address. If you have one, that's ideal, but your remote virtual SaaS business is perfectly OK resting in the clouds. The only downside with no physical address is that you're absent from Google Maps, but it's doubtful somebody was looking for your cloud-based service on Main Street anyway.
If your service has a walk-in retail location but also offers delivery or shipping, you'll have the option to state that you also serve customers outside your business area.
Remember that you want to enlist your true, legal business name, the way it would appear in the Yellow Pages or on tax forms. This isn't the place to embellish with slogans. You will also have to select your business category, which may be tough if you're offering something unique. If you change your mind or your business evolves, you can change or add business categories later.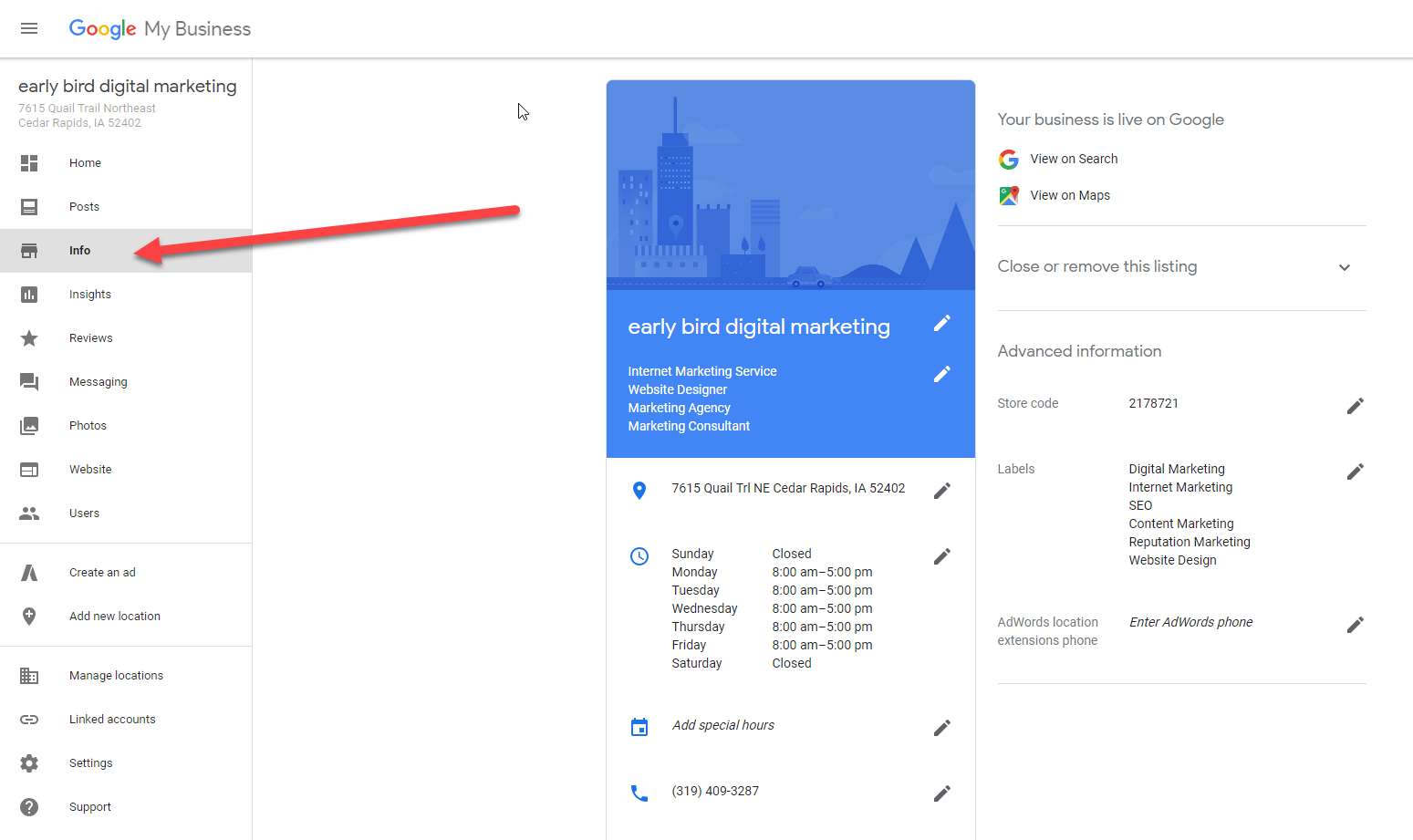 For the website step, your options are to enter your site URL, or check "I don't need a website," or "get a free website based on your info." This will let you create a small, hosted web page under Google My Business' Business Profile section. This service replaces the old system of Google Places for Business and the long-defunct Google+ social network.
Before you get too excited about the free website, be advised that it's pretty bare-bones and not meant to replace an actual hosted website. Think "GeoCities page for businesses." For the devil's advocate argument of it, it is possible to create a web presence out of a free blog at Blogger.com and link it from your Google Business Profile. But not possible to optimize SEO, install eCommerce plug-ins, or any of the other tools.
Step Four: Optimize Your Google Business Profile
Once you're set up with a verified account and log back in, you'll wind up at a dashboard, not unlike the kind you'd see in Tumblr or WordPress. There's a gauge in the upper right-hand corner that tells you how complete your listing is. Your options to add content include:
A place to list and describe your services offered
Listings for amenities, payment types accepted, hours, contact, etc.
A place to add photos
A place to add videos
A menu feature for any kind of list of products or services
Try researching local businesses on Google Maps and you'll see local business listings that are filled out with a photo gallery showing a shop tour, hours, messages from the business owner, and all the amenities of a virtual storefront. The most vibrant listings that really come to life are the media-rich listings with photos and videos. You are free to add all kinds of content here:
Your business logo
Photos of the interior and exterior
Give your customers a virtual tour
Use this space to advertise special promotions
Add a personal touch with snaps of your happy team
It's really important to include photographs of your store, products, or team. Before making purchases or selecting a business, people want to visualize what they're getting or where they're going. Otherwise, it's difficult to commit to the purchase.
It doesn't have to be complicated. If you have a smartphone, you should be able to take photographs that tell a story about your brand. Watch this short video tutorial from Google to learn a few photography tips that will help your GMB listing stand out.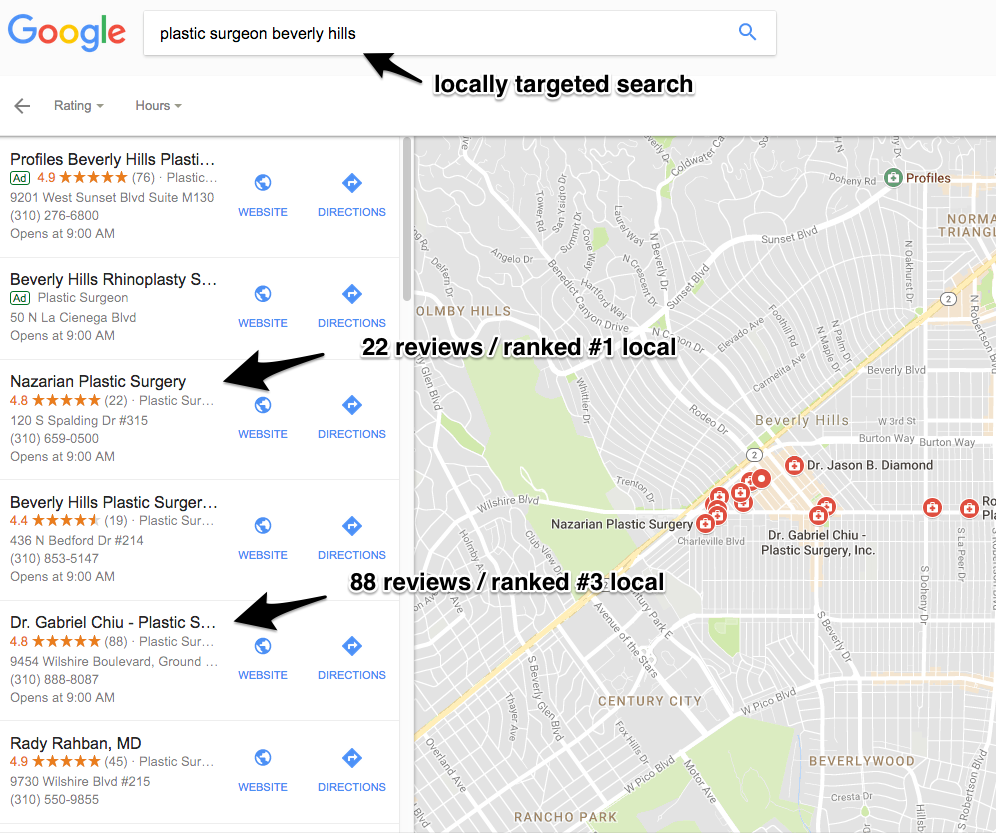 Your Google Business listing will also have space for customers to add reviews! These work exactly like those on Yelp, BBB, Angie's List, and other consumer-facing review sites. You do have an option to flag inappropriate reviews if you have the bad luck to be visited by a toxic individual (it happens to the best of us).
And that's it! It's relatively simple to create a Google My Business listing, and the returns far outweigh the effort. If you prefer video tutorials, you might want to check out this Google video that outlines the step-by-step process.
Recent Updates and Changes to GMB
User Ratings
A word about those reviews we mentioned back there. Have you ever gone to a local store or restaurant, and after leaving there, the next time you glance at your phone, you see a pop-up box asking something like "rate this place"? Other times, you'll get emailed a quick survey asking basic questions like "does this establishment have handicapped parking"? That's where those rating come from sometimes.
It's a feature they've had for a few years now, but it's a far more established practice now as more businesses anchor a Google My Business listing.
We did mention that you can flag inappropriate reviews, but you aren't able to just have a bad review removed. However, just like on Yelp, you can manage your reputation by responding to reviews, perhaps working things out by resolving a disgruntled customer's issue.
Posts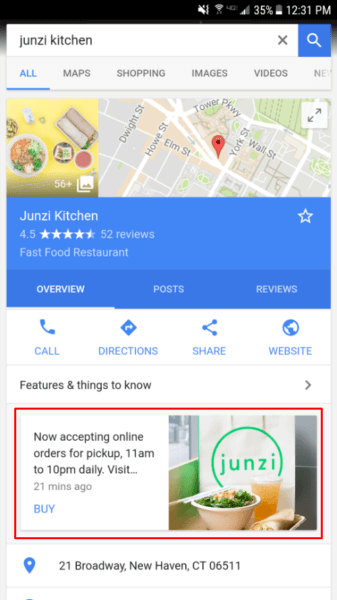 Another recent feature to pay attention to is Google My Business Posts. This feature allows you to make short updates, up to 1.5K characters, but the ideal is around 300 characters. It works just like your Facebook or LinkedIn profile, a mini-blog space to use for your business promotion. This is a little goldmine for marketing content—maybe greet your customers with seasonal posts, advertise a new product, offer a coupon code, promote special events, or announce changes to store hours in observance of holidays.
Here's a cute trick: "???? near me" – copy and paste this emoji and text in your Google search bar. It will recognize the emoji and list taco restaurants. It will do the same thing for hamburger ("????"), pizza ("????"), and many other emojis. You can help this process along by including emojis in your posts, and yes, people do search this way sometimes. It especially seems to be a Generation Z thing.
Posts expire after seven days, making this venue unsuitable for long-term SEO practice, but great for short-term promotions or events. Google will even send you an alert when your Posts are running dry. You can always save a file to repost if you want to keep the same announcement up for 30 days or so.
Booking
Google lets you set up a Booking Button feature which allows you to schedule appointments and reservations with customers.
FAQ
Just like the FAQs that appear in Google search results, Google has a "Questions and Answers" feature that anyone can use. This useful feature can be accessed within a Google My Business listing. It's intended to be a more customer-facing feature that allows consumers to easily interface with businesses. Instead of searching for contact information to send a query, people can do it here.
Here's the catch: anyone can answer a question. It's not reserved for the business owners. However, we recommend that you monitor incoming questions and provide timely answers. That way, you'll be able to control the flow of information. When you're responding to questions, make sure that you're logged into the business account that is tied to the GMB listing. You want to make sure that the correct profile is displayed next to your answer and that Google acknowledges that the response is from the owner.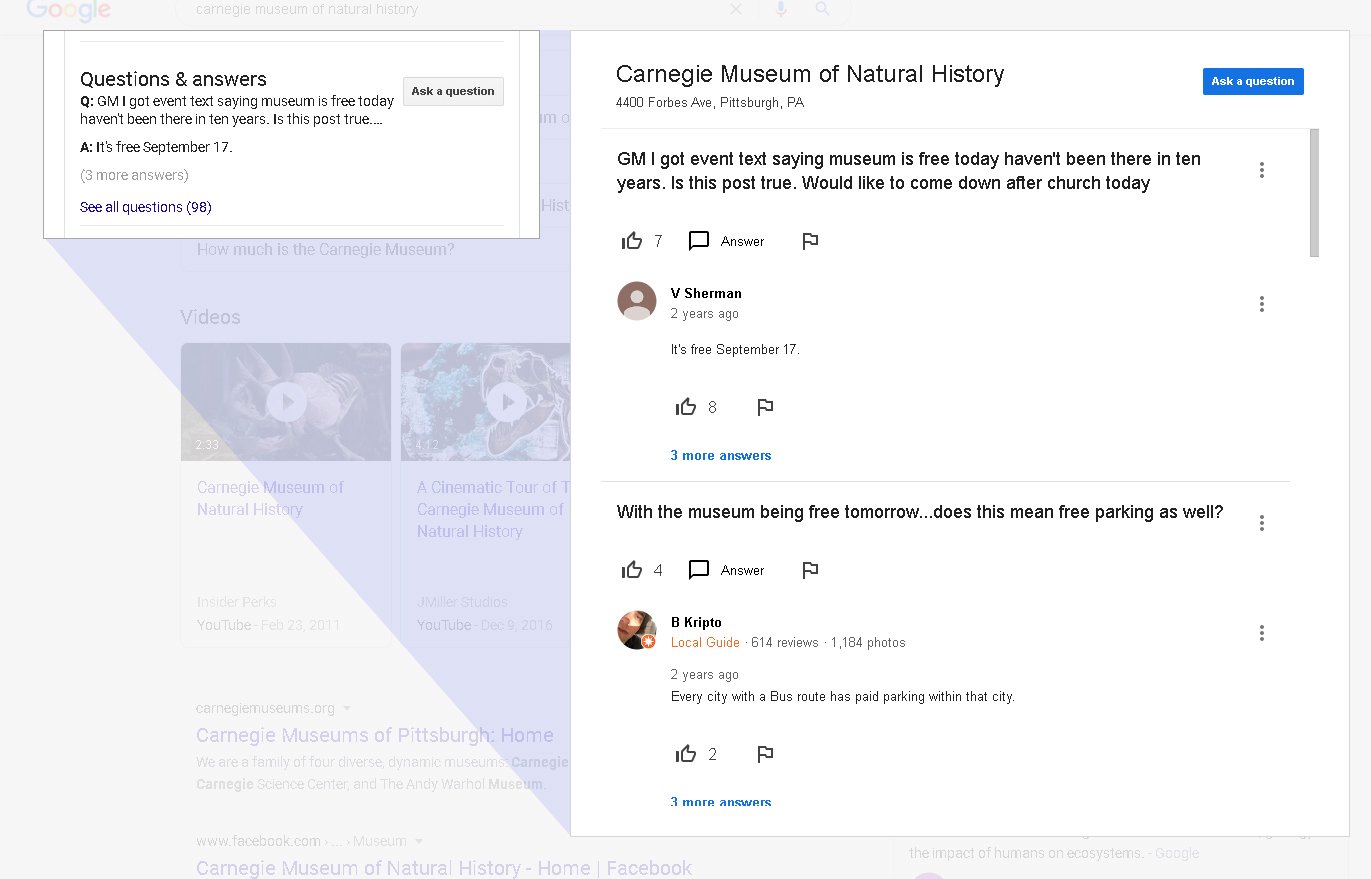 COVID-19 Changes and Updates
The most important consideration you should give to your Google My Business listing is to keep your customers updated on your business' operational status. Google My Business has added a special help section just for this occasion. You will want to make changes to your Google My Business listing reflecting:
If you're temporarily closed and when you expect to re-open
Your changed hours
Changes to your service, if the pandemic is limiting your operation
New services you're offering, like curbside pick-up or delivery. In the healthcare industry, businesses are able to add telehealth as a new service
Delays or limits to products and services you'd normally offer
The COVID-19 pandemic has undoubtedly cast a cold, dark shadow on the business world and will for some time. Although finally we do have some blessed news of hope for an upturn, it's bound to be quite some time before things are back to "normal." If indeed, some of that pre-2020 "normal" isn't lost forever.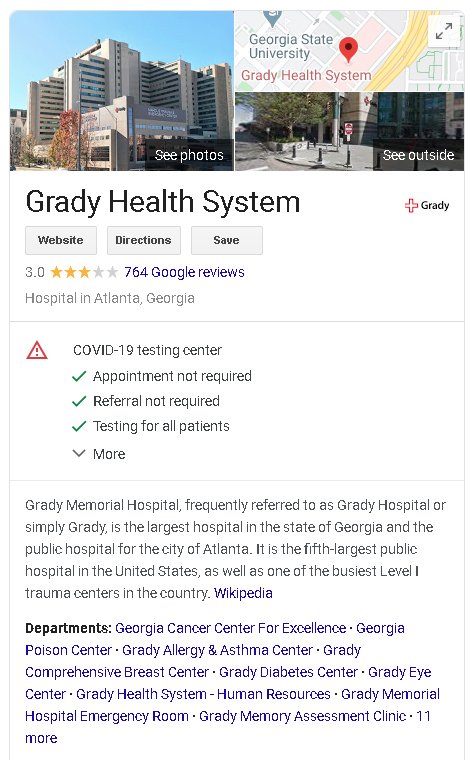 Is this business situation all bad news? Well, that depends:
On the downside, there are certain kinds of businesses whose nature is just not built to weather global pandemics. Casinos are struggling to re-open, bars and nightclubs are dormant, and we might need to turn our stadiums into museums with limited tour attendance at this rate. Out-of-home entertainment is all but dead. The travel industry is flat-lining. And many more businesses that are able to remain open otherwise are crippled by the reduced function of the industries they depend on.
On the other hand, small shops are more attractive during a pandemic. Fewer people in there at once, the clientele is more localized, and if an economic downturn is in the cards, tight-fisted consumers will keep their cash in their own hometown rather than spend it at big box stores.
An even bigger upside: Google My Business is just the right tool for marketing during a pandemic. With its small-window information interface geared towards local foot traffic and the features we discussed above for personal communication with customers, Google My Business can help your store stay nimble on its feet when your normal sales counter service has been disrupted.
As we mentioned earlier, the COVID-19 pandemic is limiting travel, so locals are staying closer to home. It is also driving people batty from being indoors all the time, so they're more likely to pace around the block and discover your ice cream shop. Provided this doesn't occur during a BLM protest that sends a brick through your window, it's all good.
Review Our GMB Optimization Checklist
Before you call it a day, take a moment to review our Googly My Business optimization checklist. You want to be sure that you've completed each item on this list.
Verify your listing
Use a complete USPS-approved address
Ensure NAP consistency between your website and GMB
Specify the area or region that you serve
Check all relevant service or product categories
Write a compelling introduction
Add optimized photographs
Implement a review encouragement program and monitor it
Share timely and relevant posts
Monitor Q&As and provide answers
Most importantly, make sure that your listing is accurate; incorrect information is a negative local ranking factor. Once your GMB listing is optimized, don't just forget about it! You want to continue to interact and frequently update it. Add new photographs, share posts, and respond to Q&As.
Not only does this tell Google that your business is active, but it also shows prospective customers what it's like doing business withyou.
The Future of GMB Listings
Since Google has shut down Google Places and Google+, along with the usual piecemeal services that Google likes to test-drive, Google My Business is a replacement for eCommerce and storefront connectivity on the Google platform. Since Maps has been one of the services Google has kept up nearly since its founding, it's likely to remain in place for a long time. Google Street-View is also part of this ecosystem, as the snapshots from the Street-View cam become storefront images in Google My Business listings by default for business unclaimed yet.
Could we be seeing a new "normal," a renaissance of the small, local business and the return of foursquare communities? That's an amazing idea. After all these years of worldwide Internet connectivity, shipping goods, and jet-setting all around the globe, maybe the novelty of bringing the world to our doorsteps is finally wearing off.
Maybe we're ready to get our books from the quaint bookshop around the corner again. Maybe we're rediscovering handmade artisan soaps we can smell before we buy. Maybe that wooden rocking horse in the antique store window will make the best Christmas gift ever.
If this is really happening, Google My Business integrated with Google Maps just might become the greatest commerce system of the early 21st century. In any case, if you want to reach people on the Internet, it needs to be part of your digital marketing strategy.
If you need help optimizing your Google My Business listing or want to talk about your local SEO strategy, feel free to contact us. We're here to help!