Here's a doozy: the World Health Organization (WHO) Facebook page has more than 12 million followers. Why you might ask. Well, it might have something to do with helpful posts like this:
That video from WHO answers a very common question that many people have right now. Similarly, if you're one of the 27,000+ people following Scripps Health on Twitter, then you're getting important COVID-19 vaccine updates on your timeline, such as this one:
Thrilled to announce that this week we began distributing the #COVIDVaccine to our senior population. ???? At this time, we are offering the vaccine to patients 65 and older on a first-come, first-served basis with scheduled appointments through MyScripps: https://t.co/NhWHOBVu0N pic.twitter.com/yqcryZikVm

— Scripps Health (@ScrippsHealth) January 21, 2021
As a patient and healthcare consumer, there's something attractive about getting digital updates directly from local and national healthcare providers. It's an authoritative, trusted voice to turn to for guidance, recommendations, and reassurance. For healthcare providers and medical practices, this "natural value" has tremendous potential.
3 Ways to Use Social Media to Grow Your Medical Practice
Social media channels can bring thousands—even tens of thousands and millions—of eyes to important updates, educational content, and marketing campaigns. As such, social media can be a strong driver of patient acquisition, too—beyond simple brand awareness.
This is why it should never be an afterthought for healthcare organizations in growth mode. Findings from The 5th Annual State of Digital Marketing in Healthcare Report underscore how the market is responding to the value of social media:
80%+ of healthcare marketers are leveraging Facebook, YouTube, Twitter, LinkedIn, and Instagram
Facebook Ads are the most used online advertising tool in healthcare
Facebook Page Insights is the most used tool for measuring digital return on investment
And yet, more than 70% of organizations cite lack of organizational buy-in as an obstacle to success. In the spirit of getting over this hump toward better, measurable ROI, here are three social media growth strategies for the healthcare vertical.
1. Share Your Brand's Personality (and Humanity)
Part of the reason the WHO, Scripps, and other healthcare organizations enjoy such large followings on social media is connection. Healthcare consumers want to connect with their providers and develop a longer-term relationship. They want those providers to care about them, too—to demonstrate a certain level of empathy, community involvement, and transparency.
Benefits of Building Brand Personality on Social Media
Building your social media brand helps:
Strengthen brand loyalty/affinity
Create brand champions that engage with, share, and evangelize your content
Increase word-of-mouth recommendations
As you map out your social media campaigns for the coming months, carve out a plan for some regular brand-building content. Think: what aspects of our brand comprise our personality? What are we doing now that cultivates our patient and community relationships? Here are a few ideas on what that might look like:
Highlight your providers by telling their stories and sharing their photos and quotes
Build out a "Message from Dr. Bob" series in which a distinguished physician discusses hot topics (such as vaccination)
Embody your brand's values, mission, and what you care about in all of your brand building social media posts
Highlight community involvement, philanthropy, and media coverage
Example 1: OrthoCarolina on Facebook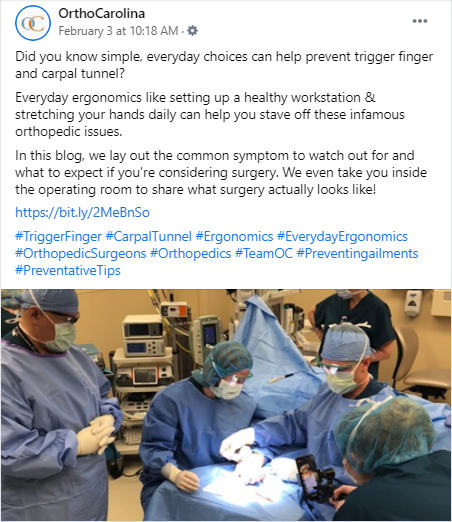 What we love about this feed:
OrthoCarolina shares real-life examples of what an orthopedic surgery will look like
Photographs of real people associated with OrthoCarolina and no stock images
Provides content not just on orthopedic health, but health overall
Example 2: LifeStance on Facebook
What we love about this feed:
LifeStance advocates for mental health awareness and shares educational resources
It's people-forward and empathetic; they keep in mind people's stresses and challenges
It shares ways you can give support to others and also help yourself
Example 3: Cigna Facebook Page
What we love about this feed:
Helpful videos with medical professionals sharing timely tips and best practices
Regular online seminars on important topics, such as eating disorders, health and well-being, and COVID-19
2. Educate, Encourage, and Reassure Healthcare Consumers
People think about their healthcare all the time. According to research from Gallup, healthcare is the #1 worry among Americans. Nearly 55% of Americans "worry a great deal" about healthcare. When a group of people in that mindset hits social media, who knows what they'll find?
For those who worry, or have questions and concerns, healthcare organizations can be the trusted voice. The same goes for people who don't know they have a problem or risk. Both groups will encounter complex medical decisions that require research and consideration. And both groups can benefit from thoughtful, timely content published by their healthcare providers.
This is where a steady stream of thought leadership, awareness campaigns, and even Q&A come in. By publishing this kind of content on social media, healthcare providers can reach the people who follow them to learn, make sound decisions about their health, and even evaluate providers.
Examples of Educational Healthcare Content
An educational series directed at a particular patient demographic. An OB-GYN might speak to what expecting mothers need to know. Orthopedic surgeons can share info on preventative maintenance for chronic lower back pain. Behavioral health specialists will likely share information on how to get help.
Information about different procedures, including who they're for, how they differ, and associated benefits/risks. This is a good place to embrace video and "go under the hood" to make healthcare knowledge accessible. It's also an opportunity to showcase case studies and patient testimonials.
Seasonal awareness campaigns that help drive core public health initiatives, like fall/winter flu vaccinations or summertime sun exposure guidelines.
Benefits of Educating Healthcare Consumers Through Social Media
From a growth perspective, educational campaigns of this sort have a few key benefits:
Alleviates doubts by showing people that you know how to help them
Builds authority in a particular practice area or specialty
Persuades prospects that you're the right provider for them, especially in competitive markets, such as plastic surgery or dentistry
Provides an effective way to keep in touch with patients and nurture them through what can be a long journey
Helps maintain your relationship with existing customers and prevent attrition
3. Highlight Positive Reviews, Social Shoutouts, and Patient Testimonials
As engaging as some social media accounts might be, a lot of healthcare providers still churn out the same generic content. It's all very "we, us, our." Aside from boring content, what most of these accounts have in common is a lack of social proof.
In other words, people want to read real reviews and see real people!
Ideas for Testimonial-type Content and Reviews
One of the easiest ways to highlight the "voice of the patient" is to do just that: to share user-generated content (UGC), video, and posts that mention your practice. You'll need to track mentions, or particular hashtags, to source the right kind of posts. From Sprout Social to Hootsuite, there are a variety of solutions to help manage social media channels in one place.
Another option is to share testimonials, including images and written stories, videos, and quotes. This is a great way to connect with people who have fears about a particular procedure, for instance. Here is a stellar example of just that from the acclaimed Rush University System:
Finally, keep in mind that some platforms, such as Facebook Pages, allow people to rate and review businesses. These reviews can be embedded on a website testimonials page, for example, or shared on other social media channels. They can also be managed and engaged with directly, which is especially important if you've received any negative reviews.
Bonus: Embrace the Power of Paid Social
As effective as the three strategies above can be, they primarily support "organic" reach on Facebook. Unfortunately, growing organic reach is more of a long game, and has become more difficult thanks to updates to the Facebook algorithm. These updates now only show a fraction of your posts to your followers.
For healthcare organizations to reach new audiences on Facebook, grow their reach, and keep their pipeline filled, they need to go beyond solely organic growth strategies. Enter: paid social media advertising. Paid social is a great complement to the three-part organic strategy outlined above. It can be used to leverage your organic following into more bookings, too.
Here's why paid social works:
Highly targeted. Get positively scientific with your ads, with the ability to target based on demographics, interests, geographic location, and more. Remarketing ads can be used to show ads to people who recently visited your website. You can also target ads based on engagement, such as liking a post or watching a video, as well as lookalike audiences.
Low cost. Where else can you reach over 1,000 people for less than $5? With various available bidding models, such as cost-per-click (CPC), cost-per-thousand impressions (CPM), cost-per-download (CPA), and cost-per-like (CPL), there are more ways to get the most bang for your buck. The most common model is CPC and it will cost you $0.97/click on average, for example.
Fast results. The Facebook Ads platform is very accessible. Account setup is straightforward. Done correctly, you can get set up and generating clicks, calls, and leads by the end of the day.
For many medical practices, Facebook Ads are a new concept. Sometimes, it helps to start with low-hanging fruit. Let's say you're a dental group with an existing Facebook Business Page. Before building out complex ad campaigns, we'd recommend serving targeted ads to people who have already engaged with your organic posts. Maybe they liked a video testimonial about teeth whitening that you shared and watched the first thirty seconds. Based on that data, you can create a campaign for teeth whitening that targets those who watched the video and encourages them to make an appointment—or even offer them a special promotion to entice them.
Takeaway: It Takes Two for Thriving Social Media
That people are at the center of what makes most healthcare organizations tick is a great advantage. At least it should be. Where many healthcare marketers fall short is treating marketing channels—social media especially—as merely patient acquisition streams. While that's a fine and attainable goal, it's putting the cart before the horse.
Growing your patient base on social media requires some groundwork. We've laid out three specific strategies above, and each is rooted in a fundamental principle: things go better when people participate. At their core, social media channels are a great place to start a dialog—to encourage responses, sharing, and comments. To generate conversation and hear from real people.
This requires a thoughtful approach that brings value to the patient's journey. Do you need to wait until you've built a 12-million-person following, like WHO? Of course not. But you do need to bring people to your channel and get them talking. From there, all kinds of pathways to growth will open, from paid social media advertising (retargeting, boosted posts, etc) to layering in chat.
Finally, let's remember that the best healthcare marketers know how to read the room. Running successful social media channels means knowing what's going on in the world. Today it is the COVID-19 vaccine. Tomorrow or next there will be other healthcare topics that people will be wondering or worried about.
For many, social media will be the first place they turn.