In what many hope is the final farewell to the pandemic, the healthcare industry is bouncing back. Patient volume is back on the rise, with fewer people deferring care and many patients making up for missed appointments. In response to this return to normalcy, healthcare marketers are quickly adapting to resurgent consumer demand.
As our data indicates, marketers are doubling down on the core marketing strategies they had to dial back due to the pandemic. With respect to patient acquisition, 87% of survey respondents consider increasing new patient volumes a high priority in 2022.
Interestingly, 42% of respondents consider patient sentiment and loyalty among their top priorities. It seems healthcare marketers are not only investing energy toward attracting new patients but toward keeping and nurturing those patients. Happy patients are key to word-of-mouth recommendations and building demand.
To help healthcare marketers adapt to this unique post-pandemic landscape, the Cardinal Digital Marketing team conducted our annual survey to assess the current state of digital marketing in healthcare. We designed the survey with some compelling questions in mind:
What are the biggest changes coming to healthcare marketing strategy in 2022?
Where do healthcare marketers see the most room for improvement in terms of tactics/channels?
How well do healthcare organizations track marketing ROI?
What are the primary obstacles impeding most healthcare digital marketing programs?
Where are healthcare organizations directing their marketing investments?
We surveyed healthcare marketers at a variety of healthcare organizations, most within the dental/DSO/OSO space. Here's a little more data on the people we surveyed for this report:
100% of respondents are responsible for managing marketing strategy or budget
61% in a director-level, VP, or CMO role
24% work in the dental/DSO/OSO space
16% work in a specialty clinic and 8% in primary care
Table of Contents
Executive Summary
Key Findings
Top Goals
Top Marketing Initiatives
Top Marketing Barriers
Biggest Change to Marketing Strategy
Marketing Tech Trends
Channel Trends
Final Thoughts: Ready to Bounce Back Smarter
Executive Summary
By most accounts, behavior among healthcare consumers is returning to normal. Are we moving toward what Deloitte calls "The Next Normal"?[1] It certainly feels that way for healthcare marketers, with 49% increasing their 2022 budgets and 87% of whom consider increasing patient volume a top goal.
A narrow focus on patient acquisition isn't surprising. Top-line growth is always a top priority for healthcare brands—especially for those who receive private equity funding. And that growth primarily comes from boosting new patient acquisition volumes. It's the how that seems to be changing.
87% consider increasing new patient volumes a high priority

"Top-line growth is always a top priority for multi-location healthcare brands—especially for those who receive private equity funding."
A Renewed Focus on Evergreen Patient Acquisition Strategies
For one thing, this year's survey indicates a shift toward investing in evergreen patient acquisition strategies. Search engine optimization (SEO)—the biggest marketing initiative for 64% of respondents—is a good example. Once built using fundamental best practices and tactics, an SEO strategy can consistently yield new patient leads from organic search.
Confidence Among Marketers is High
What's more, healthcare marketers seemed to have found stable footing once again. The majority of our respondents (64%) believe their digital marketing strategies are either "effective" or "most effective" (rated on a 1-5 scale). That same figure was 53% just a year ago.
It's All About Performance
Overall, performance marketing comprises the strategies that respondents ranked most effective. In all, 37% of respondents ranked SEO as a "most effective" marketing strategy, with PPC closely behind (34%). Compared to social media marketing, display advertising, and video, it's easier to measure SEO and PPC performance and, notably, to determine attribution.
Still, marketing attribution is difficult, generally speaking. Overall, only 35% of respondents felt they were very successful at tracking ROI. Healthcare marketers continue struggling to pinpoint the true source of leads and patients. Typically, last-touch attribution models tend to heavily weight SEO as the source—ignoring upper-funnel tactics (like social media) as sources.
Key Findings
If nothing else, this year's data indicates a shift from the more defensive adapt-and-react strategies necessary during the pandemic, to growth mode. Yet this rigorous leap into the new normal is not without nuance, new goals and challenges, and reservations, as our survey data quickly reveals.

Top Goals
Book New Patients With Far Greater Consistency
Yes, most healthcare marketers consider new patient acquisition a top priority. This hasn't changed much in recent years. However, our survey finds that many marketers are focused on taking new patient acquisition a step further:
Building brand awareness (53%)
Improving patient sentiment and loyalty (42%)
Enhancing brand image and reputation (42%)
These data points underscore an important reality: in highly competitive markets, it's not enough to just capture existing demand. Forward-thinking marketers understand the need for building demand earlier in the patient's journey through top-of-funnel tactics. These brand-building activities are critical for building a bigger funnel.
Respondents who indicated that increasing patient volume is a top goal zeroed in on two core marketing initiatives: SEO (64%) and digital advertising (61%). Of the same group, resource deficits—that is, a lack of marketing headcount and/or insufficient funds—were the biggest barrier to implementing said marketing programs.
Combined, these barriers make it difficult to scale patient acquisition strategies effectively to drive consumer demand. Perhaps this is why 48% of respondents are increasing their 2022 marketing budget to try and overcome those challenges.
Top Marketing Initiatives
SEO and Content Creation Up, Telehealth Trending Down
Given the top priorities, it follows that digital advertising (59%), SEO (59%), and content creation (57%) are the top initiatives for the majority of our respondents. SEO and paid media is a reliable recipe for new patient acquisition. As in our 2021 survey, digital advertising was the top marketing initiative for healthcare organizations. This year, SEO and content creation have claimed the other two top spots.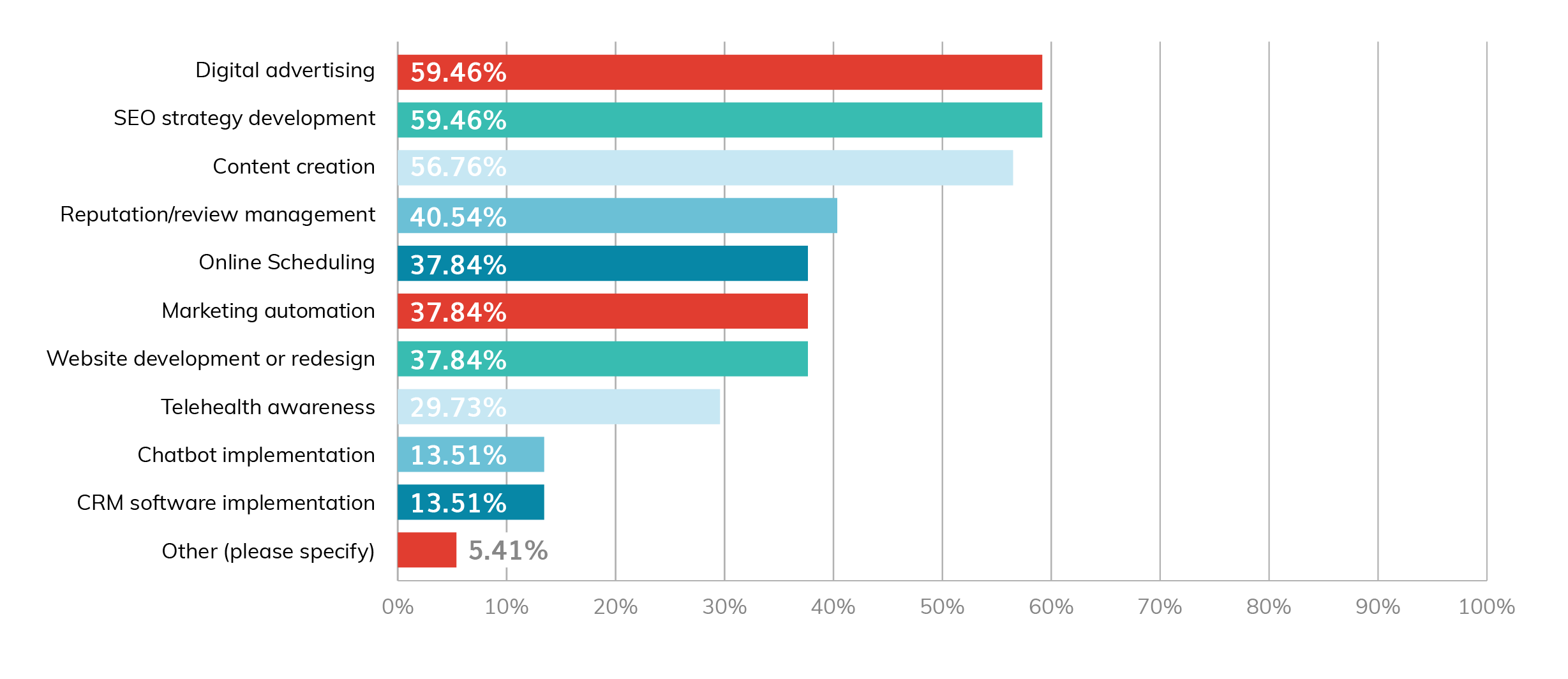 Year over year, the importance of brand image and reputation remains strong. For instance, reputation and review management (41%) is fourth on the list. In today's world, people go online first when they have a healthcare need. They have the power to choose the provider they deem best, of which reviews, ratings, and other aspects of digital reputation factor in. Maintaining a positive digital reputation will always be a top priority for healthcare brands.
Another notable result was the diminished emphasis on telehealth. Telehealth was a top goal in the 2021 survey (50% of respondents). This year, only 30% of respondents are planning projects or initiatives around telehealth. As we move further away from the height of the pandemic, telehealth investments will likely continue to decrease. Those that deemed it essential to business have already made those investments.
Top Marketing Barriers
Staffing and Budget Constraints Remain
Unfortunately, the appetite for top-of-funnel marketing investments is not always supported by sufficient organizational resources. Fifty seven percent of our survey respondents indicated lack of staffing as a top barrier to realizing their top marketing initiatives (up 12% from last year). Similarly, 35% struggle with insufficient funds (up 10% from last year), while 27% have difficulty implementing technology.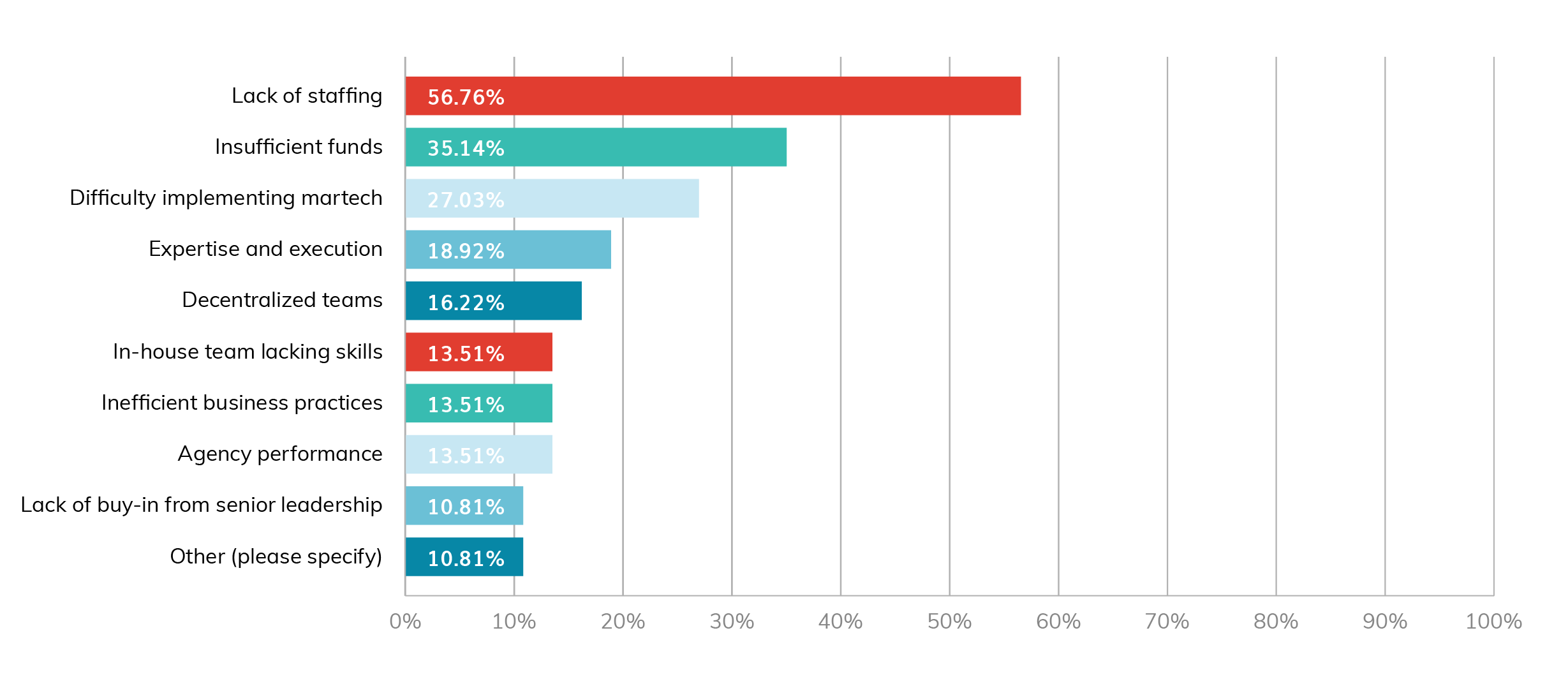 Interestingly, respondents grouped around the same three digital marketing barriers in both 2021 and 2022. While lack of staff and funding were equal in 2021, lack of staffing dominates in 2022. Why? For one thing, hiring and retention have become challenging across all industries since the onset of the global pandemic.[2] A side effect of inadequate staffing: implementing new technologies becomes more difficult, as reflected in the overall lack of MarTech sophistication in the healthcare space.
A lack of funds also makes it difficult to hire and stay competitive in this labor market. Yet, while respondents reported that lack of funds was a top barrier, 49% also indicated that their marketing budgets have increased (compared to 2021, where marketing budgets only increased by 21%). Coming out of the pandemic, it appears that healthcare organizations are feeling more confident and have expanded their marketing budgets accordingly. Compared to last year's survey, respondents who marked the marketing budget as a barrier decreased by 10%.
Other notable marketing challenges include:
Segmentation (42%)
Lead attribution (33%)
Brand awareness (33%)
Biggest Change to Marketing Strategy
Shifting Investments to Authority-Building Activities
Our data suggest that the biggest change to marketing strategy is the increased investments in SEO and content creation. The vast majority of respondents to Question 17 selected one of these two themes. Perhaps these respondents now realize that the digital landscape is changing and that they need to make that investment into SEO and content if they want to remain competitive.
Also, they seem to understand that content is an essential part of SEO—that poor content just doesn't cut it anymore—as indicated by some of the responses. "We're dialing down our investments in paid search and putting more emphasis on SEO and content creation," said one respondent. "It's the only way we can keep up with E.A.T., which earns us trust and authority among customers and Google."
Marketing Tech Trends
Minimal Change in New MarTech Investments
Our survey shows that healthcare marketers do not use many of the fundamental marketing technologies we'd expect. For each tool listed (e.g., marketing automation, call tracking, etc.), more than 40% indicated that they don't use that technology at all. For some technologies, such as conversion rate optimization tools, that number jumps to 82%.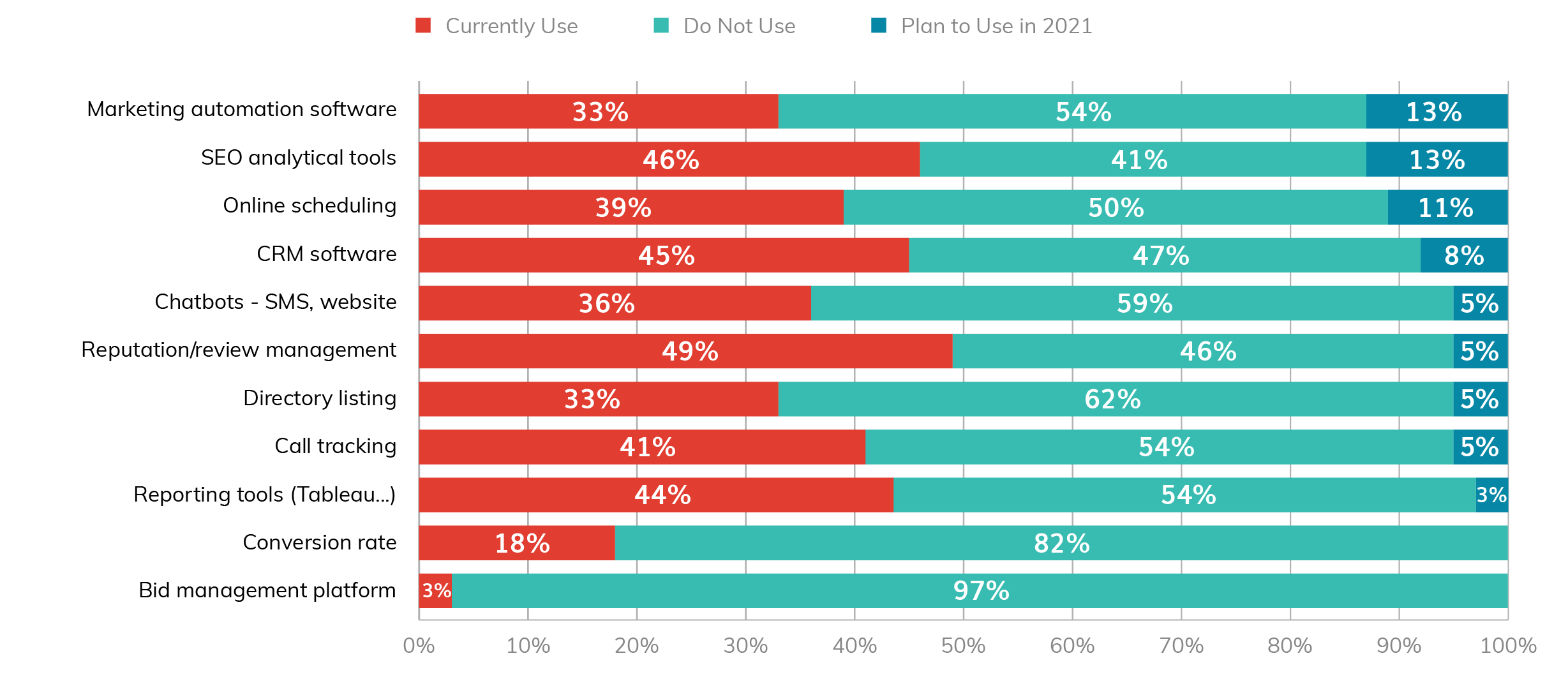 This isn't surprising, as healthcare has always been behind with respect to tech adoption. Overall, investments into new tech are minimal. Our findings indicate that the most significant new MarTech investments are into SEO analytics (13%), marketing automation (13%), and online scheduling (11%).
One key takeaway is that 47% still do not use a customer relationship management (CRM) solution. The same was true last year (46% did not use a CRM then). The complexities of integrating CRMs with EHRs and across multiple locations can be daunting, and it looks like many organizations still aren't ready for the challenge.
There's not a lot of movement in new tech adoption, perhaps due to difficult integrations and a lack of implementation staff. There are also the changing tides of the global pandemic. Improving digital experience and adding online scheduling was a top priority during the height of the COVID-19 outbreak. This year, online scheduling technologies is a lower priority, with only 11% investing in that technology.
Channel Trends
Two Channels to Keep an Eye On
Paid search has long been the go-to channel to drive patient volume, as performance and impact on the pipeline can easily be understood. SEO takes time to generate results, and it can be more challenging to determine ROI, which may have deterred investments before.
This changing in 2022; more marketers are reporting increasing investments in SEO.
SEO
Our findings overwhelmingly indicate an increased focus on SEO. In terms of investment, it's the second biggest change in investments in 2022 (26% will increase investments in SEO). Looking closer, one of the top two digital marketing technology investments in 2022 will be SEO analytical tools, such as SEMRush, Ahref, and Moz.
The majority of respondents (69%) have an SEO strategy, at the very least, but only 20% feel that their SEO strategy is extremely effective at generating new patients. Some 46% believe their SEO strategies are somewhat effective.
PPC
In the realm of PPC, we find similar media usage between both Facebook Ads and Google Ads. While Google Ads has a slight edge, future investments planned for 2022 are the same for Facebook.
All in all, 62% of respondents currently use Google Ads. This is the dominant media channel used by healthcare groups, essential for capturing healthcare consumers who need care now (high-intent/bottom-of-funnel). Of those that currently don't use Google Ads, 16% are planning to do so in 2022.
Final Thoughts: Ready to Bounce Back Smarter
Our 2022 findings provide some encouraging signs. Healthcare consumers have emerged from pandemic-induced hibernation, as have healthcare organizations and marketers. Most are opting to invest more in digital marketing and ramp up new SEO, PPC, and content strategies.
While the healthcare marketing field seems reinvigorated, tracking, attribution, and determining ROI remain challenging—as do staffing and budgetary concerns. To truly bounce back in the post-pandemic world, healthcare marketers must find viable solutions to these longstanding challenges.
***
https://www2.deloitte.com/us/en/pages/life-sciences-and-health-care/articles/covid-19-recovery-for-health-care.html ↑