You've invested more dollars into your marketing strategy. Your digital marketing channels are bringing patients through the door at a steady clip. And yet patient retention remains a struggle. You're not alone. By some estimates, patients churn at about a 48 percent rate.
As the healthcare industry evolves and competition increases, patient retention becomes increasingly crucial.. By keeping patients engaged and utilizing marketing technology, providers can build a loyal customer base that generates consistent revenue and referrals, leading to increased profitability.
As Paul Gruensfelder, Vice President of Marketing at Select Dental Management, put it in our recent webinar, Healthcare Marketing Trends: How to Drive Growth In 2023,
"Yes, certainly patient acquisition, especially as we grow in our providers, super important, but if you look in your unscheduled treatment report, for us it's millions of dollars of potential that just is sitting out there waiting to be touched."
Underlying Causes of Poor Patient Retention
Of course, the patient churn rate will vary from practice to practice. For many organizations, retention isn't a top concern; you want patients to recover, improve their health, and move on. However, many patients fail to complete treatment programs or they don't stick around for routine care.
From my professional experience, I've seen a couple of factors that seem to make patient retention so challenging.
First and foremost, the consumerization of healthcare has put patients squarely in the driver's seat. If patients feel like they can get what they want elsewhere at nearly any point along the patient journey, they will probably go find it themselves—on their smartphones.
This power shift is a driving force behind the growth of the consumerization market, which UBS research shows to be increasing at a 5.5 percent CAGR through 2025. Here's a graphical representation of what that consumerization looks like: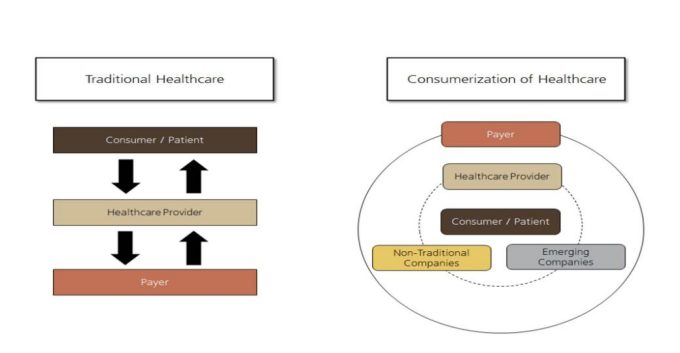 Image Source: UBS
Then there's the general lack of focus on patient needs outside of treatment. As a patient, it can feel like a massive oversight. Healthcare consumers have needs beyond tooth pulling or back surgery—they want to get test results as soon as possible, make appointments, and message physicians directly. Patient communication is very important.
Of course, these travails of the patient experience are exacerbated by the disparate and disconnected systems that many healthcare organizations use to orchestrate their patient journeys. Typically, a lack of continuity across data and automation leads to a lack of continuity across the patient experience.
From the patient's perspective, it's not always a great experience. Perhaps that's why there's a tendency for patients to neglect their own care. Many don't know the best practices for preventative medicine, nor are they willing to make an effort to find out.
Modern Strategies for Improving Patient Acquisition
It's no wonder that keeping your patients engaged and coming into the office can be a true struggle. For healthcare providers in this situation, here are the six strategies I recommend for better patient retention:
Strategy 1: Make Patient Feedback Your Source of Truth
What opportunities are you giving your patients to leave feedback? Perhaps more importantly, what are you doing to derive insights from that data? Hopefully, your patient feedback program extends beyond an old "suggestions" box collecting dust at the front desk.
If you want to know what's causing your patients to churn, the best first step is to ask them. Then, focus both your in-office staff and marketing teams on capturing and analyzing patient feedback. Here are the common means of collecting that patient feedback:
Satisfaction surveys: The idea here is to understand the needs, concerns, and feedback that patients have at critical points in their journey. Send them after appointments or procedures, for example. What could have been better?
In-visit interviews: You can ask new patients how they found you. Ask existing patients how it's going and what could be better. When possible, make a note of these in-office exchanges in your electronic health record system and CRM.
Social media: "Listen" and analyze the feedback and sentiment in your comments, mentions, and overall engagement. Social listening has become a powerful way to gauge brand standing, identify pain points, and capitalize on opportunities to win over—or win back—a patient's attitude.
Review channels: Keep tabs on your reputation across Healthgrades, Yelp, Google My Business, Facebook Business, and other review channels. Consider reputation health management software to centralize your monitoring and management of reviews.
Electronic Health Record (EHR) system: Providers can not only use their EHR to log patient feedback and look for opportunities to improve care but link that data to other marketing systems that can further support retention.
Customer Relationship Management (CRM) solution: Log various forms of patient feedback into the CRM. This data can then be integrated with other tools to measure patient loyalty, identify trends, and more. The idea is to create feedback loops to improve future patient experiences.
Strategy 2: Set Patient Expectations
Now, you know how important it is to collect patient feedback. Use all the information you've gathered to give patients something to look forward to. Modern patient care goes beyond addressing healthcare concerns and grievances, or simply providing medical treatment. It involves understanding their desires and utilizing insights to establish expectations. Honesty is vital when committing to expectations.
Avoid making unrealistic promises, and if results aren't achieved, acknowledge this transparently to avoid negatively impacting your brand. 
For example, one of the biggest issues that impact patient experience time spent sitting in the waiting room before an appointment. We've all experienced situations where it's unclear what time to actually arrive, which often leads to miscommunication, prolonged wait times, and frustration. Set these expectations for your patients ahead of time by clueing them in on information such as estimated wait time, ideal time of arrival, etc. 
Remember, patient satisfaction is critical in retaining patients and establishing a long-term, successful practice. Negative experiences with poor treatment can be long-lasting and can cause patients to rule your practice out for good.
Strategy 3: Personalize Patient Interactions
Healthcare organizations need to focus on personalizing patient interactions. By doing so, they can improve patient satisfaction, foster patient loyalty, and retain customers who might otherwise seek healthcare services elsewhere.
By personalizing interactions, healthcare organizations can see improved patient behavior, including fewer missed appointments, lower readmissions, and on-time payments, which can lead to increased patient lifetime value. To personalize patient experiences, healthcare organizations can take several tactics
The last thing patients, healthcare consumers, and their loved ones want is to feel like just another number in a crowd—especially when making important healthcare decisions. Personalized marketing communications have the potential to change this perception—to enrich the patient experience, and make patients want to continue to seek your care.
Here are just a few examples of how you can use personalization to improve patient retention:
Preventative healthcare material tailored to particular patient profiles

Personalized reminders and preparatory information for upcoming appointments

In-app or in-portal direct messaging with physicians

Customized patient portals with updated test results, conditions, etc.

Location-based website experiences (more on this later on)
Strategy 4: Use Technology to Add Convenience
In today's world, a significant part of the patient's healthcare journey takes place online. With the advancement of digital healthcare, including online appointment booking, patient portals, and telehealth services, patients are increasingly relying on digital platforms for their healthcare needs. 
Consequently, patients now expect seamless and hassle-free digital experiences throughout their healthcare journey. Digital channels have become a crucial part of patients' decision-making processes, and they consider them essential in managing their healthcare.
In competitive healthcare markets, a convenient patient experience can be not only how you distinguish your brand, but can be a huge factor in whether or not a patient decides to return to your practice. Here are a few ways you can use technology to create more convenient  patient experiences:
Offer online scheduling – Let's face it, it's completely outdated to pick up the phone and call to make an appointment anymore. . This can also be especially important for patients who have busy schedules or prefer the convenience of booking appointments from their computer or mobile device.
Send SMS appointment reminders – By sending automated text messages to patients a day or two before their scheduled appointment, healthcare providers can remind patients of their appointment time and location, which can reduce the likelihood of no-shows. 
Install a chatbot on your website – Chatbots can be a helpful tool for patients who have questions or concerns about their health. By installing a chatbot on your website, you can offer patients an easy way to get answers to their questions, without the need to call and speak to a receptionist or wait for a call back from a healthcare provider.
By making it easy for your patients to manage their care, you create stronger relationships and increase your chances of seeing them again!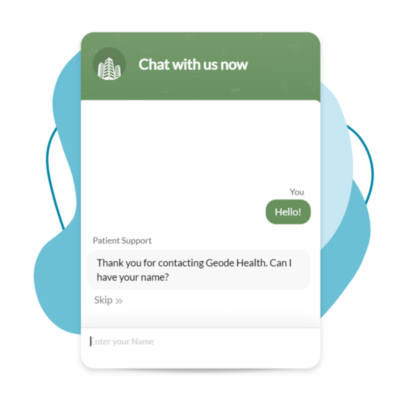 Strategy 5: Measure Key Performance Indicators Most Important for Retention
There are myriad ways to measure the success of digital marketing. We need KPIs to measure the rate of improvement resulting from our strategies, as well as to focus on future activities. In terms of driving better patient retention, we focus our clients on four essential metrics:
Your patient retention rate (PRR) is a strong indicator of patient satisfaction, the quality of the experience, and how marketing strategy might be optimized to improve this metric. Here's how we recommend calculating your PRR:

PE = Number of patients at the end of a period
PN = Number of new patients acquired during that period
PS = Number of patients at the start of that period
When measuring PRR, think about the time periods relevant to your healthcare vertical and practice. A physical therapy clinic, for example, might only treat patients for a few sessions after the patient's injury, while a primary care physician might see patients routinely for many years. Retention means something different in each situation.
Typically, healthcare providers measure churn rate by considering actual visit count against expected visit count. Churn rate is essentially the opposite of retention rate; however, looking at churn rate can provide unique insights into why patients aren't coming back.
Is there a particular aspect of the journey that's creating friction? We've seen healthcare providers use churn rate metrics to reveal that the leading cause of no-shows was the absence of automated appointment reminders.
Patient lifetime value (PLTV) calculates the average amount of money your customers will spend during their relationship with your practice. To calculate your PLTV, you'll first need your average patient value (APV), as follows:

With APV in hand, you can determine the average patient's lifespan and multiply that by the average patient value, which will give you the lifetime value of the patient, as follows:

PLTV can show you opportunities to create additional and ongoing value for patients. Some dentist offices, for example, have created discounted package deals for multiple cleanings. You're looking for anything that can enrich the patient experience while also generating ongoing revenue.
You can look at the average time between visits for your entire patient base or particular groups or demographics. The time between visits will mean something different for different practices or verticals. A behavioral health group trying to improve retention, for example, might use this metric to find the ideal visit frequency for its most loyal patients.
Strategy 6: Use Marketing Automation (MA) to Drive the Retention Engine
Finally, use MA to your advantage. Think about how to automate touchpoints and processes to improve efficiency and put your organization top-of-mind for your patients. This might include email campaigns, ad retargeting, or CRM automation. As mentioned before, you can also use automated notifications and reminders to keep in touch (and keep patients showing up).
Continuity is an essential part of strong patient retention, and MA is great for connecting dots along the entire patient journey. Only, it's unlikely to be successful if you fail to connect data and feedback collection to automation platforms or the resulting analytics to your CRM.
Bonus Tip: Convert Your Metrics Into Action
Data-driven automation is all fine and good. But the leaders in healthcare know-how to turn measurement into higher retention rates. One way to do that is to follow the continuous improvement model:
Plan: Review KPIs periodically and make plans for improved service delivery.
Do: Deploy the data-backed strategies and tactics you decided on during the planning step.
Check: Check results based on data and patient feedback, constantly comparing that data against goals or established benchmarks.
Act: Think about taking the successful patient retention practices further. You might implement them at more locations, for example.
Then it's time to rinse and repeat, hence the name "continuous." I'll add that continuous improvement can be assisted and, to some extent, automated thanks to artificial intelligence (AI) and machine learning (ML).
Data, Experience and Patient Retention
It's important to remember that patient experience plays a crucial role in patient retention, and data-driven automated systems can help improve that experience. While data and automation have been successful in other industries for customer retention, healthcare has been slower to adopt these tools. Even in healthcare organizations that have implemented some data and automation solutions, can still  run into difficulties in integrating and utilizing them effectively. Therefore, it's crucial to not only implement these systems but also ensure they are tailored to meet the needs and preferences of patient.
Regardless of the state of patient retention at your own organization, the six strategies above can only help. When you:
Prioritize the collection and analysis of patient feedback
Set patient expectations
Personalize the patient experience
Take advantage of technology to add convenience
Identify and measure core patient retention metrics
Leverage marketing automation to drive the retention engine
… you'll build a continuous flow of data-backed insights and an experiences your patients will rave about. What better way to show patients you value their patronage and will do what it takes to fulfill their needs?