You've probably heard the phrase "pulling levers" from our friends in the private equity space. Within the realm of digital marketing, there are many levers to pull, sometimes to the detriment of long-term success. In some cases, brands devote too little money, resources, and attention to the channels and strategies with the best ROI.
Other times, we see DSOs overcommit, spending inefficiently on what they think will work.
So we gathered the team members in charge of handling our DSO accounts. We asked them for the three most common digital marketing mistakes they've seen while working with DSOs—things we wish our digital marketing clients knew if you will.
Here's what they came up with.
Ineffective and Inconsistent SEO Activities
We've said it before, and we'll say it again: there is no short-term fix for problems with organic search traffic. SEO strategies take time, as do technical SEO fixes. It takes time to plan, produce, and promote valuable content, too. And building a solid backlink portfolio might take the longest of all.
Rule of Thumb: No SEO Shortcuts
"In the organic (search) space," says Lauren Leone, our SVP Healthcare Marketing, "I can't tell you how many times I get someone that comes to us, and they're looking for a short-term fix to their organic problems. 'Let me bring you on for three months, and I want you to fix all these things that you see. You did a great audit. You found all these technical issues. My URLs are a mess. My crawl depths are out of control. My backlink profile is toxic. Fix it for me.'

Three months later, you fix those technical things, and then you get, 'Thank you very much. I'm going to assume everything's good to go, and I'm going to stop doing SEO.'"
Wrong, wrong, wrong. And we see it all the time. Our clients will ask us to fix one technical issue (webpages aren't crawling, bad redirects, etc.), but they don't address the big picture; they think fixing that one thing is enough. Or they don't see immediate success from SEO investments, so they cut their programs short.
Another common scenario: a company achieves top rankings and then relaxes.
This gives competitors a chance to move in. Over time, the quality of any backlinks you've acquired will degrade. And it fails to account for new keywords or search behavior that inevitably arise. In the end, organic SEO is an evergreen strategy. You don't rent SEO—you build your house (and maintain it) to reap the rewards for years to come.
Again, our colleague Lauren Leone puts it well:
"SEO really should be the foundation to any digital marketing strategy. It is owning the house. You're paying a mortgage. That is going to be your money long-term versus the paid media, which is a great strategy, but you're renting that space until you stop paying for it. It's not yours long-term. I would just say think about SEO as an evergreen, always-on strategy."
Inefficient Google Account Structures
In digital marketing, the most sustainable strategy is to stay centered. That is, you want to avoid overcommitting to a new trend, best practice, or hype cycle. With respect to Google Ads, we saw a lot of marketers overcommit to segmentation to improve ad performance.
Here's what happened: the word got around that marketers needed to segment and refine ad messaging to their target audience. Somehow, this became widespread canon; but digital marketers went a little overboard. They over-segmented their ad accounts, leading to—in some cases—wildly inefficient account structures.
Why It's Better to Harness the Power of AI/Machine Learning
There are a few reasons that segmenting your paid search campaigns doesn't quite work as well as it used to. First and foremost, it's a waste of time and energy. Even the best segmentation strategies pale in comparison to the efficacy and efficiency of AI-powered bidding solutions.
This leads to inadequate targeting and, as a result, more expensive campaigns. As Lauren points out, people simply don't know users as well as machines:
"What [segmenting] is really doing is hindering you from taking advantage of the fact that AI is smarter than a human being and really leaning in and allowing machine learning to help you make real-time adjustments to your campaigns based on some of these nuances."

Herein lies the problem: machines need data to optimize for conversions and efficiency. However, segmenting limits data sharing between campaigns and creates smaller audiences. So you're kneecapping yourself by not taking full advantage of the AI at your disposal.
A Closer Look at Smart Bidding
Assuming you're making use of Smart Bidding, there are a few things to keep in mind. Granular account structures aren't necessary for bid optimization: Smart Bidding works with any account structure as it occurs at auction-time, evaluates unique signals for every auction, and optimizes based on data from all of your campaigns.
However, accounts using Smart Bidding can be managed more easily and efficiently with a simplified account structure and other best practices. And those consolidated accounts create more data to be shared between campaigns, which leads to more learnings, optimizations, and—by extension—more efficient and effective ad campaigns.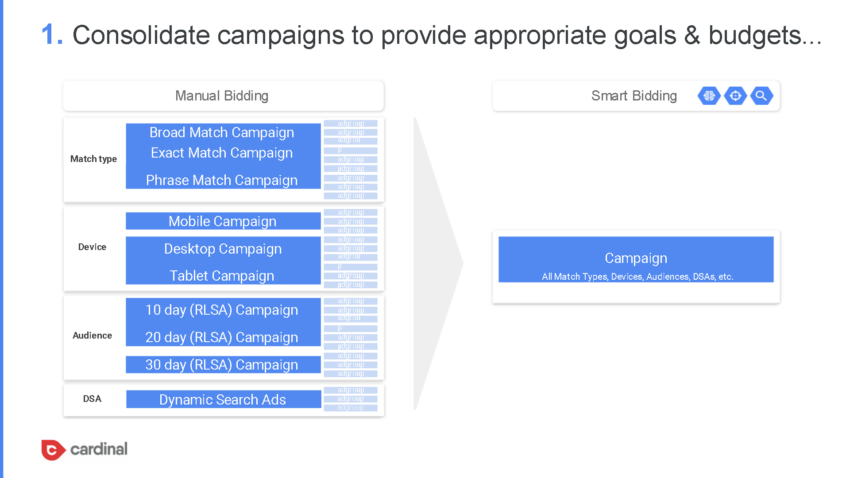 How to Avoid Unnecessary Segmentation with Smart Bidding
No matter how you're segmenting your campaigns today, Smart Bidding likely offers a more efficient route. Here's what that looks like within the context of the most common segmentation types:
Audiences: Audience lists, when applied, are one signal out of many used by the algorithms. There is simply no need to break out campaigns or ad groups by each Audience list. Remember that algorithms automatically factor in the recency of Audience lists, so add the longest and largest list possible.
Device: Because algorithms factor in more than just the user's device (for example, mobile OS, physical location, etc.), it's not necessary to break out campaigns by device. If your mobile site has a different CPA, use the device target CPA modifier.
Match Type: Smart Bidding does its work on the auction-time and query level. That said, even an exact match keyword may receive different bids in auctions due to the various signals used. Therefore, you don't need to spend time segmenting by match type or single keyword ad groups to boost optimization.
Geo, Day, Time, Etc.: While granular campaign or ad group breakouts may have helped with manual optimization, they're unnecessary to improve the performance of Smart Bidding, as it leverages many other signals in combination per auction.
What the Optimal Account Management Strategy Looks Like
This is what a consolidated paid search model looks like: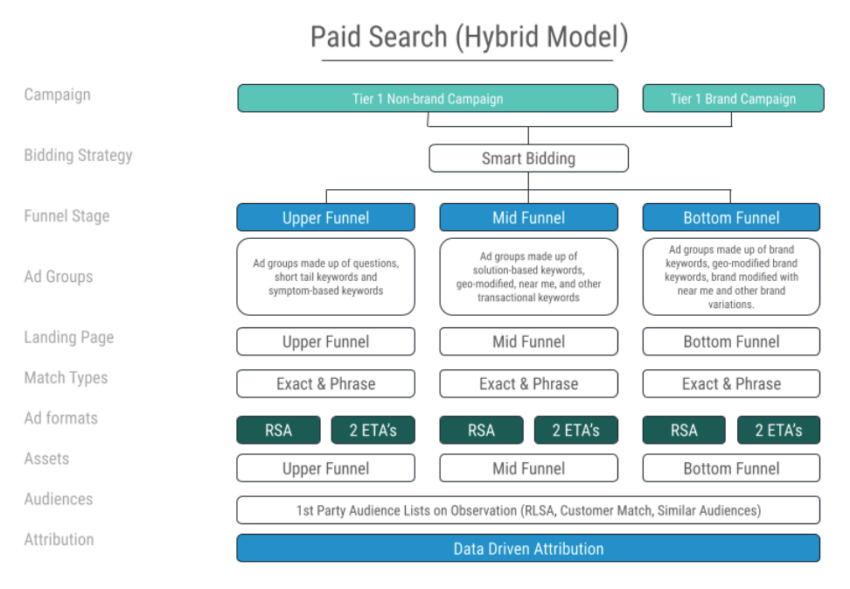 In this consolidated model, you can see that campaigns are bucketed into non-brand and brand campaigns, both of which rely on Smart Bidding as the bidding strategy. From there, ad groups, landing pages, match types, and so on are organized based on the funnel stage. In the end, data-driven attribution happens across the board.
Of course, this approach isn't always feasible based on business restraints. In those instances, we find that a hybrid account structure works best.
Too Much Organic Social Investment
These days, social media has become a default checkbox for DSOs. However, organic social media doesn't always make sense—and it simply does not work for new patient acquisition. Why? Because social media isn't the first touchpoint for nearly most of your leads.
The fact is, most people aren't on social media looking to buy, let alone make a decision about dental care. Instead, they're looking to be entertained or to connect with friends and family.
Should you at least set up and monitor your organic social media channels? Yes. But it should not be your top channel or investment for driving new leads and patients. It just takes too much time and energy to justify the ROI. We've found that organic social is good for patient lifecycle maintenance, customer retention, and community relations.
In How to Use Social Media to Attract More Patients, we share several organic social strategies that help build an audience, establish your brand, and drive engagement, namely:
Share your brand's personality, humanity, and values
Bring value by providing brand- or product-agnostic educational material
Show people what it's like to be a patient by sharing reviews, mentions, and testimonials
Sometimes, the Obstacles to Exponential Growth are Simple Stupid
By some estimates, DSO market penetration will reach 75-80% over the next ten years. If we had to put our money down, we're sure that innovative and efficient digital marketing strategies will contribute to this growth, if not be a significant factor.
It's an easy bet to make. We see examples of it every day from our own portfolio. In How 3 DSOs Are Accelerating Growth with Digital Advertising, you can see how Smile Doctors, DentalOne, and Sage Dental are getting the job done.
Across the board, you'll find that the leading DSOs avoid the three common mistakes we've outlined above. They commit to consistent investments in SEO for the long haul. Their Google Ads account structure is very efficient. And they've avoided the tendency to overextend into organic social media activities.
Where does that leave you?