By definition, a dental support organization (DSO) is meant to help member practices serve patients better. That means reduced administrative burdens and improved standards of care. It also means finding greater insights into where to focus time and resources.
At least it should.
To build this kind of DSO, executives need robust, centralized data operations. They need reliable insights into the health and performance of the DSO, including up-to-date operational and financial data for a true picture of performance. They need to understand trends in patient acquisition and opportunities for new market expansion.
The Four Building Blocks of Data-Driven DSOs
From the top down—from executive leadership to location-specific teams—data informs the best path forward for all stakeholders. And a data-driven organization of this caliber requires close attention to a few best practices, which we explore in detail below.
1. Clearly Defined Enterprise- and Practice-Level KPIs
To make the most of that next marketing dollar, decision-makers at the enterprise level need a holistic view of practice-level KPIs. This alignment around what those KPIs are, as well as how they map to broader organizational goals and strategy for the DSO.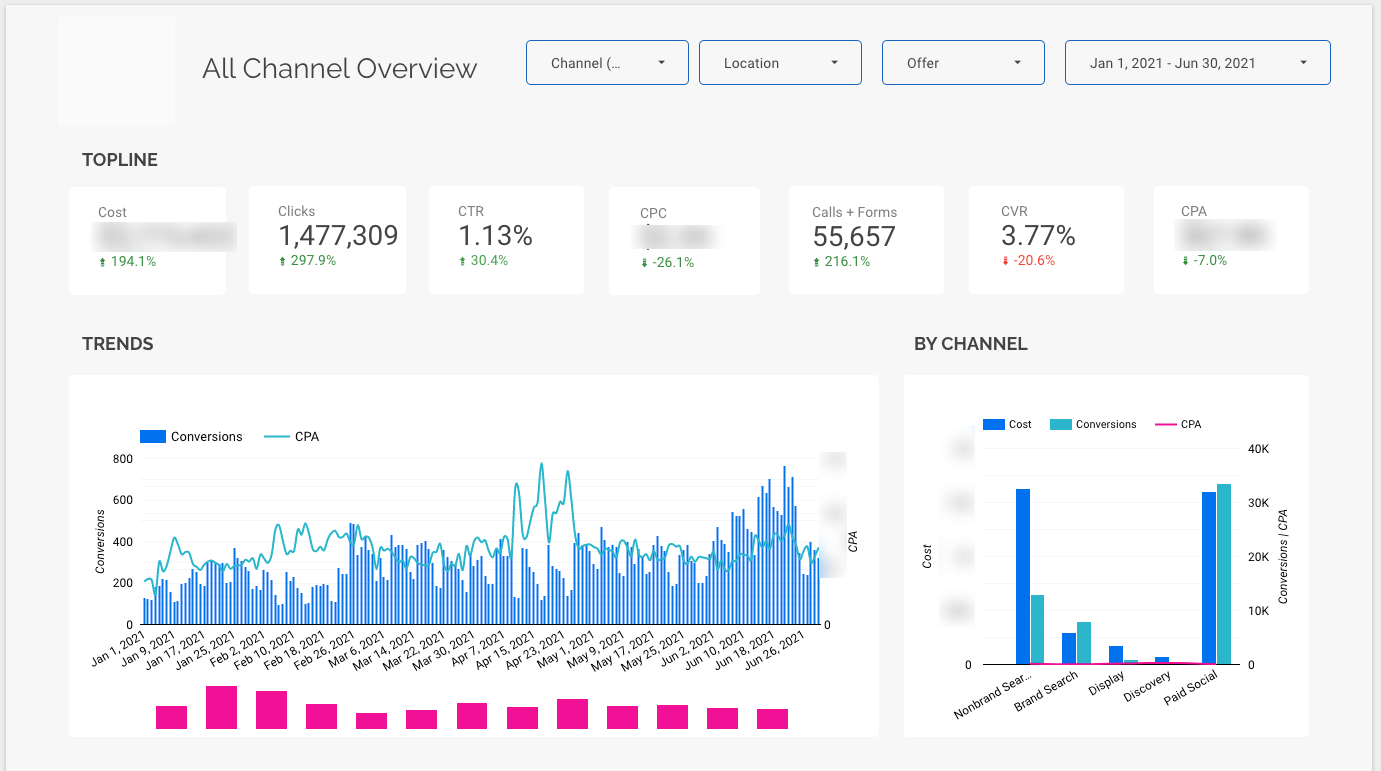 There are a number of common metrics used to evaluate the performance of dental practices, including:
Monthly production (gross or net)
Monthly practice overhead
Rate of hygiene recall
New monthly patients
Current active patients
New monthly, quarterly, annual acquisitions
Product, collections, and accounts receivable
At the enterprise level, decision makers will likely want to look at one or all of these metrics in aggregate to measure the overall performance of the DSO. They might also find it useful to compare practices, perhaps by practice area or region, or drill down to practice-level metrics. From the perspective of marketing, this kind of data analysis can more precisely inform where the next marketing investment or initiative will have the most impact. It might even be used to evaluate your next prospective member practice.
Getting to these insights, however, requires the establishment, formalization, communication, and alignment of both enterprise- and practice-level performance metrics.
2. Centralization Instead of Organizational Silos
It's difficult to become a data-driven DSO with different marketing teams doing different things across the group. First of all, siloed marketing teams can stand in the way of alignment around organizational (enterprise-level) KPIs. And even if you achieve that alignment, bringing that data out of those marketing arms into a centralized, democratized, and accessible analytics and reporting platform can remain difficult.
Typically, data silos are characterized by:
Poor communication channels between marketing and data teams
No centralized way to share and collaborate on data
Lack of alignment around broader organizational performance metrics
Unreliable or incomplete mapping from practice-level performance to enterprise-level KPIs
Difficulty ingesting lots of different data from many different sources
Cody Lee, Vice President of Summit Partners, had some thoughts on organizational silos during our recent Ignite podcast: "Being able to measure results, publish results, and share results is one of the best ways to get buy-in," he said. "A CEO might not understand a paid search campaign or an SEO campaign, but they can understand your lead volume from inbound went up 100%, and those leads drove 20% increase in inbound revenue generation."
The closed-loop reporting and data visibility that Lee refers to here is difficult to achieve without addressing underlying data silos. It's also crucial to understand where to invest the next marketing dollar to maximize marketing ROI.
3. Integrated Marketing Technology and Data Operations
Think about the different parts that make up a data and analytics toolbox. Your practices likely use some type of patient management system (PMS). You might find different solutions for data warehousing and reporting across the group.
Depending on the makeup of a given DSO, data operations can range from simple to highly complex. When it comes to bringing marketing technology and data together for a more reliable and flexible driver of decision making, we see DSOs tussle with a few common issues:
Common Issues Caused by Decentralized Data
Disconnect between different tools and data sources
Difficulty bringing in data from both server-based and cloud-based systems
Inconsistent, incorrect, time-consuming reporting from individual practices
Multiple sources of truth that degrade data trust and reliability
Lack of scalable data infrastructure to support new acquisitions and growth
No centralized data dashboard accessible across the enterprise
To overcome sprawling marketing technologies and data sources, you'll need to design and implement a more centralized model. This will include the need to integrate analytical tools, reporting, PMS, and so on. Many DSOs bring in a specialized technology partner to handle what can be an immense organizational change.
In our own work with DSOs, we do recommend best practices for integrations marketing technology and data operations:
An Insistence on Closed-Loop Marketing
When you close the loop, you take the revenue that results from a "conversion" or closed sale and attribute it back to the channels, campaigns, keywords (and more) that influenced it along the way. The idea is to tie back to the actual outcome of leads once they're driven to the website.
What happens with those form fills or phone calls? What percentage become new patients? Closing the loop will be closely tied to the practice- and enterprise-level KPIs your DSO has decided to scrutinize.
The ability to deliver this kind of reporting from start to finish provides DSO leadership a far more accurate picture of the performance metrics they care about. To get there will require some kind of attribution model to see which activities lead to results, such as:
Time-Decay: Under this model, a portion of the credit is assigned to every marketing touch along the way to a conversion (organic click-through, nurture email, etc.), with credit weighted in favor of more recent touches.
U-Shaped: A multi-touch attribution model, U-Shaped attribution gives the most weight to the first and last marketing touches, with the middle touches receiving less weight.
W-Shaped: This model gives 30% credit to the first, middle, and last touches, then 10% to the remaining touches in between.

4. A Foundational Marketing Analytics Team
While your KPIs, silo-busting, and integrated technologies matter, none of it is possible without the right people. Of course, there are many models for building data-driven marketing teams. Think With Google recommends three different models, depending on organizational needs. In the spirit of centralization, we'll focus on the "center of excellence model."
Tenets of a Centralized Model
As Think With Google points out, it can be difficult for groups with multiple locations across the country to maintain a robust data analytics team in each. So instead, they recommend "building a center of excellence"—a centralized team that establishes, enforces, and champions data best practices across all locations. For a high-growth DSO that depends on scalable data operations to accommodate new additions, this kind of model makes a lot of sense.
The Data Roles You'll Likely Need
First and foremost, this team needs a champion at the executive level. This might be your Chief Marketing Officer (CMO), though it's more likely a Chief Information Officer (CIO) or Chief Technical Officer (CTO) working in close cooperation with other c-suites.
From there, you'll likely need data acquisition specialists, engineers, quality controllers, scientists, analysts and interpreters. In short, you'll need the right combination of data specialists capable of integrating marketing data operations, analyzing findings, mapping them to strategic objectives, and then making those insights available to stakeholders organization-wide.
For more insights, read The Secret to a Genius Marketing Analytics Organization from Gartner.
A Word on Onshoring/Offshoring Your Data Analytics
In some cases, it makes more sense to bring in a third-party group to act as an extension of the existing analytics team (or to serve as the entire team itself). This might be in the form of a fractional data-focused executive that can spearhead new data initiatives. More and more DSOs are finding trusted marketing, analytics, and IT partners that can help see large data centralization projects from start to finish.
Invest in the One Thing High-Growth DSOs Have In Common
In its Trends in the Development of the Dental Service Organization Model report, the Oral Health Workforce Research Center found that all surveyed DSOs "discussed the importance of central data management to audit compliance, leverage purchase contracts, and maximize service capacity."
That's because the benefits of building a data-driven DSO can be far-reaching. At the practice level, you might find that both practitioners and regular staff have more time to focus on the patient experience. At the enterprise level, you'll likely find better alignment around organizational objectives, as well as more accurate and agile decision-making.
While the models and strategies might differ from DSO to DSO, one thing remains clear: the leaders best poised for growth are investing in scalable data and analytics.