Choices, choices, choices—where should I put my marketing budget? This is hands down one of the most common questions that clients ask me. Although I hate giving non-answers, I always reply with: it depends.
What are your needs? What are your short-term and long-term goals? How much are you willing to pay?
When it comes to a pay-per-click advertising strategy, one choice that immediately makes sense is Google Ads. With Google being the top search engine platform, Google Ads remains a pillar of digital marketing strategies.
However, I highly recommend that you explore other options as well. What about Yelp Advertising? How does it stack up against Google's PPC platform? Today, you're in luck, I have the Google Ads vs Yelp Ads comparison to help you make the right decision.
Google Ads Overview
Google Ads (formerly Google Adwords) is the search engine giant's online advertising program. The program allows advertisers and businesses to reach customers that might be interested in the product or service that they offer. Google Ads is a pay-per-click advertising solution, which means that the advertiser will only pay whenever a web user clicks an ad and visits the website.
Google Ads allow you to create and share ads that will be displayed on the search engine results page (SERP). This is ideal for advertisers because the ads will be shown at the moment their target customers are searching for the products and services they offer.
One of the most important things that you should know about Google Ads is that it features two advertising channels: Google Search Network and Google Display Network.
Google Search Network:
The most popular way to advertising with Google is through the Search Network. When you think of Google PPC, you're likely referring to the Search Network. For this channel, advertisers target search keywords or phrases so that when users search for these terms, the ads will be displayed along with the organic search results. With paid search advertising, you only pay when someone clicks your ads and visits your business' website. Essentially, you're advertising to users who are actively searching for the product or service you provide, which means it's highly effective.
Google Display Network:
Google also partnered with more than 2 million websites so you can advertise to potential customers as they browse the web. These ads can be simple text ads or come in fancy banners or images. For display ads, you have the option to go the pay per click route or you can pay per 1,000 impressions (how many people saw your ads). With display ads, you can advertise on certain sites or target users based on their browsing habits, interests, preferences, and more.
The Google Ads platform uses an auction system that determines which ads should be displayed to the end-users. The overall placement is affected by several factors such as bid amount, Google Quality Score, and extensions.
If you're looking for more information, I encourage you to read my article on Google Ads basics.
Yelp Ads Overview
If you've looked up a local business or a restaurant before, there's a good chance that you've stumbled upon Yelp's website. Yelp is a platform that allows people to review small and local businesses. Over the years, Yelp has grown enough to compete with the likes of Google Reviews, Facebook, and TripAdvisor.
First, let's take a look at some key statistics that make Yelp an attractive advertising channel for business owners:
Yelp is the 180th most popular website in the world and the 40th most popular in the United States.
Yelp has 120 million total visits on a monthly average and about 95% of the traffic is coming from the United States.
Yelp has a monthly average of 36 million unique visitors in its mobile app.
Yelp has helped seat 30 million diners in 2019.
In the 4th quarter of 2019, Yelp has hosted a total of 205 million reviews.
Yelp is primarily used by Gen X and Millennials, who happen to make up 69% of the total Yelp users.
18% of the reviewed businesses are restaurants but Yelp is more than that. 17% of reviews are from home and local services, 17% from shopping, and about 11% from beauty and fitness categories.
51% of Yelp users have an income of $100,000 or more.
Around 45% of customers visit Yelp for reviews before making a purchase decision. In comparison, only Google gets more views than Yelp with 64% of customers.
82% of Yelp users visit the site to buy a product or service. In addition, 89% of those who avail of a product or service do so within the week.
As you can see, Yelp offers some fairly interesting stats that can benefit small and local businesses. However, if you're going to look closely, this marketing channel is only ideal for US-based businesses since almost all of the traffic comes from the U.S.

Yelp is in the conversation as a viable advertising channel because most of the visitors have a high buying intent. It means that there's a higher chance that the user will buy a product or service.
Google Ads Versus Yelp Ads: The Pros and Cons
So, which advertising platform is right for your business? To understand the answer to this question better, it's best to explore the pros and cons of each platform.
Google Ads Pros
Quick Setup: Setting up your Google Ads account is quick and easy; you'll be launching your campaign in no time. With a bit of SEO keyword research, setting up your budget, and writing some killer ad copy, your ad campaign can be launched and your ads will appear as soon as they've been approved. If you're lucky, you'll get a few clicks or even conversions on your first day.
Market Share Domination: Google is the undisputed king of search engines with a market share of 92.71%. In other words, nine out of ten internet users go to Google whenever they search for something online. Google is pretty much where everyone is.
Target Engaged Customers: One of the main reasons why Google Ads are effective is the ability to target customers at the moment that they're looking for a particular product or service. The customer is already looking to purchase and if you can get your business in front of that user, it's potentially a sale for you.
Focus on Local Niche: If your business already has a fairly good online presence, Google Ads can give you that much-needed push. With Google Ads, you can reach potential customers that live within the vicinity of your physical shop or business. Google's advertising platform is great for local services such as roofing, house cleaning, plumbing, and more.
Allows Flexible Budgeting: Flexibility is one of the top strengths of Google Ads. The platform allows you to set parameters that in turn control how you spend your marketing bucks. It's a pay per click system, so you are only charged from actual ad clicks and visits to your website. There's no minimum ad spend, so you can spend as much or as little as you like. With Google Ads, you don't have to spend more than you need. And if you want to spend more, you can easily scale your marketing campaign.
Measurable Results: Google provides a wealth of tools to enable you to stay on top of your campaign. These tools can help you track, measure, and analyze your results. If a click led to a conversion, you'll know about it. Because you can measure and analyze your campaign's performance, you'll see which facets of your campaign have to be adjusted.
Google Ads Cons
High Learning Curve: True, it's easy to start using Google Ads but you'll quickly find that it has a steep learning curve. There are so many nuances to a paid search campaign, making it hard to make the adjustments that can really make your campaign hum. A highly optimized PPC campaign is a must if you want to succeed with using Google Ads. Otherwise, you'll find yourself wasting advertising money—and fast. If you're new to PPC, you should consider working with a Google Ads expert to make the most out of your campaign.
Pay Per Click Pitfalls: While you only pay whenever your ad gets a click, there's no guarantee that it will lead to a conversion. In fact, it's very common to get clicks from visitors who have no intention of completing an action such as making a purchase, downloading an app, or signing up for a newsletter. Even if someone mistakenly clicks on your ad, you still need to pay for that click.
Very Competitive: As the leading PPC platform, Google Ads is a very competitive space. Both small and large businesses are trying to reach users who are looking for the product or service that they offer. Having your ads show up on the first page of Google is crucial. Therefore, you can expect large businesses to spend a lot of money to achieve their marketing goals. This is why keyword research and selection are very important—you don't want to compete with big businesses for broad keywords.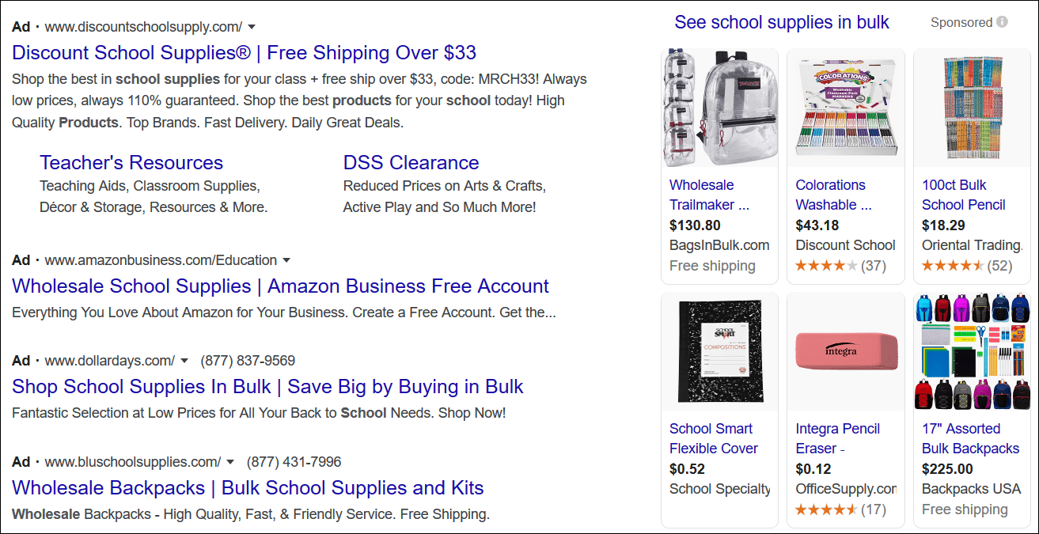 Higher Costs in Competitive Industries: Depending on the industry that you're in, Google Ads might become even more competitive for you. The more competitive the industry that you belong in, the higher the cost-per-click (CPC). For instance, if you're in the consumer services industry, the average CPC is $6.40 for the Google Ads Search Network. On the other hand, if you're working in the travel and hospitality niche, the average CPC for the Search Network is around $1.53.
Optimization is a Must: If you want to succeed in Google Ads, you need a properly managed paid search campaign. As mentioned, learning Google Ads has a steep learning curve, and mistakes will cost you a lot of money. If you want to use Google Ads, you'd better go all in because you can't expect to end up on the first page if you're doing this half-heartedly. A properly managed campaign equates to optimized bids, landing pages, ad copy, and more.
Yelp Ads Pros
Good Traffic: A mentioned earlier, Yelp is visited by 36 million unique users on a monthly basis. It's not as good as many years ago but it's hard to deny that Yelp is still getting good traffic. With such a wealth of monthly visitors, there's definitely a good potential here to reach out to new potential local customers.
Better Ad Placement in Yelp: If your business is already on Yelp, you have likely noticed that your business page also hosts links to your local industry competitors. These competitors have opted into Yelp's advertising program that enables their businesses to appear on your business profile page. This is Yelp's attempt to provide a seamless experience for its users. If you signed up for Yelp Advertising, your business will appear in your local competitors' page as well.
Desktop and Mobile Presence: Although Yelp has a pretty good desktop presence, the service gets about 70% of its traffic from mobile devices. If you have searched for a local restaurant using your mobile device, there's a good chance that you've used Yelp to find the best establishment for your needs. This significant mobile presence can potentially give your business a bump when customers look for reviews of local businesses.
Geotargeted Advertising: Much like Google, Bing, and Facebook Advertising, Yelp Ads also allows you to set filters to refine your target audience. Yelp already does a great job of enabling users to find nearby relevant information. This means that whenever a user searches for the product or service that you offer, there's a good chance your ad will appear. With Yelp's users that have higher buying intent, all you need to do is to get in front of your target customer.
Yelp Ads Cons
Higher Starting Advertising Cost: The minimum ad package for Yelp is $350 and it can only go higher from here. However, that's not a bad monthly budget when you compare it to other marketing channels such as Google and Facebook.
Advertising Limitations: Yelp advertising is very easy to use but it has some serious limitations in terms of managing your campaign. Unlike Google Ads, Yelp doesn't provide much freedom in terms of fine-tuning your ad campaign. For instance, you can't specify certain keywords to target. This is a huge drawback especially when it's supposed to be a premier advertising option for local businesses.
Lackluster Monitoring Tools: Do you wish to stay on top of your Yelp advertising campaign? Tough luck because the platform doesn't offer much in terms of tracking and reporting. Sure, you can track your traffic and customer leads but it's really barebones when compared with other advertising platforms such as Google Ads. If you like tracking every aspect of your advertising campaign, Yelp might not be the advertising platform for you.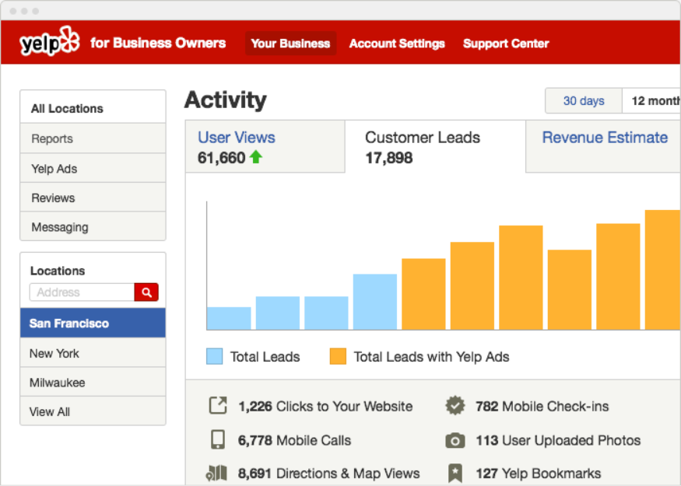 Overeager Service Reps: I've been doing some digging and one of the most common complaints about Yelp is their service reps. To charitably describe the service reps, they're persistent. Once you gave the hint that you're interested in advertising on Yelp, it's like the reps smelled blood. In other words, they're going to push for it hard. In some cases, they'll even convince you to opt for more expensive ad packages. For a small business owner, this "persistence" can be very annoying.
Google Ads Versus Yelp Ads: Which One Should You Choose?
To be quite frank, this Google Ads versus Yelp Ads debate is an easy one.
If you absolutely need to choose only one, Google Ads will give you the best value for your advertising budget. It's the most popular PPC platform for a reason. While Google's advertising platform requires a steep learning curve, your time and money investment will be worth it in the long run. If you need help with running a Google Ads campaign, I've written a comprehensive guide that you should read.
On the other hand, Yelp is a highly-trusted business review service. It's mainly an impress-based advertising program and it's a limited one at that. It has its fair share of advantages like its excellent mobile traffic, but it's held back by its drawbacks. One of the biggest disadvantages of Yelp is its limited advertising options. Plus, the super-aggressive customer reps are a huge turnoff for most people.
There are some strong negatives about Yelp Ads, but I have to say that it's still a viable marketing channel. It's hard to deny that businesses thrive while using Yelp. If your business already has a strong presence in Yelp, then it's well worth giving Yelp Ads a fair shake. However, if you're not on the restaurant business, you might want to take a pass with Yelp.
Much like the Google Ads versus Bing Ads debate, dedicate most of your resources to Google Ads and if you have some budget to spare, Yelp Ads is a good complement.
If you decide that you want a professional team to manage your paid ads, check out our PPC management services page and speak to one of our experts today.