There's a new digital marketing paradigm that dental service organizations (DSOs) are finally realizing. Today, so much of the patient's journey has moved online. If you're not present, you'll fail to build the kind of demand necessary to scale your dental organization.
The vast majority of adults have mobile devices, and they're spending more time online each year. Every day, people go online to research health conditions and treatments, learn about providers, and read reviews. There's no telling exactly when that consumer might come across one of your digital channels. A patient's path from "poking around online" to booking an appointment to leaving a review is somewhat nonlinear.
In terms of building awareness, engaging prospects, and driving appointments in what has become a very quick-decision, non-linear, mobile-first environment, healthcare digital advertising has proven quite effective.
The Benefits of Digital Advertising to DSOs
In our work with DSOs (which you'll see in the case studies below), we see three common priorities for new digital advertising programs:
Increase brand awareness
Drive patient volume
Keep cost per acquisition (CPA) at a minimum
Easier said than done. But a well-rounded digital advertising strategy can undoubtedly get you there, thanks to several distinct advantages:
Low cost compared to traditional healthcare advertising like print, radio, and television
Good for brand consolidations and acquisitions, as digital advertising can help rapidly build brand awareness in new markets and drive patient volume
Expands your ability to target and refine your audience to people most likely to convert, thus lowering CPAs
Allows you to quickly shift priorities as objectives change or you need to rapidly scale campaigns to encompass new locations
Messaging and offers can be changed virtually in real-time to improve conversions and leads with minimal delay
DSOs and Digital Ads: 3 Real-World Case Studies
If you want to see what pay-per-click (PPC) advertising looks like in the wild, we've put together several case studies. These should help you evaluate the potential effectiveness of digital advertising for dental practices, as well as the strength of your existing campaigns. How do your conversion rates compare to these three leading DSOs? Are you using the proper channels? And which paid media strategies will help me engage and convert more patients?
1. Smile Doctors
You may have already heard of Smile Doctors. With more than 250 locations spanning 23 states, it's the largest orthodontic dental service organization (DSO) in the country.
Client Challenges and Goals
When Smile Doctors first engaged Cardinal Digital Marketing, they already had a smattering of direct mail and Google Ads campaigns, some of them run by another external agency. They were also expanding rapidly to new locations across the country and needed to build brand awareness quickly. Their conversion rates, brand awareness metrics, and lead volume weren't where they needed to be to sustain such prolific growth.
The in-house team had gotten Smile Doctors off to a good start, but the company needed the right partner to expand its media strategy. One significant gap in its PPC strategy was the lack of Facebook Ads. The orthodontic market is becoming increasingly competitive with direct-to-consumer solutions like Smile Direct Club and Invisalign. To increase its reach and engage prospective patients, Smile Doctors needed to invest in the channels that consumers were using.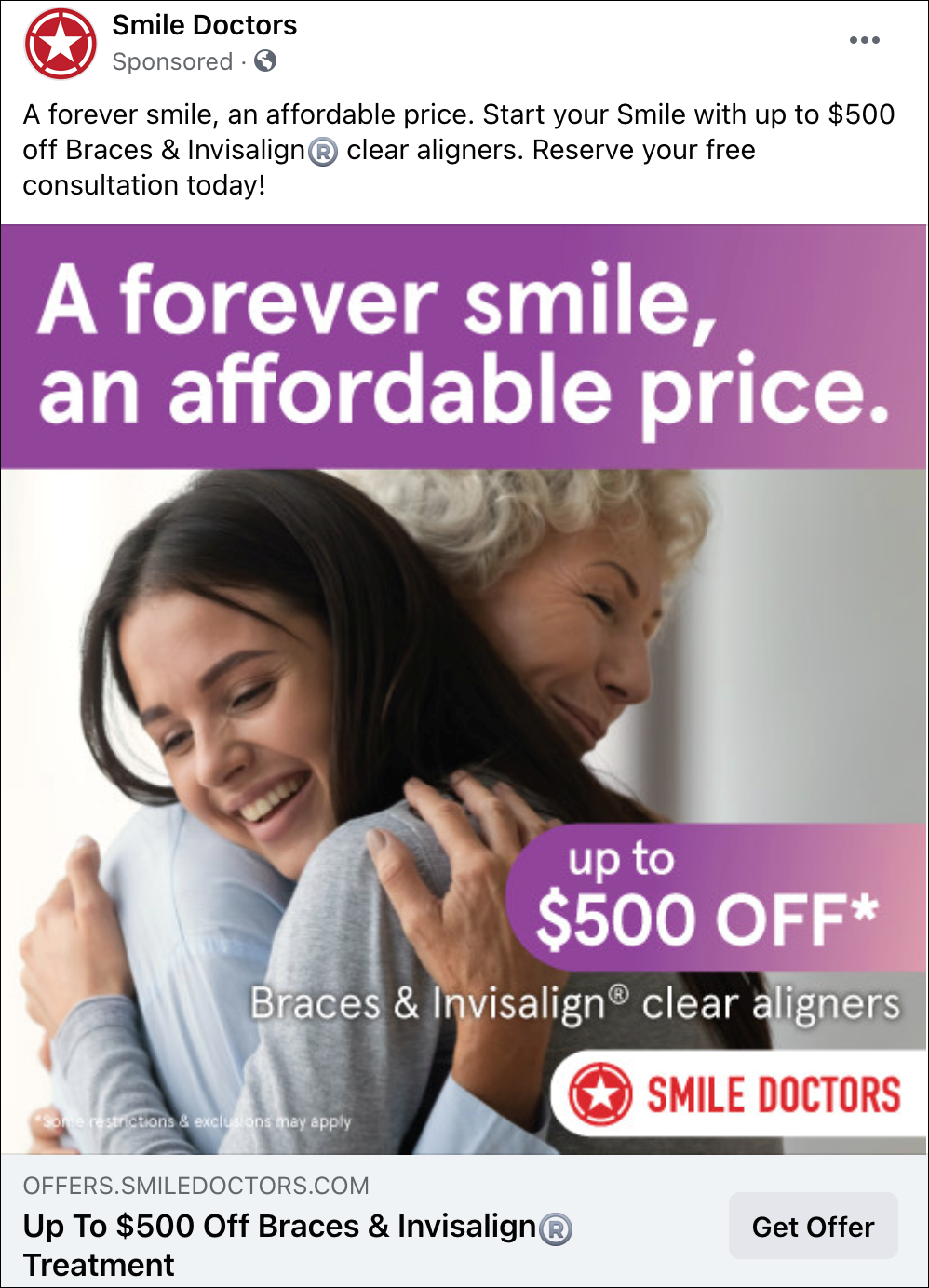 Smile Doctors Paid Media Strategy Summary
With the help of our team, Smile Doctors put together a comprehensive, three-pronged PPC strategy:
1. Restructure, consolidate, and launch new campaigns
This important first step required extensive auditing and competitive analysis to set accurate baselines. Then, using enhanced bidding, we quickly uncovered the audiences and campaigns that would give us better performance. To reduce cost per conversion (CPC), we tested several new bidding strategies. Ultimately, smart bidding delivered a CPC at a rate 20-30% lower than manual bidding strategies.
Other key steps included:
Consolidated campaigns to improve algorithmic performance without sacrificing relevancy
Grouped PPC campaigns thematically or by intent
Targeted ads based on location
Refined lookalike audiences
Tested to reveal untapped generic keyword sets (pediatric and aligner-related terms, in this case)
2. Develop new and improved landing pages
Campaign optimization and ad creative are just part of a broader PPC strategy. To further improve engagement and conversions, we wrote, designed, and developed new customized landing pages for each campaign. These new landing pages:
Followed paid media best practices
Improved CTR and lower CPAs
Supported audience retention and retargeting.
Used persuasive copywriting aligned with consumer intent
Focused on one problem, one solution, one unique value proposition, and one goal
Deployed testimonials, ratings, reviews, certifications, and case studies
Loaded fast with mobile-first designs.
3. Launch new brand awareness campaigns
Our research also revealed that brand awareness for Smile Doctors was less than stellar in some rather large markets, so we used smart display and other paid media tactics to optimize the keyword strategy, target audience, and ad creative for consumer intent at each stage of the marketing funnel (awareness, interest, consideration, intent, evaluation, conversion).
Highlights of those campaigns include:
Created video brand awareness ads
Deployed remarketing campaigns to nurture prospects
Created tailored patient testimonials to build awareness and engage audiences
Key Results for the Smile Doctors Project
The results of these new and improved PPC strategies were rather staggering:
146% increase in calls and form submissions
33% decrease in CPA.
73% increase in PPC-originated leads
28% increase in conversion rate
69% increase in branded searches
300% increase in impressions
Click here to read the complete Smile Doctors case study.
2. DentalOne
Another leading DSO, DentalWorks, provides "professional, affordable dental care" to a network of nearly 160 locations across 13 states. With ambitious goals for expansion—including the addition of multiple new locations—the company needed to reach a lot more people through its digital channels.
Client Challenges and Goals
Understanding that a paid media strategy is one of the most cost- and time-effective ways to market a brand, DentalOne engaged Cardinal to deliver PPC results without breaking the bank. As we soon found, the company's existing campaigns just weren't hitting the right people at the right time. There was room for improvement in terms of ad creative and messaging, too.
Dental One Paid Media Strategy Summary
To get DentalWorks the return they needed from their PPC strategy, we went back to the drawing board to build a sound foundation aimed at long-term growth. Here's what that looked like:
Created an extensive keyword list, including symptom-based terms
Removed broad match keywords.
Defined geofences around each practice to target prospects closer to their homes and places of work
Built a comprehensive negative keyword list.
Launched brand campaigns to quickly capture search volume and improve quality score
Refreshed ad copy to promote the DentalOne value propositions and monthly specials
Key Results for DentalOne
Account structure is vital to the success of multi-location PPC strategies. In the case of DentalOne, account reorganization alone generated a 19% decrease in CPC and a 2.9% improvement in click-through rate—in the first 15 days. Here's a snapshot of some of the longer-term results:
250% increase in response volume (calls and online appointments) in the first three months
22% reduction in cost-per-response in the first 90 days
40% increase in conversions
63% increase in new patient volume
36% increase in phone calls
30% increase in clicks
20% increase in CPCs
32% increase in CTR
Click here to read the complete DentalOne case study.
3. Sage Dental
Sage Dental has two things in common with the DSOs mentioned above: multiple locations (more than 60) and an eye on rapid long-term growth. The group engaged Cardinal Digital Marketing to enhance and optimize its advertising strategy—to execute a highly targeted search, display, and social advertising strategy that creates and converts new qualified leads.
All while keeping the marketing budget in check, of course.
Client Challenges and Goals
As big and successful as Sage One might have been, they (at least at the time) had room for improving their brand awareness and overall campaign efficiency. The conversion rate for qualified leads was too low, especially for the group's revenue-generating dental services.
Sage Dental Paid Media Strategy Summary
Given its dozens of locations and growth-oriented plans, Sage One was poised to reap serious benefits from a full-funnel approach to acquisition across search, social, and display advertising. Each tactic aimed to reach the right people at the optimal time—where and when they search for dental care. Here's what we did:
Aggressively fed the top of Sage's patient lead funnel by targeting specific demographics with PPC ads
Drove more ad impressions in the consideration phase
Built campaigns around geo-markers and timeliness
Created a target keyword list based on Sage's services, promotions, and specialties
Created beautiful and engaging display ads
Used our proprietary software to optimize bidding in real-time
Optimized ad landing pages for mobile page speed, UX, and conversion

Key Results for Sage Dental
Over just a single year, our full-funnel approach to PPC led to a 75% increase in total patient volume. Even better, we achieved this tremendous growth with only a 10% increase to the total marketing budget. These dramatic gains led to the addition of 35,000 more patients, alongside a 37% decrease in cost per acquisition.
Click here to read the complete Sage Dental case study.
A Scalable Framework is Key to Growth
For larger, multi-location DSOs, the three case studies above provide a roadmap for what we think is key to success in DSO digital advertising: a repeatable framework. Our goal with each of these clients was to put in place a strong account structure and strategy that can not only help each DSO scale but extend its PPC strategy to each new location with ease. As the numbers show, this is a tremendous formula for sustained growth.