Of course, that umbrella phrase – digital marketing – can be a bit vague. One man's idea of digital marketing might not reflect another's. So, when we talk about growing your medical practice through digital marketing, what exactly do we mean?
Here at Cardinal, we invest a lot of time, energy, and passion into working with medical practices throughout the country, to help them elevate their standing and reach an audience of motivated prospects. With our extensive experience, we've been able to nail down the best possible strategies to deliver impressive returns on investment for our clients.
Most of our medical clients benefit almost immediately from a digital marketing strategy that encompasses the following:
The importance of local listings
SEO
Paid search
While there may be other components to a digital marketing strategy you can consider, we're confident that by honing in on these three areas, you'll start seeing some tremendous results. Let's delve into this further.
Local listings – get seen, get reviewed, get leads
Getting "listed" online is a huge component of getting found. Google loves local. If someone types in, for example, Foot doctors, into Google, right off the bat the search engine is going to show its Local 3-Pack of results: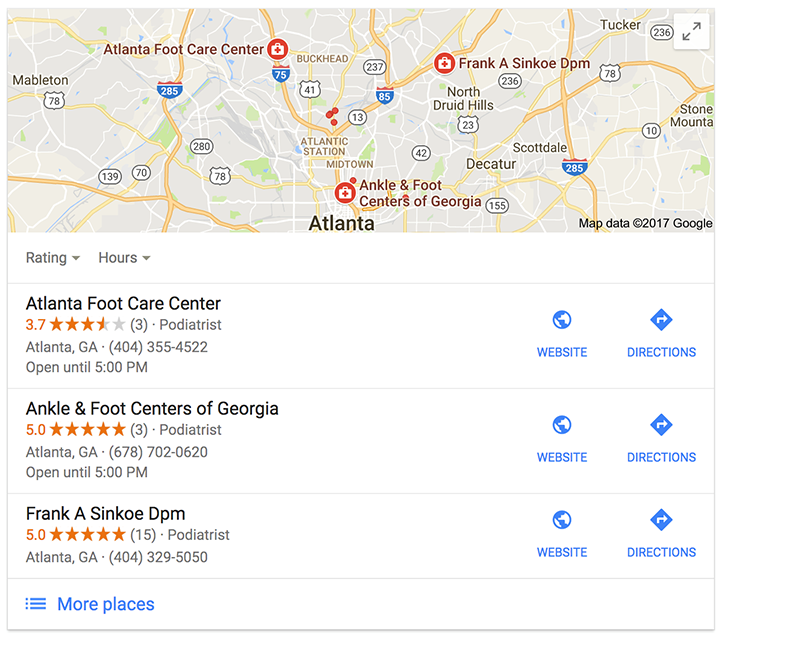 Followed by organic results based on our current location: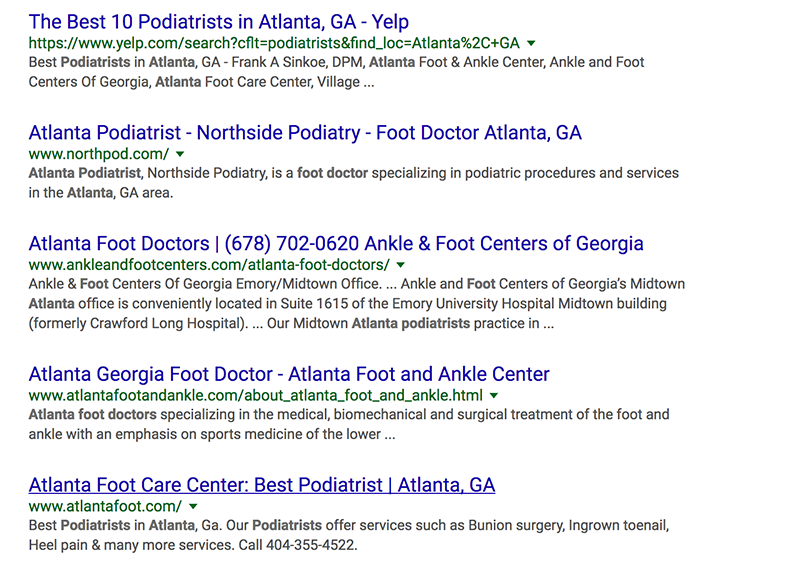 Google also knows that more times than not, when someone searches online for a doctor or medical facility, they want results from doctors and practices that are easy to get to.
Want to increase your chances of getting found based on Google's love of local? Then you have start looking for ways to increase your presence in local listings.
First and foremost, make sure you create your Google My Business profile.
This listing will increase your chances of getting placed in that coveted Local 3-Pack and also gives your patients the ability to provide reviews – a huge component of where you rank online and how many conversions you get.
You can learn more about using Google My Business for your medical practice here.
Of course, Google My Business isn't the only local listing you should consider. Getting listed on sites like your local Chamber of Commerce or other community organizations (Rotary Club, etc.) will give you tremendous cachet in Google's eyes. These listings on third-party sites are known as citations. The more citations your practice has – on reputable and local sites – the more likely Google will deem your practice as worthy of a good ranking.
The power of search engine optimization
An incredible number of people search online for a physician or facility before booking an appointment. That means there's a lot of traffic potential out there for you to reel in, so long as you have a solid SEO foundation to help internet users find your medical website.
For example, a family physician in Chicago would want to appear high on a list of results when people search for terms like "family doctor Chicago" or "Chicago family physician."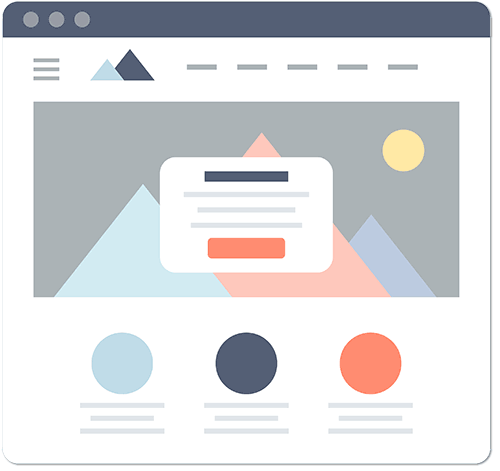 There are several components that impact your website's ranking, including:
Content – The words or text on your site
HTML – The programming language used to build your site
Architecture – The structure of your site, including how users and search engines interact with each page
Back-links – When reputable outside sites link back to your site
Here are a few SEO best practices to use to help improve your rankings:
First and foremost, start with solid keyword research. Find out what terms your i
deal patients are using before you create your content. Use Google AdWords Keyword Tool to assess users' search habits for any given word, including volume and geographic area.
Then, use those key terms throughout your content. But, we stress, create separate pages for each main key term. For example, don't try to get one of your pages to rank for five different terms. Neither should you try to get multiple pages to rank for the same word or phrase. This goes back to building a solid site architecture.
Focus on hyper-localized search terms. For example, a doctor in NYC might have a hard time simply ranking for NYC, New York City or Manhattan. But the
y might have more success narrowing down their local focus to pockets of the city like TriBeCa, Harlem, or SoHo.
Lastly, start a blog. This age-old SEO tool is still effective today. Blogs are an easy way to consistently create content that ranks for a variety of terms and is just about the best way to rank for long-tail keywords, which are phrases that are 3 or more words in length (such as – "Where can I find a reputable pediatrician?").
The practice of paid search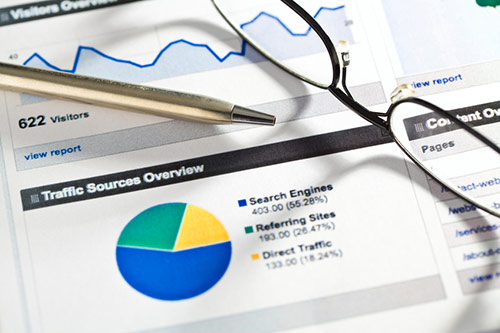 One of the biggest frustrations associated with SEO is that there's not enough time in the day to "do it right." You have patients to see, paperwork to complete, and you're already working more hours each day than you want. How could you possibly find the time to blog and be active on social media.
Trust us, we know your struggle. That's why as part of any successful medical digital marketing strategy we always find ways to incorporate paid advertising, aka Pay-Per-Click (PPC). PPC is a time-saving and cost-effective way to reach more prospects, get more patients, earn more referrals, and expand the reach of your practice.
Here are some reasons why you absolutely must include PPC in your marketing strategy:
You control how much you spend. You only pay when your ad is clicked on by a viewer, and you can set your budget as you see fit.
PPC supplies instant gratification compared to SEO tactics. In fact, the most effective way to approach it is to launch your PPC campaigns from the start while you wait for the benefits of your SEO strategy.
PPC is all about analytics. Everything you do with your ads is trackable, meaning you'll be able to determine which campaigns and keywords work, and which don't. Not only does this help you optimize future PPC campaigns, but it can also help you optimize your medical SEO efforts as well.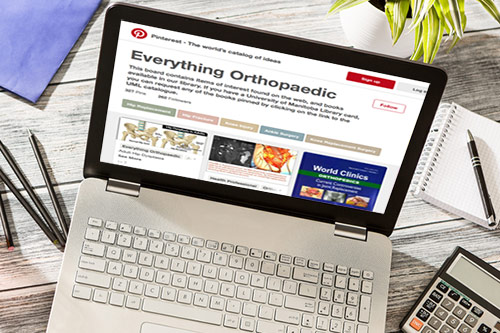 When developing your PPC campaigns, we recommend you do the following:
Like SEO, spend a lot of time with keyword research. Your choice of keywords will help determine whom you target, when you target them, and how much your campaigns will cost.
Don't forget about negative keywords. One of the most effective ways to lower your overall campaign costs is using negative keywords. These negative keywords help you avoid targeting your ad to the wrong types of audiences. We go into great length about how to build a negative keyword list (and why) here.
Think local, local, local. So many advertisers fail to understand the importance of geo-targeting for ads. If you're an Atlanta-based primary care physician, you don't want your ad to appear in Savannah. At the same time, if your practice has several locations, then you'll want to make sure you have ads appearing for each of these locations. Geo-targeting is an enormous part of your PPC strategy.
With digital marketing, it's all about the short and long game
The way we see it, your marketing efforts should do two things:
Deliver fast results and conversions, while at the same time
Build a growing base of loyal "followers" (basically, a dedicated base of patients)
By implementing these three strategies into your medical marketing efforts, you should start to see instant – and long-term benefits for your practice.