You're mistaken if you think that the traditional approach to private equity marketing is enough. Relegating an underfunded marketing team to churn out press releases and maintain your website won't cut it. It certainly won't help you get to value any faster.
Indeed, value creation strategies have recently shifted. Whereas delivering on the metrics and return on investment (ROI) used to suffice, PE firms now must go beyond operational and financial optimization. This is why, for all the attitudes that accompany it, digital marketing is enjoying an expanded role in driving value creation, especially in healthcare portfolios.
In fact, some believe digital marketing is the next lever for PE Firms. To that end, let's look at the traditional levers of value creation and how digital marketing can support them.
Where Marketing Fits into Three Core Pillars of Value Creation
Traditionally, we think of risk mitigation, cost reduction, and revenue growth as three core pillars of value creation. While there are many other levers for PE firms to pull, these three are fundamental. Within the healthcare marketing space, specifically, here are some examples of what each lever might entail:
Risk Mitigation: e.g., evaluating and responding to market disruptors, brand threats, and new competitors
Cost Reduction: e.g., increasing efficiency and streamlining the marketing technology stack
Revenue Growth: e.g., accelerating digital patient acquisition strategies and market growth
Strategies for Building Value Through Marketing
So how exactly does something historically intangible—at least from the perspective of showing ROI—like brand building drive value in these three areas of value creation? And what other marketing strategies can PE firms in healthcare deploy to quickly create value in their portfolios?
Build a Stronger Brand
People won't patronize a healthcare provider that they don't know about in the first place. With poor exposure to your brand, it will be challenging to reach the right people to drive digital patient acquisition. After all, the healthcare landscape is saturated and highly competitive.
Healthcare consumers have more options than ever.
As it turns out, brands can be quite valuable, sometimes comprising the majority of a company's total projected value. As we've seen with examples like 3G Capital, neglecting the brand in the name of cost-cutting can have severe consequences. On the other hand, investing in brand marketing can help:
Build awareness and exposure
Drive organic growth
Develop brand advocates and increase word-of-mouth recommendations
Enhance online reputation
Drive cost-efficient patient acquisition
Optimize Marketing Budget
Step one is to select the group of channels most suitable for a given entity and thus more likely to deliver results. You'll want to closely scrutinize where email, search engine optimization (SEO), and social media fit in, certainly, but also the performance (past and projected) of each part of the media mix (Google Ads, paid social, etc.).
With your ideal channels and media mix in place, you might also find opportunities to improve your messaging (for better conversion rates) and targeting (refine audience selection to maximize target local impressions or high-value patients).
Finally, look for lines that you can draw from marketing investments that drive brand equity and any corresponding reduction in paid advertising costs. This is, coincidentally, yet another potential benefit of investing more time and resources into brand-building.
Create an Omnichannel Strategy
Digitally speaking, healthcare consumers engage with brands in a variety of ways. Today, start-to-finish patient journeys can be quite lengthy and non-linear; others, as in the case of dentistry, can be quick. This variability makes omnichannel marketing particularly suitable for meeting healthcare consumer demand—for growing market reach, targeting high-intent buyers, and nurturing patient interest.
Omnichannel marketing encompasses advanced nurture programs that account for multiple touchpoints across a lead lifecycle. These might include:
Organic search
Organic social
Programmatic ad remarketing
YouTube videos
Podcasts
Reviews platforms
Traditional channels like billboards, print advertisements, and radio
Our recommendation for PE firms is to deploy a comprehensive omnichannel program that's driven by multi-touch attribution data captured from all lead sources. This is essential, especially as lead nurture cycles become more layered, varied, and interconnected.
Take a Patient-Centered Approach
For those with healthcare portfolios, here is yet another area where numbers and metrics only go so far. Believe me; healthcare consumers don't want to be treated like numbers. Yet, that's precisely the sentiment that results when patients are forced to endure high-friction experiences, such as long call queues or impossibly bad websites.
Today, leading healthcare organizations are finding innovative ways to put patients first, including:
Improving Patient Access. Patients commonly complain about their inability to get appointments, see test results, or just talk to somebody. Launching a telehealth offering and patient portal are two primary ways that healthcare organizations are improving patient access. The point is to make it easier for patients to get what they need and on their own terms, something the marketing team can help enable.
Increasing Transparency. What's it going to cost? How long is it going to take? Who will be entrusted with my care? And what is a given institution's track record in terms of quality of care? These are questions that marketing needs to help answer and promote online.
Building Feedback Loops. An effective way to improve service delivery is to not only give patients many avenues to provide feedback, but to gather, analyze, and respond to that feedback. Consider a digital reputation management solution.
Building Credibility. Marketers can help build content and campaigns that build trust in the eyes of healthcare consumers. Client testimonials, case studies, article placements, and physician interviews certainly fit into this category.
According to research from BDO, 25 percent of survey respondents see "performance metrics and benchmarking" as the greatest opportunity for tech to drive value at the fund level. Coincidentally, 20 percent of respondents listed "deal due diligence" as the greatest opportunity, of which digital due diligence is an important part. At the portfolio level, 35 percent of respondents thought "competitive differentiation/market penetration" were the best opportunities for tech to accelerate value.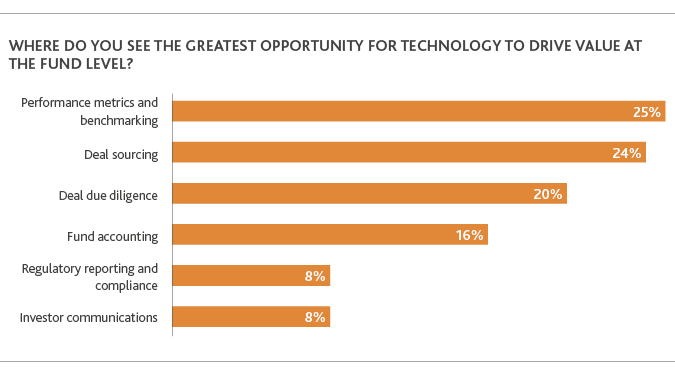 Source: BDO
As it turns out, marketing technology plays a key role in supporting both of these opportunities. Marketing data and analytics platforms, for example, and attribution models can produce the kinds of performance metrics that investors care about. Some marketing technology, such as a particularly useful chatbot or a convenient appointment scheduling and reminder system, can be competitive differentiators in and of themselves.
Where Companies Sometimes Slip Up
In Private Equity and The New Science of Growth, Stephen Diorio points out that scalability remains a problem. He writes, "unfortunately, few PE firms have found repeatable and scalable ways to leverage marketing and demand generation capabilities across their portfolios."
We've seen this problem be especially pernicious among multi-location healthcare groups, for example. In these cases, many firms struggle to orchestrate the analytics, advertising, and branding in a cohesive way, one that can be operationalized and repeated as new locations are added to the mix.
To avoid these negative outcomes, many groups are turning to a more centralized approach (especially post-merger).
Time to Pull the Marketing Lever?
In a recent blog post, we looked at How 3 Private Equity-Backed Healthcare Groups are Scaling Growth. As the title suggests, scalable marketing strategies are the common thread throughout all of these success stories. LifeStance needed to scale up marketing for more than 20 brands (and counting). VitalSkin had to quickly bring its digital presence up to speed to support better visibility and reach. Finally, Smile Doctors need to get a lot more efficient in strategic media management and fast.
What you'll find across these case studies are growth-oriented, vertical-specific marketing strategies that measurably accelerate time to value. I'm talking hard ROI that can be objectively tied to cost reduction, revenue growth, and risk mitigation—the three foundational pillars of value creation in PE.
So, does that mean it's time to pull the marketing lever? In my view, the time has long passed for most of the PE firms and PE-backed groups we worked with. The real question is how, when, and how hard?