Your digital reputation can permeate all the digital channels that people use to find you online. Just do a simple search for rehab centers in your city to see what we mean. Every search engine results page (SERP) and Google Maps experience includes reviews, star ratings, and so on.
In a space like addiction treatment and recovery—a highly personal service that many people first engage with online—a rehab center's digital reputation is so important. For two reasons, in particular:
People choose rehab facilities and other services based on what they see online. According to research from Search Engine Land, 88% of people trust online reviews "as much as personal recommendations." And 85% of people read at least ten reviews before making a decision.
People tend to look for addiction treatment near their homes. That same Search Engine Land report also found that 88% of people have read a review to evaluate a local business. It's a standard part of how most people consider businesses and services online. Your reviews, ratings, and business listings can make a strong impression on people using Google Search or Google Maps.
Finally, there's no avoiding the sensitive nature of addiction. Given the stress, stigma, and anxiety that faces people seeking help, negative or missing reviews can be a quick turnoff. So, if your center's digital reputation is on the backburner, or not on your radar at all, it's time to make it a priority. This article will show you how.
Questions We'll Answer In This Guide
How do I get my clients to leave positive reviews?
What reviews matter most? Where do clients go to read reviews?
What are the essential components of a review management strategy?
How do I overcome negative stereotypes and convince patients to choose my rehab center?
How do I manage reviews across multiple treatment center locations?
Can the poor reputation of one location bring down my reputation overall?
Create, Monitor, and Manage Your Digital Profiles
Start by taking a thorough inventory and establishing your baseline. Where does your addiction treatment center currently have listings (complete or incomplete) online? Common review channels include:
Google My Business (GMB), Facebook Business, and Yelp
Healthcare review sites, such as RealPatientRatings and RealSelf
Rehab-specific reviews sites, of which Rehab Reviews from American Addiction Centers is one of the most well-known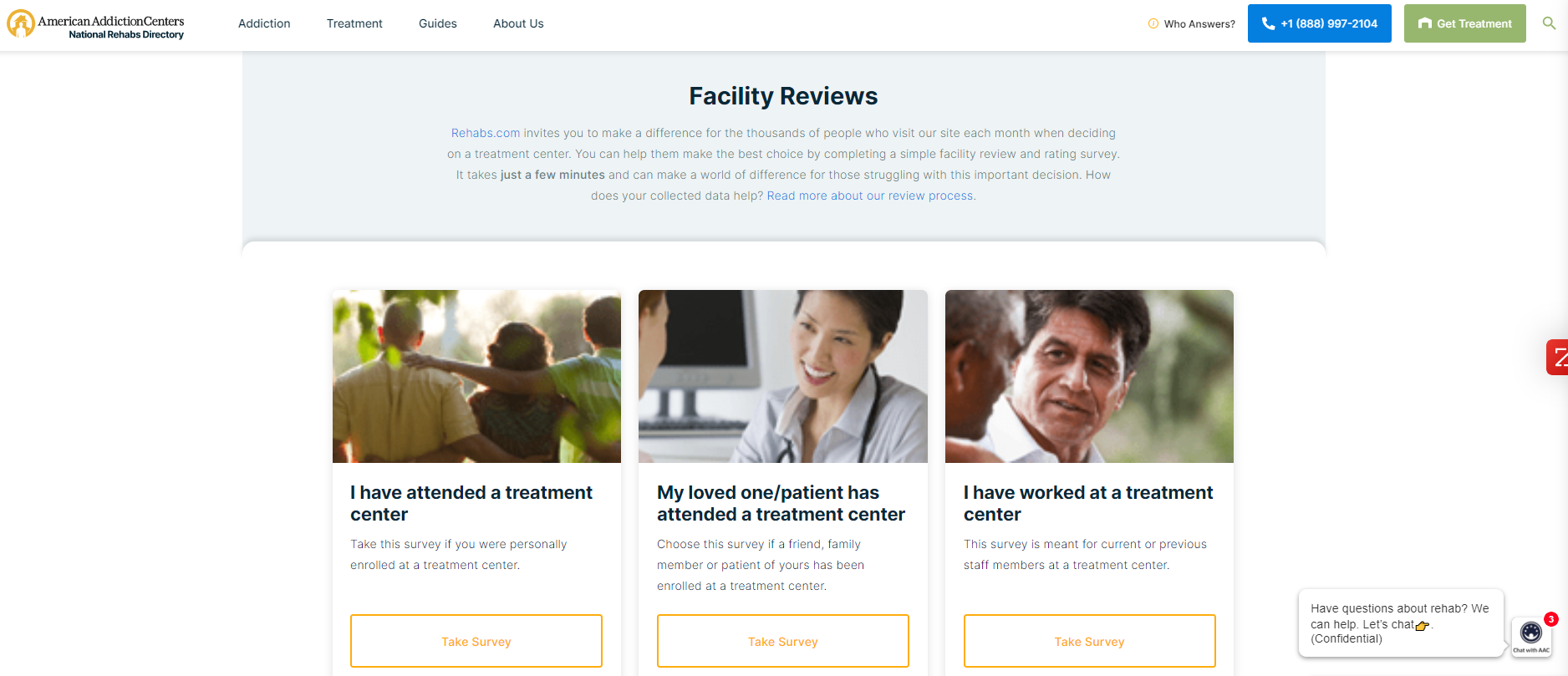 If you don't have listings established on these channels, now is the time to take stock of which ones will be the best use of your time and resources. Get those profiles set up and ready to roll! We do recommend getting your GMB established and verified, at the very least. These listings are just too ubiquitous throughout the Google Search experience to neglect.
Action Item: Devise a Response Plan
The beautiful (and sometimes painful) thing about reviews is that they're mostly out of your control. Negative reviews will happen! While improving your service to minimize these negative experiences is important, how you handle negative reviews matters, too.
Develop a formalized response plan ("on paper" and approved by stakeholders) that outlines:
Who responds to negative reviews?
What kind of language and tone should be used
Should an apology or offer to follow-up be made? Who handles those follow-ups?
This response plan should also include guidance around what to do with positive reviews—how to respond, whom to acknowledge, and so on. Do we add these reviews to our website and social media channels? The point is to have an approved review response plan that is easily accessible across your organization.
Develop A Review Solicitation Strategy
Reviews don't just happen by themselves—at least not at the steady clip that's needed to make a measurable impact. A consistent flow of reviews sustained over time outweighs sheer volume. Sometimes, you've just got to ask for them!
To build this kind of baseline review volume often takes a more formalized, organization-wide process for regularly soliciting reviews. Here are a few core tenets of a successful review solicitation strategy:
Map review requests to key points in the journey. These might be an email campaign you generate for program graduates. Maybe you solicit reviews through your center's mobile app.
Train your staff to ask for reviews. Give your staff members the script for when, where, and how to solicit reviews.
Share your review form. Include a link to your review form in your automated email messages, customer communications, and website.
Automate the whole thing. There are plenty of review management tools that incorporate review solicitation into email, SMS, and even snail mail.
For more tips on how to ask for reviews, check out this handy guide from Constant Contact.
Give Your Website the Love It Deserves
The health of your digital reputation extends beyond ratings and reviews. Your website is your digital front door, a place for people to get more information, get answers, and contact you. People come to your site to see what your rehab programs look like, where they take place, and how much it all costs.
Your website is also an opportunity to emphasize your unique selling position (USP). What makes your rehab center unique, in other words. It might be:
Your particular philosophy or approach to treating addiction
The strength and experience of your staff members
Your program format and location
The "vibe" that your staff creates for clients
How transparent you are about cost and insurance
Here are a few ways to showcase your "USP" throughout your site:
Action Item 1: Breathe Some Personality into Your About Page
The trick to engaging About Us pages is simple and highly counterintuitive: it's not about you. You can tell your story, sure—the tale of how and why your center was established—but the trick is to do it through the lens of the value it creates for your reader.
In other words, a lot less "us, we, and I" language.
For instance, how is someone who seeks care at your rehab center going to benefit from your tropical location? Why should they care about your founder's long, arduous journey to get where they are today? This is an opportunity to introduce patients to your story, team, and unique "stuff" while empathizing and connecting with prospective clients.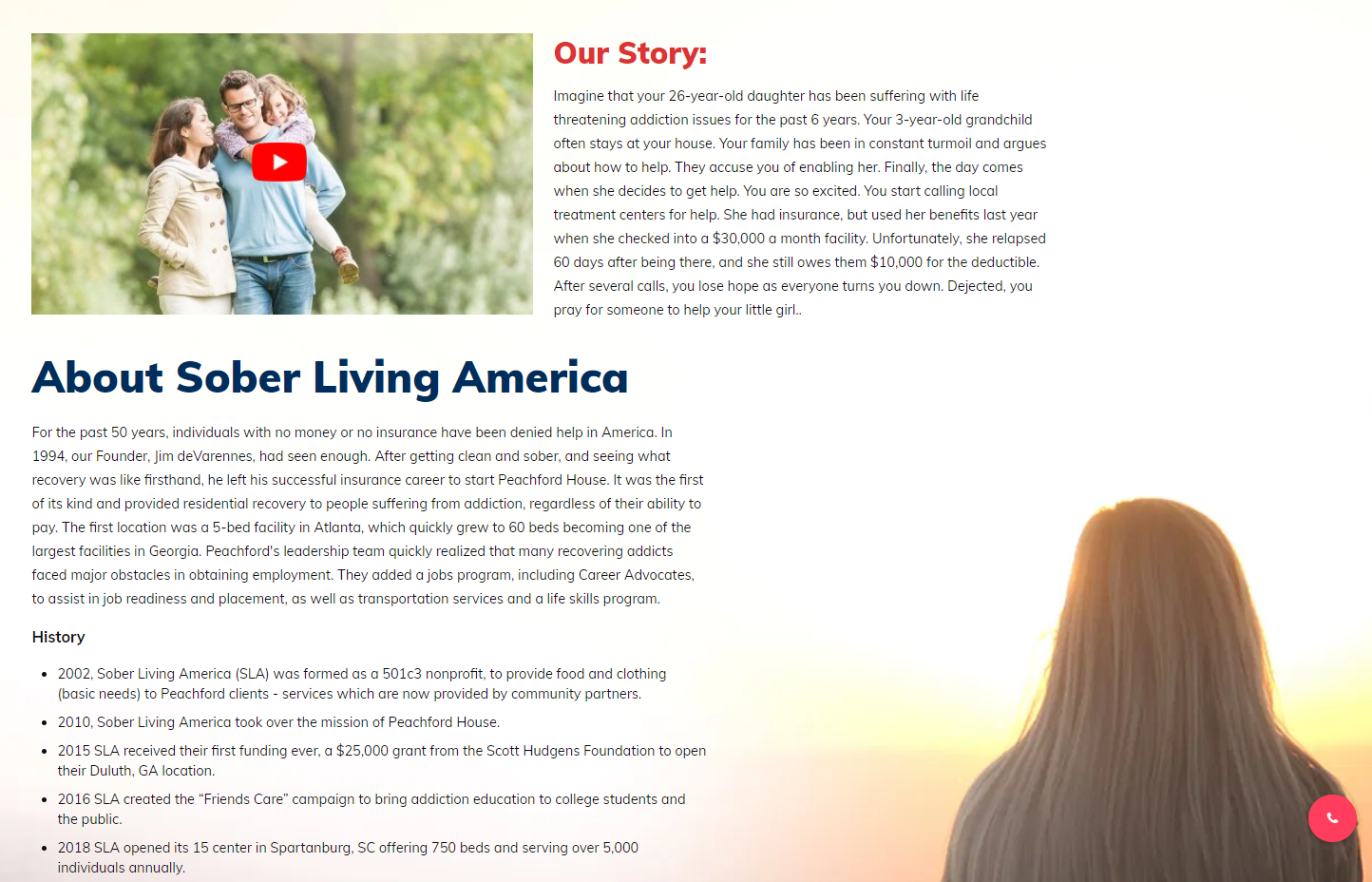 It's a chance to put a face to names and deploy a bit of storytelling, too. Here are a few thought-starters to get your creative juices flowing:
If our rehab center had a superpower …
When people finish our program, they always remember …
A time we felt weak, vulnerable, or low, was …
Every journey to recovery starts differently. Ours began …
Action Item 2: Make Your Mission Statement People-First
The same goes for your mission and values statements (which might be included on your About Us page already). Rather than writing the same generic statements that you find on every other addictions center's website, why not write mission and value statements based on what your particular people need?
Notably:
Empathy and relatability (an understanding of how an addict feels)
Truthfulness and transparency (no smoke and mirrors or false promises)
Accessible and interesting style (a reflection of personality)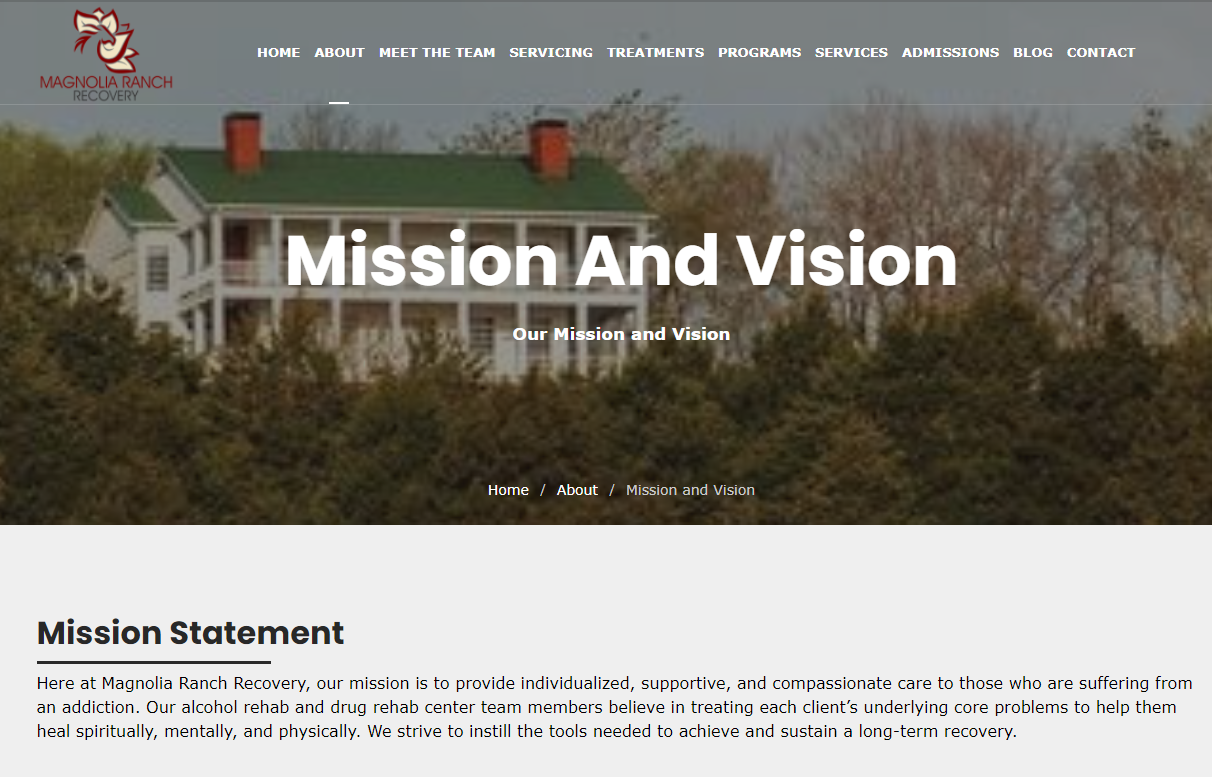 Third-party creative agencies can be quite useful in bringing your mission, values, and other core "brand" statements to life. The creative exercise alone can uncover new perspectives on your brand that you can use to breathe some life into your entire website.
Action Item 3: Put Your Glowing Reviews Front and Center
We've seen a couple of different approaches to showcasing strong reviews on a website. Some rehab centers create dedicated "patient review" and testimonial pages. Others embed reviews from Google, Facebook Business, and other review sites using a widget, a plugin, or custom code.
Either way, reviews, testimonials, and patient stories can give site visitors a great idea of your reputation as a rehab center. Video testimonials can be especially moving, as can longer-form patient stories and case studies. Here's a strong example from Bluff Plantation:
Maintain Consistency Across Multiple Locations
Many rehab centers are part of broader groups or networks. Others expand to new locations on a somewhat regular basis. However, because addiction rehab is so locally focused, each center needs to have a
locally-focused digital reputation
. That means putting together a repeatable framework for maintaining consistency and engagement across all locations.
Action Item 1: Create and Verify a GMB Listing for Each Location
Verify each location and ensure that each listing is as complete as possible, including:
Accurate business name and location
Contact information and operating hours
Consistent and relevant categories across listings
Details about various programs and services
Photos, video, promotions, and site links
Options for live chat/messaging
Finally, share out your review link wherever possible. Your review solicitation strategy should incorporate all locations and drive reviews to each GMB location. For our full guide to setting up GMB, see How to Optimize Your Google My Business Listing.
Action Item 2: Create Templates & Brand Guide
Consistency matters. A brand guide, including rules around style and voice, can help ensure a cohesive presence across all of your listings and review sites. A brand guide is also useful in ensuring that all locations interact with patient reviews in a way that positively reflects your brand.
Action Item 3: Formalize Roles & Responsibilities
From a time and resource perspective, it often makes sense for each location to manage its own reputation. Still, many rehab centers manage all locations centrally. Ultimately, it will depend on your rehab center's business setup and structure. Here are the pros and cons of each:
Pro: Instant feedback. Quick response to negative feedback. A stronger connection to local culture and language.
Con: Inconsistencies on listings and review sites. Incomplete listings and inconsistent responses to reviews.
Pro: More consistent messaging. Better oversight and control. Fewer oversights and coverage gaps.
Con: Lack of personal touch. Feels "corporate."
Action Item 4: Consider a Reputation Management Solution
Managing the digital reputation of multiple locations can quickly consume a lot of time and resources. Especially for larger rehab center groups, the growing list of quality reputation management software vendors might make a lot of sense.
Solutions such as BirdEye, Podium, and TrustPilot are built to handle multi-location reputation management. These solutions make it far easier to centralize review solicitation, management, and reporting. Review analytics, in particular, can reveal a lot of information about patient experience, sentiment, and potential roadblocks that might be impacting your digital reputation. With the right solution, reputation management software can prove to be well worth the investment.
RELATED: Why You Can't Neglect Your Digital Reputation
In Closing, It's About Building Trust
In the world of marketing and, more specifically, digital reputation management for rehab centers, it's easy to get tunnel vision. We like to remind ourselves why we're putting in place the above best practices—why we're helping clients accumulate positive reviews and solidify their digital standing overall.
It's about connecting people in need of serious help.
No matter the reason for checking into rehab or addiction counseling, the decision is a momentous one. It's fraught with personal struggle, vulnerability, and shame. In this regard, digital reputation is less about selling you and more about building trust. It's about showing people that yours is the right environment for their recovery. For this reason alone, an addiction treatment center needs to shore up its digital presence. How else will people searching Google for answers know that they get the help they need at your rehab center?