Both the Google algorithm and how people search are evolving, sometimes in lockstep. In the past, Google trained us to search using specific formulas, especially in healthcare. You might have better success searching for "back pain relief" versus "how do I make my back stop hurting?" The onus was often on the person searching to unlock the right search results with just the right keyword.
"The art of Googling," as we sometimes heard it referred to.
Now, Google has updated its algorithms to be much more user-friendly. Instead of awkward keyword formulas, people can search using more natural phrasing. This has led to the use of a wide array of unique word combinations, or very long-tail search terms, with far greater frequency. People are using their natural language to find what they need, due at least in part to the increased use of voice-assisted search options.
RELATED: How Consumer Search Behavior is Evolving
It makes sense that Google has had to adapt its algorithms to get better at identifying what searchers want. An ever-growing amount of our lives occur online. By some estimates, 15 percent of annual searches have never been searched before. That's 15 percent of approximately a trillion annual searches, a number that has remained steady since 2013.
Given these changes in the way people search, here are some of the most immediate ways healthcare SEO is evolving.
The Pandemic's Influence
Though it comes as little surprise, the COVID-19 pandemic has reshaped search behaviors. First and foremost, people are searching for new things concerning healthcare, including healthcare options, treatments, and up-to-the-minute COVID guidelines.
Research around certain conditions, as they relate to COVID-19, spiked in 2020, as did searches for at-home physical therapy exercises. We saw a massive spike in search terms related to "telehealth" and "telemedicine," as this was the only option for many at the height of the outbreak. While the surge of interest in telehealth has subsided, it's still higher than it was pre-pandemic, at least according to Google Trends: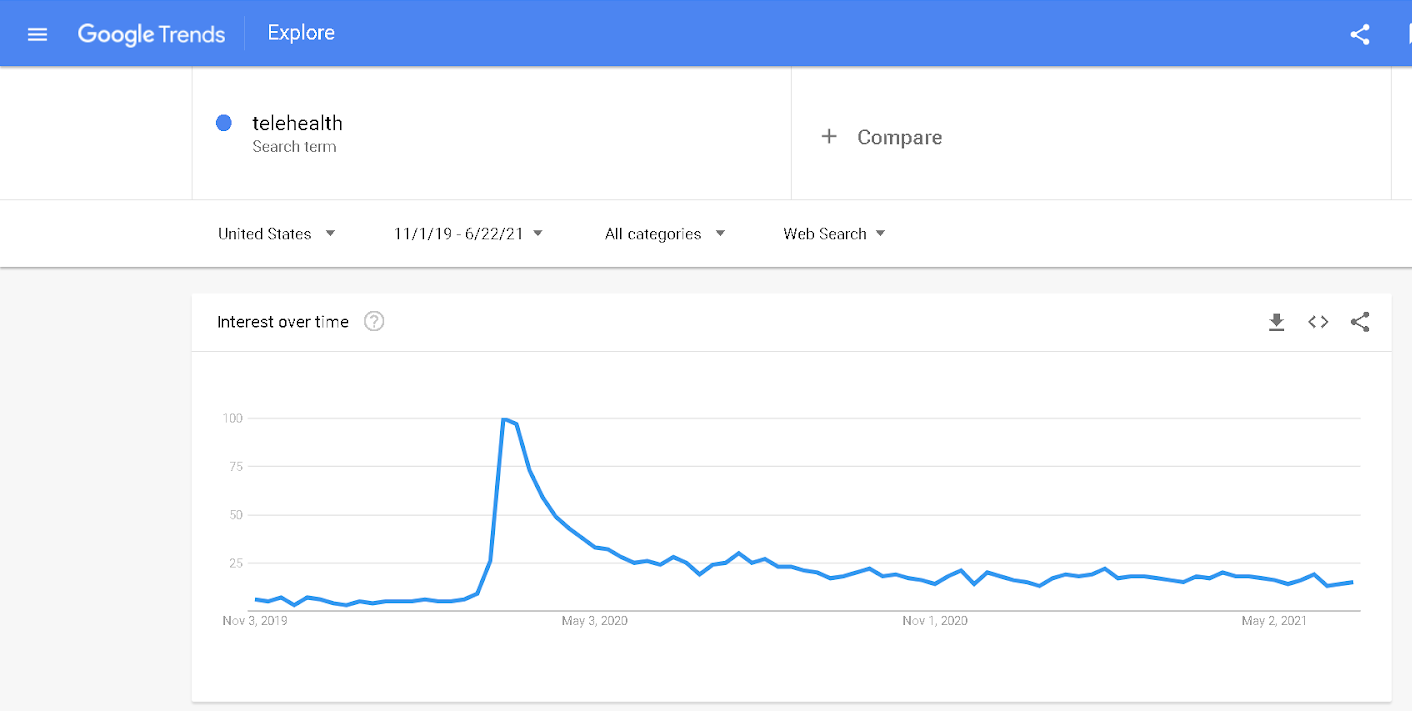 Perhaps these pandemic-induced search behaviors really were circumstantial. People were unable to visit their doctors, so they took research into their own hands. That would explain the rise of new, never-searched-before queries, certainly.
Regardless, when developing your SEO and content strategy, dig into the questions and information patients need to ensure your web entities are being found. A lot has changed in this past year, and you need to ensure you know how patients are searching for the services you offer. To get those patient insights, you can use a few different methods:
Keyword research using tools like SEMrush, Google Keyword Planner, and Also Asked
Conversational analysis tools like CallRail
Patient feedback forms and surveys
One-to-one interviews with patients
Don't get stuck with the status quo; staying aware of patients' changing needs will help you rank for the new questions they have and give you an edge over the competition.
The Rise of Semantic Search
Semantic search is about giving people the most relevant search results based on their natural language search terms. It's how search engines use all the data at hand to determine the context, intent, and meaning they need to connect search terms with relevant content.
We like to share our Tom's Diner example (which first appeared in our Top SEO Trends Every Marketer Needs to Know in 2021) as an excellent example of semantic search:
"One of our staff members was at home over the weekend with a song stuck in her head. The only problem was that the chorus didn't have any words—just a female vocalist singing do do do. The staff member knew that the song was from the nineties, so she typed in '90s song do do do' and Google had the YouTube listing for 'Tom's Diner' by Suzanne Vega right in the featured snippet—exactly the song she was looking for."
It's rudimentary, sure. But it's one of those "how the hell did Google know" moments that's powered by semantics. As to an explanation, a look at Google's entity analysis helps. Essentially, "entities" are known things that Google can tie a concept to. This could be as simple as a person, place, or thing. A historical event. Maybe a recurring music festival. Whatever the entity is, Google assigns numerical values to it based on four factors (relatedness, notability, contribution, prizes).
An entity is the topic of every Google Knowledge Graph, of which there are millions of entries. Essentially, a Knowledge Graph brings together all the information a person might need about a given entity in a single panel, often eliminating the need to go anywhere other than the search engine results page (SERP). For example, search for a famous musical artist, such as Ray Charles or B.B. King. The SERP will give you a thorough overview of their background and key accomplishments.
With the advent of featured snippets and Knowledge Graphs, it's quite clear that the Google algorithm uses entities and context to discover the appropriate type of response for the specific query. Indeed, search engines no longer rely on keywords alone to serve up results. It's something to keep in mind as SEO continues to evolve.
For more on semantic search, read our guide: Understanding the New World of Semantic Search.
Conversational Search
In conversational search, a person can speak their question or query and have their search results returned to them in the form of dialog. Think of the last conversation you had with Siri, for example. Building on this concept, Google introduced two main conversational technologies at the Google I/O Developer Conference in May 2021: LaMDA (Language Model for Dialogue Applications); and MUM (Multitask Unified Model). These technologies foreshadow how search will become more conversational and less direct query-based.
LaMDA (Language Model for Dialogue Applications)
LaMDA is a language model that trains computers to understand language better by picking up nuances that distinguish open-ended conversation from other forms of language. It's what allows many chatbots to evolve, adapt, and conduct open-ended conversations with human beings.
NOTE: LaMBDA is a machine learning technology language that Google is developing currently. It's not live yet.
MUM (Multitask Unified Model)
This model helps artificial intelligence (AI) better understand the question being asked by stringing together complex search queries. With MUM, Google's AI can quickly understand what people are really searching for (even if they might now know themselves). It's a lot like BERT, but far more powerful (oh, and it's trained across 75 different languages).
Why conversational search is important to healthcare providers
These two conversational search technologies were the topic of conversation for Alex Membrillo and John McAlpin during a recent Ignite Digital Marketing podcast. Said McAlpin, "of course, you're going to get a lot of articles on how to optimize for Lambda and MUM. Take a step back. Remember, think about your audience. Always write for your audience."
It's true, and it's good advice. At the end of the day, all of this tech is focused on improving search results for long-tail queries that Google hasn't seen before—to allow people to interact more naturally with tech. In the world of healthcare, that's yet another opportunity to reduce barriers to access and help people find and receive care whenever and however they look for it.
How Your SEO Strategy Should Evolve
As big and burly as Google can sometimes seem, the algorithmic shift toward conversational search is a positive step for healthcare. It's an opportunity for healthcare marketers, in particular, to help Google understand that you have the answers to people's questions—that your content is what those healthcare consumers need or want.
"If we're targeting providers for referrals," says McAlpin, "or if we're targeting patients for direct acquisition, we need to make sure we serve the user journey to what their audience profile is." To do so, we recommend evolving your SEO strategy based on the same five-part framework we recommend to our own clients in healthcare:
Develop an entity-focused keyword strategy: Understand the related topics, and then provide context in your content to establish the relationship between the entities you're targeting.
Create robust content that answers your target market's questions: Map out the patient journey, identifying patient information needs, and ensure you have content for the entire funnel.
Use semantic schema markup: This will help you disambiguate free-form content and tell Googlebot what the different elements on your web page are.
Implement contextual internal linking on your website: This will help Google understand relationships between content on your website.
Write for people, not search engines: While we're talking a lot about what Google wants, the goal is to write for people. Think about the patients you know so well. What keeps them up at night? What will help them lead healthier lives or get the care they need? Use natural language that's easy to understand and reflective of these needs.

To underscore that last piece of the framework, here's another word to the wise from our Google I/O wrap-up:
"Keywords will always be important. There's been a lot of talk about the decrease in the importance of keywords, but without keywords, we don't know what people are asking or searching for. Without the right kind of content, we're not going to know. Now, how you use keywords will definitely change. It has been changing. We used to have the stuff keywords everywhere a certain amount of times and to account for every variation. Not anymore."
What's Best for Your Patients is Probably Best for SEO
If this all sounds like a lot, it is! Google is constantly updating its search algorithms, often leaving healthcare marketers, in particular, scrambling to keep up. But ultimately, Google wants to give people the information they're searching for, as do you. Google has been heading towards conversational search for a long time.
Our recommendation for businesses trying to increase their rankings is to follow what Google always says: focus on creating good content that answers your customers' questions; and optimize for where Google is going, not where they are now. Don't try to optimize your pages for short keywords and quick action, or go super long just for the sake of going super long. Instead, optimize for your users, and you will win.
If you can do that, you'll be well-positioned to adapt to the continued evolution of healthcare SEO. And your patients will be better for it.