In the healthcare industry, inbound phone calls have always played a significant role in the customer journey. In fact, according to Liine's 2023 Healthcare Marketing Benchmark Report, phone calls account for, on average, 80% of a healthcare practice's new leads. On the healthcare provider side of things, speaking with patients on the phone can be a powerful way to guide them in the right direction and drive marketing and revenue objectives while doing it. That's why investing in a call and lead tracking solution is essential for healthcare providers today.
With recent HIPAA crackdowns and regulatory updates impacting healthcare marketing, it's also important to make sure that you're investing in HIPAA-compliant call-tracking solutions. Not all adhere to current privacy regulations (we share four options below), and you need to understand how to implement it properly. 
The most innovative of today's call-tracking solutions leverage AI to track and analyze phone calls and identify crucial data points, including patient sentiment, conversion barriers, lead quality, and more. With this data in hand, marketers can then identify which campaigns, keywords, and resources are generating calls and form fills, enabling them to allocate spend and optimize strategy more effectively. 
If you don't already have call-tracking software in place, now is the time to introduce it.
How Call Tracking Works
Call tracking is a natural extension and supplement to all of the work you're already doing to track user behavior on your website, the way people interact with your ads and social media campaigns, and the effectiveness of your Google My Business Listing. Call tracking software helps you determine how callers found you, why they are calling, and how you can improve the experience once they're on the phone.
By utilizing call tracking software, healthcare marketers can map the customer journey up to the point of the phone call. This helps marketers determine which print and digital campaigns, website resources, and keywords are leading to calls so you can allocate your budget and adapt your marketing strategy accordingly.
The two main methods of call tracking are call number tracking and dynamic all tracking.
Call Number Tracking
Call number tracking uses unique trackable phone numbers inserted into ads both on and offline, including in direct mail, print advertising, email marketing, and digital ad campaigns. In the ads for your campaign targeting young families in the community, for example, you would provide a unique number for those prospects to call for more information. Without utilizing call number tracking, there is no way to trace which of your promotional ads are converting people into callers and into customers.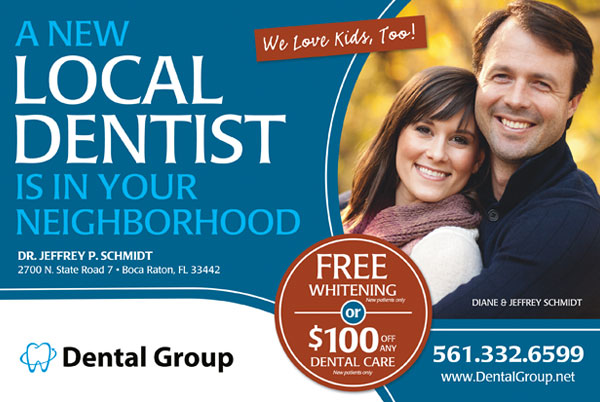 Dynamic Call Tracking
Dynamic call tracking uses a website code to assign unique phone numbers to individual web users.  Once a person calls, you have access to what they were doing before they dialed your number. Within dynamic call tracking, there are two primary methods most marketers use:
Dynamic Number Insertion (DNI) automatically swaps the number displayed on your website with a unique tracking code to follow unique user sessions. When a person calls, you're provided with their website behavior, marketing source, IP address location, device type, conversion page, etc.
Channel-based Tracking assigns unique phone numbers to online marketing channels outside of your own website, including search engine results, organic traffic, and marketing channels.
If you've built marketing campaigns where the purpose is to drive inbound phone calls, call tracking is essential in understanding which campaigns are most effective at bringing in these kinds of leads. This is where you'll get the hard data you need to better manage your marketing budget and close the loop on leads that come in over the phone.
8 Things to Look for in a Call Tracking Solution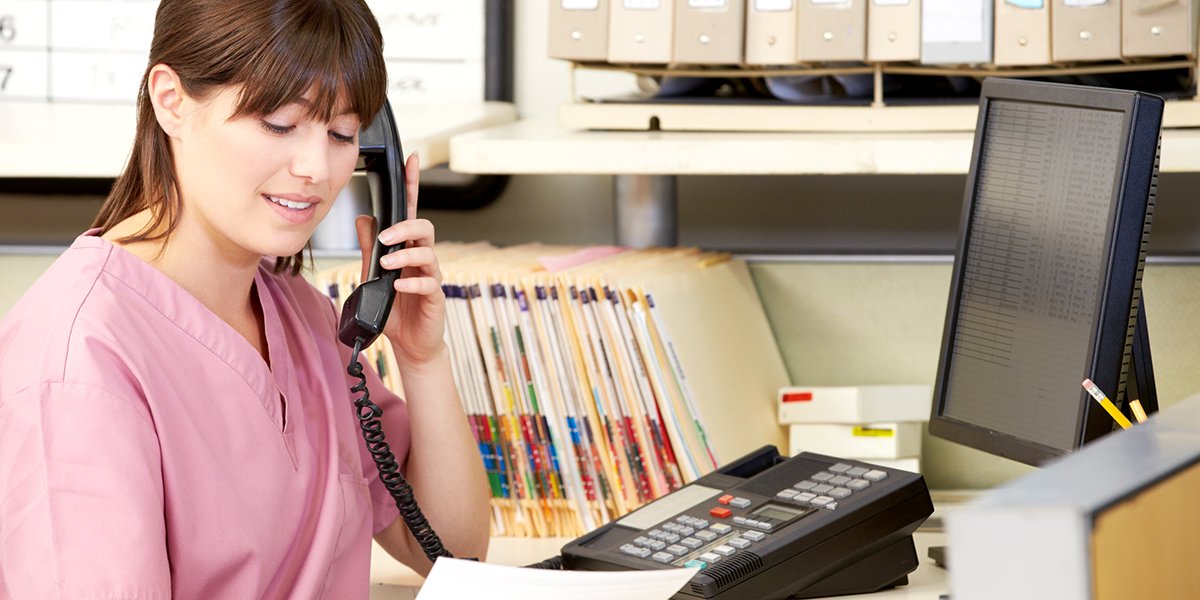 Call tracking software can be highly sophisticated, with capabilities including everything from caller intelligence, lead scoring, dashboards, and call recording for later analysis. There are many vendors to choose from and each offers unique customer packages, so we recommend doing your own due diligence to choose the appropriate software for your needs.
In addition to being easy to use, customizable, and scalable for future growth, the following capabilities should be considered non-negotiable when you're shopping around.
1. Caller Profiles
This should go without saying, but your software should capture your caller's location, website behavior, demographic data, and previous history. The more you know about your caller, the better positioned you'll be to add value to their journey and turn a call into a conversion.
2. Interactive Voice Response (IVR)
Also known as "intelligent call routing," IVR is an automated system that connects callers to the proper departments based on their spoken answers to recorded prompts. Call tracking programs should either integrate with your existing IVR system or provide their own. Again, each interaction with your IVR represents a useful data point.
3. Real-Time Analytics
Equip your people so they can be more effective on the phone. Real-time analytics allow your teams to pull up caller information while they're on the phone for more personalized service that helps build trust and drive better outcomes.
4. Customer Relationship Management (CRM) Integration
Your call tracking software program should integrate with your existing CRM (presuming you use one to track sales and accounts). You'll need this kind of integration to streamline customer information from the first contact to appointment follow up, a core tenet of improved patient experiences.
5. Reporting Tools
Use your solution's reporting suite to track and measure user behavior over time, access historical trends, optimize your conversion funnel, and determine the return on investment (ROI) of your marketing and content strategies.
6. Keyword Tracking
Customer language and customer voice can unlock very powerful insights for marketers. Know which keywords are driving which users to phone in, then use this data to refine each part of the journey, from ad creative to your landing page.
7. Call Recording and Analytics
Call recording alone is useful for manual analysis and patient service improvement. Automatic analysis can take a large volume of calls and identify commonly used keywords and phrases that you may or may not be marketing to, pain points and objections, or complaints. It then organizes that data in a way that's easy to consume, spot trends, and share.
8. HIPAA-Compliant with Healthcare Experience
With HIPAA compliance at the front and center of healthcare, it's crucial to work with a call-tracking vendor who not only understands the intricate landscape of healthcare but is also HIPAA-compliant. Such specialized vendors can offer valuable insights into patient behavior and marketing effectiveness while ensuring that all data handling meets the rigorous standards of healthcare regulations. Partnering with the right call-tracking service allows healthcare organizations to optimize operations without compromising on compliance.
Integrating Your Existing Analytics Tools with Call Tracking
Call tracking software integrates with your existing analytics tools to give you the full picture of the patient acquisition journey, which closes a gap that many healthcare marketers have been neglecting to fill for quite some time. Because people are calling you, right? How much do you actually know about that slice of your inbound pie?
The truth is that most patients do a lot of research and investigation before they decide to reach out to healthcare providers, even if it's by phone. They ask their friends, perform internet searches, read patient reviews, check out your website, and visit your social media platforms. Multi-channel attribution lets you track a patient's journey from the first ad they click, across several website visits, to the moment they pick up the phone and dial.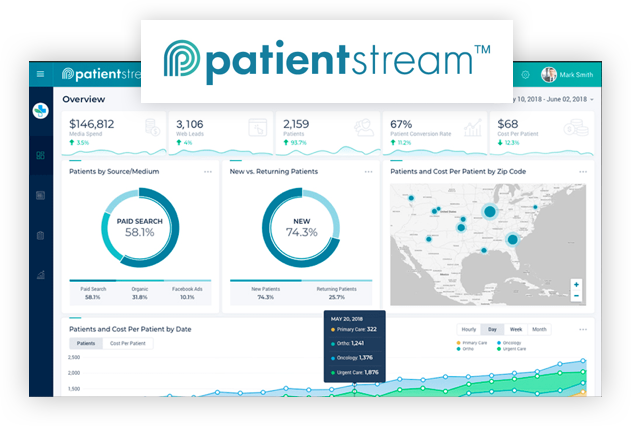 This data can be fed into your existing analytics tools. Artificial intelligence (AI) software like Cardinal Digital Marketing Patient Stream, for example, automatically optimizes all of your marketing efforts across all channels to help maximize ROI in a proactive and automated way. Your electronic medical records (EMR) solution can integrate directly with the proprietary Patient Stream AI to stop campaigns that aren't delivering new patients and increase spending on campaigns that are producing conversions. Google PPC campaigns, Facebook Ads, call tracking, website analytics, and any other tools you're using to track user behavior and conversion funnels can also be integrated and examined holistically.
What are Some Common HIPAA-Compliant Call Tracking Vendors?
To give you a feel for what a call tracking solution might look like in terms of fit and feel, we've provided a brief overview and review of three popular solutions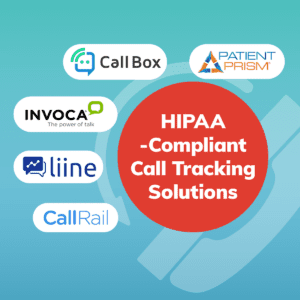 CallRail
CallRail tracks and analyzes phone calls, web forms, and static and offline call tracking. It also integrates seamlessly with many of the marketing and CRM programs you may already be using. The software has robust functionality and offers a number of ways to customize your reports to your campaign strategy. CallScribe, for instance, automatically analyzes phone conversations to find custom keywords and optimize them for organic search. Reports are customizable based on campaigns, marketing sources, keywords, lead scores, etc.
Patient Prism

Patient Prism's AI technology shows which marketing investments generate the highest-value phone calls from potential new patients. The technology enables busy practices to convert more of these callers into patients. Healthcare organizations can increase their revenue growth without necessarily spending more on marketing and without spending hours listening to recordings of entire phone calls.
Liine

Liine's call recording and lead management platform is an all-in-one solution for converting more calls and web forms into new patients. Their AI technology allows practices to accurately track which calls are new patients, and which book appointments. Liine can highlight the reasons why any patients are not booking, so you can refine your strategy and convert more leads.
Call Box

Call Box is a comprehensive call tracking and cloud phone system solution that allows businesses to gain transparent insight into every phone call, eliminate inefficiencies in call handling and improve the caller experience. The platform leverages a unique combination of human reviewers and artificial intelligence to provide insight into every call to uncover gaps in phone processes and offer proactive solutions.
Learn more about implementing a HIPAA-compliant tech stack with our guide "Privacy First: Marketing Technologies that Prioritize HIPAA Compliant."
Tips for Implementing Call Tracking for a Multi-Site Provider Group
If your organization has multiple locations, implementing call tracking can quickly become messy and confusing. The risk of a location or two being overlooked is real. To ensure smooth sailing, consider the following advice.
Define Your Goals
Clearly outline the objectives you want to achieve with call tracking, such as tracking marketing campaign effectiveness, measuring lead generation, or improving call handling and patient experience.
Conduct a Comprehensive Audit
Scrutinize every platform – from your website to listing sites where your phone numbers are displayed. Understanding the current landscape and ensuring accuracy is vital to effective call tracking.
Stay Organized
Create dedicated trackers that list every practice location, corresponding phone number, and the status of call tracking implementation. This will be your reference point and ensures no location is left out.
Remember Offline Sources
In the digital age, it's easy to forget about traditional media. However, phone numbers on brochures, billboards, and other offline sources are just as vital. Incorporate these into your tracking strategy.
Seek Professional Guidance
If your brand structure is complex with several practice locations, consider consulting a professional. The intricacies involved in managing multiple locations can be overwhelming and, in such cases, expertise can be the difference between success and costly oversight.
A Tried and True Way to Close the Loop
Healthcare providers are receiving more calls than ever and capturing the data on those callers has never been easier with modern call tracking software. The more data marketers collect on their patients, website users, and audiences, the clearer and more detailed your customer map becomes. Understanding how patients are finding you and the steps they take before reaching out to book an appointment helps you develop a comprehensive marketing strategy that gets the most bang for your advertising dollars.
It helps your people be much better on the phone, too, delivering more personalized experiences that patients expect nowadays.
When choosing software for call tracking, consider your current and future needs. If you intend on scaling up, put in place a highly scalable call tracking solution now. If seamless integrations without costly professional services are a must, focus your vendor search accordingly. And remember: call tracking software is yet another tool in your marketing suite to help you attribute leads, better understand the patient journey, and optimize each step from start to finish. The recent spike in phone calls is more than just an opportunity for healthcare marketers to capitalize; it's a chance to bring value and personalization, to each and every call, something your patients will thank you for.