In the healthcare sector, organizations aim to distinguish themselves and seek an agency with deep knowledge of their specific market and vertical. They prioritize unique strategies that set them apart from rivals. So, how does our agency, with expertise in diverse healthcare niches, avoid conflicts of interest in competitive markets?
Note that a conflict is defined as two or more clients providing the same service to the same audience in the same geographic area. We do not define conflict as two companies providing the same services in different areas, or two companies providing adjacent services to the same audience.
At Cardinal Digital Marketing, we've built a structure that allows us to leverage deep industry expertise while safeguarding client intelligence. Our services are divided into six tactical teams, each operating in isolation to ensure minimal overlap or sharing of sensitive information. Above that sits a strategy team that guides goal alignment and performance. This way, our clients benefit from our deep healthcare insights while ensuring their intellectual property remains secure.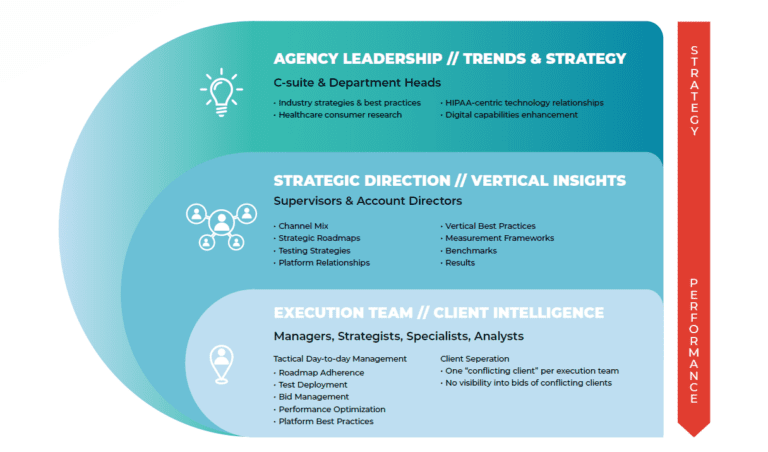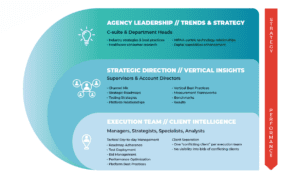 Let's dive into our strategy:
Agency Leadership
With a leadership team seasoned by years in the healthcare trenches, Cardinal is positioned to offer future-forward marketing solutions. Leadership's role is to monitor healthcare and digital marketing trends to actively identify client growth opportunities. They interact with account teams to share industry best practices, ensure HIPAA compliance, resource the agency appropriately, and expand our digital toolbox to drive both performance and growth.
Here's a snapshot of our leadership's focal areas:
Industry Strategies and Best Practices:

Staying updated and integrating the very best the industry has to offer.

Healthcare Consumer Research:

Delving deep into consumer behaviors, needs, and preferences in the healthcare domain.

HIPAA-Centric Technology Relationships:

Cultivating relationships with tech providers who prioritize HIPAA compliance, ensuring your data's sanctity.

Digital Capabilities Enhancement:

Continuously enhancing our

digital proficiency

to ensure you always have a cutting-edge advantage.
With such a holistic approach, Cardinal's leadership ensures that every client is not just catered to, but is set on a trajectory for unparalleled growth and success.
Strategic Direction
Account Directors and Channel Supervisors lead every account and own the strategic roadmaps tailored to your goals. With a focus on patient acquisition and an intimate understanding of healthcare verticals, they employ testing strategies, consumer insights, and platform-specific best practices to develop the marketing mix that will best meet our clients' needs. This is where they get the maximum benefit of choosing a healthcare agency that has seen their challenges before.
Here's what we provide our clients with:
Vertical Insights:

Delving deep into nuances, we ensure your strategies are perfectly aligned with their healthcare segment.

Optimized Channel Mix:

We discern the right blend of platforms to maximize reach and impact.

Rigorous Testing Strategies:

Our methods are backed by continuous testing, ensuring they remain effective.

Strengthened Platform Relationships:

Our ties with various platforms augment campaigns' effectiveness.

Vertical Best Practices:

With strategies honed over the years, we know what works best for every healthcare vertical.

Measurement Frameworks:

Every decision is data-backed, thanks to our

robust frameworks that ensure measurable results.

Benchmarks & Results:

Track your progress with clear benchmarks and celebrate successes with tangible results.
In a nutshell, our clients' success in the healthcare market hinges on specialized insights and strategies. And with our seasoned professionals at the helm, they are set on a path to realizing their goals.
Execution Team
When our clients partner with us, they are not just hiring another agency; they're gaining a 'hands-on-keyboard' management team committed to your success. Here's what sets this team apart:
Campaign Management:

At the helm of the digital journey, they're focused on every aspect of client campaigns.

Pacing Budget:

Ensuring investments are optimized and aligned with business goals.

Performance Tracking:

A meticulous eye on how campaigns perform, making sure clients are always in the loop.
This tactical team isn't just about metrics and numbers. They come with deep channel experience and are always pushing for peak performance. Their mission? To grasp every subtle detail of the business, from various brands and locations to each service line.
Our clients can expect regular check-ins because they:
Engage Frequently:

They're in constant dialogue, ensuring strategies resonate with client objectives.

Become Part of the Team:

It's not just about providing a service; they strive to be a seamless extension of the team, echoing the brand's voice and vision.
And, crucially, when it comes to maintaining the exclusivity of strategies, we take no chances. Our tactical teams are strategically segmented to ensure there's no overlap between competitive clients. This guarantees the insights and strategies developed will remain proprietary, eliminating any risk of shared proprietary insights.
Conclusion
Navigating the intricate and competitive healthcare landscape requires more than just cursory knowledge. It demands an agency that understands the nuance of each healthcare vertical and the specific market challenges faced by its clients. 
At Cardinal Digital Marketing, our core strength lies not just in our deep domain expertise, but in our uncompromising commitment to our clients' success. We've meticulously designed our operational structure to offer the best of both worlds: leveraging shared industry knowledge while ensuring absolute exclusivity and protection of proprietary insights. 
As you embark on or continue your digital marketing journey, remember the importance of choosing a partner that offers not just strategies but tailor-made solutions, built on trust, transparency, and the promise of exclusivity. With us, you don't just get an agency; you gain a partner dedicated to carving a distinct, successful niche for you in the healthcare market.
If you want to experience our approach firsthand, reach out to us for a free consultation. We're here to help you stand out confidently in your healthcare vertical!