For all of the flak, jokes, and jitters targeted at dentists, most people feel a pretty close relationship with their provider. After all, you trust this person to dig around in your mouth—to stick needles and blades in there, make changes, even perform surgery. Some people have been going to the same dentist since their childhood.
In these traditional dentist-patient relationships, trust-building seems to happen naturally. However, in the practice-patient relationships that characterize DSOs, it can be quite difficult to build the same level of trust. Makes sense: it's a lot easier to feel an affinity for an individual than a brand name.
But building patient loyalty is mission-critical for high-growth DSOs. Across the board, strong patient loyalty has an impact on brand reputation, organizational growth objectives, word-of-mouth recommendations, and referrals. You name it. Here are four ways your DSO can strengthen the practice-patient relationship.
1. Define Your Brand Strategy
There's so much that goes into a strong and memorable brand. Almost none of that "stuff" happens on its own, especially not for DSOs. That's because what distinguishes you from other DSOs might not be self-evident—to you or your patients. Instead, you'll need to do some legwork to formally define your brand. That framework will include a couple of important parts:
Unique Selling Position (USP)
Ah, the elusive USP. Your USP is what distinguishes you from other DSOs. Think about what the market wants from your practices, particularly your patients. If you had to give your ideal patient an elevator pitch for your DSO, what would you say?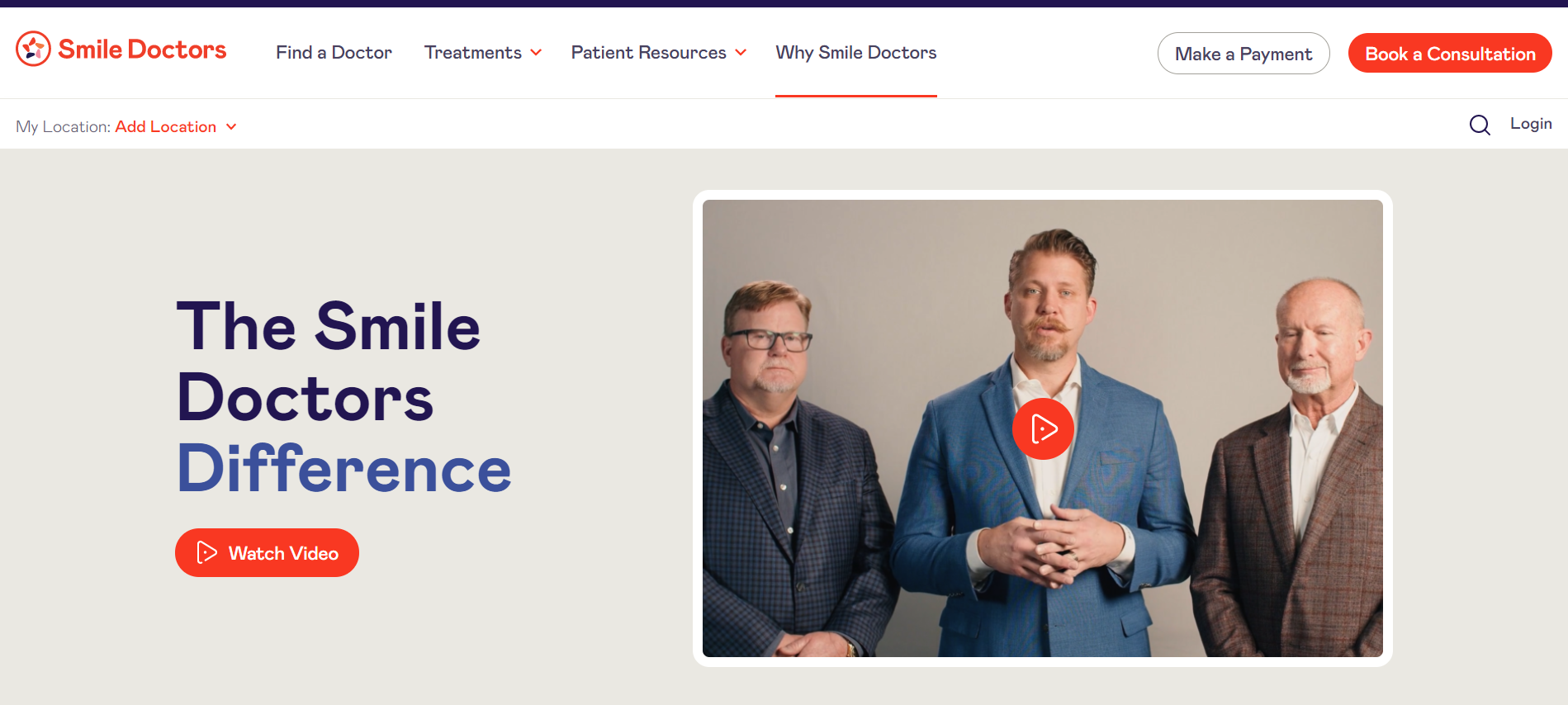 These are terrific starting points for what should be a collaborative conversation about your USP. And do collaborate on this, because your USP ought to be a little more specific than simply the product or service you sell. It's more about the manner in which you do it, including the spirit, values, and culture your brand embodies.
RELATED: Podcast Ep. 19 – Why Being The Best Isn't Enough: Finding Your USP
Mission
People ask themselves, what's the meaning of life? People ask brands, why do you exist? You better have a good answer, and your mission statement is a good place to start. What you're looking for here is a distilled statement that encapsulates a few elements:
Why does your DSO exist
How you go about your business
What you're trying to do for patients, the world of dentistry, etc.
What you always aspire to as a rand
Here's the mission statement for Cardinal Digital Marketing, which you can find on our About page:
To produce work that drives your performance through the roof.
Culture
It can be difficult to imagine the culture of a big brand, which is why it's so important for DSOs to define their own.
What are the aspects of your people, standards of service, and care that permeate the entire group? What kind of role do you expect your DSO and member practices to play in local communities? And what kind of culture will patients feel when they walk into a given practice?
One of the easiest ways to begin culture-building online is to give your company, team members, dentists, and supporting staff a face. Show patients who they'll be working with and, if possible, make it interesting with funny photos, backstory, and even video. A short statement about your company culture should also be part of your brand guide.
Values
We've talked about how your DSO goes about its business. You've likely built that business on core values, such as putting the patient first, premier customer service, and helping your communities smile again. These are the principles your brand stands for and embodies each and every day.
How to Define Your Brand
You're going to want to circle the wagons on this, as the saying goes. Bring in stakeholders beyond the marketing team, though it's the marketing team that will likely take the lead on getting your brand guide done. Collaborate on the core parts. Circulate what you come up with for review and approval so that everyone is on the same page.
A brand guide is a foundational work. Take the time to ask the tough questions. Be thorough. And formalize what you come up with into a brand guide that can be disseminated to all member practices, dentists, and staff. You might want to include brand guidelines for things like marketing, advertising, communications, press, design, and logo treatments.
2. Enhance the In-Office experience
You communicate a lot about your DSO's brand through your in-office experience. Just think of any big brand that you, as a consumer, walk into. The Costcos and McDonalds of the world have a feel, and almost every aspect of it is designed to leave an impression on visitors.
DSOs need to prioritize the patient experience in the same way. Show patients that they matter—that they're not just a cog in the wheel—by attending to their needs from start to finish. At a high level, make sure you at least cover these baselines:
Greet patients by name with a warm welcome
Keep wait times to a minimum
Design more comfortable waiting rooms
Prioritize cleanliness and safety
Make COVID-19 safety a priority until COVID-19 is no longer a threat
Those are the baselines. Let me expand on a few more areas where you can really shine:
Friendly Staff
Of the DSOs we work with, most have in some way "operationalized" things like greeting patients by name as they walk in, introducing staff members to new patients, and providing tours of the facility. You can also formalize on-phone scripts to ensure a consistent and helpful experience for patients who choose to call. When staff members understand that patient satisfaction is always the target, they'll act accordingly.
Bedside Manner
We'd never tell dentists or dental professionals how to act with patients. Take it from a patient, though: active listening, asking questions, and general empathy goes a long way. Set clear dentist and staff expectations around patient interactions. While efficiency is important, dentists are central to the patient experience and they need to show they care. One option is recurring training so that staff always communicates with empathy and kindness.
Technology
There's a lot of technology that makes the in-office experience possible. Things like appointment reminders, patient record keeping, and even waiting room entertainment are part of your experience. Look to add technologies that make life a bit more effortless for patients. The time they spend with your brand should not be frustrating.
3. Provide Consistent Communication
Don't forget what happens before and after an in-office appointment. You can show patients you value them before a visit by making sure your communications are consistent. This effort will likely permeate your website, contact options, scheduling, appointment reminders, front office staff, etc. For example:
After an appointment, send calendar invites or appointment reminders for the next meeting
Follow-up after appointments (avoiding more cavities, root canal aftercare, etc.)
Communicate about preparation for procedures, surgery, or any tests.
Thank patients for their business
Send perks and gifts for anniversaries, birthdays, etc.
Call to check up on patients from time to time!
From a marketing perspective, remember that it's not all about a campaign, deal, offer, or sales. Focusing on only leads and revenue won't be much help to your efforts around building better patient-practice relationships. Instead, share more educational content that actually brings value to patients—that informs, guides, and helps them.
4. Personalize the Journey
Every healthcare journey is distinct (at least it feels that way to the patient!). The last thing dental patients want is to feel like another number. Many DSOs are rolling out different personalization strategies to help people feel more cared about and connected to a brand.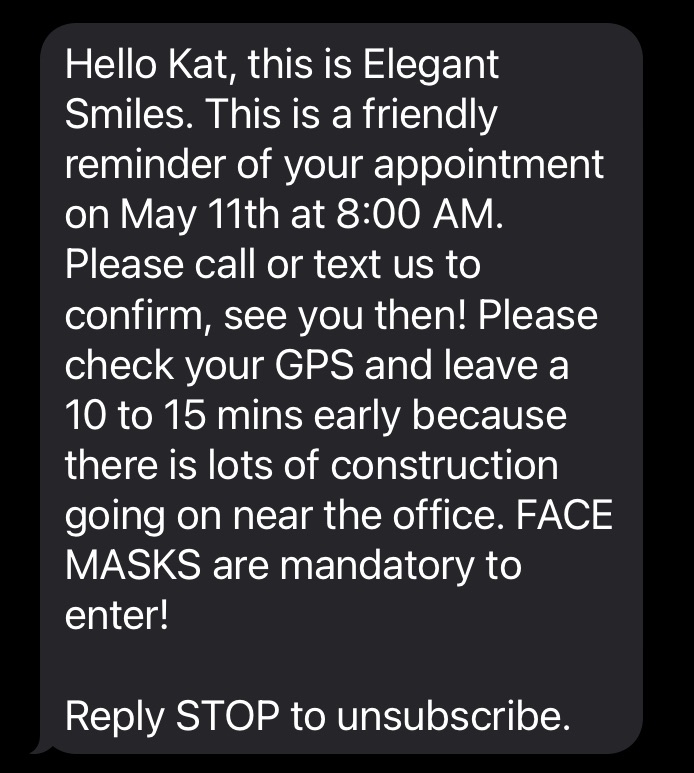 Disclaimer: Nothing supersedes healthcare privacy regulations, such as HIPAA. You can't personalize marketing emails, for example, with personal health information (PHI). That said, there are clever ways to personalize the experience, which we've written about at length. Here are a few ideas for personalization from How to Use Marketing Personalization While Protecting Patient Privacy:
Preventative dental care materials tailored to certain patient profiles
Text and email reminders for upcoming appointments
In-app or in-portal direct messaging with dentists
Customized patient portals with updated test results, conditions, etc.
Location-based website experiences
5. Make Empathy Part of Your Culture
It's really easy to point at a big brand and say "be more empathetic." Dentists and staff can attempt to share and understand the feelings of their patients, sure. How does a DSO brand do it?
Practically speaking, you can hire customer advocates at the management and executive levels. And you can make it their job to constantly consider the customer, ask the hard questions, and empathize. That goes for formulating brand strategy, building better in-office experiences, all of it. Think of these professionals as in-house liaisons between the brand and your patients.
Making this kind of investment in the patient experience—and patient advocacy—is a strong step toward making empathy part of your DSO's brand culture.
Finally, Don't Underestimate the Power of Surprise and Delight
Some people distrust big brands inherently. But that doesn't mean you can't change their minds or build a better relationship with them. You might just have to find clever ways to surprise them. Delight your patients in new and innovative ways and watch even the detractors come around.
It could be putting lime-infused agua fresca in your waiting rooms. It could be hiring a Customer Experience Officer. The point is to make the effort on behalf of your patients. The more strenuous and genuine the effort, the stronger your patient loyalty.
Yes, even for big-brand DSOs.