Acquiring a new dental practice is an exciting endeavor for any DSO, but one that shouldn't be rushed into. Due diligence is an essential part of purchasing new dental practices that examines its income, assets, and brand reputation, among many other things.
One element that often gets overlooked is digital due diligence. Healthcare consumers want the convenience that digital experiences offer. If you fail to assess a brand's digital presence and strategy, you may get an improper valuation or overlook risks that could hurt future profitability.
Beyond digital due diligence, you also need a plan to centralize marketing systems and technology, build brand awareness within new markets, protect existing patient volume, and develop a support system for new affiliates. If that sounds like a lot, it is. Bringing two brands together is no easy feat.
As you plan your next dental acquisition, here are five marketing best practices you don't want to overlook:
1. Conduct Your Digital Due Diligence
Dental practice acquisitions can be risky and full of complications despite numerous success stories. Beyond operational challenges, a brand's digital assets can impact value creation and profitability. We recommend digging into these essential elements of digital patient acquisition strategies:
SEO and Google Rankings
First, it's essential to understand the practice's keyword rankings, impression share, and ability to drive organic traffic. Is the brand ranking for highly-searched keywords? What position does it occupy in Google's Map Pack? When people search for a dental practice near them, they're not going beyond page one on the search engine results page (SERP). That's why a comprehensive search engine optimization (SEO) audit is crucial.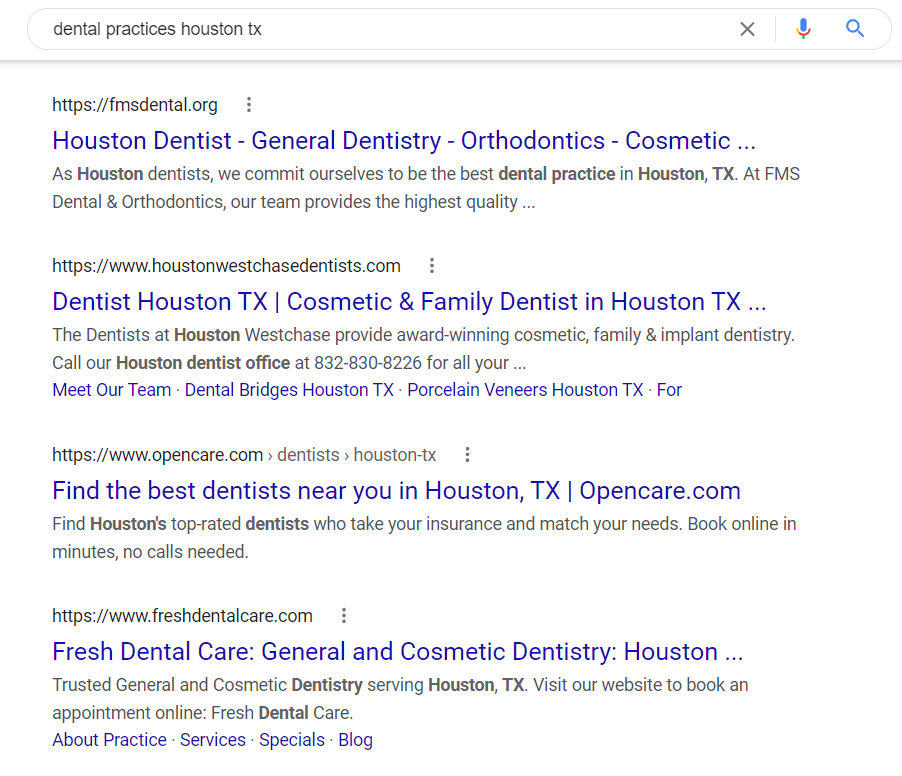 Achieving top rankings on Google takes time, and the dental space is extremely competitive. If a potential acquisition has no visibility on search, you'll have to make significant investments to reach prospective patients. On the other hand, if a brand already has top rankings, you can have confidence that there's a consistent patient pipeline.
Website User Experience
The practice's digital footprint analysis should also review the website's user and mobile-friendliness. In 2022, all websites must be optimized for mobile viewing, especially when most appointments are made from a mobile device.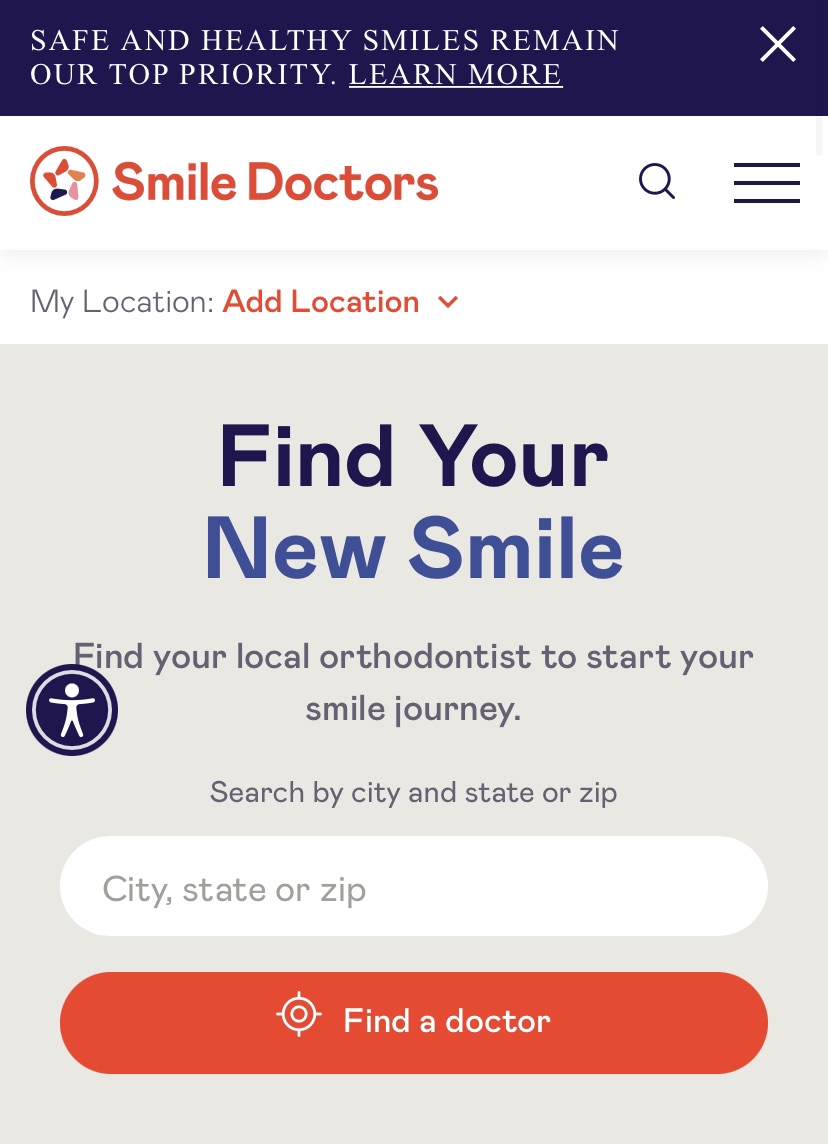 You'll also want to examine its technical foundation. Will it be easy to make SEO optimizations? Or does it use a custom content management system (CMS) that requires a developer? Another crucial element is the website's speed. A slow, clunky website will struggle to achieve top search rankings.
Paid Advertising
Another component of digital presence is paid media, which includes Google Ads, Facebook Ads, and display advertising networks. First, does the brand even invest in digital advertising? If so, assess the state of their advertising strategy, and look at their account structure, keyword strategy, and ad creative and landing page quality.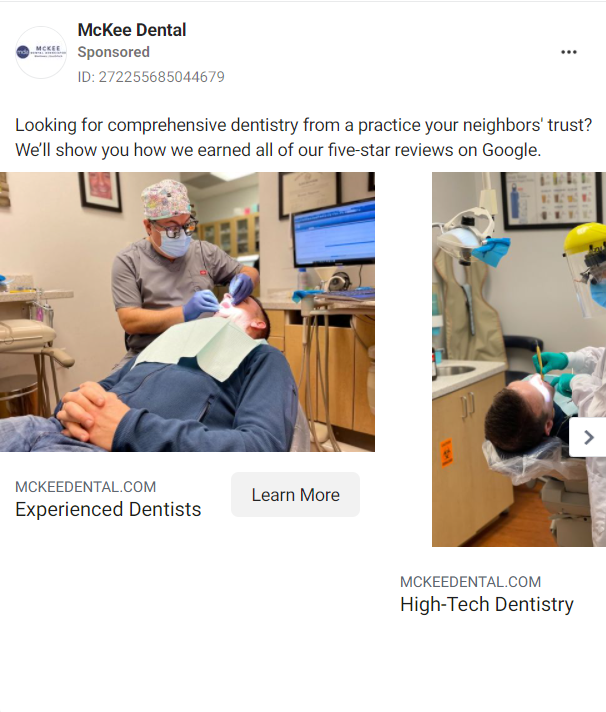 Most importantly, what is their cost per acquisition (CPA)? This is a key indicator of their media strategy's health.
Evaluating the brand's digital presence will highlight what is working and what needs to be improved when the practice is ultimately acquired.
2. Centralize Your Marketing Systems
Most acquired dental practices have existing systems and marketing technology already in place. When merging with or acquiring a practice, when does it make sense to centralize the marketing stack?
During due diligence, you may find redundancies in costs across practices. For example, one practice may pay for a project management system when linking project management accounts with another would be cheaper.
You may cut costs with a few tech-based marketing needs, including:
Customer relationship management (CRM): One software license with centralized visibility into customer records, deal progress, marketing attribution, and other insights across locations and business units.
Marketing automation software: How much easier would it be to roll out a monthly newsletter using a single platform? Or email post-visit care information? With centralized marketing automation, this (and other useful automations) are more feasible.
Call tracking: Bring all the call data, analysis, and insights into one place to better extract actionable insights. See: Why You Need Call Tracking at Your Healthcare Organization.
Social media management: A big part of a unified digital experience is a consistent social media presence. Centralization allows DSOs to bring social media channels together under one management platform, meaning fewer mentions and interactions slip through the cracks.
Listing management tools: Bring all your listings, reviews, ratings, and so on into one place using a tool like Yext or Bright Local.
Marketing analytics: Centralization can provide a lot more clarity and visibility around core marketing analytics around demand generation, patient flow, referral traffic, acquisition costs, mentions, and so on.
When you centralize your marketing data and efforts, it is easier for people within your DSO to access, analyze and share information. You can also set a standard followed by all practices within your DSO for a more established and streamlined process.
3. Welcome The Brand's Community
When acquiring a new practice, you want to maintain and respect the existing dental practice's community. Often, dentists have spent years building a reputation with current patients, and those matter just as much as new patients.
Taking the time to inform current patients of upcoming changes is a sign of respect, honesty, and transparency. If you fail to inform current patients, you could damage your reputation and push them away.
Instead, you want loyal patients to feel excited about the changes to come. Highlight the value that an acquisition brings to them. Perhaps you can invest in new technologies or tools that allow you to provide superior care. A new mobile-friendly website and online scheduling tool might make it easier for them to access care on their terms. Develop a comprehensive communication strategy that quells any concerns and shares your DOS's unique selling proposition.
You can alert patients through email blasts, social media posts, SMS campaigns, or word of mouth. Wherever the patient goes to get their information is where you should communicate changes.
4. Build a Marketing Support System for Affiliates
Building a marketing support system for your newly acquired practice is crucial. Prepare the practice with the proper marketing technology and tools, documentation, and the support system needed to achieve your DSO's performance goals. This may include:
Marketing technology integration and training
Brand guidelines
Creative templates for social, ads, signage, and displays
Online scheduling documentation and FAQs
Social media guidelines
Reputation management best practices
Communication training
Provide a thorough onboarding experience, and ensure all expectations are clear from the start. While the acquisition is exciting for both parties, you still need to ensure the integrity of your DSO's brand is protected.
5. Let New Dentists Have a Voice
While merging with or acquiring a new practice is exciting, it can be challenging to come in between a patient and their trusted dentist. Most dentists have spent decades building their practice. It can be difficult to join a DSO—to a degree, it feels like a loss of identity that they worked so hard building.
Listen to what the owners have to say. After all, the dentists know their patients best; they are literally inside of their patient's mouths! Don't ignore their input, as it is often more valuable than general market research.
Of course, specific brand standards will need to be implemented, but the dentist can still maintain elements of their brand and identity. Marketing strategies and messaging that worked in one region, might not succeed in this new location. Avoid miscommunication or break in trust with existing patients by allowing the affiliate practice to have its own voice.
Since DSOs largely represent national or regional practices, you may want to consider establishing a national versus local strategy for the DSO and affiliated practices. Establishing marketing field teams for different regions can help maintain brand standards, while also respecting regional and local needs. Again, dentists know their patients best, and a customized local marketing strategy may achieve better performance than a generalized strategy created for a national audience.
RELATED: Learn more about developing dentist-led marketing strategies in our article "Shining a Light on Your Dentists: DSO Marketing That Patients Love."
Considering Your Options
DSOs have a lot to consider when merging with or acquiring a new dental brand. M&A often brings exciting opportunities, but DSOs need to conduct their due diligence and thoroughly research the practice to provide a seamless plan for merging or acquisition. During the process, you will need to establish new brand standards while avoiding interference with the dentist's current loyal patients and the practice's reputation. Merging or acquiring a dental practice is a profitable strategy for 2022, but it requires considerable research and planning.