If you're not conducting digital due diligence as part of your acquisition strategy, you're exposing yourself to additional risk. We live in a digital world, where having the proper technological infrastructure and digital presence is no longer optional. Yes, the expanding digital economy creates a lot of opportunities for rapid growth. But a company's digital maturity can also be a liability.
What Your Digital Due Diligence Should Examine
To make more accurate business valuations, you need to understand a company's digital assets. I'm talking about a comprehensive deep-dive. With this information in hand, you'll better understand the risks, costs, and timeline for bringing a company up to value. 
As you conduct your digital due diligence, you'll want to focus on five core areas:
1. State of Search Engine Optimization (SEO)
Today, most people turn to Google and other search engines to find information. That goes for any kind of buyer at any stage in the journey. According to Think With Google, 87 percent of smartphone users turn to search first in a "time of need." When people go shopping, more than 25 percent first turn to their smartphones. And in business to business (B2B)? Some 89 percent of B2B researchers "use the internet during the B2B research process."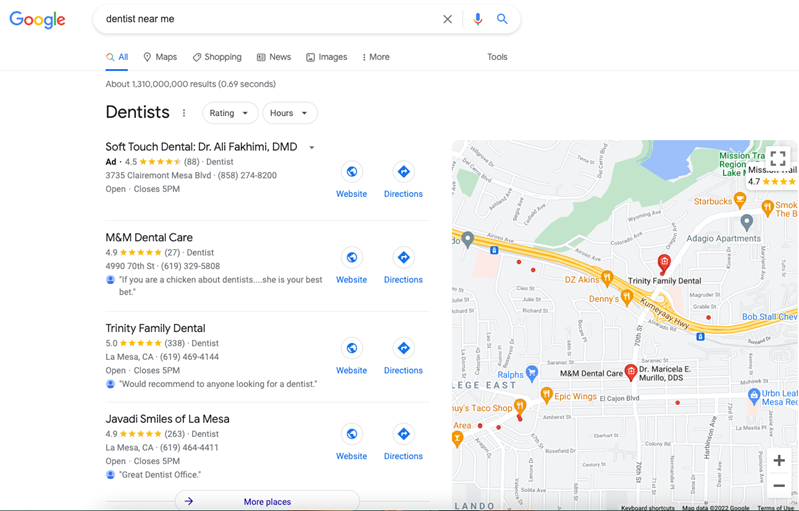 Assuming you want your business's web entities to appear in these search experiences, you need to have a comprehensive SEO strategy in place. Search engines like Google use complex algorithms to rank content in search engines. These algorithms consider many ranking factors, including domain authority, relevance, and on-page and technical SEO. Put simply: SEO strategy will determine a businesses' ability to rank for keywords and drive organic website traffic.
Some important aspects of SEO strategy: 
Keyword strategy

Local search optimization

Website optimization (technical and on-page SEO)

Mobile-optimization and user experience (UX)

Content relevance and authority

Backlink portfolio
The list goes on. But the reason SEO is such an important part of your due diligence is time. SEO takes time to build up, evolve, and deliver business results. If a company has poor organic visibility, it will take time to build it back up—possibly a long time, depending on the competition, the current state of the website, if you're merging brands, and so on. If you're starting a brand new company, it might take at least six months to gain any sort of rankings.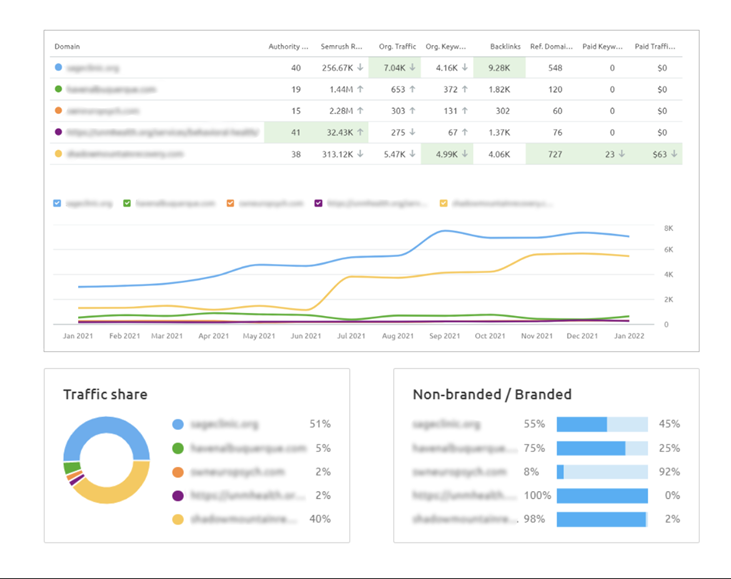 All of this potentially impacts your timelines and return on investment (ROI). With that in mind, focus on the following areas while evaluating SEO:
Current rankings

: Which keywords are currently driving traffic to your site, and for which pages?

Competitor rankings

: Who is ranking for the keywords you want a piece of?

Competition for target keywords:

How difficult is it to rank for target keywords organically?

Content depth and optimization

: How is your content organized, and how thorough and optimized is it for target keywords and audiences?

Backlink profile: How many quality sites are linking back to your site's pages?
2. Website Health, Structure, and Scalability
Knowing what we know about how people find businesses online, its website truly is its digital front door. Ask yourself if your businesses' site and brand messaging make sense in the modern digital era. Does the company need a brand refresh? Maybe a new website altogether? Old, outdated websites scare people away. They certainly don't engender a feeling of trust.
A site audit should reveal a couple of important insights about your website. First and foremost, you'll know if the website supports search engine optimization at all. Second, is it technically sound and supports the ability to implement technical optimizations? Without a website built for SEO, it'll be challenging to increase rankings. 
You'll get a picture of the website's scalability, too. For example, will it be easy to add new locations, services, and so on? Finally, is it easy to make edits to the website when needed? Or does it have a complex content management system (CMS) that will require web developers to make many changes? In that case, you might need to migrate to another platform entirely. 
The answers to all of these questions will significantly impact the risk profile and time to value.

3. Paid Media Performance
SEO is just one part of the digital visibility mix. Digital advertising is another essential element of digital marketing strategies. It's how you nurture and convert passive traffic into paying customers. Like SEO, paid media is rapidly changing and growing more complex and uncertain as new privacy laws are introduced. 
Paid media can include: 
Pay per click (PPC) ads

Display advertising 

Social media advertising (Facebook, Instagram, etc.)

Paid content promotion

Affiliate marketing

Retargeting across all channels
Yet, paid media can be an incredibly effective way to ramp up quickly, including demand generation and customer acquisition. After conducting this part of digital due diligence, you'll have a clearer picture of a few key indicators:
Your advertising account structures

and whether they're optimized for performance

Obvious mistakes and errors

indicating poor ad budget management

Advertising quality

including ad creative, quality score, landing pages, and conversion rates

Costs to reach a target demographic,

namely cost per click (CPC) and cost per acquisition (CPA)

What the competition is doing,

including their messaging and approach and what you'll need to invest into creative to remain competitive
RELATED: How 3 DSOs Are Accelerating Growth with Digital Advertising
4. Inventory of the Technology Stack
The entire digital marketing machine is built on a stack of marketing technologies. When merging brands, technology plays a particularly central role. So, you'll need to gain a complete understanding of the technological maturity of the business, including what it'll take to integrate systems and technology and gain data visibility.
A thorough audit of your tech stack will include: 
Technological threat analysis

Assessment of existing marketing systems and data

Recommendations for new marketing technologies

Assessment of scalability

Analytics assessment, including attribution capabilities and closed-loop reporting 
Your audit of the tech stack will reveal technological threats and new marketing technology innovations and opportunities. In addition, you'll get a much more complete picture of existing marketing systems and data, digital vendor commitments, security and privacy policies, and compliance considerations. 
As with other aspects of digital due diligence, you'll want to focus on the scalability of your digital marketing systems and framework. Will it be feasible, given the tools, tech, and integrations currently in place, to add in new businesses and acquisitions? For example, is the marketing CRM talking to the revenue cycle management software? Do they have insight into attribution? Will you be able to track ROI? And will you have the data visibility you need across all locations?

Having the right tools and access to data insights ensures that you'll be able to invest in the most effective channels and grow your acquisitions efficiently.
5. A Closer Look at Headcount
Lastly, you need to look at the in-house capabilities you have at hand. Does the team have enough people? Will you need to increase headcount at all? More specifically, does the team have the marketing sophistication necessary to take a brand from five locations to 50? 
As you acquire new locations and expand, one question will come up again and again: is it better to grow the in-house team or should you hire an agency? Sometimes it makes more sense to outsource certain aspects of your digital strategy, such as SEO and PPC, to an agency capable of building a comprehensive and repeatable strategy. While communications and brand strategy are often better left in-house. 
Like the other aspects of due diligence, your people will have a direct impact on the speed the business can grow. 
Do Your Due Diligence to Make Proper Valuations
Conducting thorough due diligence ensures you have a complete picture of a business's health and can make proper valuations. It's an effective way to evaluate digital prowess, reduce investment risk, and plan for post-acquisition growth. In terms of scalability, there's perhaps no better way to lay a thorough foundation for fast and repeatable growth.