Being the new kid on the block is never easy. The world of de novo dental offices can raise particular challenges for dental support organizations (DSOs). More often than not, these brand-new offices are launched out of pressure cookers—they must be busy and profitable from day one.
That means you need an effective marketing strategy for patient acquisition before your new office opens. The good news is that there are some simple and effective ways to tell the digital world your new office exists. In following the four steps we recommend in this post, you'll gain the critical awareness you need to bring in high-quality traffic from search engines and other digital channels.
In our experience, this is the lowest-hanging fruit in terms of ramping up patient acquisition.
1. Lay the Local Search Engine Optimization (SEO) Groundwork
First of all, let's be clear: SEO strategies take months to translate into organic rankings, high-intent traffic, and leads. However, you can't get out the gates without at least laying the groundwork for an SEO strategy you can later scale. To get the most bang for buck, focus on local SEO first.
Build Location Pages for the New Office
As we've emphasized elsewhere, dental consumerism is very much local in nature. People mostly patronize the dentists and other oral health professionals near home. However, that doesn't mean the local market for your de novo office isn't crowded and competitive.
That said, start by building location pages so you can get your new location information onto your website ASAP. Why? Because Google Local Pack needs your location, hours, and other information to create local, high-intent search experiences such as this one: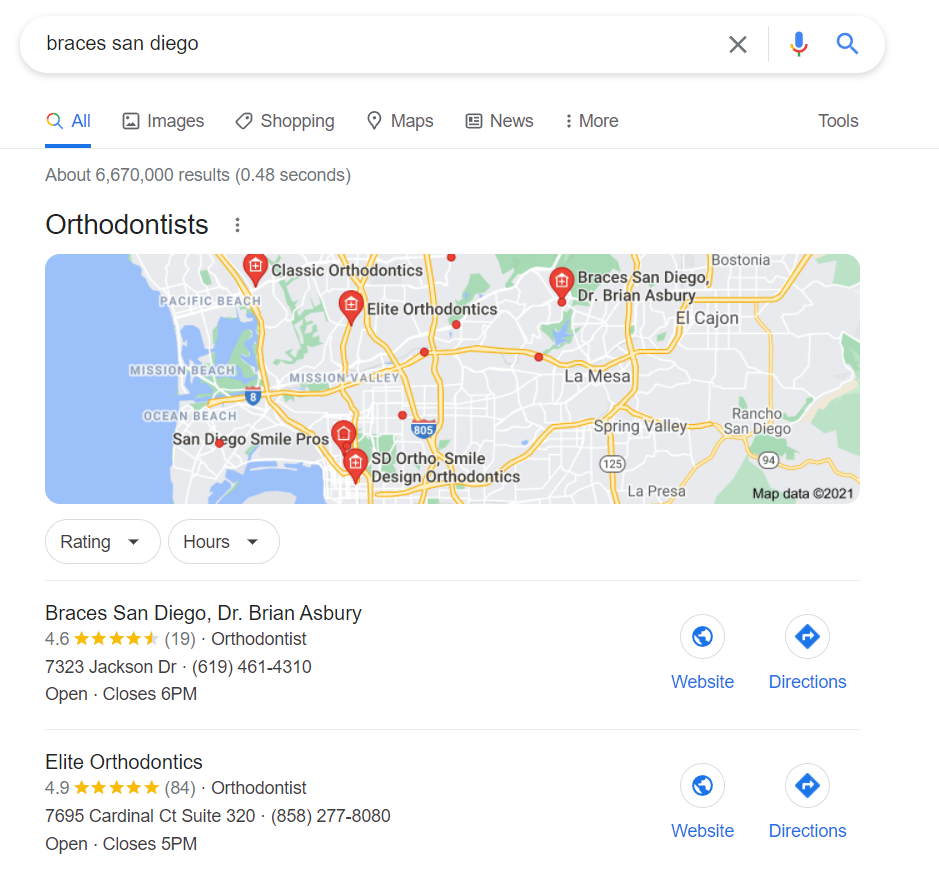 You can see from this screenshot that Google is inferring from the keyword phrase that I'm interested in finding an orthodontist nearby. As such, Google Local Pack displays a map and various business listings, including—you guessed it—links to their websites.
The sooner you can build out office-specific location pages, the sooner those de novo offices can begin appearing in these local search experiences. Only, you don't just want traffic—you want new patient leads, right? So to that end, complete the post-click journey by adding a mobile-optimized contact form.
Lastly, we recommend that yet-to-open de novo offices add an "Opening Soon" banner to their sites. These banners can provide the date of the opening, as well as a link to schedule advance appointments using an online scheduler. Of course, you'll want to set up a call center point of contact as soon as possible to field these queries appropriately.
Build Citations (and Get Your "NAP" Out There)
Now that you've got your name, address, and phone (NAP) onto your website (even if it's still under construction), as well as your expected open date, it's time to create a Google My Business listing. Immediately.
Your Google My Business is another key web entity to publish NAP, insurance info, and other relevant content to. As with any Google My Business listing, we recommend that you optimize every aspect you can. No hours yet? No problem—just omit them for now. But do include links or scheduling options that point back to your website.
Here's what a typical Google My Business dashboard looks like to give you an idea of the rich detail you can give your listing: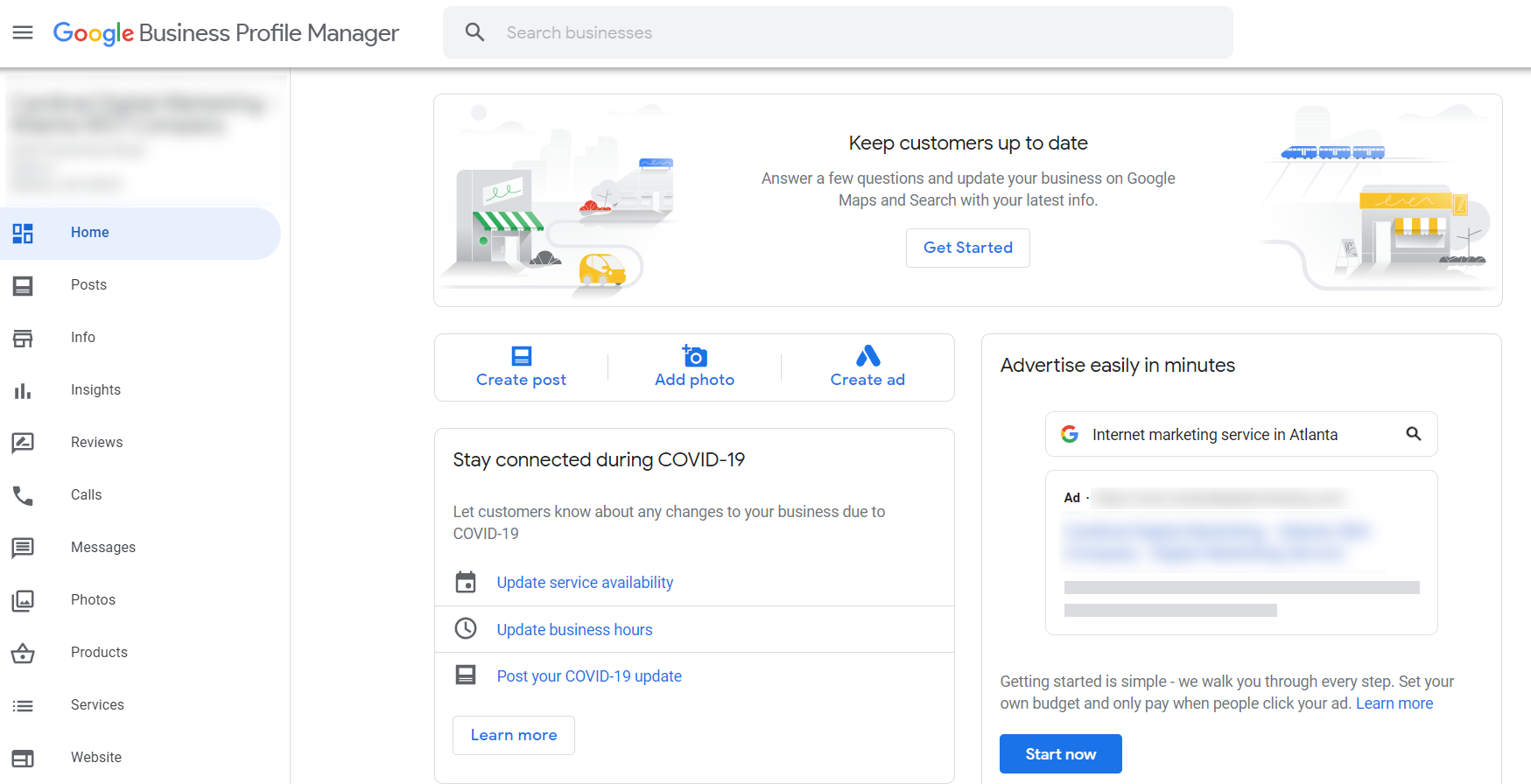 Once you've established your Google My Business listing, apply the same principles to other citation networks, such as Yelp and Healthgrades. Consider some dentistry-specific networks, such as 1-800 Dentist and Smile Guide.
2. Start Generating Reviews As Soon As Possible
The very day your new office starts accepting patients, make review generation a priority. Reviews are digital currency in more ways than one. For one thing, Google considers positive reviews (both quality and volume) when deciding to raise map visibility.
Reviews are a great way to persuade people to try a new office. Why? Because people check Google Reviews, Yelp, and other review sources as they search for providers. Google Reviews in particular are often embedded directly into search experiences, so prospective patients can't help but encounter them.
There are two steps you can take right away to begin generating reviews:
Train front-office and other staff to ask for reviews as patients are wrapping up their appointments
Add the new office to any review generation tools you have to automate part of the process
Remember, the idea is to generate a consistent flow of positive reviews over time, not necessarily a high volume all at once. Still, you need to attain a handful of reviews to build the digital reputation for the new de novo office.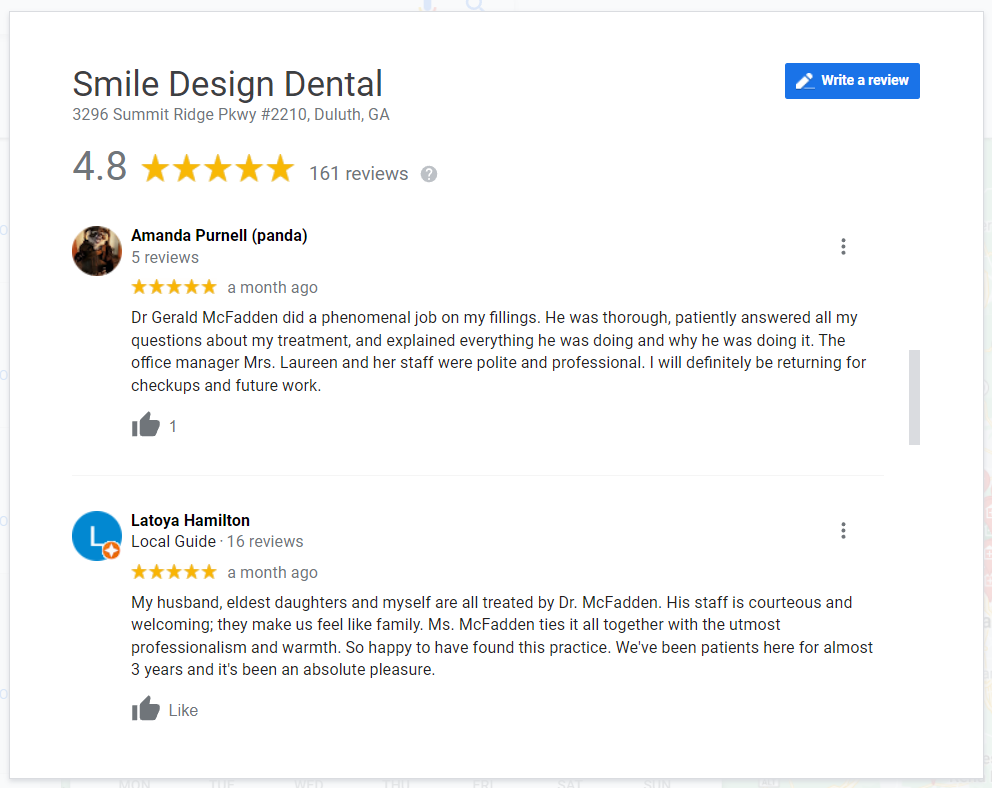 3. Advertise Smart
Forget about Facebook; focus on paid search. It's the best way to capture existing demand and generate new patients. It won't be cheap to build a strong patient acquisition pipeline for a denovo office, especially for specialty high-cost services. However, this is the best way to ensure new patients are booking while you wait for your organic efforts to gain traction.
Don't target top-of-the-funnel keywords; stay focused on the people looking for care now. We recommend building a local keyword set to capture high-intent audiences in the new office's locale.
From there, use PPC specifically for driving new appointments. A simple but effective PPC ad to run might be a new location announcement or to promote a grand opening promotion. Again, that ad should make scheduling an appointment as easy as possible, whether that happens on the ad landing page or from the ad itself (that is, click to call).
CASE STUDY

How We Used PPC to Help Smile Doctors Acquire Patients for New Locations

To increase brand awareness and remain competitive in local markets, Smile Doctors needed to put pay-per-click (PPC) advertising in the hands of experts with direct industry knowledge. Our collaborative efforts generated an 82 percent increase in PPC leads, a 28 percent increase in PPC conversion rate, and a 28 percent decrease in CPA.
4. Focus on Your Audience, Their Location, and Actual Needs
Know the local market in which your de novo office will operate. This is critical to not only executing the first three strategies in this blog post, but building a reputation as a valuable addition to the community.
Let's say you're opening a new orthodontist's office in Atlanta. Long before opening your doors, you'll want to know the total addressable market for orthodontics in the area. What are the demographics of this market? As you dig into this data, look to extract insights into how this demographic behaves online. What do they search for and how?
Though it might require a little more legwork, you can learn an awful lot about your local market by reading the reviews of competitors. You can also listen in on social media channels.
Which leads us to competitor research. Build a list of the options for orthodontics that your local customers have. How will you position your new office among this field of competitor providers? And what will be the office's unique selling proposition (USP)?
All of this information ought to inform at least the initial 30- or 60-day marketing sprint you deploy to kickstart new patient acquisition.
Notice What We Didn't Mention
You won't find organic social media on this list, nor blogging. Here are some of the digital marketing strategies that, though important, don't make sense for a shorter-term de novo marketing strategy:
Organic and paid social media
Video marketing (YouTube, TikTok)
Blog posts and content marketing
Lead nurturing
Over-investment into all kinds of marketing tools and tech
Lastly, Be Ready for Patients On Day One
The time to launch this marketing framework is before the new office is open. This is the only way to ramp up demand generation on time and in lockstep with your other business objectives. That said, you need to be ready when those new patients show up at your door.
Marketing is one thing. But the quality of your in-office experience, patient nurturing, and post-visit communications will go a long way to turning those new patients into loyal ones. How many people do you know that have been going to the same dentist for years? More than a few, most likely.
Usually, the chance to create repeat patients only comes around once.