Deciding to move a parent to a senior care community can be an emotionally and financially stressful experience. It's a difficult conversation, as many family members aren't ready to make the decision. Many more are not even sure how to discuss it with their parents.
Then there's the challenge of finding the right facility, as well as the sometimes astronomical cost. 
Of course, family members want to make the best possible choice in their parent's care. So they research their options, evaluate competitors, and enlist the help of others. All of this takes time and effort. In the end, the decision often comes down to a core group of people that form the decision-making unit (DMU), which usually consists of:
Daughter or son

Daughter-in-law

Parent

Spouse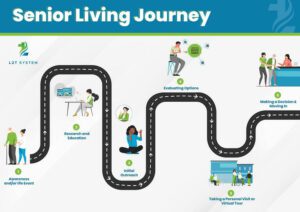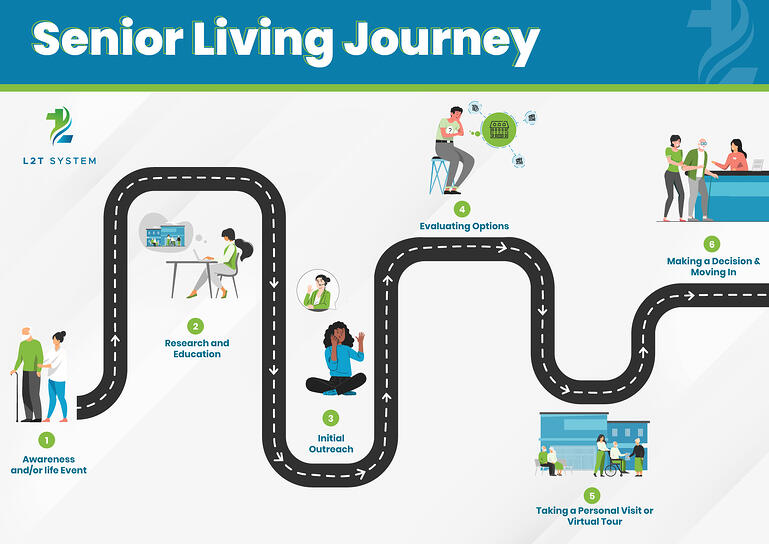 In Care.com's 2016 Senior Care Survey, 73% of respondents said that adult children were involved with decisions about where their parents would live. And it's typically adult daughters who take the lead decision-making role.
This generational shift is altering the decision-making process. Older generations often rely on anecdotal evidence or even word-of-mouth when choosing a senior community, while their adult children rely on objective, concrete data that they find on the internet.
This creates tremendous opportunities for senior care organizations to create value for the adult children navigating the difficult decision-making process—to nurture, educate, and help adult children with the very best independent living, assisted living, home care, or long-term care community. 
An SEO and Content Strategy for Nurturing Adult Daughters through the Funnel
Successful senior care marketers know how to align their marketing strategy and content with the sales journey. For the adult daughter, that journey starts on Google. She actively searches for information that can help her make the best decision possible, including questions about location, services, pricing, and insurance. Your SEO and content strategy needs to answer those questions visibly and authoritatively at every stage of the funnel, as follows:


Top of the Funnel: The Awareness Stage
At the top of the funnel, prospects are at the awareness stage. In other words, they are becoming aware that their parents' needs are changing. At this stage, adult children are educating themselves about aging, finding out what their parents need and desire, and learning about the benefits senior care may provide.
In the earliest stage, the adult daughter might ask Google for general information about aging, finding senior care, and broaching the subject with her parents. She may ask questions, such as:
"How do I talk about senior care with my parents?"
"When is it time to move mom into a nursing home?"
"What are the most important criteria when selecting a memory care facility?"
These early queries may be related to certain conditions, such as dementia, Parkinson's, or hospice.
Middle of the Funnel: The Consideration Stage
The adult child investigates all the available solution options during the consideration stages. They are also working to understand how the various senior care options could fit their family's needs.
As she progresses to the middle of the funnel, the adult child may narrow their searches to focus on the services offered at senior living communities. They may wonder what services and amenities they can expect, for example, and ask about pricing and coverage plans. Adult daughters may read online testimonials and reviews at this stage, too.
Bottom of the Funnel: The Decision Stage
When the adult daughter reaches the bottom of the funnel, she is ready to make a decision. At this point, she has already learned the answers to her questions, determined the services and amenities her parents' needs, and begun having difficult family conversations. 
Her Google searches are well-defined and localized, too. She may be typing in very specific phrases, such as:
"Assisted living facilities in Brookhaven GA"
"Best reviewed nursing home in Boston"
The Secret to Page One Rankings
As a provider of senior care services, you want to appear on page one of a Google search result. In fact, the first page of Google captures 71 percent or more of search traffic; only 6 percent of clicks come from the second page of results. So that adult daughter in decision-making mode isn't going to dig to find you—you have to bring the relevant content to her.
To rank on page one for high-intent searches such as these, you'll want to follow some core SEO best practices, as follows:
Develop a shortlist of important keywords that align with search intent at each funnel stage.

Write unique titles, meta descriptions, and content that answer adult daughters' questions about senior care.

Use internal linking that helps prospects find more answers and stay on your website longer; internal linking helps Google understand the page's contents and the relationship between pages.

Publish informative, engaging content that establishes your community as the leader in senior care, from independent living to hospice.
Yet, one of the most critical aspects of SEO for senior care is locale. Few people want to send their parents one hundred miles away. Instead, they look for something close by so the parent can be close to home, receive regular visits, and feel near to family. 
 To meet this expectation, create robust location pages to ensure your page ranks well when web users perform "near me" searches, such as "assisted living near me," or type in location keywords. 
Location keywords might include:
Assisted living in San Antonio

Nursing homes near Boston

Senior care in Chicago suburbs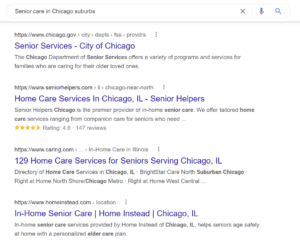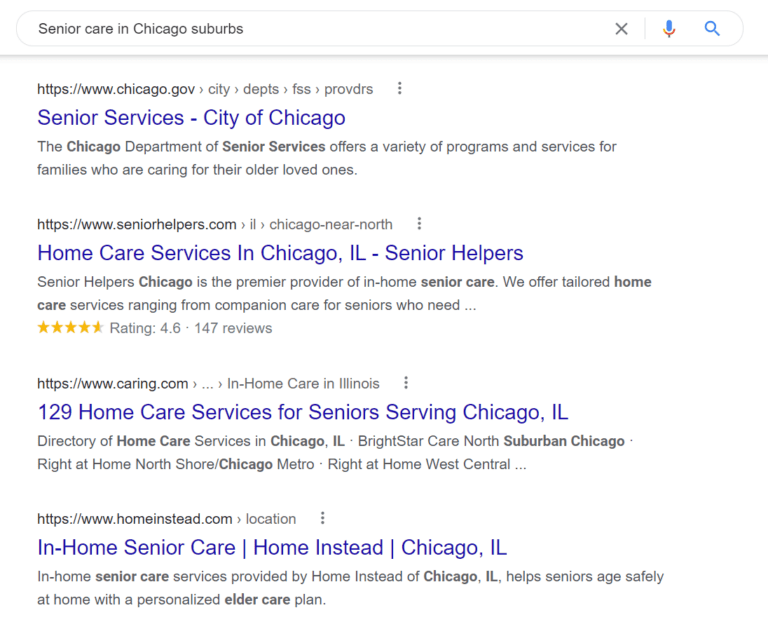 Senior care organizations with multiple locations will benefit from having one location page for each physical locale. All location pages should live on the organization's main website, rather than keeping each on its own website. To make it easier for Google to find, crawl, and index, the main website should have a parent location page with links to the individual location subpages.
Each location page should contain 500+ words, with keywords relevant to the location, such as points of interest and landmarks. These pages provide an excellent opportunity to showcase the individual senior care community's services and amenities. In addition, every page should provide contact information, including the community's name, address, and phone number, along with a call to action.
Beyond SEO and Content: How to Nurture Through Email Marketing / Marketing Automation
Senior care organizations can also nurture the adult daughter across the sales funnel using email marketing and marketing automation. In a strategy known as email capture, for example, website content can invite visitors to submit their email addresses in exchange for a value offering. 
For instance, visitors may submit their email address to a guide on aging, or tips on talking to a parent about senior care. Websites can encourage visitors to fill out a form to book a tour of the community or to subscribe to a blog.
Email communications are an excellent way to nurture leads. Senior care organizations can create a workflow or series of steps to develop a marketing campaign that reflects the prospect's position in the funnel. Workflows may include:
Educational drip nurture, in which the prospect receives information regularly

Top-of-mind awareness campaign that keeps your organization first in prospect's minds

Re-engagement that reaches out to cold leads

Post-tour or event campaigns

Welcome or onboarding campaign

Review encouragement that prompts clients to write reviews
Paid Media
Paid media is an effective way to reach adult daughters and others in the decision-making unit. Unlike SEO strategies that take time to implement and increase your rankings, paid media can quickly help you build your lead pipeline.
Google Ads are especially quick and effective. In fact, Google Ads are the most effective media channel to capture high intent searches that use specific phrases, such as:
"Nursing home near me."

"Assisted living facility tours"

"Memory care availability"
Google Ads also makes it easy to determine the strength and effectiveness of your PPC strategies before you invest in other media channels.
Social Media
Social media is a great place to reach decision-makers because, like almost everyone else, adult daughters spend time there. In fact, people spent an average of 2 hours and 25 minutes per day on social media; they spent about 38 minutes every day on Facebook. To reach them, though, senior care organizations must use a full-funnel Facebook strategy that moves decision makers through the funnel towards conversion.
Display Remarketing
People visit your website to look for information about aging, read blogs, and learn about your senior care organization. What happens after they leave is as important as what happens while they are there – many leave your website and never return. Remarketing is a strategy that shows visitors your ads after they leave, keeping your senior care organization at the forefront of their minds. Remarketing allows you to shape their perception of your brand and offer unique promotions, such as tours.
Keep Context in Mind and Try to Empathize
Nurturing the adult daughter across the funnel to conversion takes time and effort, but it can substantially improve your lead pipeline and admission rate. To get the most out of marketing, successful senior care organizations use a full-funnel strategy that spans digital channels and nurtures older adults, adult daughters, spouses, and other decision-makers through the process of selecting a senior care solution.
Remember that these are people trying to deal with one life's more complex challenges. An adult daughter managing their aging parent's care might be confused, anxious, or worried. They're likely balancing their role in the DMU with their own household needs (childcare, work, finances, and so on). In our experience, the organizations that approach their lead nurturing from a position of empathy and understanding tend to see the best results.