There are roughly seven billion people on Planet Earth. Roughly 2 billion of those people are on Facebook. No other online network boasts that kind of dominance. Not even close. It's safe to say that no matter your industry, no matter your niche, a significant percentage of your target market actively uses Facebook.
Creating Facebook posts for your brand, then, makes sense. Except, here's a reality check: organic social media is dead. There are no two ways around it. That is the main reason why marketers are switching to paid social media advertising.
In just a few years, the organic reach of Facebook pages has plummeted. Right now, the average page has an organic reach of about 6%.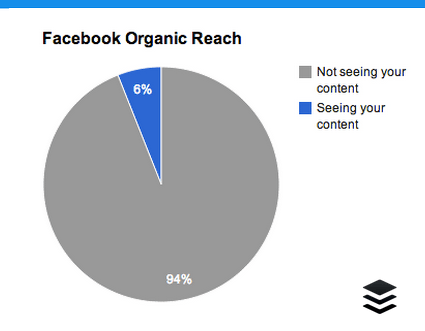 And while there are ways to expand your organic reach, these typically take a tremendous amount of patience, dollars, and manpower to succeed. Facebook advertising, however, is a horse of a different color. Marketers across every vertical report that investing in Facebook ads continue to deliver one of the highest ROI of any of their strategies.
Why?
Because Facebook users spend a considerable amount of time on the social network as a way to be entertained and spend time. Unlike Google, where they go for a specific reason (to search for something), Facebook is a far more social environment. And with that social aspect comes an opportunity for brands to grab the attention of their target audience.
Of course, simply advertising on Facebook isn't enough. You need to know how to create, launch, and analyze that ad, so that you can optimize your campaign and increase your ROI for future campaigns.
This guide walks you through the steps it takes to create your first Facebook ad campaign. In fact, we walk you through in the exact order that you'll need to address each component of your ad:
Picking an objective
Choosing your audience to target and budget
Creating your ad copy and image
The Objective
The first step when creating a Facebook ad campaign is choosing your objective.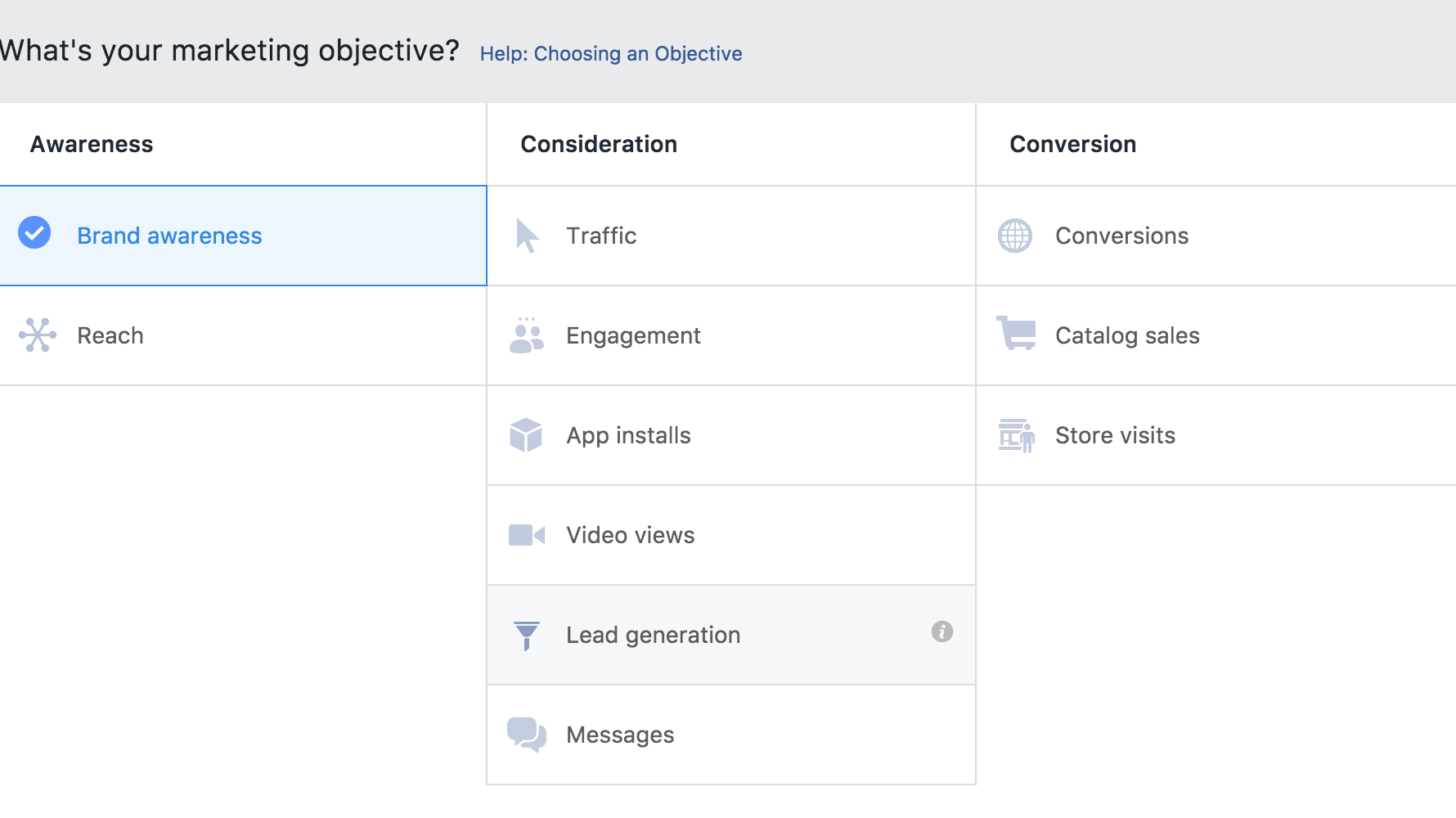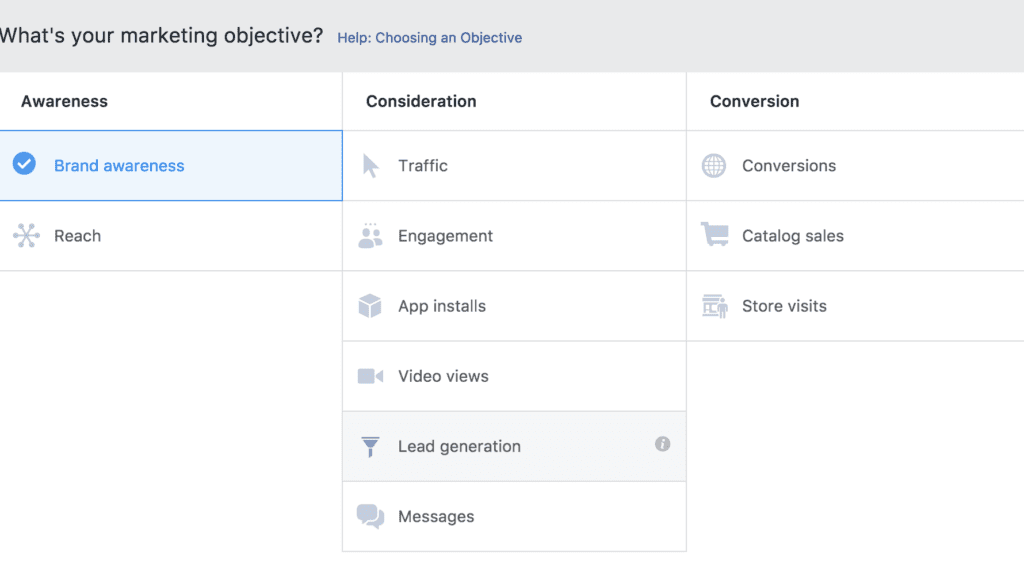 Facebook breaks objectives up into three categories — Awareness, Consideration and Conversion — with various options under each.
Here's a quick review of each category, and their relation to your sales funnel:
Awareness objectives are top of funnel objectives that aim to generate interest in what you have to offer.
Consideration objectives are more middle funnel. Consider using these to reach people who may have some interest in what you have to offer and are likely to want to engage or discover more information.
Conversion objectives are toward the bottom of your funnel and should be used when you want people to register, opt-in, download, purchase, or visit your store.
Now let's break down each category even further.
Awareness Objectives
Brand Awareness
Use the Brand Awareness objective when you want to increase awareness for your brand, but don't necessarily want people to engage with your content.
This objective will assist you in reaching people who are more likely to pay attention to what you are promoting in your ad.
Large companies, such as McDonald's, can benefit from this objective. But smaller businesses with limited advertising budgets might not find as much value in this type of objective when compared against some of the other options.
Reach
Use the Reach objective to get your ad seen by as many people as possible within your target audience and budget constraints.
This objective helps to target small audiences; your priority is to reach as many people within that audience as possible.
You would choose Reach over other objectives because the other objectives could limit your potential reach based on the likely actions of your target audience.
Consideration
When you want your audience to do more than just look at your post, then one of these five objectives could come in handy.
Traffic
Use this objective when you want to drive traffic outside of Facebook. This could be to read a post, listen to a podcast, go to a landing page, or go to your app.
Facebook will show your ad to folks in your target audience most likely to click to your link, based on past behavior.
But if you want people to visit your site to make a conversion (fill out a form, for example), and you can track their action, then you would usually use the Conversion objective, not the Traffic objective.
Engagement
Simply put, use this objective when you want more people to engage with your ad. That includes reactions, likes, comments, and shares. You can also generate more Page Likes, Event Responses, or Offer Claims with this objective.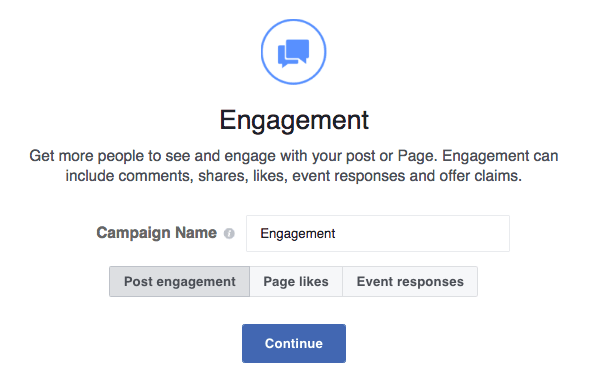 By choosing this objective, Facebook will deliver your ads to people most likely to engage with your content.
App Installs
Not often used, but still effective, the App Installs objective is great if you have an app and want to send people to the store where they can download your app.
Video Views
Use this objective if you are promoting a video and want people to view your video, but don't care, necessarily, if they click on a link or convert on the content you're promoting.
However, just because you are using video, doesn't mean that you have to choose the Video Views objective. For example, if you are looking to get people to click through from your video, then you should use the Traffic objective and choose video as the format for your content.
Or, if you want people to convert after they watch your video, then you should use Conversion as your objective and choose video as the format for your content.


Lead Generation
If you want to generate leads on Facebook, right from your ad (without driving traffic to your website) then this is the objective for you.
Lead Generation lets you capture key data, including name, email address, phone number, and more.
Conversion
Use this objective when you want to get people to convert for a specific action.
To optimize for Conversions, you need to have at least 15-25 conversions per week. This gives Facebook enough data to learn about those people that convert and make assumptions around those people who are most likely to convert within your target audience and then deliver your ads to more of those people.
If you have a low traffic to conversion ratio then you're probably better off choosing the Traffic objective over the Conversion objective, even if your primary objective is to get people to visit your website to opt-in, register or purchase.
That's because the Conversion objective may limit your reach due to insufficient data being captured as a result of the low conversion rate.
Product Catalog Sales
Use this objective if you have an eCommerce store and want to promote products from your product catalog.
Store Visits
Use the Store Visits Facebook ad objective when you have multiple business locations and wish to promote your business to people who are nearby. You'll need to set up your business locations in Business Manager before you will be able to use this objective.
This is a great way to capture foot traffic to your business, delivering ads that are timely based on people's current location.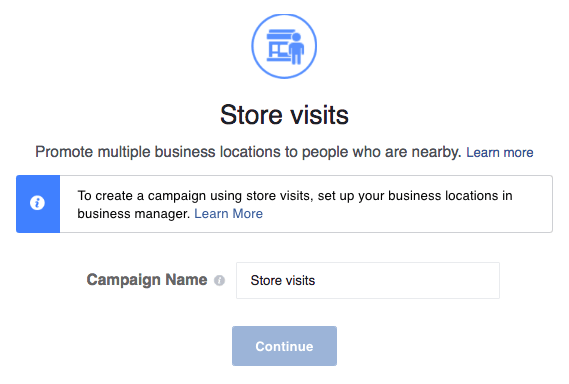 Your Audience and Budget
The next step after you create your objective is to choose your audience and budget. First, you want to define your audience.
Facebook gives a simple indicator of how broad or how targeted your ad is going to be (on the right-hand side of your Power Editor.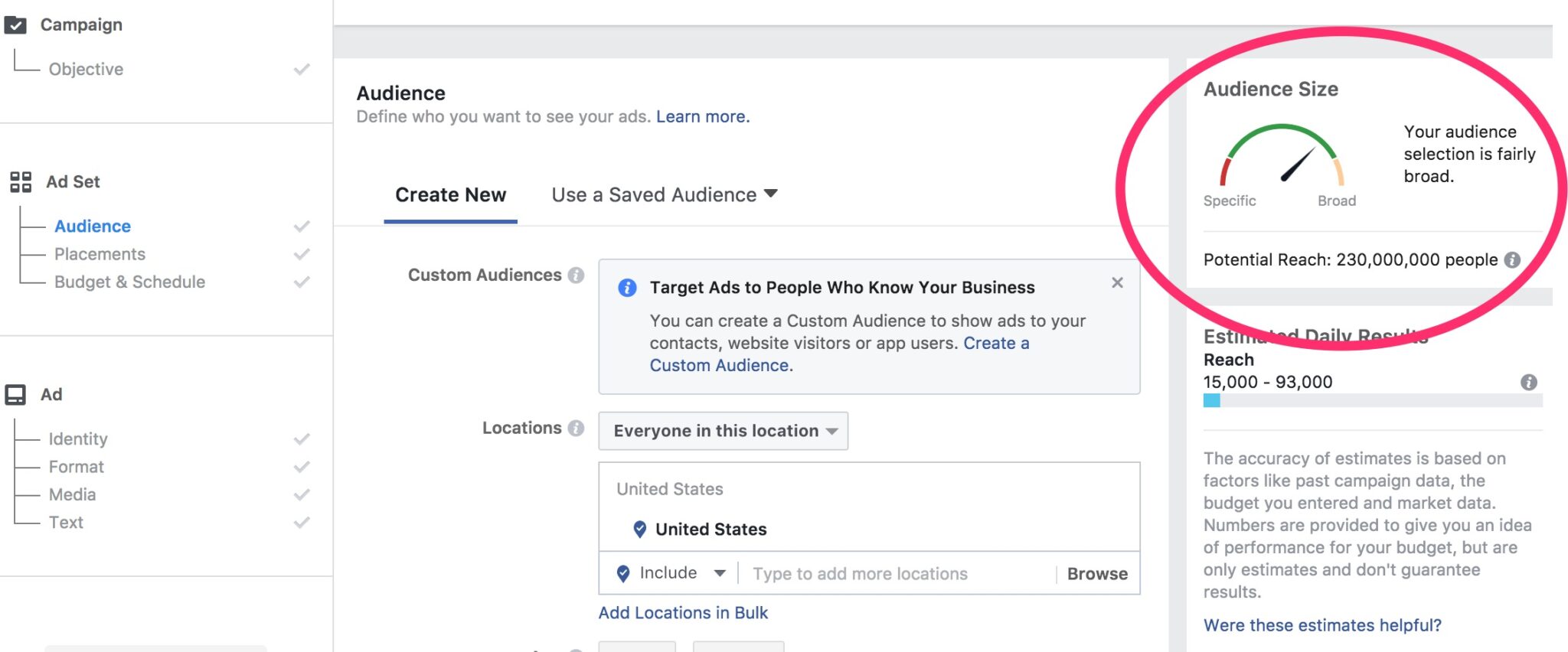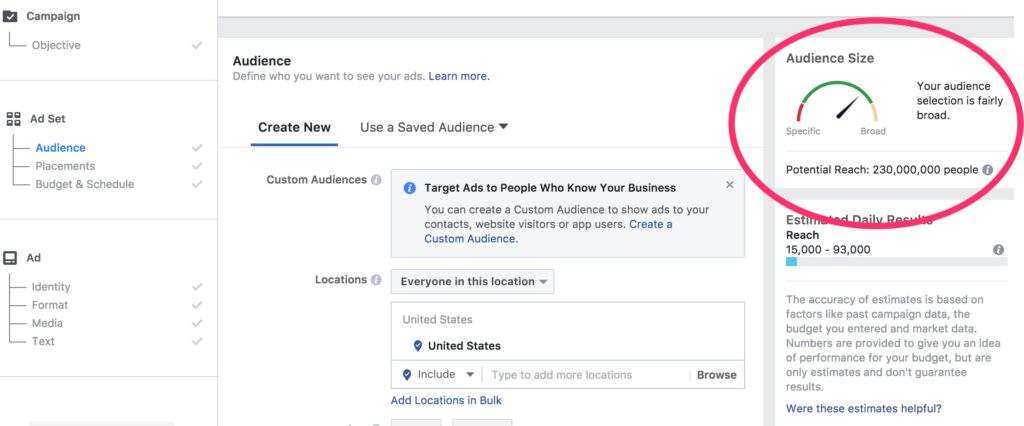 If your parameters are too wide, the chances of you reaching your intended audience are reduced and you could be risking a low return on investment. Essentially, you want more people clicking on your ad link that are going to be interested in what you have to offer.
So, there are a lot of ways to narrow your audience to folks who are going to be most interested in your ad.
Some of those ways include:
Uploading a mailing list and targeting folks who've subscribed to your newsletter
Targeting "lookalikes" – in other words, people who have similar behaviors or demographics to your existing followers, newsletter subscribers or more
Folks who have visited your website, interacted with your FB page, or who have visited your Instagram profile. The amount of targeting you can do here can be overwhelming (for example, you could target folks who've visited your Instagram profile within the last week or a very specific page on your website)
We consider these to be extremely effective ad targeting strategies. But also perhaps a bit too advanced for your first go at Facebook ads.
Instead, let's stick to a more basic approach to audience targeting. And for that, we're going to focus in on the "Detailed Targeting" section of your Power Editor:


You can start typing some ideas into that toolbar, and you'll see results broken down by demographics, interests, and behaviors. Let's break those down a bit further:
Demographics can be split along lines of education, ethnicity, home life, whether your audience is parents, whether they are interested in the outdoors, drinking, gaming, and so on
Interests can include health and lifestyle, business, hobbies, and relationships.
Behaviors cover everything from whether your audience can drive to if they use a smartphone, live overseas, or are big into working out.
This is one of the more powerful aspects of the Facebook Ad Manager. Get it right and you could run a highly targeted ad campaign that has great results.
Setting Your Budget
After you've selected your audience, you then can set a budget for your campaign.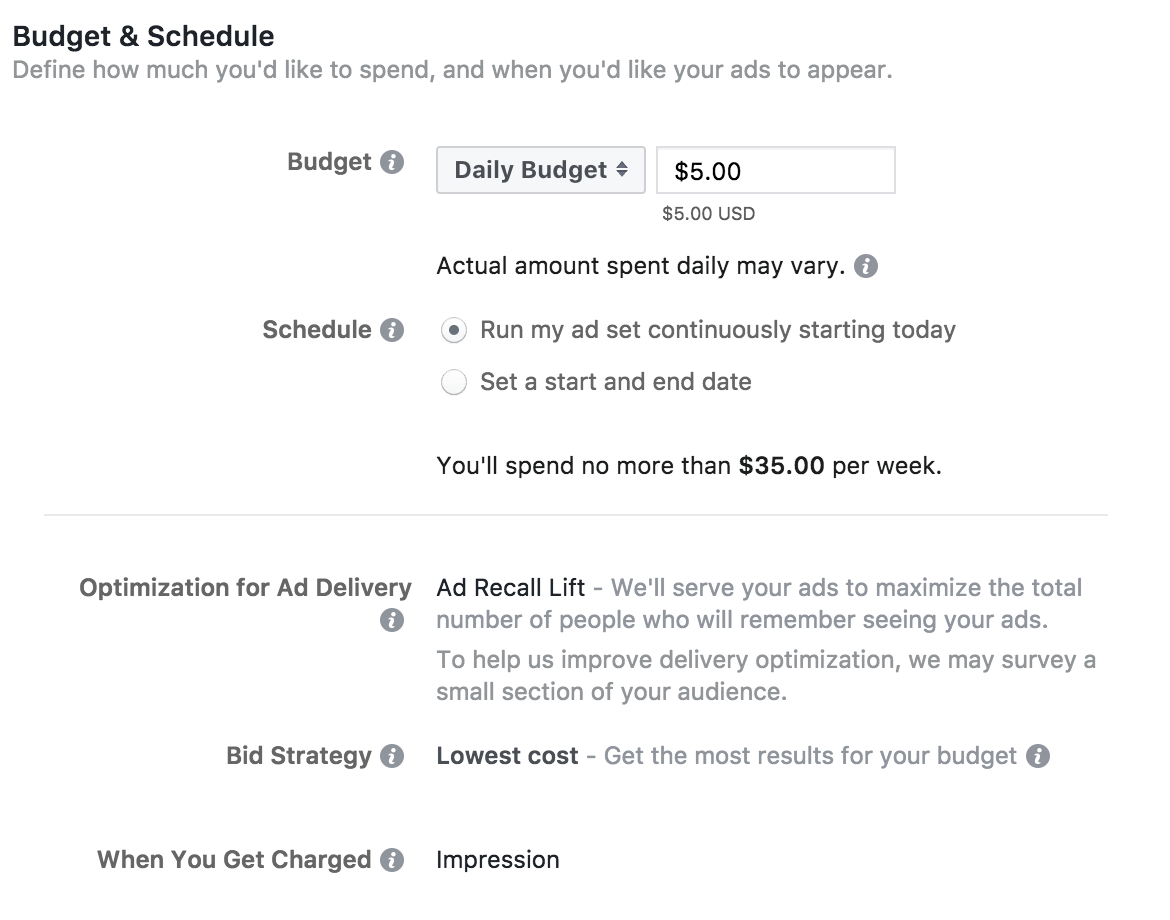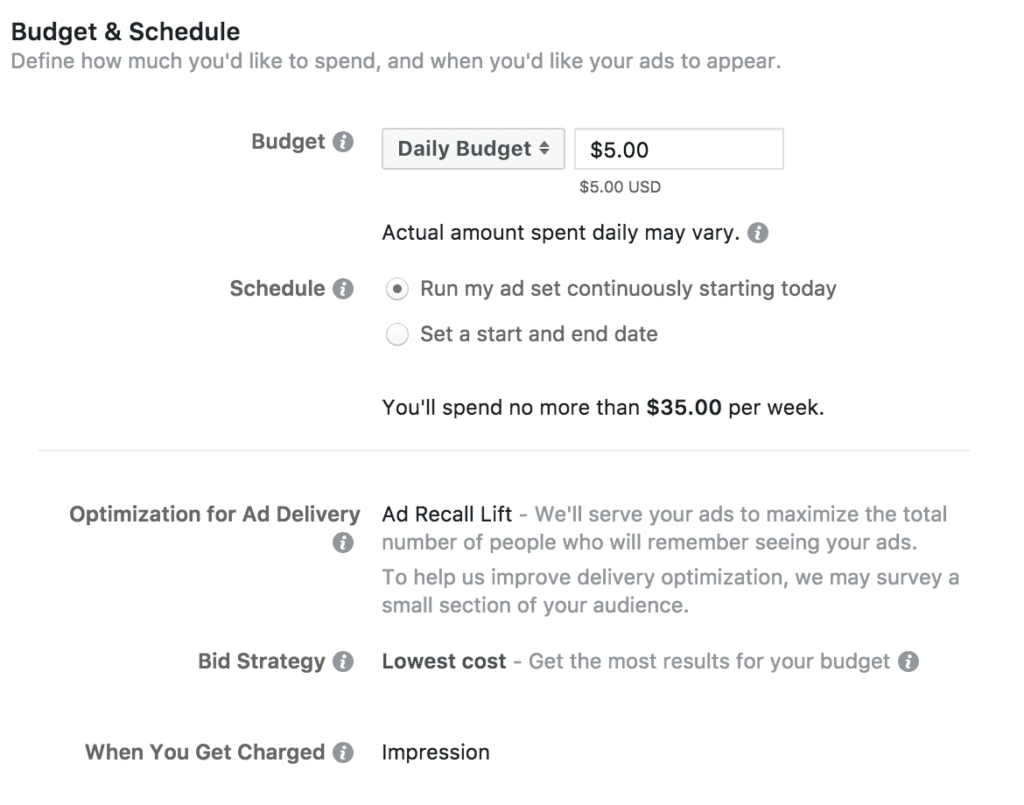 You can choose to run your ad for a certain period and allocate a daily amount. You can also choose to manually set what you hope to pay for a click-through. Or you can let Facebook do it for you.
How much should you spend? Great question. The more the better, in theory. But don't ever open up your ad spend with a big number. It's always better to test your ad with a smaller sample size. If your ad performs well, then you know it's worth investing more dollars toward.
The Creative & Copy
The creative (imagery) and copy (text) of your Facebook ad are among the most important factors that determine the success of your campaign.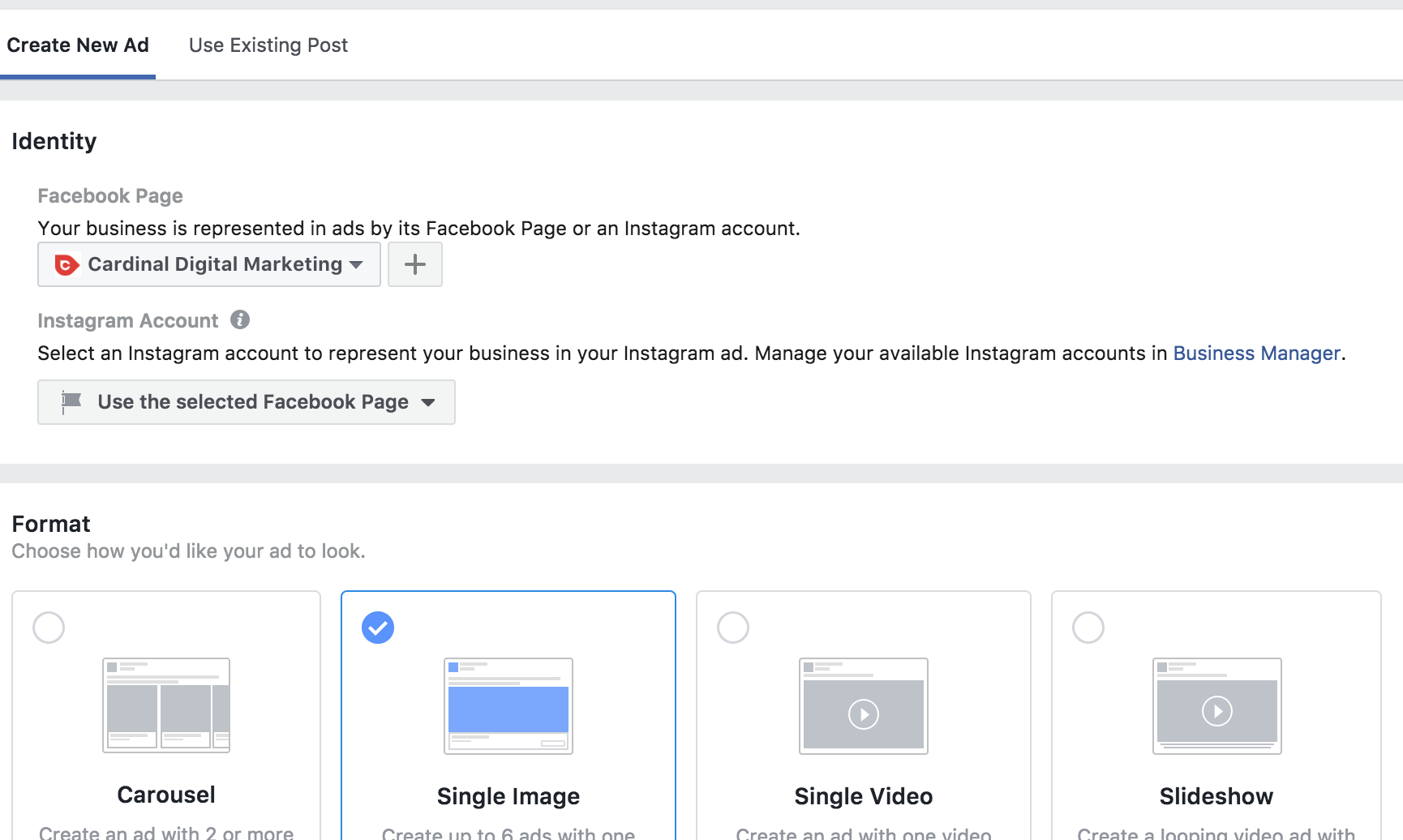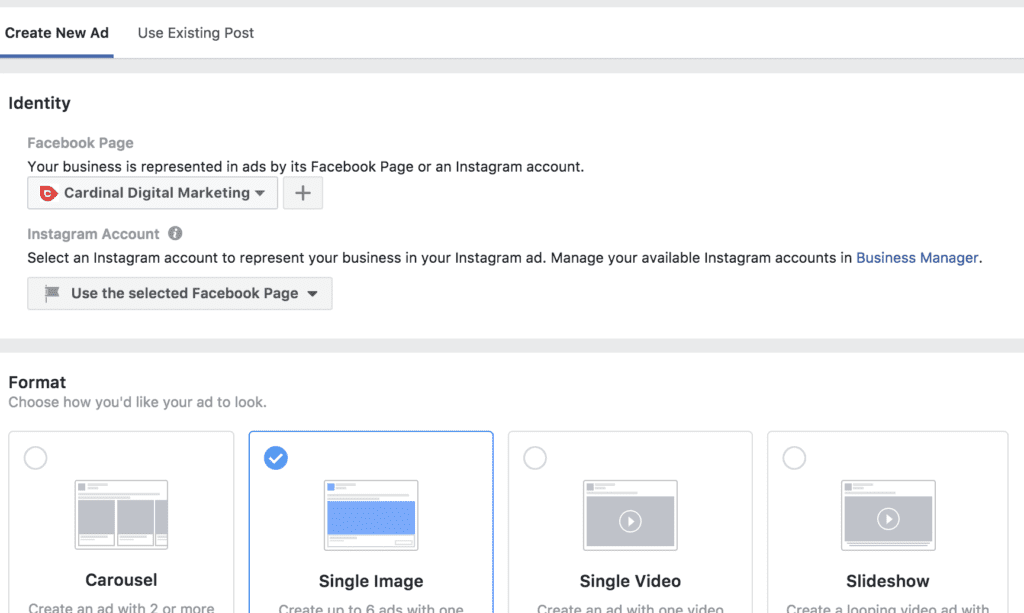 Depending on the ad creative you use, there can be a 100% or higher difference between different ads' CPC (cost-per-click) and CPA (cost-per-acquisition)
When creating your campaign inside your Power Editor, you can select between several types of ad creatives, depending on your campaign objective.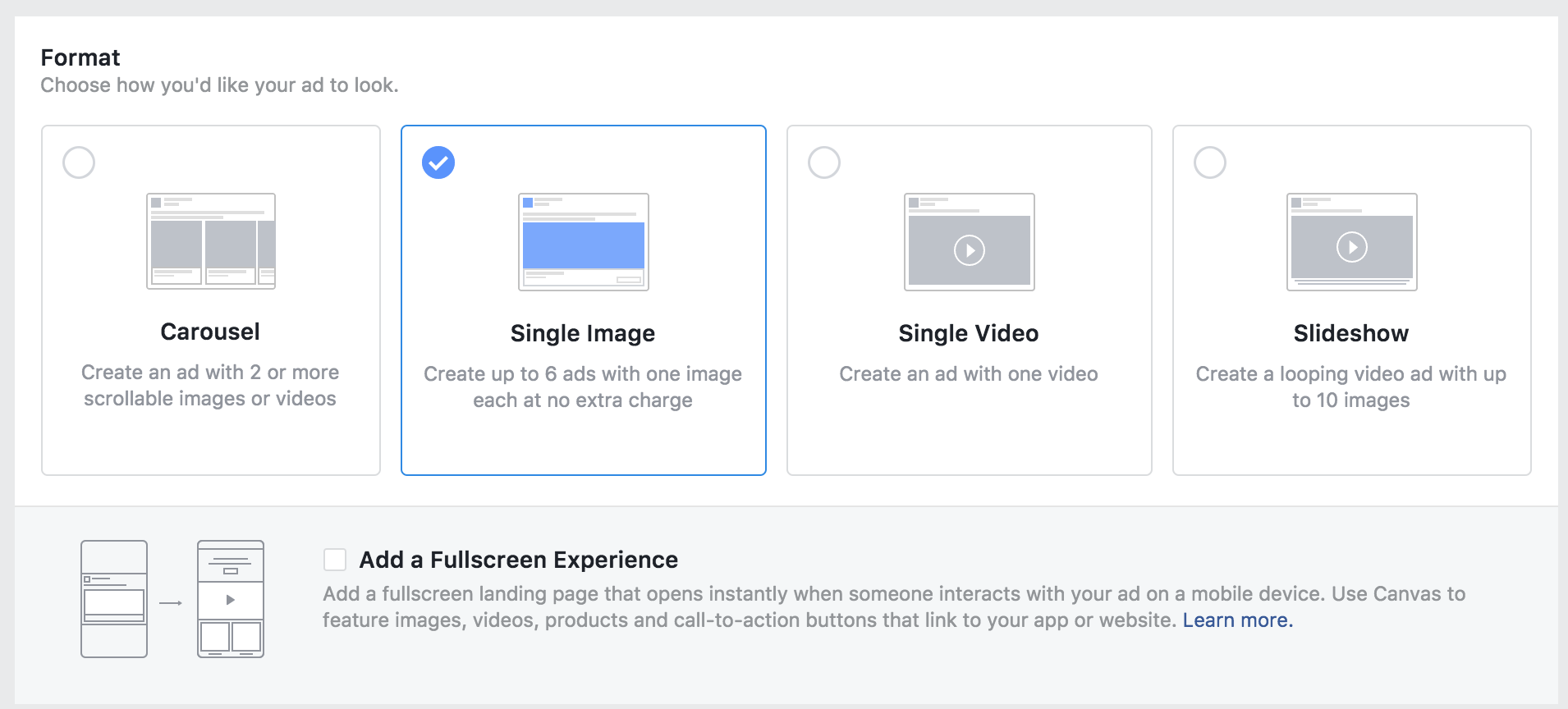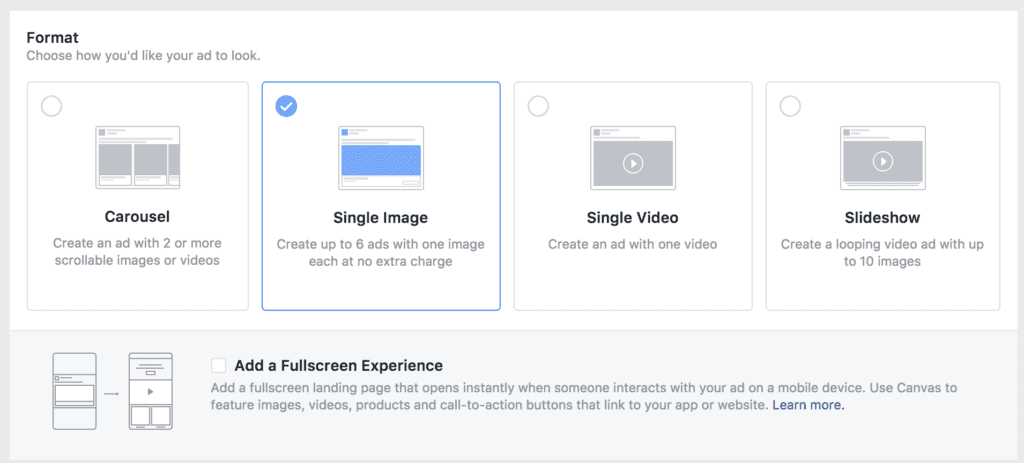 Facebook allows you to select and test up to 6 different image ads to find the best-performing option. We suggest you always test a few ad elements; your Facebook ad design is a great place to start.
You have three options when it comes to selecting ad images:
Upload a picture from your computer
Browse your library to reuse a picture you had previously uploaded
Find images in the free stock images database
Facebook has a unique partnership with Shutterstock, giving you access to millions of stock photos for free.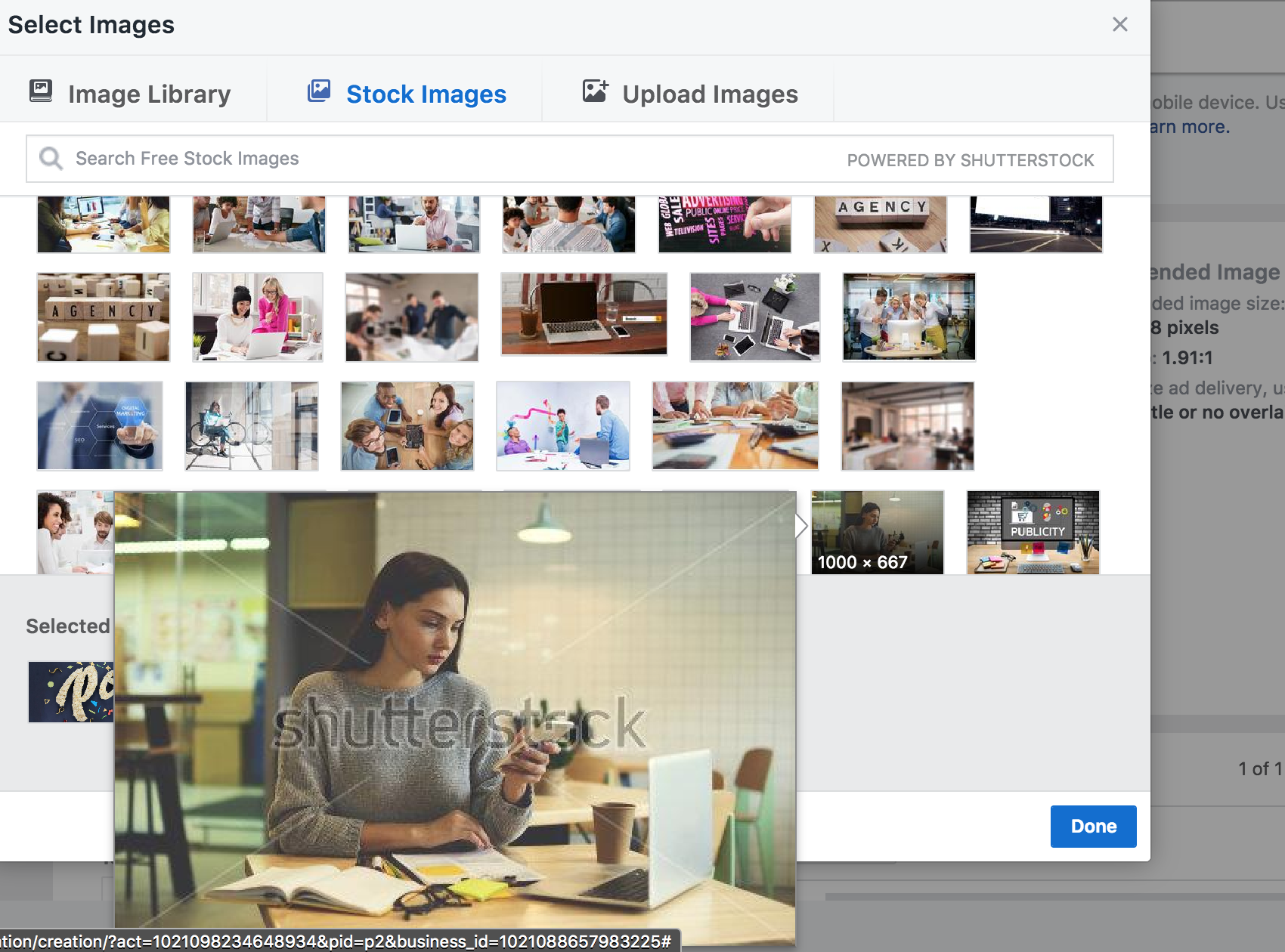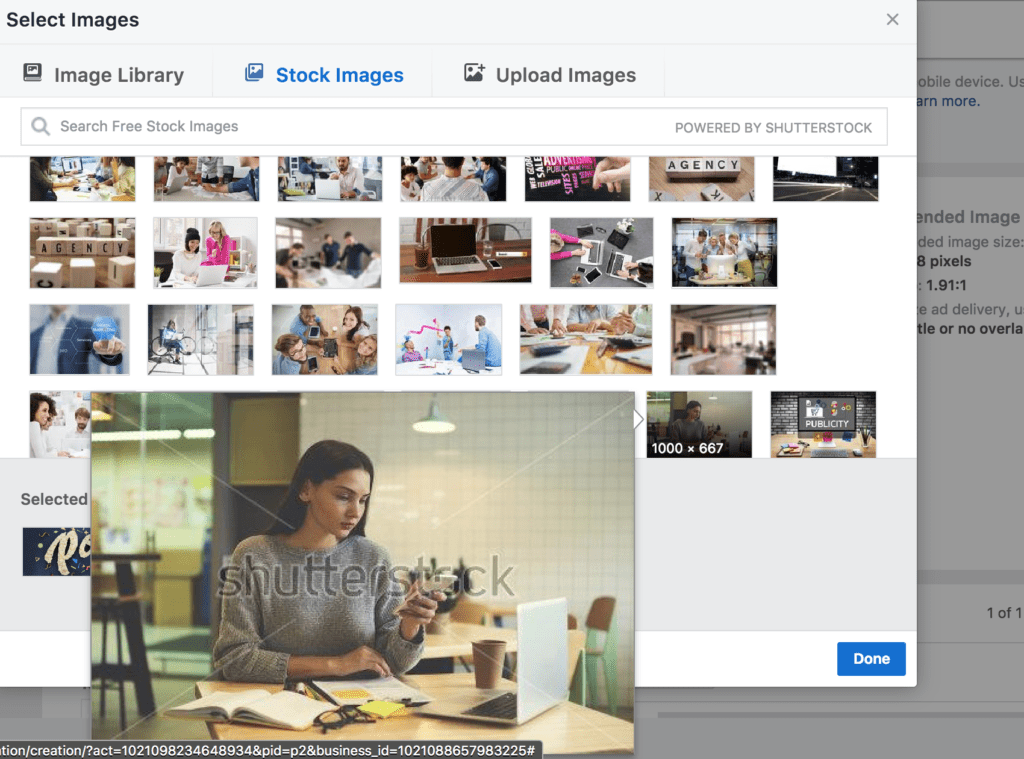 It's important to be able to refresh the image of your ads regularly so that your ads appear "fresh" to your audiences. Having access to a virtually limitless library is extremely helpful.
And it'll save you money.
That being said, remember that all of these free stock images in the Facebook database are available to all Facebook advertisers. In other words, you can bet the images you choose have likely been used in Facebook ads in the past.
Whenever possible, use original images for your ad.
Facebook Ad Design Hacks
In an effort to help you lower your CPC (cost per click), here are a few tricks we use when coming up with winning Facebook ad creatives:
Color is key. Use vibrant images that catch attention.
Place your main value proposition in the ad image, so that people will read it right as they see your ad
Use the right image size (1200 x 628 pixels), so that your ad creatives look good on every screen
Your Ad Copy
After your ad creative, your ad copy is the second most important part of your Facebook ads. Your ad copy needs to:
Catch your viewer's interest and then,
Convince your viewers to take action
There are a few different areas where you can add text to your ad:
The main ad text – up to 90 characters
Headline – up to 25 characters
Link description – up to 90 characters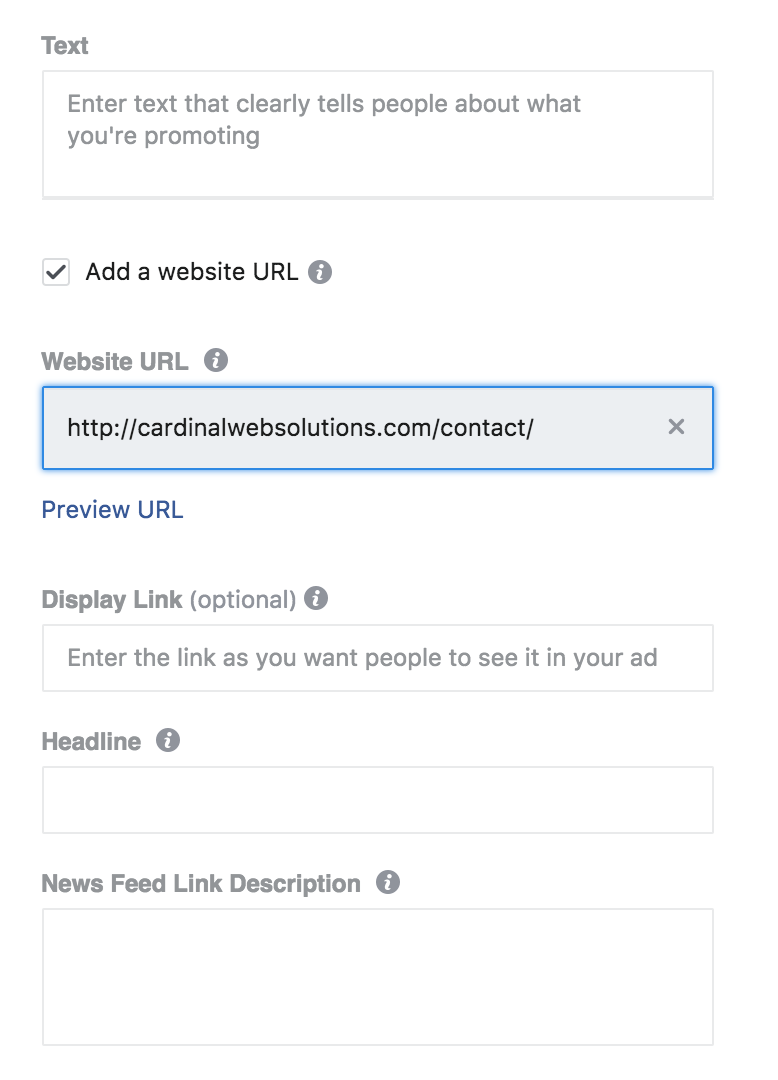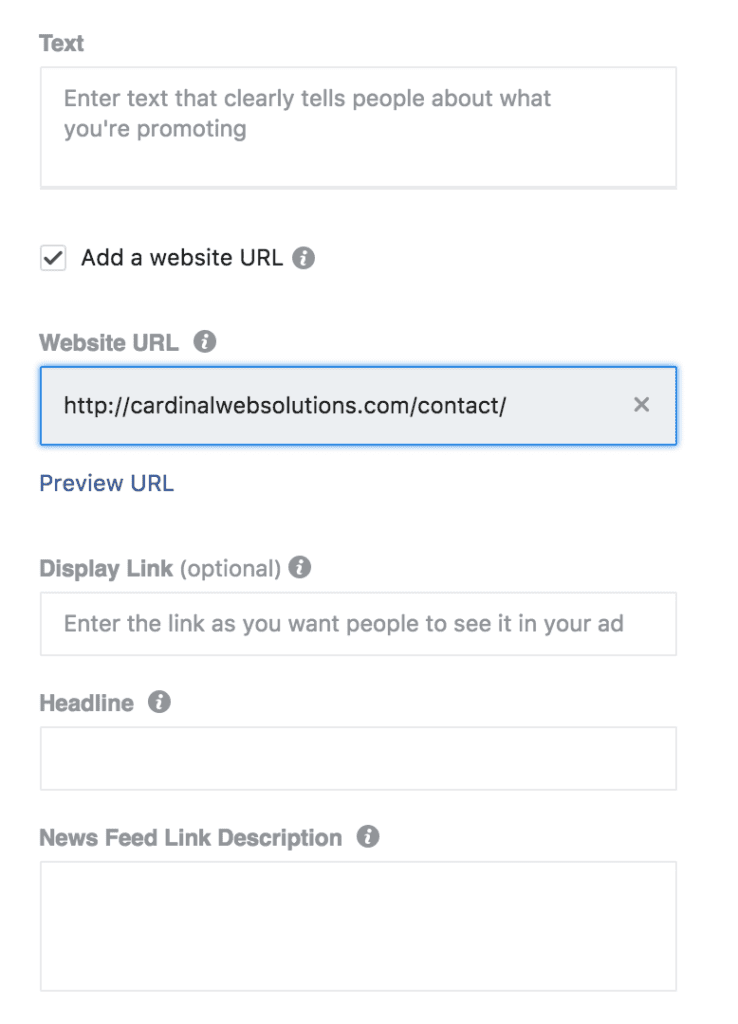 It's good practice to have a few different headlines and descriptions ready before creating your ad. That way you can invest the time it needs to come up with copy you really like, rather than feel rushed while inside the Power Editor.
Keep your ad copy short and clear. Your goal here isn't to blatantly sell. Remember, folks come to Facebook to be social and entertained. Facebook advertising is a different animal from Google advertising.
We actually talk about that in length in our article, Facebook Paid Ads Ain't PPC Ads. Here's What You Need to Know.
Your goal is to convince your audience to click on the ad to discover more. To achieve that, you need to be catchy while simultaneously clearly explaining to viewers why it's worth their time to click.
Setting Up Your Facebook Ad Copy
Setting up your Facebook ad copy is incredibly easy, thanks, in large part, to Facebook's preview capabilities, as seen below: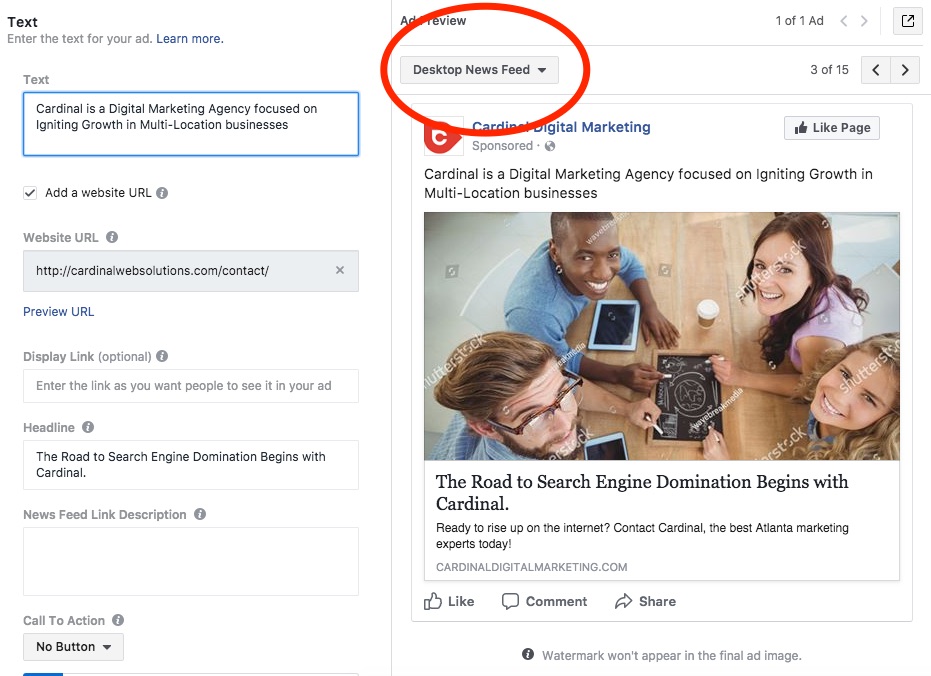 We circled the area where you can view your ad as it'll be seen on desktops, mobile phones and more. That way, even if you're not sure what Facebook means by a "headline" vs. "news feed link description" vs. "text" you can see them all in action with your Ad Preview.
Once you've finished your ad text and creative, believe it or not, you're done. You're ready to hit confirm and publish your first ad.
Unlike posts that you boost, ads don't show up in your stream. They only show up to the audiences you've specifically targeted. That's a good thing. That allows you to narrow down your ad messaging to a core group of people without alienating your Page followers. You can check the progress of your ad's performance by going into your Business Manager account, and clicking on Ads Manager.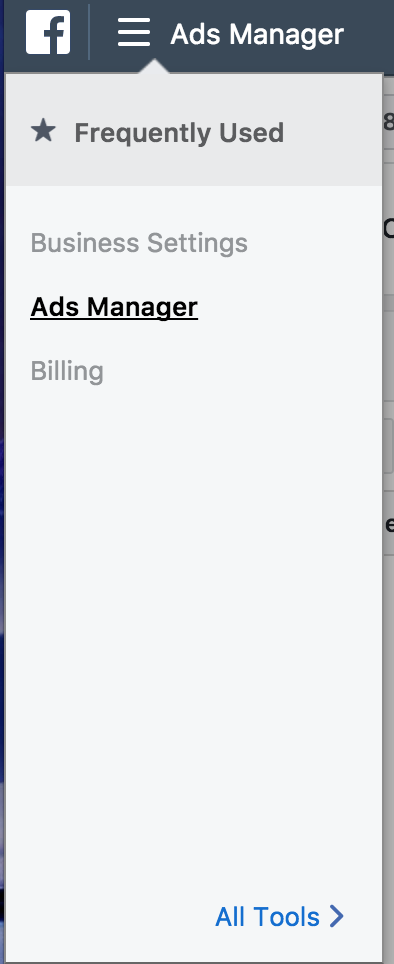 From there you'll see a breakdown of all of your ads, including budget spend thus far, demographics reached, and more. And now that you're a pro at creating ads, it's about time to learn how to master the art and science of measuring your ad's performance. Far too many people are concerned solely with vanity metrics such as clicks and likes.
Those aren't always the most important KPIs to measure. So, what are?
It really depends on the type of campaign you created, the type of content made for that ad, and whom, specifically, you were targeting. If you get stuck along the way and aren't sure what to measure, we encourage you to reach out to our team. We'll not only analyze your ad campaigns for you, but we'll show you the steps we take to measure your ad's true value.
That way you can truly become a master of Facebook advertising.