Ever since the COVID-19 outbreak in March 2020, hospitals have been at the forefront of global pandemic response. When we hear talk of "at capacity" ICUs, ventilators, and PPE—case surges, staff shortages, and new details about the disease itself—we're often talking about hospitals and hospital staff.
The preparedness and response of hospitals to COVID-19 (or lack thereof) has garnered plenty of press, some of it positive, some of it doom-and-gloom. Operationally, this coverage, as well as new procedures, concerns, and changes to how hospitals provide care, has had a tremendous impact on the patient experience.
What does that mean for hospital marketers as we look forward to the coming year?
Lessons Learned (and What's Coming in 2021)
With hospitals in the spotlight, there's a renewed focus on brand management, PR, and communication—on caring about the patient experience while innovating new ways to keep demand generation humming. Hospitals are businesses too, after all, and their marketing functions have officially been kicked into overdrive.
In our work with hospitals and hospital groups both before and during the COVID-19 outbreak, we've picked up on a few lessons learned and best practices. So we've put together a detailed list of 2021 trends to help marketers not only navigate the "post-COVID-19" world but to lay the groundwork for future crisis preparedness and response.
1. COVID-19 Isn't Going Anywhere and Marketers Have Been Put on Notice
Even if a vaccine were to emerge tomorrow, the impact of COVID-19 would still be felt in the hospital marketing world well into 2021 (and probably well beyond). As we write this article, there has been some progress toward a COVID-19 vaccine, certainly, but we're still not there. Infection rates and coordinated responses still vary from state to state, with new case spikes seeming to arise daily. School and sports, work, travel, and healthcare—things remain very much in limbo.
Attitudes toward hospitals have suffered as a result of all this turmoil. Generally speaking, only 24% of U.S. adults trust that companies are "putting their health and well-being first," according to Forbes. Hospitals are not immune to this negative sentiment. And even with new protocols in place, people have concerns about visiting medical facilities. This won't change overnight, and we won't wake up one day and never hear about COVID-19 again.
What it means for healthcare marketers
On the marketing side, this new paradigm means traditional demand generation strategies must be revisited and new innovations must be considered. Once again, hospital marketers will have to pivot in the face of a market in constant flux.
Here's what Kurt Lee Hurley, CMO of American Family Care, said about the situation an interview with Cardinal CEO Alex Membrillo:
"We're not just creative people, but we're analytical people. At the end of the day, I think using those faculties to be able to not just pivot but even, perhaps, in this state of things, as they're today, we're ready to disrupt going forward."
Hurley is talking about adapting in a way that allows hospital marketing functions to emerge even stronger once COVID-19 subsides. To help you get there, here are the high-level areas of your 2021 marketing strategy to reconsider through the lens of COVID-19:
Long-term growth strategies
Demand/lead generation
Brand reputation and awareness
Communication and public relations
Patient and partner education
Options for seeking care, including elective vs. non-elective surgeries
2. Effective Communication Will Be Essential
Today, even routine hospital visits have changed, and patients need up-to-date information about scheduling, in-office protocols, and so on. Now is the time for hospital marketing teams to establish authoritative, proactive communication strategies.
First and foremost, patients want to know how to seek care and how safe it is to do so. When it comes to COVID-19, specifically, people want facts—they want information on prevention, symptoms, testing, and treatment. The ability of hospital marketers to reach people with this information will do wonders for building patient trust, ensuring continuity of care, and burnishing your hospital's brand.
What it means for healthcare marketers
This is a terrific opportunity to create value for patients. In fact, the hospital marketers that can find ways to humanize their communication strategies stand to differentiate their brands most. Currently, 52% of US online adults prefer to buy from companies that show how they are protecting customers against the threat of COVID-19, a sentiment that no doubt extends to the hospital space. Compassionate, trustworthy, and useful communications make a big difference, especially when anxiety levels are heightened.
So, what information do your patients need right now? Coronavirus Search Trends from Google are a good place to start. Right now, people are seeking information about symptoms, treatment options, and a vaccine.
When we know what patients need, we as marketers can source information from hospital subject matter experts to build and disseminate content to patients through various channels, including paid social, Google Ads, and display campaigns.
According to research from Edelman, for example, 85% of people want brands to use their platform and reach to educate consumers. 78% of people feel that medical doctors are "credible spokespeople" for a brand's "virus-related actions." So, why not employ the vast expertise throughout your hospital network to support both effective marketing campaigns and better brand awareness?
That's what Jennifer Schultz, Senior Vice President of Marketing and Communications at OU Medicine, is doing. "Right away we wanted to ensure that we were addressing the nature of a public health crisis, which to me, when you're sitting in my chair, is absolutely an incredible amount of proactive, very transparent, fast factual information for the public to be able to consume, along with your physicians, and your employees." explains Schultz during Cardinal's Round Table "How Healthcare Organizations Can Thrive in the Age of COVID-19."
How you communicate this information is also changing now and in 2021. In addition to traditional media channels, healthcare providers should consider using new platforms like Facebook Live.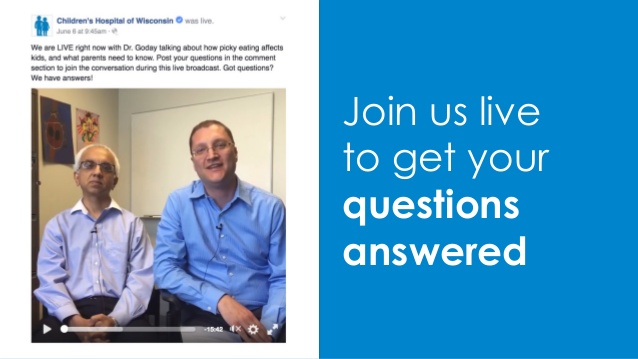 Video is particularly effective in this regard and helps humanize your brand. Video interviews with whitecoat specialists, for example, or testimonials with patients can go a long way in connecting with patients, building trust, and making people feel safe. Video is perfect for organic and paid social media advertising, too, where an increased focus on video has broadened the ways they can be deployed by hospital marketers.
3. Speaking of Patient Experience …
Compassionate, trustworthy, and useful communication is part of a broader marketing priority for 2021: the patient experience. Hospital marketers need to help their patients "figure it all out" by auditing every touchpoint across the patient journey and identifying opportunities to make life a bit simpler and easier for patients. Here are a few places to start in light of COVID-19:
Appointment availability and scheduling
Procedures for in-person and telehealth appointments
Accommodation of elective vs. non-elective procedures
New safety procedures and requirements
General information about COVID-19
What it means for hospital marketers
Once you've closely scrutinized a given patient journey, it's important to optimize the experiences themselves. Here are a few examples of how to do so:
Update your website content and navigation.
Make COVID-19 and telehealth information easy to find, including dedicated pages with comprehensive resources. In a May 2020 Google Webmaster Central Blog post, the company announced that Google Search will now factor UX signals into its rankings, including Google's new Core Web Vitals. Use the dedicated Core Web Vitals report to get an idea of where your own pages stand from a UX perspective, as well as suggestions on how to make improvements. Test your sites on desktop, iPhone, Android, and any other devices or platforms your patients use.
Revisit your automated phone system and call routing
Include information about updated procedures and policies as they relate to COVID-19 so that it's easily accessible. If patients can get the information they need without a live phone interaction, it will help ease the increased burden on contact centers and improve patient satisfaction. If volume is spiking, consider deploying new call center technology to help shoulder the load.
Personalize email and text notifications.
Patients need to know exactly what to expect when they head to the hospital. A text sequence leading up to an elective surgery, for example, can prepare patients by reminding them of safety protocols and things they need to do before their surgery. In light of COVID-19, everyone will need more guidance and reminders to navigate new protocols.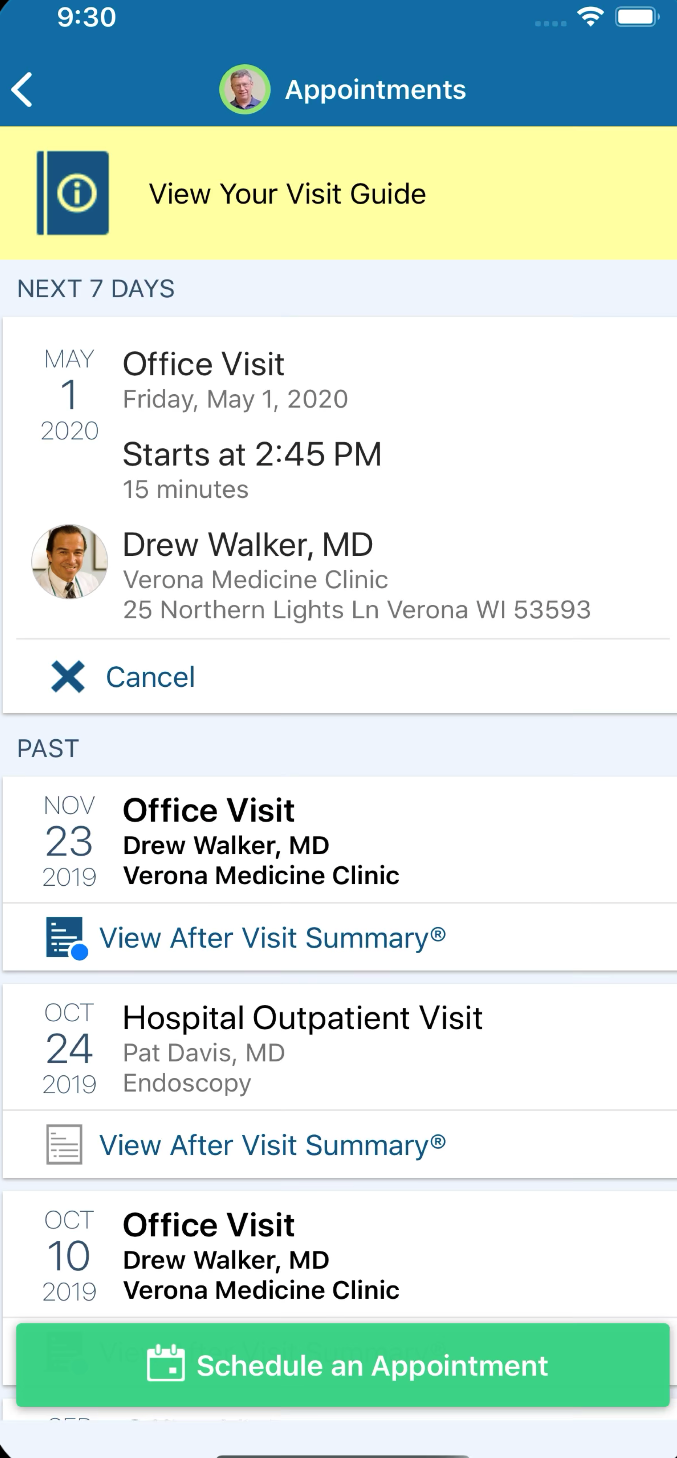 Provide a mobile app experience.
Mobile healthcare apps allow patients to communicate with physicians without a call or in-person visit. They also provide the ability to upload documents, check appointments, and see test results, which is a lot more convenient and time-efficient for everyone involved (especially as hospitals continue limiting in-person visits). Follow My Health and My Chart are the most notable examples.
Update your business listings.
Many people use Google Maps to search for nearby hospitals or hospital services. Make sure your Google My Business listing is updated so people can find you. Include safety and health bulletins as posts so current patients know what to expect before they arrive.
4. Lead Generation Campaigns Will Evolve
We've established the need for compassion, timeliness, and empathy in your comms strategy. The same goes for your lead generation campaigns, which—as important as they'll remain—will need to adapt and change. There's a fine line between value-added marketing during a pandemic and capitalizing on pandemic conditions, and patients are sensitive to the difference.
What it means for hospital marketers
For hospitals, we're seeing the return of high-value elective procedures. In response, many clients are resurrecting and retooling their lead generation campaigns to boost elective procedure bookings. In light of COVID-19, there's a fine line to walk here: hospital marketers need to address and overcome objections, including concerns about safety, while continuing to keep people coming through the doors for these procedures.
At a time when margins are tight, resources limited, and patient attitudes rather fragile, your ability to infuse your lead generation campaigns with confidence and authority can actually become a competitive differentiator. How are you protecting at-risk patients? And which elective procedures are worth the risk? Patients need a lot of reassurance right now, and your ability to make them feel safe will directly impact the success of your lead generation campaigns.
Use retargeting for existing leads
One strategy that hospital marketers are employing is retargeting current patients that are either candidates for an elective procedure or whose procedure was delayed, disrupted, or disregarded after COVID-19 hit. Now is the time to remind these prospects that they can still get their procedure done safely and efficiently—that your surgery teams have requisite testing capabilities, personal protective equipment, and hospital capacity.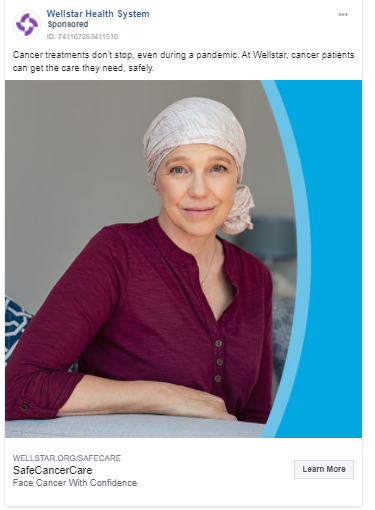 Educate and promote self-referral
COVID-19 has disrupted everyone's schedule, which means routine doctor visits have declined. Without routine care, health issues can creep up and put patients at risk. Develop content that educates the healthcare consumer and helps them identify symptoms. Patients are taking greater responsibility for their health and want to be educated. When they have trustworthy resources, they are more willing to self-refer.
In terms of journey and funnel, make sure that your updated campaigns are accompanied by seamless patient user experiences (UX) so that people can find the information they need, speak to an expert about their procedure, and book it.
Emphasize telehealth for initial consultations
If telehealth is an option, make sure your lead generation campaigns say so. This will help persuade nervous patients to schedule their first appointment. By offering remote consultations, you can get them into your funnel and then determine the best care option for them.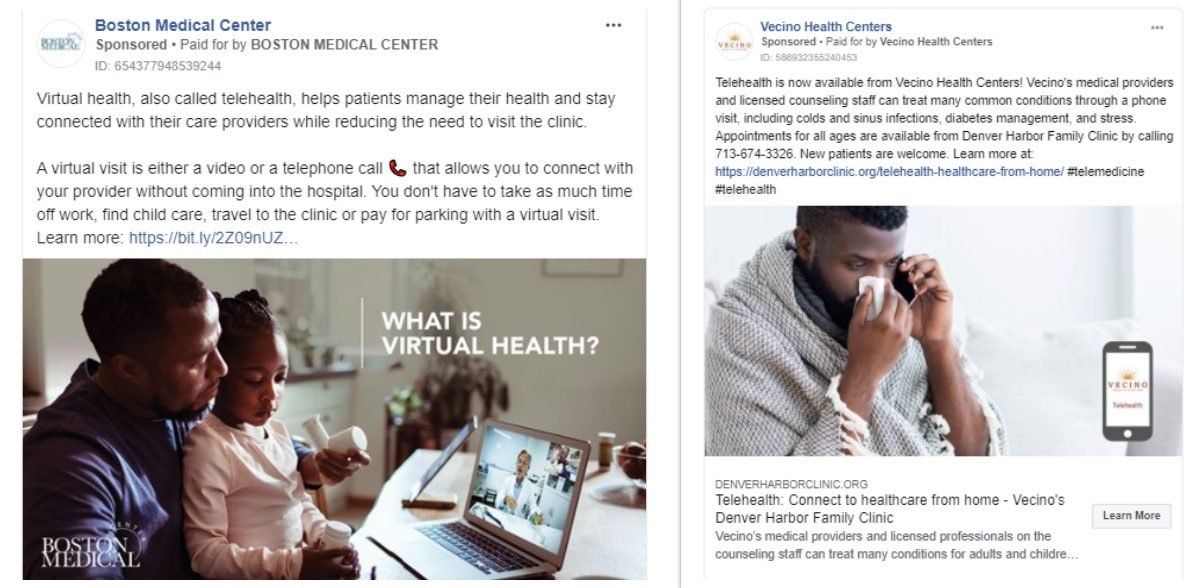 5. SEO and Content Marketing Remain A Priority (With A Caveat)
If you're wondering how to optimize direct marketing spend, look no further than what the data is telling you. Search trends and marketing data indicate that organic search volume has far from gone away, it's just that people are searching for different things. The demand for content hasn't disappeared, either; people are just looking for different topics.
What it means for hospital marketers
Consider SEO and content marketing as investments that will allow you to weather the storm while building brand reputation and capturing future search traffic. People are still finding your content through Google search as a means of evaluating your hospital, as we mentioned above, when they're considering things like elective surgeries.
In terms of where to get the most return, here are a few places to focus:
Local SEO.
Local "Near Me" type searches to find hospitals for a variety of healthcare needs, including emergency rooms and elective surgeries, are on the rise. No one wants to travel far to receive care. Optimizing your website content and listings (Google My Business, for example) for your local markets can help you capture this traffic now and in the future.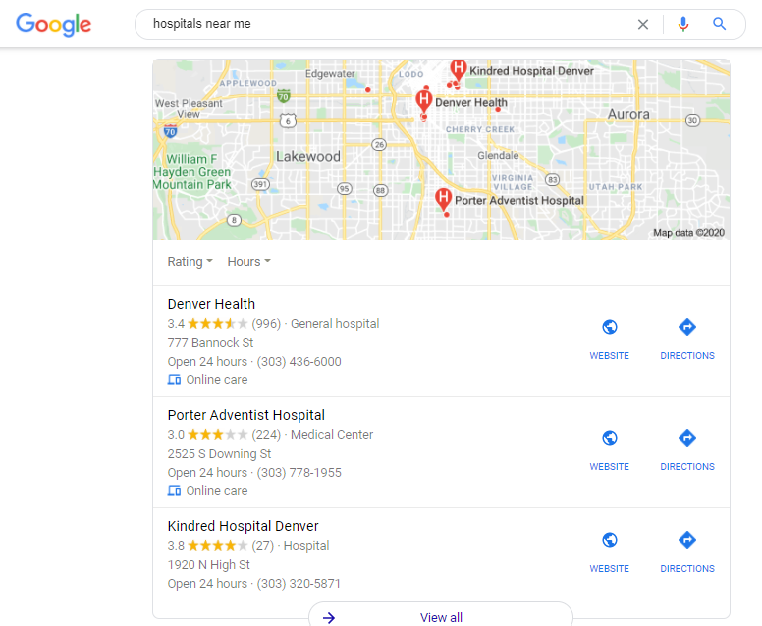 Content patients can actually use.
Now more than ever, people are willing to educate themselves before making healthcare decisions. This new responsibility means that you have to provide comprehensive content that answers all their questions. They want to thoroughly understand their condition, what procedures entail, and what they can expect at the hospital. Above all, they want to feel safe while under your care.
In planning for 2021, develop a robust content marketing strategy that aligns with your hospital's goals. If you need to grow specific groups, make sure you have content that will attract and persuade patients to choose your hospital. Can you put together a step-by-step guide for procedures that include detailed safety information? Or COVID-19 references to help people understand when it is okay to come to the hospital? Focus on rich content that helps patients look after themselves and search engines will likely reward you.
6. Telemedicine Will Become More Prevalent
As a result of the pandemic, telemedicine (also known as "telehealth") is very relevant to hospital audiences. At most hospitals, any appointment that doesn't require in-person evaluation is being moved to a telehealth model to help limit COVID-19 exposure for both patients and staff.
Marketers, listen up.
What it means for hospital marketers
All signs indicate that telehealth will become the new normal in 2021 and beyond. President Trump, for example, recently signed an order to permanently extend telehealth options to rural patients well into the future. New telehealth options, such as virtual intake management, follow-up care for surgeries, and long-term follow-up plans are proliferating at speed.
As their own hospitals continue to roll out telehealth, marketers need to communicate the availability, process, and benefits of this method of care to current and prospective patients. Here are a few ways to do that:
Create a telehealth website hub.
This page should educate patients about what telemedicine is, the process for telehealth appointments, and provide troubleshooting support. All of your digital channels need to point to this landing page. Hospital staff should also be aware that it exists so they can direct patients to the most comprehensive information source.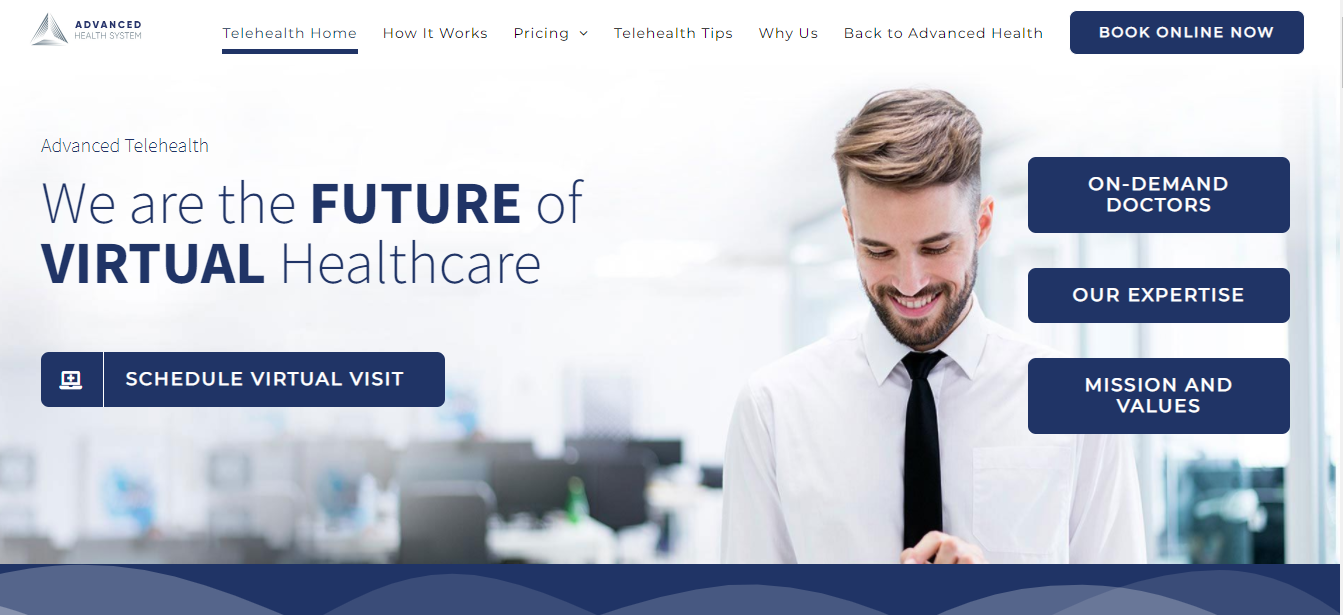 Build telehealth campaigns.
If you don't tell the world about your telehealth offering, no one will know it exists. Create campaigns for email, text messaging, display ads, and content marketing that build awareness around the availability of telehealth, give patients an idea of what it will look like, and point back to your dedicated telehealth resources. As we mentioned earlier, this will be essential to successful lead generation.
Advertise telehealth to target markets.
We recommend building telehealth content and boosting it to target markets on Facebook, for example, or to appear in telemedicine-related searches within your local markets (PPC).
See the following resources from Cardinal Digital Marketing for more information about telehealth marketing:
7. Hospitals Will Lean into New Technologies
Of course, hospitals are regularly on the forefront of innovations in treatment and technology. From 3D modeling in surgery to using artificial intelligence for heart therapy treatments, the pace of new healthcare innovations is dizzying, and COVID-19 has only accelerated the pace.
Beyond telehealth, many hospitals are rolling out curbside care and diagnostics, new healthcare apps, and AI-powered chatbots that can quickly and accurately get patients the information they need without requiring an in-person interaction.
What it means for hospital marketers
Marketers should be highly interested in and informed about how their hospitals are using new technologies, especially in the fight against COVID-19. Why? Because this is information that patients care about. They want to see what their hospitals are doing to be on the forefront of new innovation, as well as how those innovations might benefit their experience.
Adoption and awareness don't happen on their own. Patients don't know what they don't know, which creates an opportunity for marketers to communicate these new technologies and create a seamless patient experience for those who seek them out.
Here are a few examples from the real world:
COVID-19 accelerated hospital investments in business intelligence analytics as a means to track cases and forecast surges. After the pandemic, hospitals can use these new technologies to identify patient trends and better understand—and tailor—the patient experience. Marketers can tap into this information to hone their content and lead gen campaigns.
The creators of the PreeMe+You app campaign around how data from this new app is used in research for improving patient experience and outcomes with premature births.
Chatbots are gaining widespread adoption. Florence, an AI-powered healthcare chatbot, integrates with Facebook Messenger and Skype directly. The direct integration provides a captive audience for marketing activities in just a couple of clicks. Rx.Health launched a triage chatbot to help hospitals more effectively triage and monitor patients. Not to be outdone, the CDC also launched its own chatbot "Coronavirus Self-Checker."
Medical providers are broadcasting brain surgery using Facebook Live and using augmented reality (AR) to simulate medical problems and treatments.
Hospitals have had to rapidly adapt in the face of COVID-19; the question now is, how will marketers use these new innovations in 2021?
Can you build campaigns to promote the new technologies that your hospital employs? What data can you now access to refine your marketing campaigns?
8. Metrics Will Matter More Than Ever
Hospital marketers will have to be more data-driven in 2021. In light of the pandemic, every part of the funnel is being examined and budgets are being scrutinized. At the end of the day, a hospital marketer is responsible for helping to attract and retain patients—and they have to show their results. To get there, data is a critical piece, namely:
Marketing campaign metrics such as search engine optimization (SEO) and paid advertising (display ads, PPC, etc.).
Financial performance metrics such as the cost of acquiring new patients, keeping patients, and the lifetime value of a patient to a healthcare practice.
The latter can tell us, for example, that as good as we might be at acquiring new patients, the process is incredibly costly, which is in turn driving down the overall value of a patient over the lifetime of their care. This information can inform micro-level marketing tactics, such as where to increase or dial back ad spend.
What it means for hospital marketers
Taken together, these metrics can help organizational stakeholders understand the worth of their marketing investments (and make changes accordingly). The key is to align the metrics you do focus on with business-critical goals and broader financial KPIs. For hospital marketers, here are some of the metrics that we scrutinize when working with our own clients.
Patient Acquisition Cost (PAC)
Patient Lifetime Value (PLTV)
Ratio of Patient Lifetime Value to Patient Acquisition Cost
Patient Retention Rate (PRR)
Patient Satisfaction
Paid Advertising Metrics
SEO Metrics
Lead source attribution
2021: The Year of The Patient
As the foremost institutions in the battle against COVID-19, hospitals really are caretakers of the patient experience. As are hospital marketers, by extension, for whom the patient experience will surely be mission-critical in 2021. The healthcare consumer has changed and it's up to marketers to provide the information they now demand, make them feel safe, and persuade them to choose their organization.
Indeed, hospital marketers will be measured by their ability to constantly innovate, communicate, advertise, message, and market with the patient as the starting point. By responding to the trends we've detailed above, marketers will not only manage current turmoil more effectively, but lay the groundwork for a future-ready marketing machine that's scalable, adversity-tolerant, and patient-first.