Q4 is here, and 2024 is rapidly approaching. Tightening HIPAA regulations continue to impact all aspects of digital marketing in healthcare, including advertising, reporting, and martech operational tech stack. On the consumer side, upticks in disengagement and distrust are also redefining what digital marketers need to do to reach and connect with patients in 2024. As we continue to navigate these evolving dynamics, healthcare groups can no longer rely on generic creative and instead should focus on connecting with patients and developing patient-centric content and ad creative that engages them at every step of their journey.
With that in mind, what are the new healthcare marketing trends on the horizon for the new year? Here's what you need to consider when refining and optimizing your healthcare marketing efforts in 2024. 
HIPAA's Impact on Digital Marketing
Recent changes at the regulatory level have triggered industry-wide adjustments with regard to HIPAA compliance in 2023. There's no understating of the impact this has had on digital marketing strategies. What is abundantly clear is this: As a healthcare marketer, you cannot ignore HIPAA guidelines. 
What has happened over the last few years with HIPAA guidelines and marketing? Signs of change began back in September of 2021 when the FTC issued a policy statement asserting that all health apps and devices connected with those apps must comply with the Health Breach Notification Rule. 
technologies, stating that potential disclosures of ePHI could happen as data traveled from HIPAA-regulated entities to only technology tracking vendors. 
Things really heated up in early 2023, with the FTC fining GoodRx and BetterHelp for various violations of the HBNR. By the summer, the HHS and FTC had issued a joint letter to 130 hospitals and health systems, emphasizing the risks to personal health information that can stem from tracking technologies, including Google Analytics. At the end of 2023, the Department of Health and Human Services released a Bulletin clarifying what is considered healthcare information and how it is shared. According to the HHS bulletin:
"Regulated entities are not permitted to use tracking technologies in a manner that would result in impermissible disclosures of PHI to tracking technology vendors or any other violations of the HIPAA Rules."
These are issues healthcare marketers cannot ignore. The FTC is going after healthcare groups of all shapes and sizes—not just the big players in the industry. As a result, many healthcare marketers are reevaluating their advertising strategies and scrutinizing their methodologies. 
Develop a Strategy to Ensure HIPAA Compliance
Marketers must conduct a thorough audit of their website's marketing tech stack and advertising tools so that they have an accurate understanding of their risks and exposure. 
From there, we recommend developing a plan to implement HIPAA-compliant marketing solutions in 2024. That plan should involve the following tools and best practices:
Implement a CDP
Many healthcare marketers are turning to Business Associate Agreements to define a legal relationship between them, as HIPAA-covered entities and third-party tech tools and software can potentially access PHI during the course of their work. This type of agreement is designed to ensure complete protection of a patient's PHI. 
Not every vendor wants to sign a BAA, however.
What do you do when a marketing technology vendor won't sign a BAA? That's where CDPs, or Customer Database Platforms, become very helpful. CDPs can make technology comply with HIPAA regulations by interfacing with the technology and anonymizing PHI data.
Which CDPs should you consider for 2024? We like Freshpaint, which offers a HIPAA mode to achieve compliance, and Rudderstack, which offers HIPAA compliance with its Enterprise custom pricing.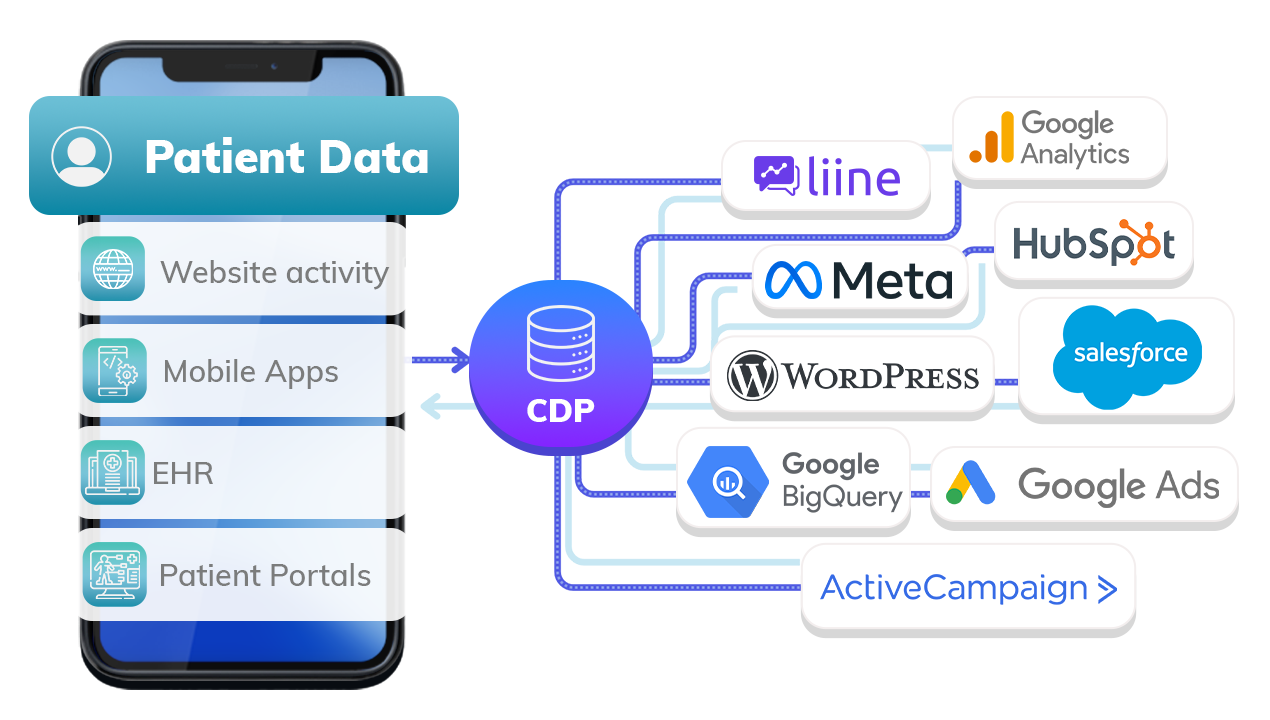 Use HIPAA-compliant Call Tracking
If is not part of your healthcare marketing martech stack yet, it must be in 2024. 
These tools provide insights into how and if your leads are progressing from a first touch to a dedicated, return patient. The most innovative of today's call tracking solutions leverage AI to track and analyze phone calls and form submissions to identify crucial data points, including lead and campaign source, patient sentiment, lead quality, and more. With this data in hand, marketers can then identify which campaigns, keywords, and resources are generating qualified leads, enabling them to more effectively allocate spend and optimize their marketing strategy.
While there are a number of options out there, we here at Cardinal prefer the following call tracking solutions, which can be used in a HIPAA-compliant ecosystem::
Migrate to HIPAA-compliant Analytics & Reporting
Analytics tools in marketing can provide marketers with easy ways to access and analyze metrics that, in turn, provide insight into which marketing efforts are working and which are not. 
The go-to analytics solution for many marketing teams has long been Google Analytics. While a hugely popular and effective tool, it is not HIPAA-compliant. Google places the onus directly on marketers, stating that users should not pass any data to Google "that Google could recognize as personally identifiable information (PII)" or may be considered PHI.
When it comes to analytics solutions, we're turning to the following, all of which will sign a BAA and offer a solid alternative to Google Analytics 4:
Finally, look for a media partner who understands these nuances and knows how to build a martech stack solution that passes user behavior back to the ad platforms in a HIPPA-compliant process. 
In 2024, you need to adapt your advertising and analytics strategy to account for the lack of data availability and use of tracking pixels. That's where a full-funnel advertising strategy will come into play, the next top trend for 2024.
Full-funnel Advertising Strategy is a Must in HIPAA-regulated World
There are safe ways to leverage data and engage patients through advertising. Since you can no longer use the Meta or Google pixel to build advertising audiences, you can use a full-funnel strategy instead.
Rich Briddock, SVP of Strategy & Analytics at Cardinal, shares that,
 "If you want to engage effectively with prospective patients and you can't use first-party patient lists anymore, one way you can do that is through what we call a full-funnel strategy. Essentially, what that means is you would utilize broad targeted video campaigns at the top of the funnel. Just to let them know about your business and drive some awareness. You might use 15-second to 30-second video clips to just explain the business to those consumers."
From there, ad engagers move through the funnel toward conversion. 
Research from Google shows that taking a full-funnel approach is the best way to improve conversion rates: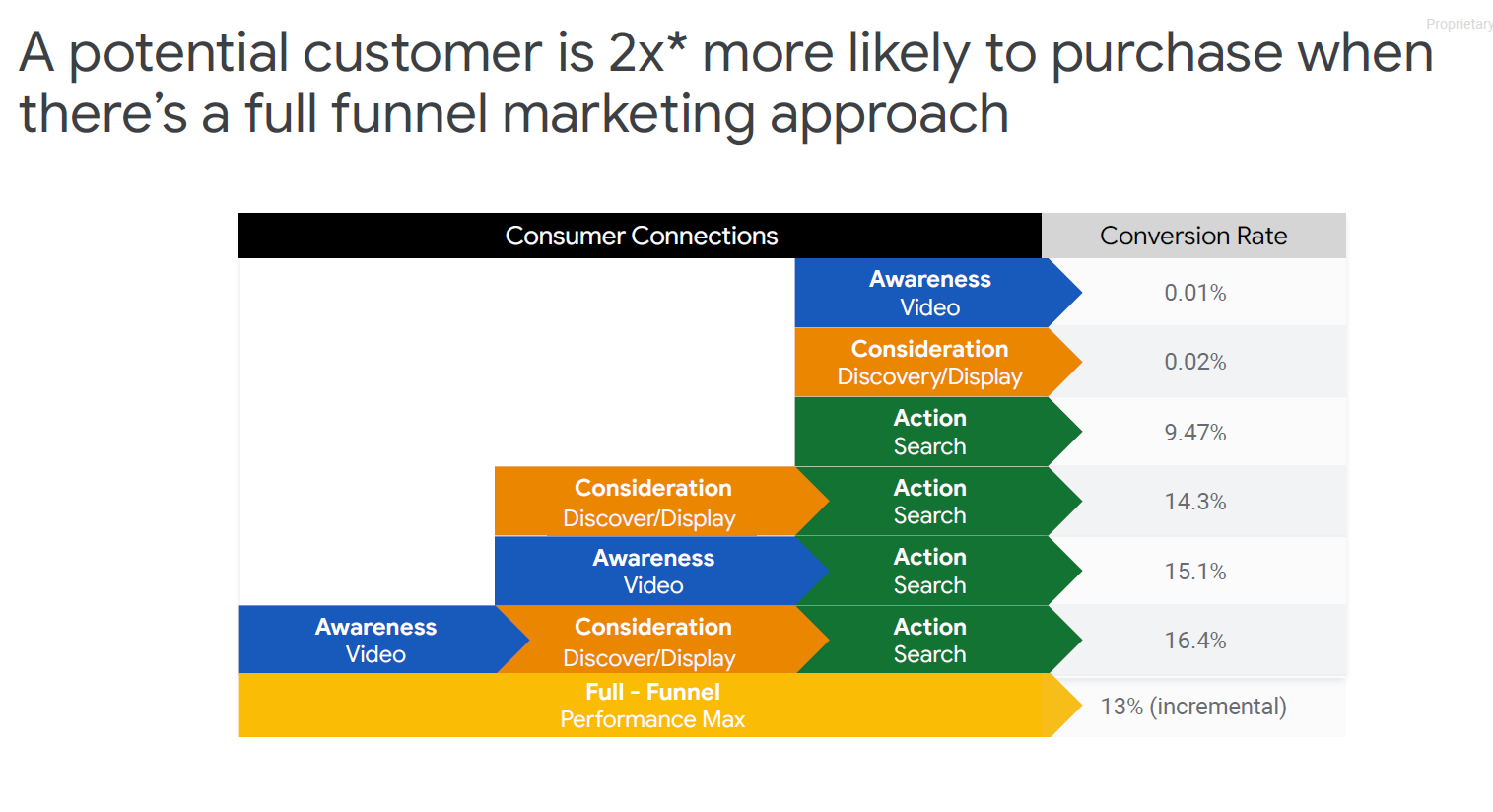 A comprehensive strategy for digital advertising aims to reduce the overall expense of generating leads at the bottom of the sales funnel. Based on our experience, presenting direct-response advertisements to individuals who have not previously engaged with your brand can inflate the cost per acquisition (CPA) by over 400 percent.
When it comes to healthcare consumers on Facebook, they typically fall into one of three categories:
Awareness

Consideration

Decision (ready to convert)
Implementing a full-funnel strategy allows you to maintain a broad reach with low ad-serving costs and selectively guide only qualified audiences toward your call-to-action (CTA) ads. This is achieved through the use of precise ad group structures that help you pinpoint the stage of the funnel a prospect is in. As a result, you can deliver a message that aligns with their current decision-making process stage. If a prospect engages with a specific ad, it serves as a signal regarding their position in the journey. Armed with this information, you can then present them with ads that are most likely to resonate with them.
Patient Acquisition Strategies Need a Diversified Channel Mix
The patient journey is comprised of a multitude of stops in the digital world, and an omnichannel strategy is key to influencing and engaging them. In 2024, you can't focus on one channel alone, you have to think holistically about the various touchpoints patients encounter throughout their journey to find care. 
What steps can you take to build an omnichannel full-funnel strategy beyond advertising? 
Organic and earned content helps establish your brand authority, builds trust, and supports your paid efforts. When a user has already been exposed to your brand organically, they are more likely to click on your ad. 
Here are some tips for the content you can leverage at each stage of the patient journey:
Top: Awareness
At the top of the funnel, your potential patients are typically dipping their toes in the water. Consider it an opportunity to show consumers that you know a thing or two about their problem. You can use:
Top-Middle: Consideration
At this stage, people are looking for solutions. They have a better idea of their medical issue and are now trying to fix it. They're looking for educational content, so offer up content to educate, nurture, and engage consumers, including:
Robust solutions and treatment pages

Case studies and patient testimonials

Email marketing sequences that keep them engaged as they evaluate treatment options
Bottom-Middle: Decision
At this point, patients are ready to receive care. They're evaluating providers and considering simple things like:
Insurance accepted

Location

Hours and availability
You want to make it as easy as possible for consumers to convert into appointments, calls, or consultations—whatever a bottom-middle conversion looks like for you. As far as content or campaigns go, this is the time to introduce success stories, testimonials, and special offers to entice someone on the fence.
Bottom: Buy Long-Term
Here's where you convert consumers into long-term patients. When building your 2024 marketing strategy, look for ways to bring value to patients and enhance their experience. Some ideas include:
Sending appointment preparation, text and email reminders, and follow-up info

Personalizing email nurture campaigns in which they receive tips, guidelines, and other educational info that helps them make better health decisions

Building a patient portal and mobile app for more personalized experiences
Reaching Disengaged Healthcare Consumers
Disengaged population segments necessitate that marketers have a better understanding of consumers to improve marketing performance and impact. That's especially important in healthcare, where there is growing disengagement amongst consumers. A recent report showed that consumer engagement in healthcare was down in most regions across the U.S. between 2022 and 2023, with numbers decreasing by as much as 19 percent in some areas.
One of the significant drivers in this disengagement comes from a growing lack of trust in providers. All of it adds up to make a big impact on retention, resulting in patient leakage. 
No-shows and patient attrition are, in turn, adding up to significant losses in revenue. 
In 2024, healthcare providers must invest in retention and reactivation. To do that, you need to deepen your understanding of patient needs and motivations. 
Ask yourself: What's preventing them from getting care?
Develop workflow automation to help them overcome those barriers and return to the doctor's office. One great way to do that is by investing in a HIPAA-compliant patient engagement and reactivation solution.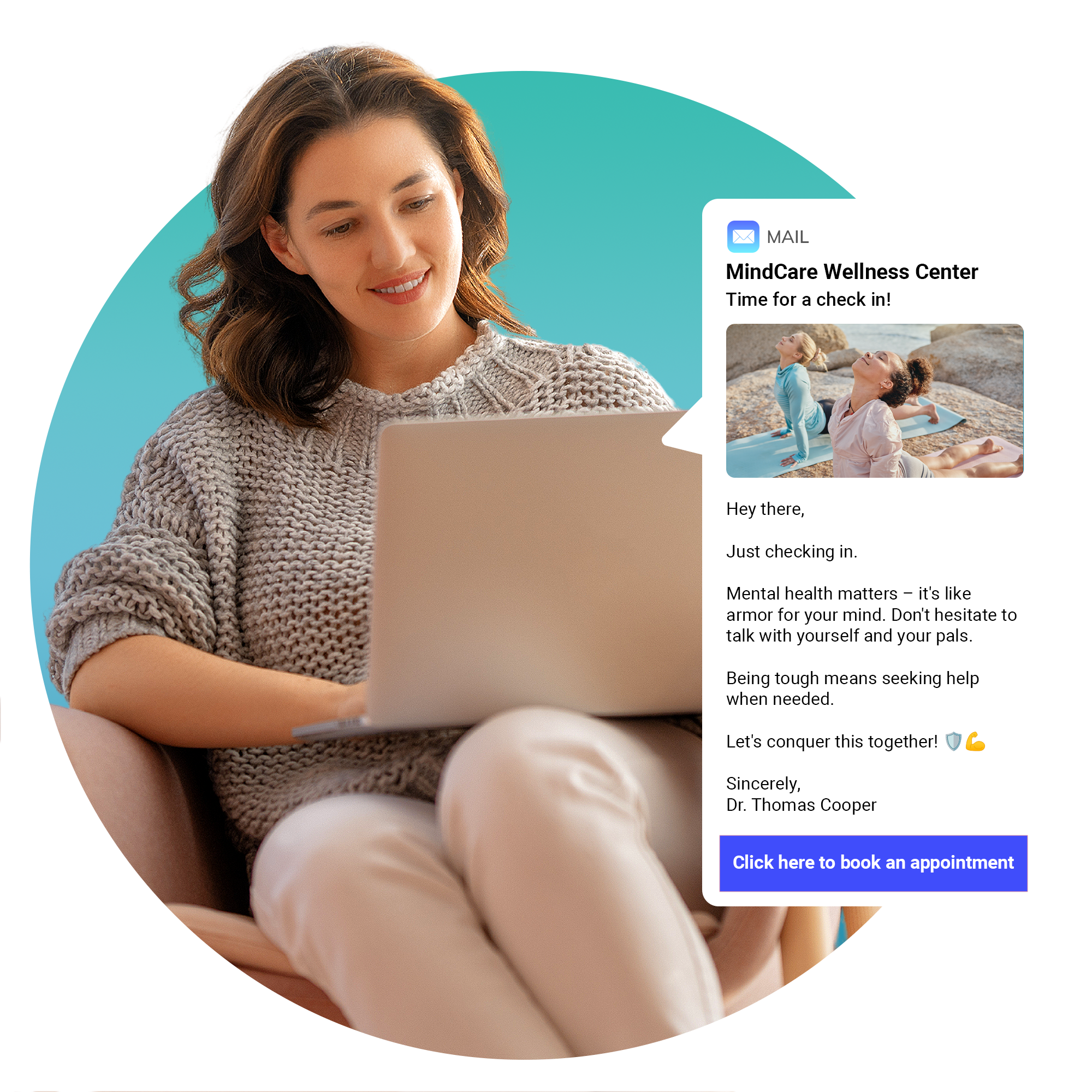 Your practice operations team KNOWS they need to do appointment reminders, reactivation, email nurturing, etc., but they often don't have the time and resources to get it done. Staffing shortages can compound that problem. A patient engagement and retention partner can act as the extra pair of hands you need, creating seamless automated systems that not only enhance patients' overall experience but keep them coming back.
Healthcare Consumers Demand Authenticity
As mentioned above, patients aren't trusting providers these days. The growing use of AI is feeding fears that search results are unreliable. Patients are asking themselves:
How do I know this comes from a doctor?

Can I believe what I read online?
In this climate, authenticity and originality are key. Healthcare groups must prioritize their brand and their experts. Content can't be generic or sound AI-generated. You must prioritize a unique POV that's backed by research. Show the people behind your brand as the authors of content and as advocates of your brand. 
Here are some tips for getting that done:
Be Original
Being "original" in your content can mean exploring unique angles. Consider adding your unique take on content rather than regurgitating what already exists online. Of course, in healthcare, that doesn't mean that you can just go with any notion. Any content you generate in the healthcare space needs to be vetted, accurate, and held to the highest standards. Never sacrifice quality in pursuit of originality.
Your healthcare practice or organization has its own unique approach, however. Use this opportunity to highlight the one-of-a-kind approach and patient experience that your healthcare institute brings to the table. What do your providers wish more patients knew? How can you address questions that often get ignored? Dig deep here to find out what patients want to know, what information gaps exist, and introduce your authoritative and original voice and answer into the mix.
Invest in Your Authorship
Another area that should have your attention? Authorship. As AI gains more and more prominence, users will want more assurance that the information they are getting is from a trusted human authority. Using reliable sources and trusted authors are more important than ever.
Feature your founder, executive team, or doctor as an author and show that a real person is involved. You know how relevant the personal touch is in healthcare and how much patients want to establish trust. This is a great way to do it. Having an actual doctor or expert associated with your brand's content increases your brand's credibility.
AI's Impact and Role in Healthcare Marketing
AI is a hot topic in many parts of the healthcare industry. In SEO, AI language models are playing a major role, changing the way we think about organic search results and how things will rank on Google. 
While AI technologies like ChatGPT are helpful marketing tools, they are not doctors and they are definitely never a replacement for human strategy. 
You still need to do keyword research in order to rank on the SERPS, for one. Keep in mind, too, that humans are still the brains behind what is fed to the AI to generate that content in the first place.
And since AI solutions such as ChatGPT are still in the early stages and because they are essentially sourcing their information from what already exists on the internet, they are not able to deliver the depth and detail needed on complex topics. Stick with your humans and your actual "experts" for now.
Healthcare's Digital Transformation Continues
It seems like 'digital transformation' has been the main topic of conversation for a while now in multiple industries—except for healthcare, that is. Let's be honest; healthcare is an industry that has lagged behind in terms of digital advancements. Whether this stems from concerns around patient privacy or entrenched analog workflows, technological adoption in healthcare has historically been low compared to other sectors.

That's changing now.

Technology investments are being prioritized due to HIPAA concerns, giving marketers more tools with which to work. Private equity investment is also fueling technology adoption as a means to improve efficiency and the patient experience.  Here's where we see the most investment:
Online appointment booking

Centralized CRMs

Call tracking and analytics

Review generation technology

Patient engagement and automation technology
These technologies can have a real impact on operations. Online booking via a website, for one, is one of the biggest ways that you can streamline operations. Administrative staff will be free from the phones for the first time, allowing them to focus on more critical goals and tasks. 
For multi-site brands, centralized contact centers provide an easier way to answer routine patient questions about insurance, hours of operation, etc. And, yes, the CRM referenced above can do a lot for operations, making it easier for stakeholders to access patient information, share information between patients, and send reminder information as needed. An added bonus? The right CRM improves efficiency and allows a marketing team to personalize patient experiences and improve patient retention.
Speaking of patients, healthcare consumers expect a smooth digital experience, and that will continue in 2024. They are looking for transparent, proactive communication that helps them do what they need to do and do it quickly. According to the 2022 Kyrus patient access journey report, consumers continue to prefer online booking, with over 40% in favor of online booking options and one-third of patients citing it as a factor when considering which practitioner to choose. With these numbers, it's clear that digital transformation will continue to be essential in 2024.
Website User Experience Remains Paramount
We said it last year, and we'll say it again—optimizing your digital front door (aka your website) should be at the top of your list of priorities for 2024. Why? Google wants good digital user experiences, and so do your patients. Google's requirements and your patients' needs are closely aligned, too. Both want to find information quickly, and part and parcel of that is: a) getting your site architecture right and b) making sure that your site includes robust, in-depth content that answers patient questions directly.
Always adhere to the Google mantra for content: E-A-T, or Expertise, Authoritativeness, and Trustworthiness. That means generating original, up-to-date, and highly relevant content. Always be transparent in your content, as well, making sure to disclose how it's created and from where you are sourcing it.  
How can you optimize your website UX? We recently shared our 7 Essential Principles for Optimizing Your Website for Search, which you can use for a deep dive into the topic. The following are just some of the best practices you'll want to adhere to with your website UX:
Keep things organized.

Neither Google nor your patient wants to spend a lot of time searching for what they need. Keep the menus and structure of your site simple and logical.

Keep key content discoverable.

Clicking 4 or 5 times to get to what you want is almost a perfect formula for encouraging a visitor to drop off. Ensure all of your recent and relevant content is discoverable and within easy reach.

Keep your site unique.

You want your site visitors to have a differentiated experience when visiting your site. Consider what distinguishes you from competitors and weave this into messaging, voice, tone, etc.

Keep a site linkable

. If you are generating top-grade content, you've completed step one. You will also want to evaluate links on your pages and undertake link-building campaigns if you haven't already.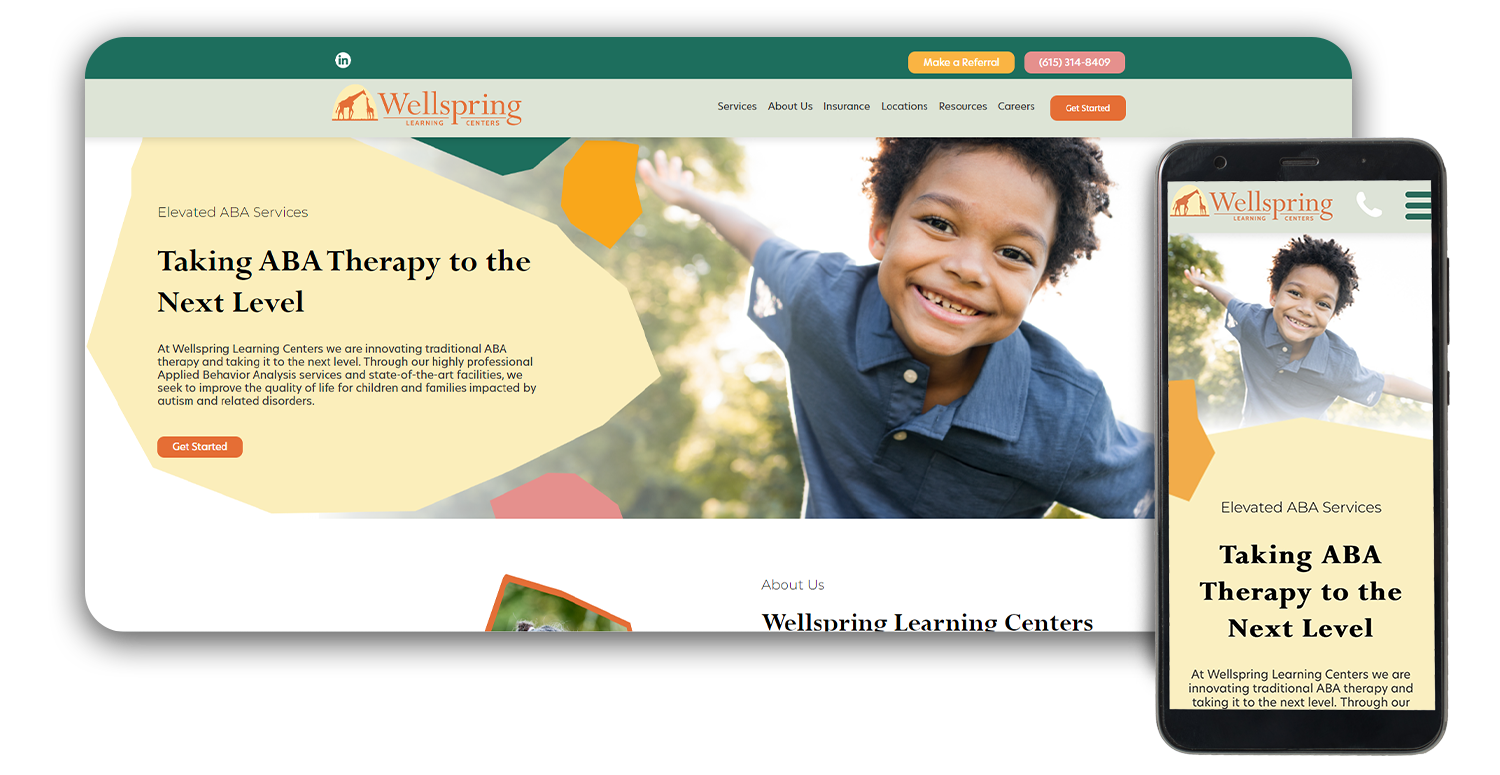 As we pointed out last year, healthcare organizations need to view a website as the digital face of their organization. As 2024 approaches, organizations should recommit to retooling their sites to focus on patient needs.
Remember that your homepage is your digital front door. All messaging and design elements should meet the information needs of patients.  Ensure you communicate things like:
Your location(s)

Your services provided

Insurance accepted

How to book an appointment
Create buyer personas and conduct interviews, using these insights to map patient journeys. 
Unfortunately, there is no way to create a completely customized digital experience for every visitor. What you can do is use data to identify high-volume journeys and optimize your site to ensure they meet patients' complete needs.