The post-pandemic world has brought forth many new changes to the healthcare industry as a whole. Healthcare marketing efforts are evolving rapidly in order to keep up with the current competitive landscape and economic shift. Patient-centric marketing has become the name of the game, so here are three patient acquisition strategies to help you fuel growth in 2023:
1. Master Local SEO
For ages now, we've been telling our healthcare clients that local SEO is an essential component of patient acquisition in the healthcare industry.
Here's why: people tend to search for and visit healthcare providers that are nearby. Your Austin plastic surgery folks are probably looking to get their nose job done in Austin. And your Atlanta people shopping for a LASIK provider probably want to find a laser located in town. In response to this local demand, Google and other search engines are getting very good at stitching together highly relevant local search experiences.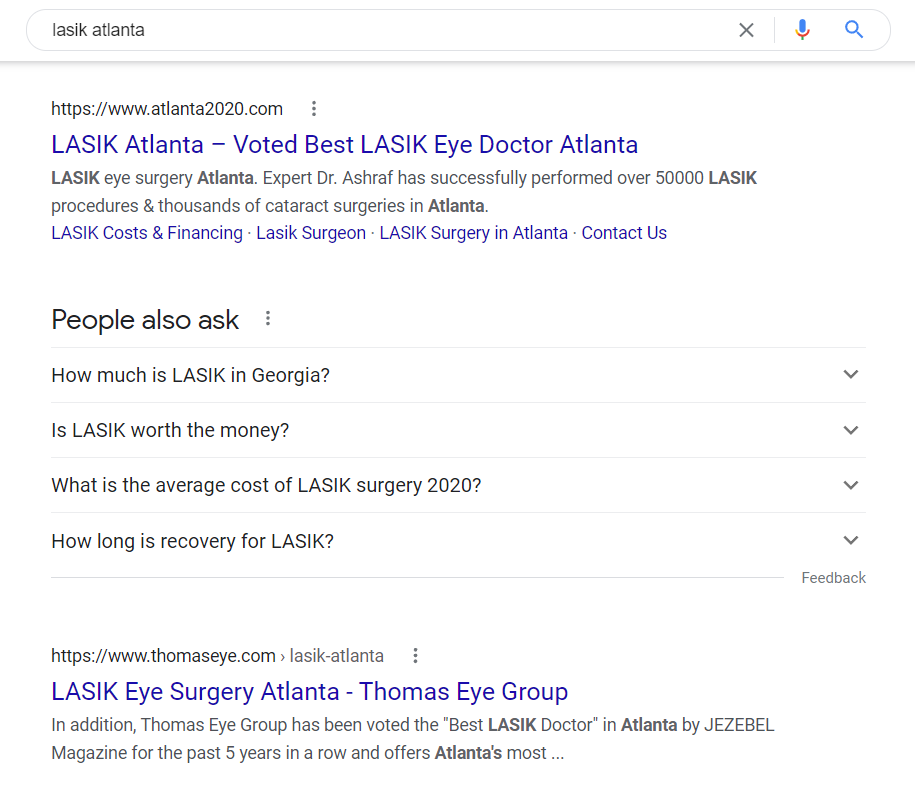 Therefore, if this is your first time developing a formal patient acquisition marketing strategy, start with SEO. While SEO tends to be a long-term investment, once done, it is always yours. In the end, effective SEO will turn into a well-oiled machine and continue to drive new patients long into the future.
How to Optimize for Local SEO
When people search locally, they tend to follow through and show up in person. According to Google, 76% of smartphone users who search for things nearby visit a business within 24 hours. That goes for your prospective patients, too. By optimizing your content, business listings, and overall digital presence for one or more local markets, you can make sure you reach them.
At a high level, your objective is to send lots of signals to Google that you're an active, authoritative, and reputable provider in a given geographic area. While there are a variety of ways to do so, here are a few fundamental parts of a local SEO strategy: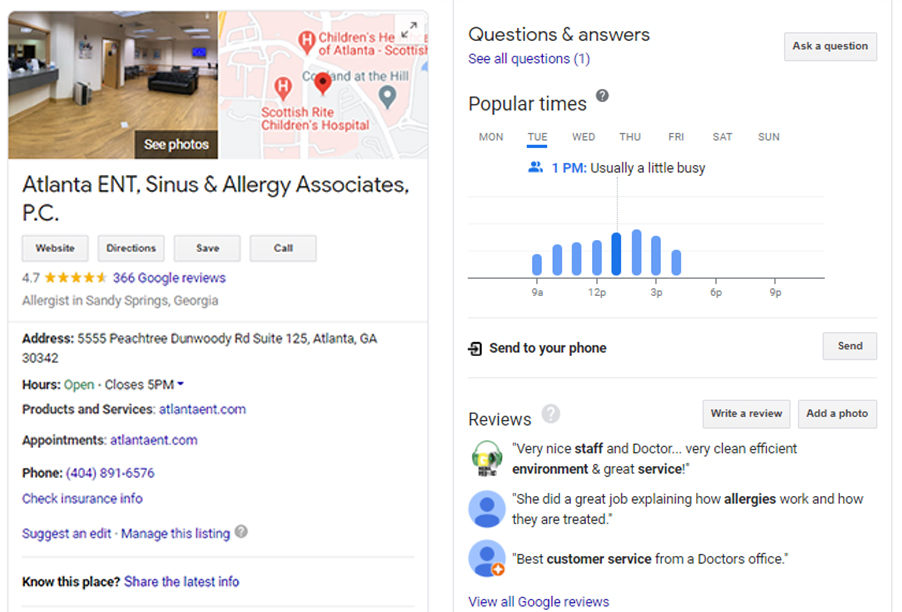 The idea is to cover these bases for each of your locations. By consistently churning out this kind of rich local content, healthcare organizations supply search engines with all kinds of information to surface in all kinds of local search experiences, including:
RELATED: Does your practice have multiple locations? Take a look at How to Boost Local Rankings for Multi-location Medical Groups
2. Boost Search Visibility with PPC Advertising
However, most healthcare businesses cannot wait six to twelve months for a longer-term SEO strategy to start creating bottom-line value. That is why paid search goes hand-in-hand with a mature SEO program to attract new patients.
When configured properly, PPC advertising can begin generating new patient leads as soon as they're launched. Dominating the top half of the SERP, paid search helps healthcare providers gain search share in competitive markets and supports areas where your organic SEO is yet to be built.
For instance, say you want to increase the ranking for a competitive local keyword, but aren't seeing immediate results. With PPC, you can slap an advertisement at the top of that SERP above the organic results while continuing to build your organic rankings.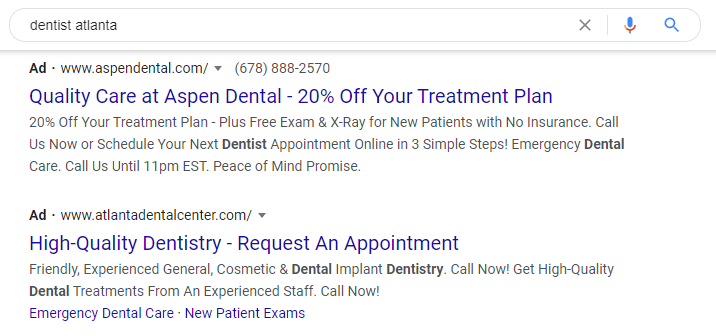 Patient Acquisition with PPC Campaigns
By placing your information at the right time, on the very top of the page, and in front of the right people, you can land a new patient, appointment, booking, and so on as soon as your campaign goes live. However, how do you know if you're doing it right?
The fact is, even advanced marketers often use outdated best practices because of how rapidly Google is developing its technology. Within the past few years, Google's machine learning and AI enhancement, alongside their continued emphasis on consumer experience have drastically changed how PPC works.
Meanwhile, below are a few things to keep in mind:
With machine learning developments, the old, rigid way of optimizing for keywords is becoming less efficient. Today's ad campaigns must connect and engage with audiences by serving up the perfect solution at the right moment, and it goes so much more than throwing web page links into one big ad and straight entering a bidding war.
Broad match is officially gone. Therefore, check your campaign set up to give your new year a fresh start! Many healthcare providers are using over-segmented, inefficient campaign structures which can quickly become costly.
Responsive Search Ads (RSAs) are now the default. By showing patients the most relevant ad copy, RSAs can significantly improve campaign performance and ROIs. While many healthcare providers previously relied on expanded text ads, starting June 30, 2022, responsive search ads will be the only Search ad type allowed in standard search campaigns. So, now is the time to get familiar with RSAs!
Performance Max Campaigns are a new way to buy across channels, including YouTube, Display, Search, Discover, and more. Since it's considered the next-gen solution for local campaigns, it is vital that healthcare providers take full advantage of Performance Max Campaigns to attract local patients.
Therefore, if you're currently leveraging Google Ads for patient acquisition, it's worth conducting an audit before implementing any new strategy. With most healthcare marketers using sophisticated automated bidding strategies to keep CPA down and control ad spending, a comprehensive audit will show you how to optimize what you have and make up for what you're missing when it comes to patient acquisition with PPC campaigns.
RELATED: For more on PPC strategies and best practices for healthcare providers, see 5 Core Pillars of PPC Strategies that Win New Patients.
3. Utilize Paid Social for Patient Acquisition
Social media works. However, when it comes to online patient acquisition, you must pick and choose and spend your budget wisely.
Don't get us wrong. We love social. But we don't recommend investing in social media unless you've established a solid SEO and PPC foundation. Once you've maximized your organic and paid search effort, then it's time to move onto social media, specifically Facebook and Instagram.
The best thing about these social channels is how they provide various ways to listen to and engage with your audience. That's why many healthcare businesses leverage social media as their primary branding platform.
There, they steadily publish a variety of content, including educational videos, Facebook Live, Instagram Reels, video testimonials, and other information to provide value to their audience and create rich engagement. This kind of living, breathing, and growing Facebook presence is a powerful way to increase brand awareness and strengthen brand affinity.
Nonetheless, while your potential patients are indeed on Facebook and Instagram, simply bringing yourself in front of the audience is not enough to generate immediate leads. You must marry performance marketing with branding if you want your social media strategy to drive patient acquisition.
Full-Funnel Facebook Ads Strategy for Healthcare Marketing
Like we've mentioned earlier, paid social has its merit. Compared to long-term SEO, a proper Facebook advertising strategy can deliver results much more quickly, although not as fast as PPC. However, for Facebook ads to work, a full-funnel strategy is a must.
So, what is a full-funnel advertising strategy?
As the name indicates, a full-funnel strategy tailors your campaign messaging according to each stage in your customer journey. It is a comprehensive strategy that covers TOF, MOF, and BOF, from an audience who just started showing interest to those about to convert.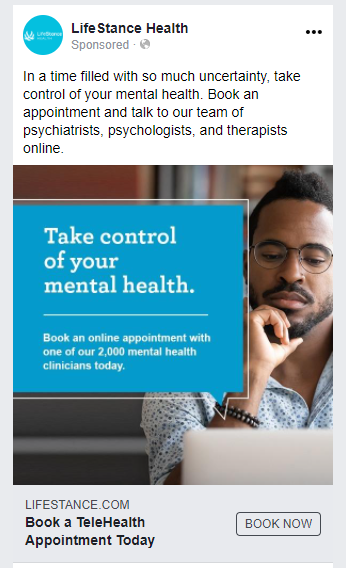 Because a full-funnel strategy walks your target audience through the journey, it can often reduce the overall cost to generate a lead at the bottom of the funnel.
To build a successful full-funnel strategy, pay attention to the following:
Brand Awareness: Leverage campaigns targeting the TOF audience to increase your overall brand awareness. Integrate your paid ads strategy with your organic social media content to attract potential prospects and initiate their patient journey. When costs are cheap, it's a good time to invest in TOF efforts, granted you have maximized your Google Ads performance.
Message Tailoring: It's common sense. You can't use the same message on an awareness stage audience and a conversion stage audience. Tailoring your messaging, which includes your ad copy, creatives, and CTA based on your audience's customer journey stage will significantly increase your CTR and engagement.
Retargeting: A full-funnel strategy walks alongside your future patient, meaning they keep your brand visible in front of them at all decision-making moments. By retargeting website visitors, app users, or people who have engaged with you on social media, you can reinforce engagement the with MOF audience. Because p

rivacy restrictions and data regulations have changed the digital marketing landscape,

you're going to have a lot less information to base your retargeting campaigns on. Nonetheless, you can still gain deep insights by talking to patients, using A/B testing, focusing on contextual advertising, and using call tracking data.
Diversify Ad Types: Today's ad format goes beyond simple photos and videos. As the platform continues to develop, businesses can now incorporate carousels, lead generation forms, unique mobile experiences, even augmented reality!
Make Conversion Easy: Make sure conversion is easy throughout your campaign, whether it's a click to a landing page, a button to follow, or a direct Facebook Experience. Remember, the end goal of your Facebook ads is to increase patient volume.
RELATED: Want to stay connected with your patient throughout their patient's journey? See How to Engage Patients with a Full-Funnel Facebook Ads Strategy
Optimize BOF Campaigns to Cut Costs
While a robust full-funnel strategy is ideal for consistently driving new patients, the current economic climate may bring about budgetary concerns. If your marketing budget is tight, focus on fully optimizing the BOF and cutting ineffective campaigns. Do this by:
Refining Keyword Strategy – Make sure to prioritize high-intent keywords to capture BOF patients actively searching for a solution.
Optimizing Landing Pages – Enhance the user experience with relevant landing pages. These must be informative and answer patients' top questions.
Upping Your Ad Game – Your messaging and ad copy forms the foundation of any Google PPC strategy. Therefore, you must have relevant, quality ad copy with a solid CTA and supportive information to capture those seeking immediate answers.
Re-Evaluating Your Bid Strategy – Since healthcare service providers use Google ad campaigns to capture BOF leads, you should focus bidding on maximizing impression and conversion rate. The most effective solution is combining manual and automatic bidding.
Taking Advantage of Remarketing Campaigns – Google allows users to build remarketing lists for search ads, combining standard and dynamic remarketing. By building a list, you can then serve a specific ad to a list of visitors demonstrating similar behaviors during past interactions.
Measure Performance More Efficiently – Don't neglect your analytics and reporting process. For one, the more clarity you gain from past data, the more effectively you can optimize your campaigns to provide the desired user experience.
Don't Forget that All Roads Lead to Your Website
In the end, your goal is to increase your patient volume. Whether a patient called the number on your PPC ad or made an online appointment, you can guarantee that at some point they've landed on your website, which is why the strategies we've talked about above cannot reach their full potential without a responsive, friendly, and optimized website.
In other words, your website is the centerpiece of your patient acquisition strategy. On one hand, your website is your main communication channel with search engines, allowing you to be seen by the many users seeking a health solution. On the other hand, your website is the digital front desk that will either welcome your future patients with a warm smile or turn them away immediately. Therefore, you want to make sure your website creates a simple, seamless experience for your prospective and existing patients both.
Ask yourself these questions:
Does your site navigation make sense? Can patients easily find what they need?
Are all important, valuable information presented right at the beginning?
Can your site load fast and properly on all devices?
Is the content on your site timely and authoritative?
If you answered no for any of these questions, it's time to create a better web experience for your patients. After all, it is people—not marketing dollars or campaign metrics—that make up for your patient volume. Therefore, let your patients guide your acquisition marketing strategies, whether that means finding an easier online scheduling tool or optimizing for local listings.
In the end, you really want to stay firmly focused on fulfilling your patients' needs, because that's really what you need to drive growth for your healthcare organization.
RELATED: For more best practices on how to improve your patient's digital experience and boost patient acquisition, see 7 Tips for Improving Conversions and Driving More Appointments