Remember when CVS and Aetna announced their merger back in 2017? At the time, it was the latest blockbuster in a series of high-profile healthcare mergers, a trend that has continued into 2021. Cone Health and Sentara. Four hospitals on the south side of Chicago merge. Tenet Healthcare just announced plans to acquire up to 45 ambulatory surgery centers.
The list goes on.
This steady drip of mergers is part of the continued consolidation taking place in the healthcare industry. As to why, some healthcare experts decry new technologies and shifting payment structures forcing consolidation, while others aim to address healthcare inequities by creating a progressive, patient-centered healthcare model. By most estimations, the steady clip of healthcare mergers and acquisitions will continue.
What Healthcare Mergers Mean for Marketing and SEO
Apart from delivering a high standard of care and strong patient experience, the goal of most healthcare mergers and acquisitions is to grow and expand aggressively. One or a handful of locations becomes many, spread out locally, regionally, or in some cases nationally.
These multi-location healthcare groups have to deploy multi-location marketing strategies if they hope to hit the mark. Specifically, as medical practices expand and open new locations, they have to adjust their SEO strategy to remain competitive and keep their appointment books brimming with patients.
A Renewed Focus on Local SEO
The physical location of a healthcare provider is an important consideration for most people—especially when they need immediate care. We told you elsewhere that 7% of all daily searches are related to healthcare. Those daily searches number in the billions, with an increasing number of "near me" searches making up the whole pie.
Local search just cannot be ignored.
Nor can the widespread use of mobile devices among healthcare consumers. Think about it: what's the first thing people do when they need both urgent and non-urgent medical attention? They reach for their smartphones to search Google Maps, find a phone number, or simply call 911.
According to Google, mobile accounts for 84% of "near me" searches. And when people search locally, they tend to show up: 76% of smartphone users who search for things nearby visit a business within 24 hours. It's convenient, and you can often search for, find, and call or contact a healthcare provider in one fell swoop.

Yet, optimizing a multi-location healthcare network's digital entities for these local search experiences is different than, say, a broader SEO strategy. Above most else, this means optimizing site content so it appears in Map Pack/Google Maps—for all of your physical locations. Here are four foundational ways to make sure each location ranks for relevant local searches.
1. Create a Unique Page for Each Location
It might be a fundamental step, but creating unique website pages for each location ought to be a bare minimum requirement for healthcare organizations. What it comes down to, really, is getting patients to the content most relevant to their location in as few clicks as possible. Search engines provide this vehicle, but getting your Greensboro location to rank well for local Greensboro health-related searches means building a unique page for your Greensboro office.
The trick is to create these pages for each location, packing each one with rich, location-specific information that both search engines and people can use. When building these location pages:
Give each location a distinct URL, one that includes the city, state, or some other location identifier in the slug. Make sure your URL is readable by both humans and search engines. Don't forget to update your page title as well, and include your city, region, and state there.
Use at least 500 words of copy, including organized headers, body copy, bulleted lists, and other details. Highlight the specific medical services offered at this location. On the back end, you should be implementing a location schema.
Include keywords relevant to your location. If your office is located on Peach Street in Atlanta, Georgia, near one of the best breakfast joints in town, you already have all kinds of location-specific keyword combinations to include.
Make your user experience (UX) a priority. Consider including an embedded map of your location. As well as a "Get Directions" button. Don't make them hunt for a phone number either, or only provide a corporate number. Add the phone number for that location, and include a "Click to Call" button to improve the mobile UX. Finally, make sure there is a link for scheduling appointments.
Showcase providers at each of your locations, including name, photo, and links to their dedicated bio pages. Video messages can also help enliven your location page and get visitors more engaged. Learn how video can help you bring your website to life.
Develop a template that can be used for all locations that covers the aforementioned points. This makes it easier to roll out pages for new locations as part of mergers, acquisitions, or expansion.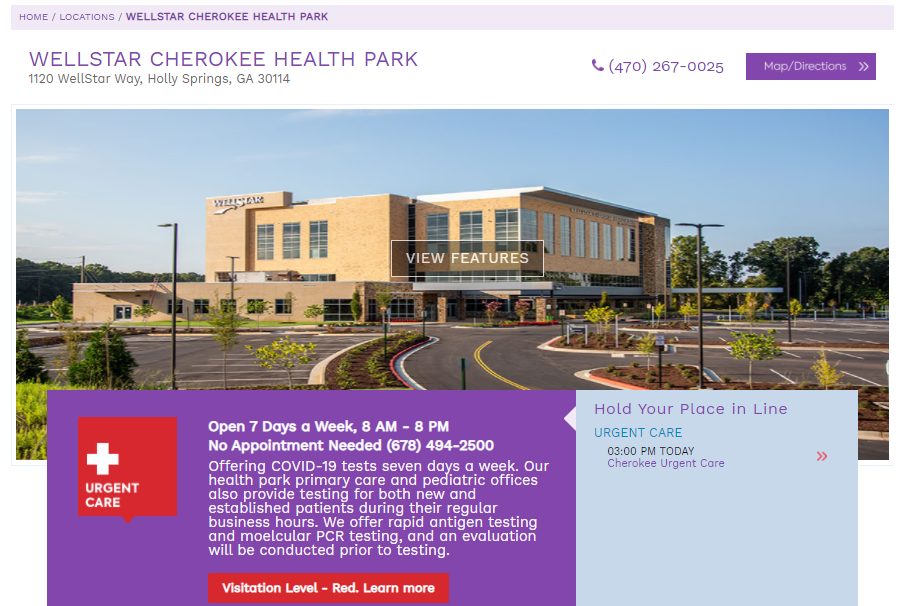 Creating a location page template can make it easier to launch new locations as you expand.
2. Optimize Your Google My Business Listing (For Each Location!)
A common mistake we see is healthcare organizations failing to create dedicated Google My Business (GMB) pages for each of their locations. Either they have one GMB listing for the entire brand (usually their headquarters or first location), or they don't have GMB set up at all. This is a missed opportunity.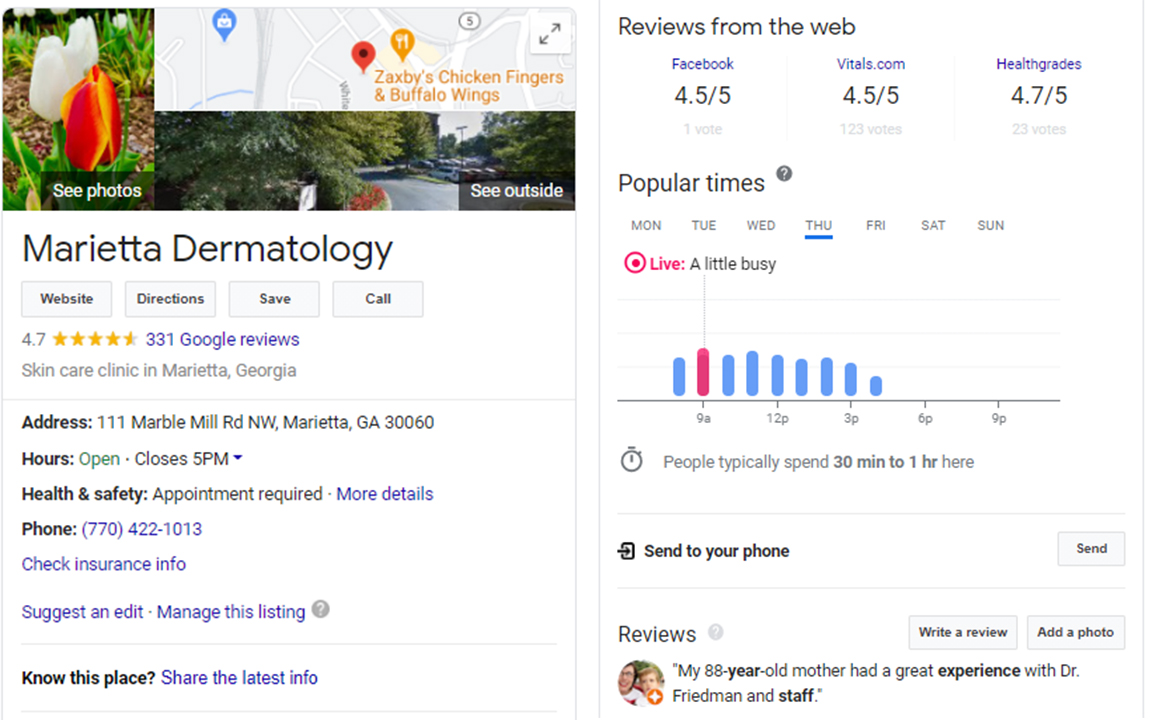 In How to Get More Patients with Local SEO, we call it "bringing your GMB listing to life." Too often, we see flat GMB listings that are incomplete, inaccurate, completely out of date. It's a poor experience for the patients that are looking for up-to-date information about your locations. And it sends an awfully weak signal to Google, which tends to elevate complete, regularly-updated GMB listings.
Getting your GMB listings set up, replete with a verified address, relevant service categories, details about your business, and photographs is step one. Be as thorough as possible—the GMB interface provides cues as to areas of your listing that need attention.
Step two is to regularly update the more dynamic content features that are part of GMB listings. Think about posting photos and video content to your GMB pages on a weekly or monthly basis, as well as info around new offers, specials, or promotions. Enrich your listing by answering user questions, posting virtual video tours, and sharing the latest COVID-19 information. Oh, and make sure to stay on top of your Google Reviews!
For more, see How to Optimize Your Google My Business Listing in 2020.
3. Build Local Links
The importance of links to rankings can't be overstated, and link building can make a tremendous impact for multi-location medical practices. Search engines use links to crawl the web and to understand the relationship between websites. A high volume of quality links back to your relevant location-specific web pages from authoritative sites sends a strong message to the Google algorithm that your website is credible and useful. However, when developing a link building strategy for local search, there are some nuances that you need to be aware of. What's required is a sustained effort over time to secure all of the following types of local links:
Citations are business listings placed in online directories that include your location's name, address, and phone number. Besides GMB, Bing Maps, Yelp, and Facebook, there's a plethora of healthcare-focused citations, such as ZocDoc, Vitals, and those run by specific healthcare groups (Sharp, Northwestern Medical, and so on). It's very important to manage all citations and keep them accurate and up to date. Remember: each location needs its own citation. And attention to detail is critical! Make sure, for example, that your company name, address, and other information are exactly the same across all citations.
Local directories offer a free and easy way to post NAP info for multiple locations and earn valuable backlinks in the process. It's the same concept as citations, only with a more local focus (and different ways of getting the actual listings placed). For example, a Google search for "local healthcare directory san diego" reveals a directory for the VA San Diego Healthcare System, ​​​​​​Medi-Cal Managed Care Health Plan Directory, and the Community Healthcare Group.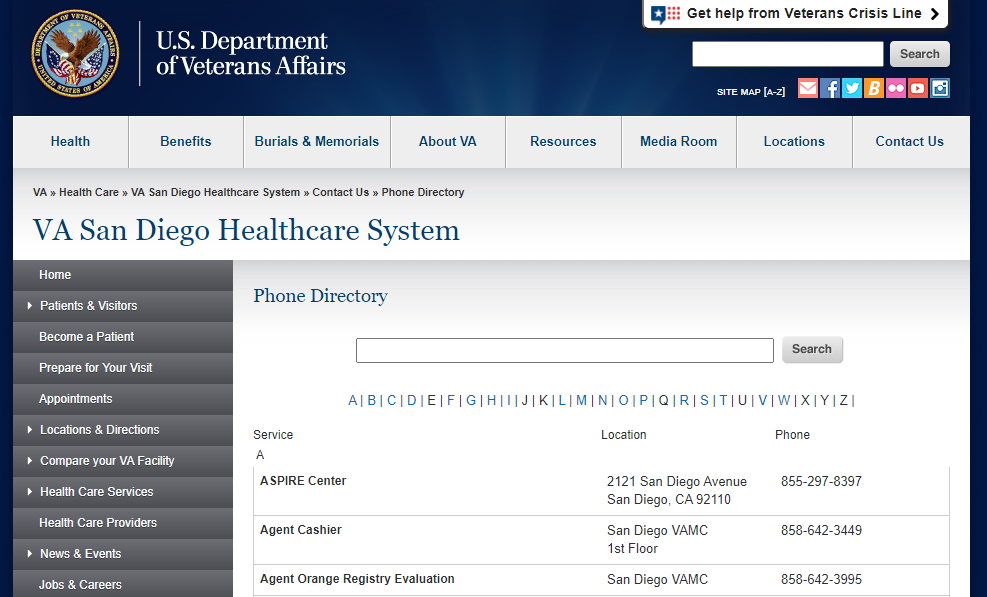 Local industry-related websites can provide another avenue to place content and fetch backlinks. Which sites are talking about and sharing content about, say, parenting and pediatric care in Atlanta? Or aesthetics and plastic surgery throughout the Chicagoland area? Placing content on these sites is good for the brand, good for business, and very good for SEO.
Local publications and media often feature content for the local healthcare industry and sometimes provide listings. The San Diego Union-Tribune, for example, publishes an extensive eldercare directory. In fact, your local papers are a great place to start for listings, paid features, and other backlink opportunities.
For more, see Easy Link Building Strategies for Healthcare Marketers.
4. Solicit Positive Reviews
Given people's proclivity toward fast, local, and convenient healthcare experiences powered by digital, it's no wonder that reviews play such a prominent role in the patient journey. Reading reviews is step one for most people seeking out a healthcare provider: in fact, almost 60% of patients have chosen a doctor based on positive reviews they read online. According to the same study, more than 60% of patients have avoided a doctor due to their negative reviews.
As such, you need to build your digital reputation at each of your locations. If you have separate listings for your Atlanta, San Diego, and Chicago locations, you'll want to generate reviews at each of those locations, too. That means soliciting and managing reviews for as many of the following listings (for each of your listings):
Google My Business
Yelp
Health Grades
ZocDoc
GradeMDs
BetterDoctor
DocSpot
CareDash
Vitals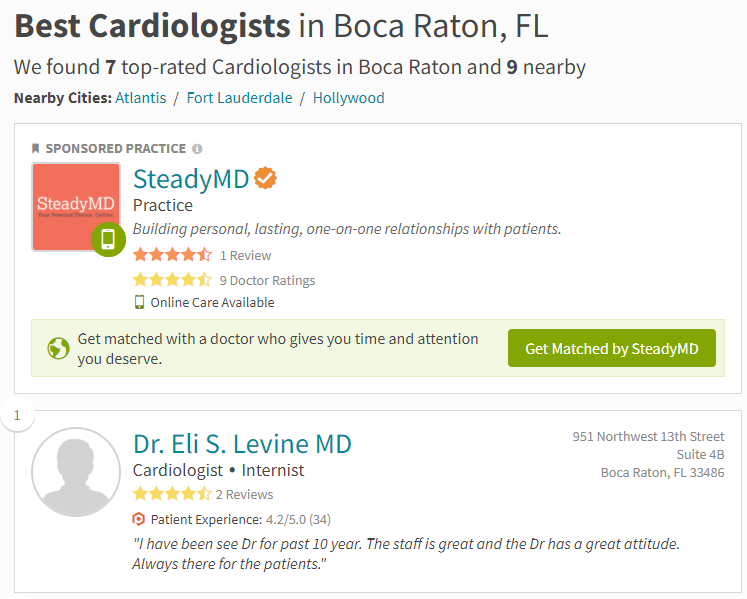 The mistake that many organizations make is front-loading all of their reviews when they first open the doors, then failing to consistently secure additional reviews over time. Instead, build a reputation management program to solicit and manage reviews. Here are a few tips on how to formalize a practice-wide process for regularly soliciting reviews at each of your locations:
Identify points of the patient journey where you can ask patients for reviews or testimonials.
Normalize the act of asking for reviews by training staff and providing them email and phone scripts.
Automate the process by investing in review management software that automatically solicits reviews via email, SMS, or even snail mail.
How You'll Know Your Local SEO Strategy is Working
When you follow the best practices we've laid out here for each of your locations, you'll notice a few things start happening:
Traffic from local listings, citations, and websites will increase as you gain local SEO traction (all of which can be tracked using web analytics software).
The reviews will start coming in more consistently, giving you a great way to take the pulse on patient sentiment and respond to any issues directly.
Conversions will increase too, including click to call, new appointments, get directions, and other hard metrics trackable through listings like GMB, Yelp, and Bing Maps.
Finally, you'll create a local SEO powerhouse for each location, outranking local competition and connecting with the communities you serve. It's a benefit that not only bodes well for your broader SEO strategy but the health and visibility of your brand overall.