As a rule of thumb, most reputable SEO agencies say six months. It will take at least six months for your SEO strategy to begin delivering significant results. But what does that actually mean? And what exactly is happening in the interim? As a paying client, you deserve to see what's going on and how success is being measured.
Six months is a long time to wait, after all. Especially if you wait all that time only to find out that your SEO agency hasn't been doing much beyond cashing your checks. That's why we provide comprehensive SEO roadmaps to all of our clients. These roadmaps outline exactly what you can expect at specific times and how those activities support your goals.
As someone who works directly on SEO roadmaps for our clients, let me tell you exactly how we do it. At the end of this blog post, you'll find a complimentary template for download.
First, Understand the Value of an SEO Roadmap
A comprehensive SEO roadmap will bring your team clarity in three important areas:
Transparency
You'll have a clear timeline with specific expectations around:
What the goals are
How we plan to achieve them
How we will measure success
When we plan to send over each deliverable
That last point is an important one. Throughout longer-term SEO projects, it can feel like "you have nothing to show for it." No tangible deliverables. In reality, tangible deliverables should be part of a comprehensive SEO strategy—at least any serious one.
Audit integration
As you'll see when you dig into our step-by-step process for road mapping, the audit is a centerpiece. And your roadmap will show you exactly how we'll address the gaps and opportunities we identified during your comprehensive site audit.
Diversified strategy
It's easy to give an agency money and watch them disappear for months, without really knowing what they're up to. Unfortunately, this happens more often than it should. A roadmap will detail the strategy behind the budget. It will cover all aspects of SEO, such as content, backlinks, technical health (crawlability and indexability), competitor strategy, and keyword strategy.
What Each SEO Roadmap Includes
I find that it's best to break things down with great specificity. This leaves little doubt as to what we're up to and gives you a formalized reference to look back at throughout the engagement. That said, our own SEO roadmaps comprise four main ingredients:
Objective: Specifies a general SEO objective–usually a ranking factor—that we want to improve in order to build organic search visibility.
Tactic: Details the exact approach/process we plan to implement in order to achieve our goal.
Measurement: Identifies the specific metrics we aim to improve as we build organic search presence (organic click-through rate, for example, or backlinks).
Target keyword(s): The specific keyword(s) we hope to have the site rank for.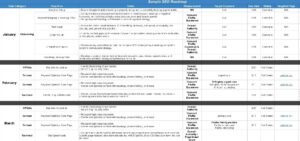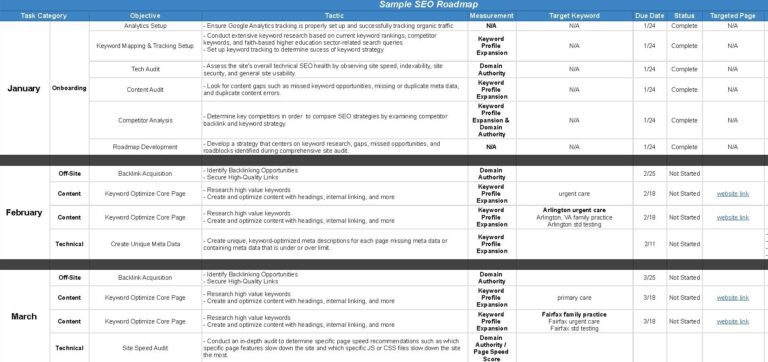 How Roadmaps Contribute to SEO Success
By creating a deliverable roadmap that directly corresponds to the gaps and opportunities identified in our audits, we ensure that we're focusing on the lowest-hanging fruit first. This is critical because the "easy wins" typically involve the implementation of SEO fundamentals (good for your long-term marketing health) and tend to generate tangible results (good for project confidence and momentum).
Roadmaps also ensure that we create a well-rounded strategy that we can easily measure with KPIs. Most clients in healthcare, for example, want their SEO strategies to create conversions and revenue. For these clients, we keep close tabs on conversions from organic traffic, as well as organic revenue. Other KPIs we might look at include:
Branded vs. non-branded traffic
Keyword rankings
Backlinks
Bounce rate and average time on page
Google Maps Pack performance
For a more detailed look at SEO metrics, see 10 Important SEO Metrics You Need to Monitor.
Finally, roadmaps set a good foundation for future strategy development. They ensure our strategy is organized and that we are optimizing in order of priority and page hierarchy. Typically, they help us target the pages that will have the highest impact first. Moving forward, we have a formalized starting point from which to inform and evolve the longer-term SEO play.
Our SEO Roadmap Process
There's a lot that goes into building a proper SEO roadmap. Generic templates will not cut it. Instead, we begin with an honest conversation, as well as thorough audits of existing systems, processes, and strategies. Generally, our process breaks down as follows:
1. Discuss primary goals and KPIs
Rather than tell you what your strategy has to be, we start by asking about your goals. Tell us what you'd like to achieve with your SEO program. Share the KPIs you have in mind and why they're important (getting executive buy-in? Determining ROI?). Often, this "discovery" phase takes place during our initial interactions.
2. Conduct an in-depth site audit
Before executing strategy and tactics, we need baselines. We need to understand which SEO strategies you've already deployed and how they're performing. What's working? What's missing? And what is the competition doing? Our comprehensive site audits include:
Technical health assessment
Content strategy and gaps
Competitor strategy and gaps
Local SEO assessment
Keyword strategy and gaps
Site usability assessments
3. Determine high-priority action items
These are the gaps that need to be filled immediately in order to stop harm to your site, digital health, and brand. This could be things like duplicate thin content, toxic backlinks, or even security vulnerabilities. Essentially, we're looking for red flags that must be addressed before moving forward.
4. Find the low-hanging fruit
Here, we identify the action items that have the most potential for creating the highest SEO impact in the near term. For instance, we recently put together an SEO roadmap for a multi-location healthcare group. Our audit revealed four "low-hanging fruit":
Low-effort page speed improvements
On-page optimizations for low-competition keywords
Mobile optimization
Duplicate or dated content
Compared to some of our longer-term tactics, these required a lot less effort to resolve. And they translated into tangible near-term gains.
5. Determine which pages need to be optimized first
If only it were as simple as optimizing for a handful of core website pages. In reality, most organizations have multi-layered site architecture, including dozens of child pages and, in some cases, hundreds of blog posts. As part of our roadmap, we use a combination of keyword potential (that is, monthly search volume) and site hierarchy to determine which pages need to be optimized first.
We'll also look at the top ten to twenty pages in terms of organic traffic and conversions. If we know that a lot of eyes are on a subset of pages, we make sure those pages are optimized against search intent, conversion rate, and SEO best practices.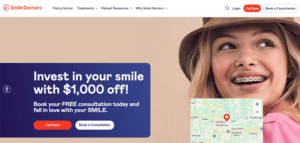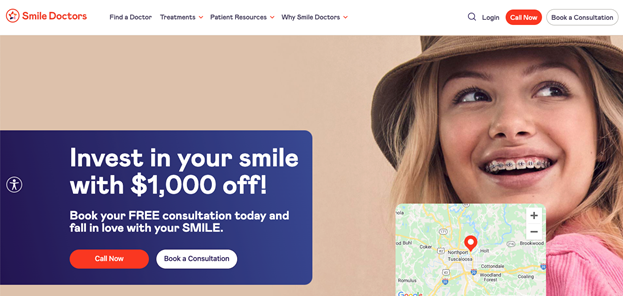 6. Agree on objectives, KPIs, and deliverables
There are the KPIs we all want to optimize against, and there are those with the strongest business case. Between the discovery phase and the findings of our site audits, we'll identify the most viable near-term and longer-term KPIs worth tracking. We'll also take inventory of the near- and long-term deliverables needed to support our SEO strategy (web pages, marketing content, etc.).
The Antidote for Pie-In-the-Sky SEO Strategies
If there are two things I can't stand, it's half-baked strategies and half promises. In my experience, the best antidote for bad SEO strategy is transparency and accountability. This is exactly what an SEO roadmap is all about: laying it all on the table for every single stakeholder to see. A formalized and comprehensive asset that, by its very existence, demands accountability of your SEO agency.
Don't take my word for it: download the exact template we use with our own clients. Even a cursory pass through each step will tell you a lot about where your SEO is now and where it needs to be. It might reveal a thing or two about your agency, too.
Just sayin'.