Healthcare marketers don't have a choice: monitoring performance metrics is crucial to success. The numbers matter! What marketers sometimes forget is that there's also a person behind the metrics they care about most. Real people. Current and future patients. What those patients want, need, feel, get frustrated about—their surprises, disappointments, and desired outcomes—comprises a more qualitative aspect of healthcare marketing called patient insights.
On top of the insights that most marketers already use to optimize, reorganize, or rethink campaigns, patient insights can help them develop better marketing campaigns by taking a step back. By asking, "do I really know what my patients want?" It's an ongoing effort that can directly inform changes to marketing strategies.
Why You Need to Talk To Patients
It seems counterintuitive, but a lot of healthcare practices are hesitant to talk to their patients. They don't want to bother them, hurt the relationship, or risk violating privacy standards. Worse, some practices think they already know everything. In these cases, ego gets in the way of an honest conversation about blind spots in the patient experience.
Under the right circumstances, however, most patients want to be forthcoming about their feedback, whether positive or negative. In some cases, they've already made their voices heard on reviews sites or social media. The question is, are you providing the right opportunities for patients to share their feelings? More importantly, are you listening?
Utilize Patient Journey Mapping
Where can you get some of the most profound insights into your patients? From the patient journey. For this reason, providers need to deeply understand each step of that journey. More importantly, this needs to be the first step for any new DSO/MSO or new startup.
Make mapping the patient journey a routine exercise and a regular part of your endeavors. This ongoing evaluation is necessary to ensure that you meet your patients' needs. 
What can you get out of committing to patient journey mapping? A lot, in fact. Mapping the patient journey can help you:
Refine your USP and, as an extension of that, your messaging and creative

Develop and enhance your media mix

Create relevant and compelling offerings

Improve patient UX by identifying hurdles earlier

Measure gaps between a patient's i

ntended

experience and the actual experience

Identify and resolve common pain points for your patient

Guide investments, including new services and technology 
As Rich Briddock, SVP of Strategy and Analytics at Cardinal puts it, "Unless you know what a patient needs, you can't provide a solution to meet that need." It's as simple as that.
How to Map the Patient Journey
What is the most effective way to map the patient journey? By looking at the big picture and not the parts. With patient journey mapping, you need to examine the full funnel, selling the category, selling the brand, and then selling the "right now" need at the bottom of the funnel.
A great way to do this is by asking yourself some key questions that help you better understand your ideal patient. Why would a patient be interested in:
Why would a patient be interested in the overarching category (e.g. "therapy")?

How do you even get them to care about the category?  

 What is the value prop of the category?

Knowing that, what differentiates your brand?

Finally, what are the motivators that would make a patient take action TODAY?
With these answers in hand, make sure above all else that you have a strong USP. Identifying that will shape your messaging and inform how to compel patients to take action.
Remember, patient journey mapping is a continuous process. The true value is dependent upon maintaining the map as you continue to gather insights and refine processes, so maintain your focus and momentum.
Where to Look for Patient Insights
To find patient insights, take your reporting and analytics hat off for a moment. Don't overthink it because getting patient insights doesn't have to be some complicated marketing operation. Again, most people appreciate being informally asked their thoughts and ideas. A conversation with a physician, for example.
Of course, make sure you always follow HIPAA regulations and, where necessary, keep all patient information confidential and secure. With that in mind:
Review Existing Channels to See What People Are Saying
Start by digging into your patient feedback forms (assuming you use them). Pay special attention to negative sentiment, both in how patients rate your services, as well as what they write when asked to elaborate. The same goes for your reviews on social media, Google Business profile, and healthcare review sites. What are people saying, especially those who have left negative ratings?
Call logs from your customer service center can be another good source of customer voice, feedback, and sentiment. Even a cursory review of social media comments, posts on your channels, or where your brand is tagged can be revealing. Across the board, you're looking for common threads, trends, and other insights that might inform improvements to both your patient experience and related marketing campaigns.
You should also go where your patients are across social media, scanning channels such as Facebook Groups, forums or discussion boards on Reddit, and TikTok, to name just a few. Leverage social insight tools and listening tools to monitor brand mentions or specific keyword mentions. 
For example, you can join a support group for people going through specific treatments or procedures, such as LASIK, and observe patient interactions to figure out their thoughts, opinions, concerns, and experiences. One big bonus? You can also see what kind of language patients are using, then use that language to ensure your messaging can be more tailored to them.
"Facebook groups are still a fantastic place to find information, across all ages. I'm part of some of these eyecare groups. It's a great place to find what the pain points are, what your patients are looking for, what needs they have, and so then you can create content off of that as well." – Michele Hart // Director of Marketing and Communications at BostonSight
Conduct Patient Interviews
While the line from patient interviews to healthcare marketing campaigns isn't always direct, the former can inform the latter. Patient interviews are your opportunity to hear directly from patients, ask productive questions, and make sure nothing slips through the cracks. In some cases, this is the only forum in which patients feel totally comfortable sharing their thoughts.
To conduct better patient interviews, we like three call-outs in particular from EMS World's tips for conducting patient interviews:
Ditch the script

and rely more on open-ended questions. This leads to a more natural, conversational flow.

Slow it down

and give patients time to respond to questions one at a time. Few people feel very thoughtful when they're feeling rushed.

Avoid "doctor speak"

and medical jargon, so patients feel comfortable using their own words. Again, patients should feel like they're in an open and supportive environment.
Bonus: hearing the actual words and terminology that patients use to describe their medical needs can help inform your keyword strategy.
Diversify Your Patient Outreach
Next, take your patient surveys and interviews a step further. Most practices have three distinct opportunities to expand patient outreach:
Talk to your long-term patients

. For example, "Thanks for your support and loyalty. How can we continue to deliver the best possible care for you moving forward?"

Reach out to patients who are leaving

or already have. For example, "We're so sorry to see you go. Do you mind telling us what we could have done better?"

Survey your new patients

. For example, "How did you find our practice, and why did you choose us?"
The idea here is to get an idea of the needs, concerns, and feedback that patients have at critical points in their journey. We're guessing that most healthcare marketing campaigns are closely tied to these points in the journey—at least they should be.

How to Use Patient Insights in Marketing
There's a variety of applications for patient insights. Physicians and healthcare professionals themselves often use patient insights to guide treatment plans, clinical trials, and other aspects of medicine. For healthcare marketers with access to patient insights, here are some ideas for putting them to use toward improving your healthcare marketing strategy.
Refine Your Positioning & Messaging
Patient insights can shed light on what makes you different as a healthcare brand. What's your unique selling proposition (USP)? What makes you different from the next provider in your field? And why should someone choose you? Often, your patients will help to answer these questions for you.
For example, we've seen the surprise when healthcare marketers find that their brand has a reputation for subpar customer service. They've always assumed otherwise. Elsewhere, we've seen rural hospitals or regional groups struggle to change a perceived lack of advanced technology and services. Others haven't been able to identify why they're losing business to a competitor across town.
Insights like these can be a turning point for healthcare brands struggling to find or refine their positioning and messaging. There's valuable information in the nuances that matter to real patients. The trick is to invest the time and effort needed to find it. For the brands that do bake these patient insights into their brand positioning, their campaigns are far more effective at engaging prospective patients.
Breathe New Life Into Your Ad Creative
Based on these patient insights, your ad creative might be next in line for an update. Use patient insights to inform design, theme, and copy updates that resonate better with actual patient needs. Use imagery and video that evokes feelings that appeal to their motivations and goals or alleviate any fears and make them feel confident in their choice.
For example:
Before/after photos

Patient testimonials

Provider interviews

Procedure/surgery overviews
A plastic surgery group, for example, might find that a fear of "going under the knife" is their patients' top objection to a specific procedure—not price, as they previously assumed. The marketing team might use this information to create messaging, testimonials, and other ad creative that directly addresses—and disarms—these fears. If the marketing team can target these ads to the stage in the funnel where patients feel this fear most, all the better.
Attend to Your Patient Experience
If your digital reputation is suffering or not quite on par with competitors, look to see if you're missing key patient requirements. Do you know what really matters to your patients? What do they expect when they go into the office? When you deliver exceptional patient experiences, you'll generate more positive reviews naturally—people will be eager to share with their friends and family. Word-of-mouth recommendations will increase, too.
Patient experiences and patient reviews are closely intertwined.
A dentist might look into its negative reviews, for example, and find that many customers are confused about insurance. They can't get their questions answered by the website! A multi-location healthcare organization might find that customers are having trouble finding the right phone number to call to make appointments. They're constantly put on hold or transferred! Both of these flashpoints in the patient experience can be addressed by specific marketing activities—the important thing is to know that they exist.
How Analytics Tools Can Provide Insight Into Patient Behavior
Finally, consider leveraging analytics tools that can provide yet another layer to your efforts. These tools can help you observe and analyze patient behaviors to glean insights. 
One tool we find useful is Liine, an AI-powered call recording and automation platform designed for growth-focused healthcare practices. At Cardinal, our team uses this call analytics tool with a number of our clients to track not only the number of online booking submissions for each location but also:
The number of bookings driven by each channel (so we can see how patients are finding their practice)

The type of phone calls (so we can see the exact reason patients/potential patients are calling in), and 

The reason new call leads didn't book an appointment (so we can understand the problem areas & adjust based on specific barriers)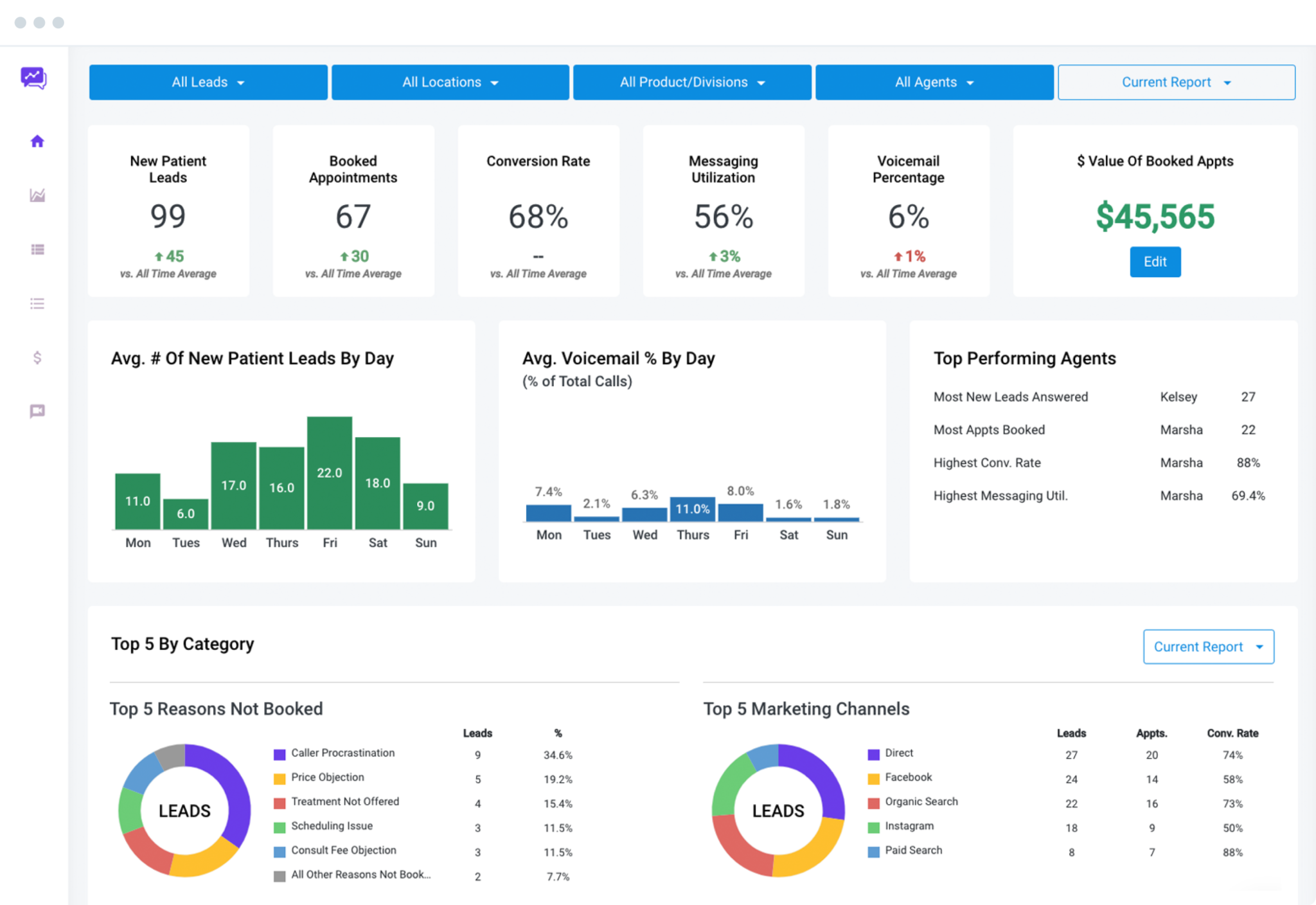 Checking metrics like bounce rates and using GA user flow maps are also great resources to see where people are dropping off and how they are navigating the site.
Another great option? SEO analytics tools. Our team uses SEMrush for keyword research but we also use Also Asked to gain insight into search behavior for topic clusters. If a patient searches for a specific term— say, "cardiologist" — we can see a map of potential next questions that can then help us figure out how to determine valuable topics.
Tune In Before Smoke Becomes Fire
Healthcare brands that fail to invest time in patient insights often overlook critical faults in the patient experience. More often than not, these fault lines aren't acute enough to jump out at a person—at least not without closer scrutiny. Over time, however, these issues can persist and become an undesired part of a brand's visible digital reputation.
"They have poor customer service."
"I can never get an appointment."
"Their bedside manner is rude. It feels like they don't listen to me."
The list goes on. And in that regard, it really is a relationship. It's up to healthcare professionals to nurture this relationship—listen and look for the signs that something is wrong. Usually, this requires nothing more than organizational buy-in for the value of patient insights. That and taking the time to talk to patients and hear them out.