Women are far more likely to be proactive about maintaining their oral health, according to a 2011 article published in the Journal of Periodontology.
This falls in line with what the Centers for Disease Control and Prevention has long realized, that women are better than men about seeing their physician for routine checkups, and are more likely to schedule a doctor visit if they are sick or injured.
And while we all should commend women for their proactive healthcare, we should equally be concerned that men aren't as likely to follow suit.
As healthcare professionals, certainly the notion that one half of the population doesn't take their oral hygiene as seriously as they should istroubling.
But as a business owner, that same statistic should be both alarming and inspiring. Think of it this way: nearly 50% of your target market isn't wholly committed to the service you offer.
That type of market data is exactly what business owners use to develop marketing strategies to build their patient base.
And that's exactly what we're going to dive into today: How to market your practice to men, so that they become more invested in their oral care.
Understanding the mindset of your patient
When developing a marketing strategy, at the core of your campaigns are the people. If you don't know who you're marketing to, your campaigns will never catch flight.
All too often we find our clients say that they want to market to everyone. True, as a dentist, your services are marketable to virtually everyone. However, when creating marketing campaigns, you want to create a more focused purpose.
In this example, we're fortunate to know who we're trying to target: men. While we'd normally recommend you tailor your target market to an even smaller sampling, let's continue with the focus of men as the audience of our campaign.
Now that we know who we're targeting, we need to ask yourselves: do we really know who we're targeting? In other words, do we know the mindset of these men? More specifically, do we know why they tend to be less invested in their oral care than women?
There are studies online and in journals and magazines that might give you some insight into this. But we also suggest you conduct formal and informal surveys of your male patients.
A formal survey could be in the form of a Surveymonkey survey you email to your patients, while informal surveys could be simple conversations you have with your patients during an exam.
Ask your male patients how well they rate their commitment to oral care; then ask them why they think they're less committed than women.
Their responses could be far more valuable than what you find online, because they represent your target, local, audience.
Connect with your target audience
Let's assume that after some market research (both online as well as with your current patients) you conclude that the top three reasons why men are less prone to be proactive about their oral care than women are:
They don't see the need to see a dentist unless there's an issue or they experience pain
They don't want to spend the money for visits (and they're not impressed with the coverage their insurance gives them)
They prefer not to take time off from work to fit in an appointment
Note: These are completely random responses and are not based on any type of formal market research. However, assuming that they are, what you've compiled is some pretty valuable input to help focus your campaigns.
One of the goals of marketing is to deliver the right message, to the right people, at the right time. You have the right people – men – and thanks to your survey results, you have the right message, or at least, you have the foundation of the right message.
Your content can, and likely should, discuss (in order of the bullet points listed above):
Why and how it's important to see a dentist as a preventative measure. For men, often times it's good to talk about the cost of not caring for our teeth. Plus, discuss the how dental care equals overall healthcare.
Create content that shows men how they can save money and use their insurance coverage to their benefit when seeing the dentist. Most folks (men or women) fully understand the intricacies of insurance and dental care.
Advertise your schedule so men realize that they have greater flexibility in when they can schedule appointments.
With all that, now it's time to tailor your message and determine where to deliver that message.
Your initial assumption would be to try to target men and encourage them to make an appointment. That assumption is logical, and has merit. We think you should target men directly, but in a moment we'll tell you why that's not your only (or even best) option.
Nonetheless, let's assume you appropriate some money toward targeting men directly. How can you reach these men?
Well, for starters, you could and should reach your existing patients. We'll assume you have the email addresses of each of your patients. If not, that's a good piece of information to have. Not only does that allow you to shoot out email reminders for upcoming appointments, but it also allows you to create targeted ads to your patients.
To do this, you'll create a custom audience using a customer file in your Facebook account: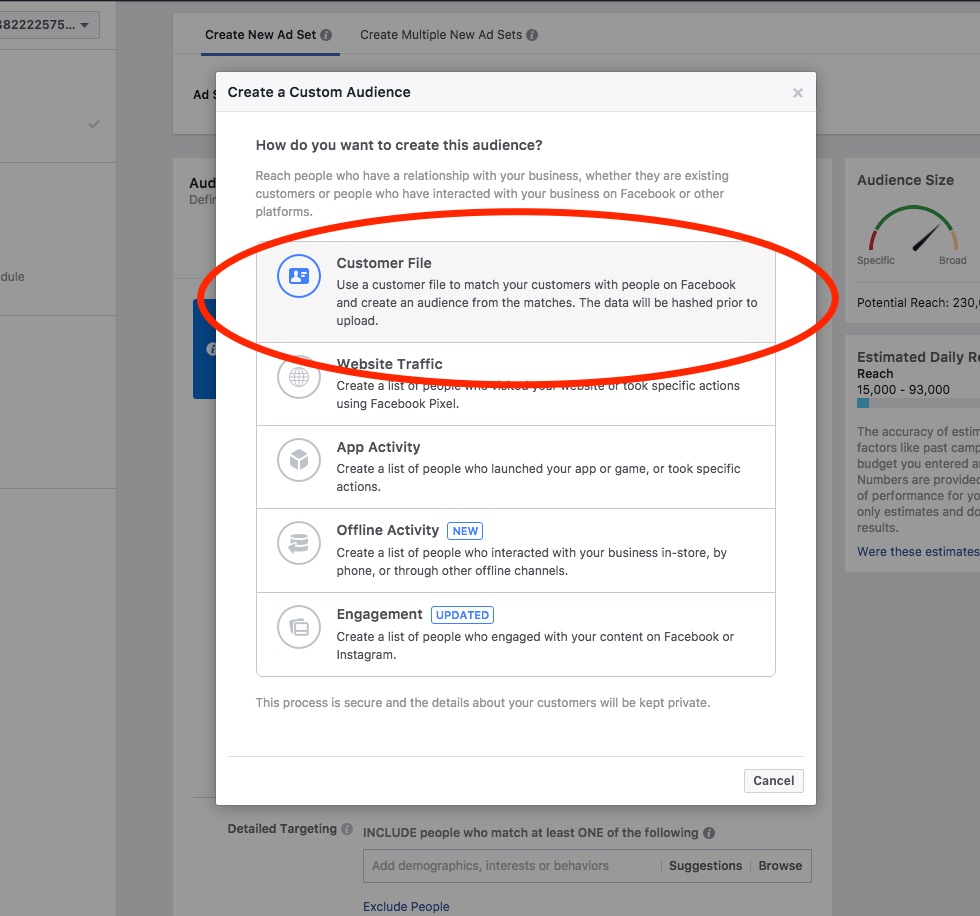 It's incredibly easy to do. You'll upload a file of your male contacts, and name that audience something like "Current Male Patients."
That way, you can create ads highly targeted at your current male patients, without worrying about your message reaching anyone else.
This highly targeted approach does mean you'll reach fewer people; however, it also means you'll reach a motivated audience who is far more likely to act based on your ads.
So, what of your ads? What would you share with this select group of current patients? In the end, that's up to you. But remember, you already know these patients; they know you. There's no need to go overboard with sales pitches or marketing messaging.
Connect with these men on a personal level. An ad that says something like this could work:

"Seeing your dentist two times a year could reduce your risk of a heart attack. When's the last time you let me clean your teeth?"
Then, use a photograph of you or your staff. This type of message gets your point across, humanizes it with some humor or light language, and then personalizes it with a picture of you and your staff.
Reaching out to newer audiences
Using Facebook, you can also target ads at men in your specific location. Take, for example, a dentist in our hometown of Atlanta. They could create an audience based on the following criteria: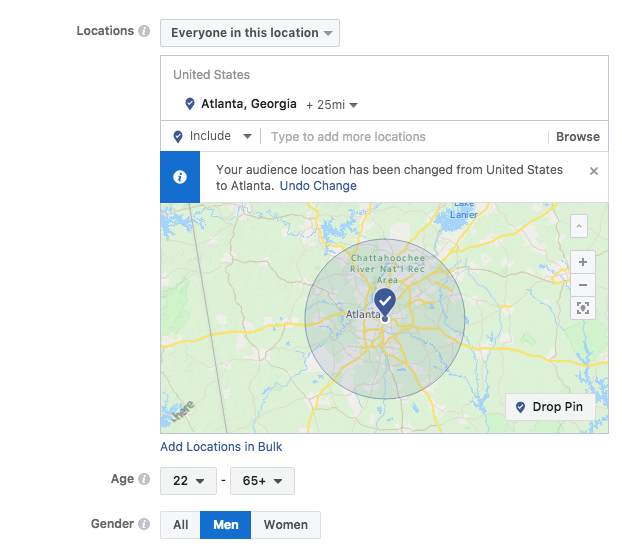 Your ad messaging here will be a little different, because you're not targeting people you have an existing relationship with. And while you'll obviously reach far more people this way, your ad will fall into the streams of people who'll likely not be interested in what you have to say.
Choose your ad copy and image appropriately to try to overcome this hurdle. While your conversion rates might be low, chances are you'll attract at least a few potential new male patients to your practice.
Using PPC to target audiences
So far we've discussed how to use Facebook to target your patients. That's an extremely effective way to reach audiences, particularly those who are on your mailing list.
But Facebook users are a completely different breed from Google users. We actually go into great detail about the differences in our article, Facebook Paid Ads Ain't PPC Ads. Here's What You Need to Know.
But in short, folks go to Facebook to be engaged and entertained. They go to Google to find answers to questions. And that's why keywords play such a huge role in PPC. With the right keywords, you can create dental PPC ads that reach a target audience that's already interested in what you have to offer.
Take for example the following: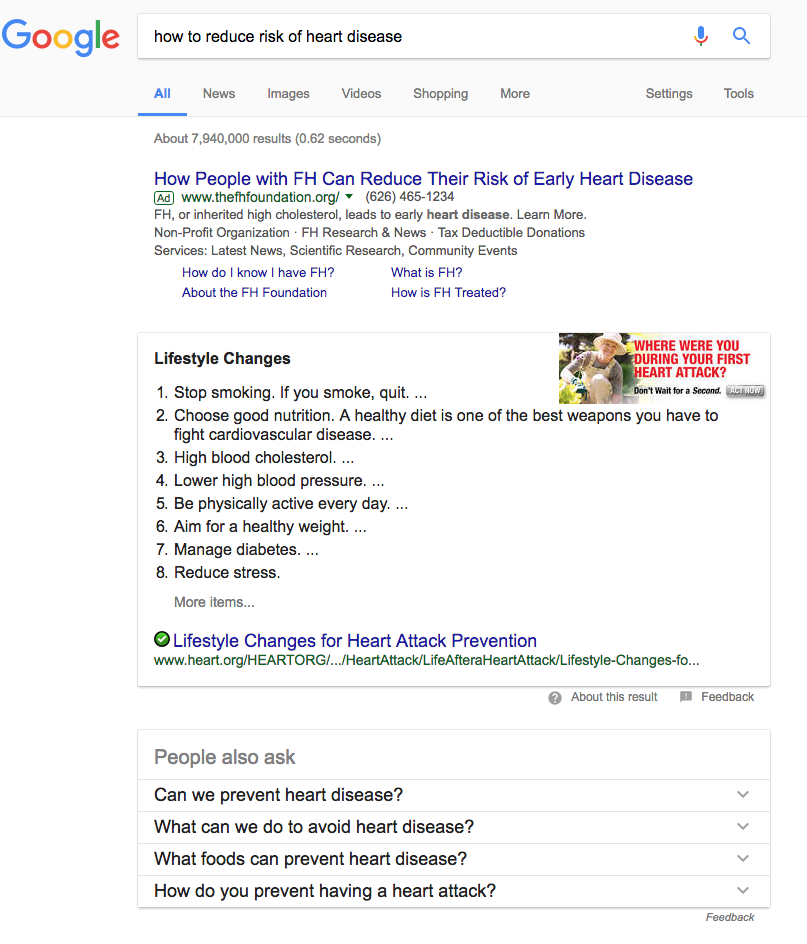 In the image above, we typed in "how to reduce risk of heart disease." You'll notice the first entry is an ad from The FH Foundation.
That easily could have been an ad from your practice highlighting how proper dental care can reduce heart disease.
And that's just the tip of the iceberg.
The point is, you may already have a few active PPC campaigns targeting people who are looking for dentists in their area.
But why not also target folks who aren't even aware they need a dentist?
To be fair, creating effective paid search campaigns is not easy. It's why it's one of our most popular and most effective services.
In addition to an incredible amount of keyword (and negative keyword) research, you also want to continuously monitor your campaigns and optimize accordingly.
It's a lot of work.
But a well-managed medical PPC campaign can deliver your best return on investment, by far.
Reaching out to women in a man's life
As we mentioned earlier, the logical approach you might take when trying to increase the number of male patients who proactively schedule appointments is to reach out directly to men.
But consider, for a moment, the mindset of that audience. Men aren't as likely to schedule appointments with you. Your research and surveys, according to our imagined scenario, let us know that:
They don't see the need to see a dentist unless there's an issue or they experience pain
They don't want to spend the money for visits (and they're not impressed with the coverage their insurance gives them)
They prefer not to take time off from work to fit in an appointment
Therefore, while part of your marketing dollars should be invested in reaching out directly to your target audience, the most effective campaigns will also reach out to the people in these men's lives who care about their well-being.
Namely, the women in their lives.
Mothers. Sisters. Grandmothers. Aunts. Wives. Daughters. If you target these audiences, and let them know how important it is for the men in their lives to go to a dentist twice a year, then we're willing to wager that campaign will have more success than the campaign that speaks directly to your target audience.
You'd use the same approaches we outlined above, including:
Create targeted Facebook ads to your female patients, with unique messaging that helps them realize the men in their lives need to see the dentist for more than just their teeth's well-being.
Create more generalized Facebook ads that target women in your local area.
Develop PPC campaigns around keywords that women might use when searching online about health for men.
That last bullet in particular (PPC) requires some pretty extensive keyword and market research. Your goal is to get inside the minds of your target audience (women) and discover the types of words, phrases, and questions they might ask through Google.
For example, let's say that a wife goes online to learn more about strokes, after her husband just suffered a minor stroke. She types in what to know about strokes, and comes away with this: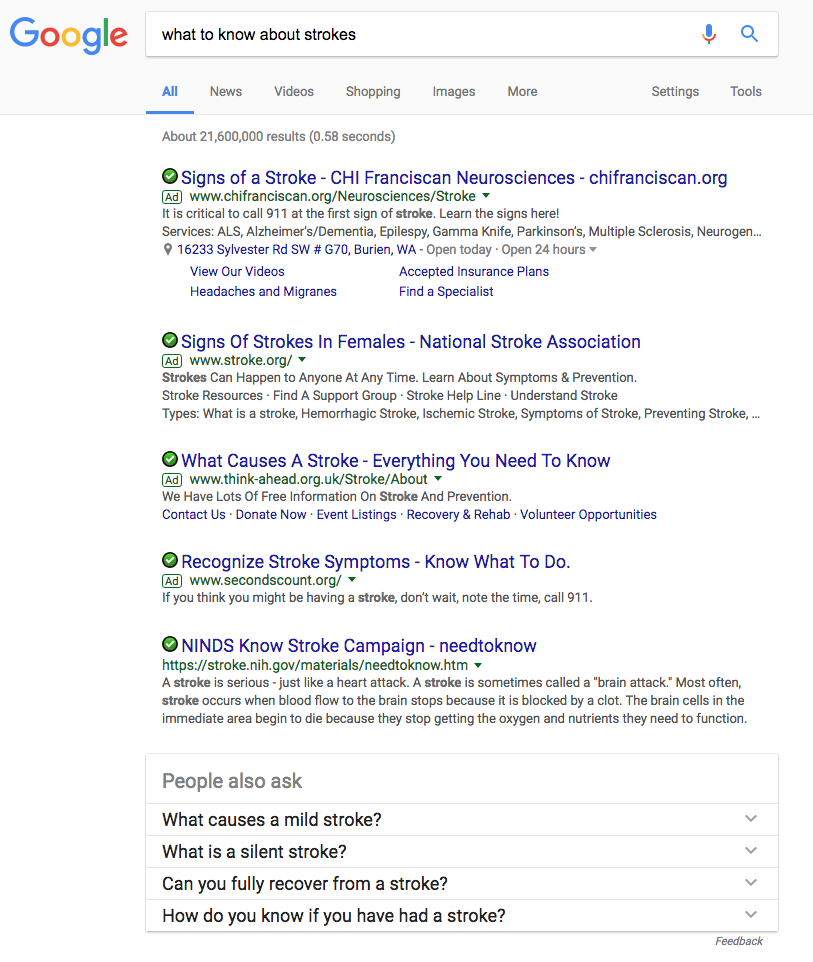 As you can see, there are a number of ads here that give her some good insight into her question.
However, studies show that oral bacteria may be a contributing factor to the arteries in the body narrowing, as well as blood clots easily forming, both of which can lead to a stroke.
Seeing as this woman would be concerned about a recurrence, creating an ad that let her know that regular doctor checkups can help her husband minimize his chances of a second stroke might catch her attention.
There are a number of scenarios just like that you can address with PPC ads.
Help your target audience know the value that you bring
While going to the dentist is a necessity that most people realize, not everyone fully understands the importance of regular checkups. They don't see how oral health equates to overall health.
And study after study shows that more times than not, it's men who fall into this category. By developing marketing strategies designed to target men (and the women in their lives) you can provide a greater service to your community, while also growing your practice.