Global economic uncertainty, technology advancements, and changes in the prevalence rates of specific illnesses–particularly mental and emotional health–have all had a significant impact on the profitability and patient outreach strategies for behavioral and mental health organizations. Here we take a deep dive into the industry trends and patient acquisition strategies you should be aware of to remain competitive and continue growing in 2023 and beyond.
1. Economic Uncertainty Impacts Marketing Strategy & Investments
As the end of 2022 approaches, the tumultuous global economic climate is beginning to impact mental health providers. While the healthcare industry has historically proven to be recession-proof, it's becoming more vulnerable to economic fluctuations. 
The emergence of healthcare consumerism and rising insurance deductibles have made consumers more price sensitive in the healthcare industry. In today's climate of economic uncertainty and inflation, consumers are more sensitive to costs and may consider foregoing mental health treatment. According to Behavioral Health Business, many behavioral health practices are starting to tighten their belts on new deals and are pulling back on their marketing budgets.
When taken all together, the healthcare space is currently in what McKinsey calls the gathering storm and uncertain future of US healthcare. Fortunately, higher profit margins of technology-based and non-acute services for delivering healthcare (such as telehealth, which we discuss in the next section) offer marketers and mental health groups an effective way to continue reaching out to patients and delivering them the care they need.
In 2023, expect greater scrutiny of marketing performance and a push to get the most out of every marketing dollar (read on for more budget optimization tips)
2. Telehealth Regulations Loosen & Marketing Investments May Grow
The COVID-19 pandemic significantly increased the incidence rates of many health issues, particularly depression and anxiety.  According to the Association of American Medical Colleges, about 50 million people in the US suffered from various mental health illnesses in 2019. Once the pandemic struck, that figure surged to over 150 million. Trapped in their homes, this increased the number of people seeking effective treatment via telemedicine.
Today, 40% of mental health patients use telehealth, compared to just 5% on average for all other medical fields combined. According to recent data, 60% of patients who receive mental health treatment do so from their primary care provider. Doctors have lauded the benefits of improved access to their practices. For example, one doctor stated that they used only to be able to see one patient per hour. Using tech-based services, they can now assist with the treatment of 10 to 12 patients at the same time. This is a dramatic expansion of access, and it is changing how and where marketers and healthcare practices are reaching and converting patients looking for care.
While telehealth adoption skyrocketed during the pandemic and remains high, its future has been uncertain due to the temporary regulatory policies that permitted its use under the COVID-19 public health emergency declaration.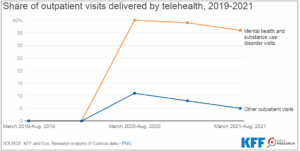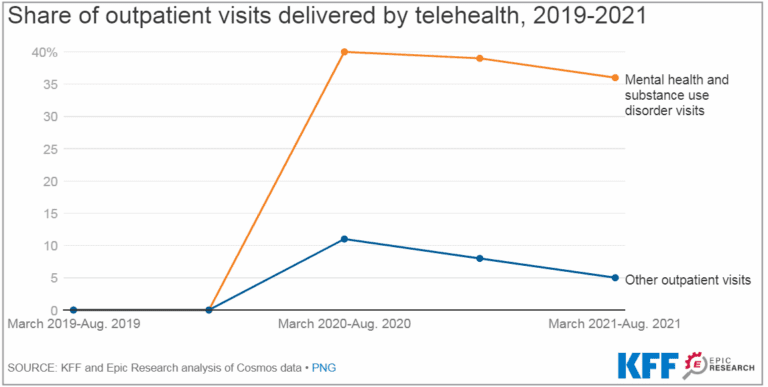 The recent passing of the Bipartisan Safer Communities Act–which provides funding for youth mental health services, school-based mental health programs, and telehealth services for children–and the expansion of the certified community behavioral health clinic (CCBHC) program are just two examples of how and where the US legal and healthcare systems are working together to expand coverage and improve health outcomes for people across the country. 
In November 2022, the Centers for Medicare & Medicaid Services (CMS) issued new rules that loosened restrictions on telehealth services. These rules provide permanent protections that will increase access to preventative and treatment services for substance use, mental health services, crisis intervention, and pain care.
Now that there's more clarity on telehealth's future, how can mental health providers further increase adoption?
Best Practices for Marketing Telehealth
Before the pandemic, not many people knew what telemedicine was or used it. While adoption has increased, there are still information gaps that can be addressed. The key to getting your patients to embrace telehealth is education. You must:
identify common questions that your patients and potential patients may have in regard to telehealth.

Create content (blogs, FAQs,  instruction sheets) to address common questions

Showcase telehealth's effectiveness through case studies and testimonials 

Build communication strategies to ensure patients find this information 
With the right messaging and educational content, you can persuade hesitant patients to give it a try. 
Seamless digital experiences also help improve adoption. New technologies can be overwhelming. Your platform instructions must be crystal clear and the experience enjoyable. Put yourself in the patient's shoes–what makes a telehealth appointment frustrating? Seek to identify any detractors from the patient experience and constantly refine your telehealth offering. 
Read our Guide to Telehealth Marketing: Strategies to Attract Patients to get more ideas on how to market your telehealth services.

3. Storytelling to Break Down Stigmas and Generate Demand is Critical
A core challenge to increasing patient acquisition is the stigma that surrounds mental health. Thankfully, we see that stigma is slowly eroding, and there is more awareness of the need for preventative care and services in the mental health space. However, with increased consumer sensitivity to costs and inflation, patients may still defer care if they fear judgment or lack conviction.
What this means for mental health providers is that you need to motivate consumers to seek care by becoming master storytellers. A good story stirs emotion, creates tension, and overcomes conflict. It'll help patients feel seen and show them that you have a solution to improve their lives. 
Video: The Most Powerful Storyteller
The social world is now dominated by video. TikTok's emergence has pushed other social platforms to embrace and prioritize video features, like Instagram Reels and YouTube Shorts. Content that explores mental health issues is abundant on these platforms, and strong communities have formed around top content creators.
Providers who want to connect with patients and build their brands should consider video marketing. 
To break down stigmas, mental health marketers need to embrace video marketing.  Use video to succinctly convey your message. Here are our top tips for using video effectively:
Span the patient journey.

Use video to communicate information at each stage of their journey, including things like meet the doctors, patient testimonials, and explainer videos. 

Embrace authenticity.

Consumers want to hear from real patients and the less scripted and polished, the better. Consider asking your patients to submit video testimonials. User-generated content (UGC) is the best way to eliminate barriers and show patients the impact you've made in others' lives. 

Just Start.

Getting started with video doesn't have to be difficult. The latest iPhone and a few RØDE mics, and ring light are all you need to create good videos for social. 

Weave video marketing across your channels.

Video content is viewed across digital channels, including your website, social media, and search engine results page.
Read How Healthcare Marketers Can Make Better Use of Video to get more video marketing best practices. 
While video marketing is an effective communication and brand strategy, remember that it's not a direct response channel that will impact your patient pipeline. Instead, it's a long-term play to break the stigma, increase awareness of your brand, and drive demand. 
4. Increased Competition Drives Up Acquisition Costs
The rising demand for mental health care has spurred new competitors to join the market, increasing competition, as well as rising costs, particularly for behavioral health operators. There are now more providers in the market than before, many of whom are heavily funded. With countless digital mental health providers and apps available such as Talkspace, Headspace, and Teladoc, higher advertising spending and competition are the new norm for incumbent players. This means you must invest as well if you want to compete, but doing so can drive up your total patient acquisition costs (PAC), which will hurt profitability.
Combined with a global recession, this means mental health providers need to maximize their marketing budget. Every dollar counts now, more so than before. Providers that are desperate and need patients may pour more money into Google Ads, which is a high-intent bottom-of-the-funnel (BOF) channel, with the hope that they can generate leads and new patients. However, when money floods BOF channels, the cost per click often increases, driving up patient acquisition costs. Many healthcare players will be desperate for any lead, and they may not care if they come at a high cost. This can be detrimental to the organization in the long run, and hurt the industry as a whole.
How to Maximize Media Performance and Keep Costs Low
Mental health practices must keep a close eye on their Google Ads campaigns and budgets to ensure their acquisition costs don't creep too high. The best way to do this is to follow these Google Ad optimization strategies:
Refine your keyword strategy by removing low-intent keywords and being selective with branded keywords;

Use A/B testing to create effective messaging and deliver relevant information to perfect your

headlines, body copy, extensions, and creatives (if you use display ads

);

Conduct routine audits to evaluate ad performance, eliminate poor-performing keyword sets, add negative keywords, and identify lead quality issues.

Optimize your landing pages to maximize conversions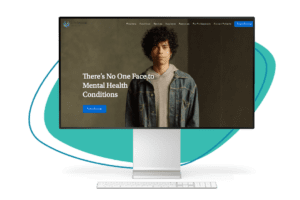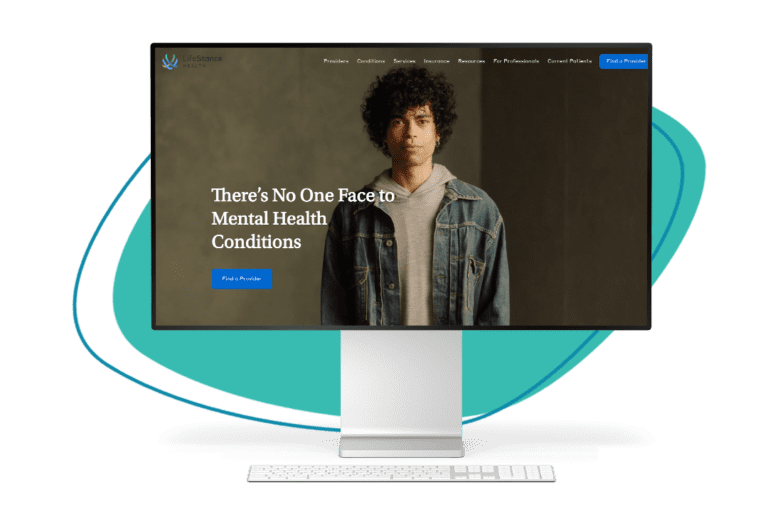 Get more tips for maximizing your PPC advertising budget: 6 Easy Google Ads Optimizations to Maximize Your Healthcare Budget.
5. Patient-Centric Content Is a Must for Mental Health
Before making health-related decisions such as choosing a provider, treatment method, or new drug, people want to conduct research independently to assuage all questions. 
Due to the stigma of mental health illnesses, many people understandably resort to online channels for this help rather than asking their providers or contacts for guidance. Similarly, many families who want to help loved ones or their kids with mental health issues look to the internet for solutions or new treatments such as Applied Behavior Analysis therapy (ABA) and transcranial magnetic stimulation (TMS).
You must answer their questions at each stage of the patient journey and ensure that you rank on the SERP for the searches they conduct. Creating high-quality content has been a requirement for a long time, but it is even more critical today, given Google's Helpful Content Update.
Since Google's mission has always been to better connect people to helpful information, if your content doesn't do that, it won't rank on the first page. Not providing real value for searchers is a cardinal sin when it comes to Google. The latest helpful content update targets poor content concerns such as keyword stuffing, thin content, and duplicate content. This update directly impacts healthcare providers as well, and they must be sure to
Answer the core questions that patients are asking clearly

Develop a comfortable UI and prioritize the mobile experience

Structure content so it's easy to scan so readers can find the answers quickly

Create thorough and extensive content that answers as many relevant questions in one piece as possible.

Focus on evergreen content that follows SEO best practices
Learn more about the Helpful Content Update and its impact on healthcare, and get our best practices on how to develop robust content that will rank.
6. Website User Experience (UX) Remains Paramount
Google wants good user experiences, and so do patients. Sites with poor UX will struggle to rank on the search engine results page, as Google continues to prioritize UX as a ranking factor. That means information needs to be found easily, and the time they spend on your website needs to be enjoyable. 
How you structure your website is vital. If it's confusing or if important information is buried many layers deep, patients will abandon your site. If it's clunky and slow-loading, users will get frustrated. 
As mobile device use increases each year, the need for flawless mobile experiences becomes paramount. Here are our top tips for developing a website user experience patients love:
Develop a well-structured navigation with obvious, intuitive navigation labels. (Don't be cute or clever, it just confuses people).

Answer important questions quickly. Make it easy to find insurance information, location, availability, hours, etc. Don't make users hunt for answers. 

Increase your page loading speed. No one wants to wait for a slow website to load. 

Eliminate steps to contact you. Each barrier you remove will improve conversion rates.
Add sticky CTAs, so users have the ability to take action at any moment as they explore your website.
7. Personalization Will Be the Gold Standard
You hear it everywhere–healthcare consumers want personalized experiences just like they receive from their favorite retailer or streaming service. However, this demand isn't as easy to satisfy in the healthcare space. How can you personalize a digital experience while protecting patient privacy? Here are two ways mental healthcare groups can deliver personalized digital experiences:
Geo-Personalization
While many people will opt for telehealth, there is still demand for in-person therapy and in-patient treatment. Healthcare will always be local, so that means you need to appear for local searches like "therapist near me" or "aba provider in atlanta."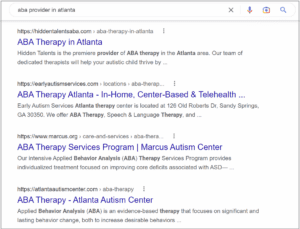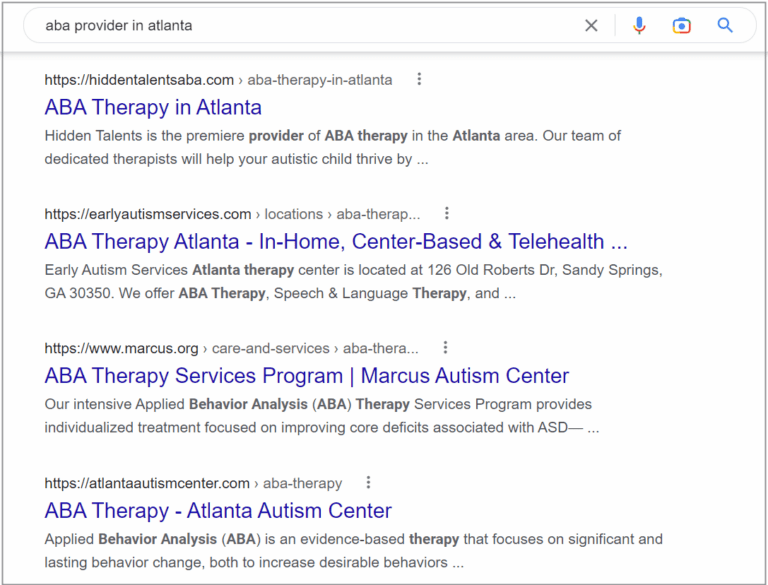 Showing users content relevant to their location shortens the buying journey and can get them to the conversion action much more quickly. Instead of making them click through to your master location page and navigate down to the state or city level, you can use geo personalization to get them there faster. 
Geo-personalization works by embedding code into your website that recognizes the users' location through their I.P. address and then shows them relevant information closest to that location. They can see what providers and services are available, as well as hours, addresses, and contact information. 
Because geo-personalization doesn't share patient information, it doesn't violate HIPAA. It's an effective way to deliver personalized web experiences and increase conversions.  
Personalized Patient Portals
Historically, accessing your healthcare records has been difficult. They lived in a manilla folder at your doctor's office. The mental health industry in particular has been slow to adopt EHRs and CRMs. However, digital transformation is gaining momentum, and giving patients better access to their healthcare information. 
Mobile apps and patient portals are an effective way to enhance the patient experience and can be personalized easily. Because they're only accessible by password, it's much easier to protect patient privacy. Within this digital space, you can share relevant educational information like blog articles, videos, follow-up instructions, and doctors' notes.   
Read How to Use Marketing Personalization While Protecting Patient Privacy to get more tips for crafting personalized experiences. 
In the long run, this type of personalization will go a long way in building stronger relationships with patients, increasing your new patient volume, as well as reducing attrition. 
8. Recruitment Marketing Captures Greater Budget Share
National staffing shortages are having a severe impact on the mental health industry. According to a poll of members of the National Council for Mental Wellbeing, over 75% of respondents said that demand for their organization's services has increased over the past three months, particularly for those who provide mental health treatment, crisis services, social support services, and youth services. This has led to longer patient waitlists, with over 60% of respondent member organizations saying their patient waitlist has grown over the past three months. Organizations are also having trouble recruiting and retaining employees, with nearly all surveyed organizations saying they faced difficulties. Specifically, a lack of qualified applicants, low salaries, and COVID-19-related burnout have all impeded hiring initiatives.
What does this mean for mental health organizations?
You must invest in brand marketing and recruitment. Providers and healthcare workers are as important as your patients, and you need to pay the same level of attention to marketing your company.
Patient experiences and the quality of care you provide will suffer if you do not build a supportive culture, and without a strong recruitment pipeline, mental health care providers will be unable to expand their capacity and grow. 
How Marketing Can Help Provider Recruitment
It is no surprise that marketing departments are increasingly being asked to support recruitment efforts. With every mental health brand desperate to hire, you have to stand out online–and marketing can help you do that. Here are a few ways marketing can help you drive more applicants. 
Optimize Your Application Process:
By optimizing the digital application experience and career pages on your site, you can create truly employee-centric recruitment pages that drive higher application rates.
Use Google Ads to Reach Searchers:
You can use Google Ads to develop campaigns to capture high-intent active job searchers such as recent graduates, disgruntled employees, and highly-specialized providers and experts, but you can only do this with a tight keyword strategy, particularly long-tail niche keywords that can hone in on those specific types of job seekers you are looking for.
Manage All Brand Channels:
Applicants aren't going to just take your word for it. They want to know what others say on channels like Glassdoor, Indeed, Reddit, and LinkedIn. Don't leave those channels unattended. Take ownership and show what it's truly like to work at your organization. Show your brand's personality, feature your employees, and don't be afraid to be authentic.  
Recruitment marketing campaigns will only be successful if you have a strong, engaged employee culture. Applicants will continue to ask their network about your culture, and if they don't hear good things—they won't apply. 

9. Mental Health Industry's Digital Transformation Continues
Healthcare is an industry that has lagged behind others in terms of digital advancements and adoption. In fact, our survey found that almost half of healthcare marketers do not even use a customer relationship management (CRM) solution. Often this is due to the complexities of integrating CRMs with EHRs or a lack of funding. 
Digital transformation is key to improving the quality of patient care and access. Thanks to private equity investment and consolidation, technology adoption is increasing in the mental health care space. With more funding, mental health brands can invest in marketing technologies like:
Telehealth platforms

Online booking

Chatbots

Call tracking and analytics 

Marketing automation software
For the mental health industry, technologies that make it easier to schedule appointments and have remote sessions are critical, and this is a huge step forward for improving patient access. 
If mental healthcare brands are to extract digital transformation's value for their practices and industry, they must prioritize these investments. Pivoting to a new, digital-inclusive strategy is key to improving operational efficiency, enhancing the patient experience, and producing outsized returns for investors while also helping more people get the mental health care they need.
Conclusion: A Better Web and More Options for Mental Health
At this moment, patients have more access to mental healthcare than ever before. The work over the last decade has been tremendous, and it's just the beginning. As stigmas continue to erode and new technologies emerge, it means that more people can get the care they need.
Despite today's global outlook, the future hasn't looked brighter. To be successful, behavioral and mental healthcare brands should stay focused on the patient and committed to delivering better digital experiences.  New marketing technologies, mobile apps, and personalization can help marketers give patients the experiences they crave.  
While competition will only increase over time, this commitment will help your brand become more resilient and prepared for whatever 2023 throws your way.