For healthcare consumers, your website serves many important purposes. First and foremost, your site is a place for consumers to find your physical location, book appointments, and explore detailed information about your services, physicians, and products.
Despite the circumstances, your website content is as important as ever. While it's true that many patients are holding off on regular healthcare appointments and elective surgeries, it's also true that stay-at-home orders have increased the amount of time that people are spending on social networks and streaming services.
Even during "challenging times," it's still the job of your advertising campaigns to connect with these healthcare consumers, create value, and bring them to your website. And once people make it to your site, it's still your job to engage those users, gain their trust, and help them make informed decisions about their healthcare.
Focus on Timely Content That Brings Value to Consumers
Whether or not they're spending money on their healthcare needs right now, consumers will still encounter your brand in their digital lives. This is an opportunity to remain at the forefront of their minds as an empathetic and helpful organization that they can trust. And there are types of content that will help you do so:
Content that educates people on what's new, or provides information on COVID-19, telehealth, and tips to stay healthy at home.
Content that inspires and uplifts, such as aspirational stories, heartwarming video from first responders, and tales of triumph over disease and hardship.
Let's break each of these content types down in more detail.
Educational Content
Audit your existing content to identify information gaps, older content that needs refreshing or replacing, and any opportunities to create new and/or supplemental content. Re-examine the patient journey and build educational content around any changes that have been implemented to adapt to the current circumstances.
Keep in mind that the educational pieces you produce right now are going to be seen through the lens of COVID-19, so be empathetic and mindful in your messaging. Living in such constantly changing circumstances, many people are confused and you have the opportunity to help them feel less alone and lost. Content that comes across as promotional tends to fall on deaf ears.
1. Guidelines and Updates Around COVID-19
People are finding a lot of conflicting information and misinformation out there about the novel coronavirus. An April Associated Press-NORC Center for Public Affairs Research survey showed that while Americans rely on the news for information, only a third of survey respondents believe they can rely on the information they receive from mainstream media sources.
However, "more than two-thirds of respondents have 'a great deal' of faith in the Centers for Disease Control and Prevention (CDC) and healthcare providers—the two most trusted sources—to provide accurate coronavirus information." As a healthcare provider, you are in a unique position to be able to provide reliable information during COVID-19, giving you both a privilege and a responsibility to your patients.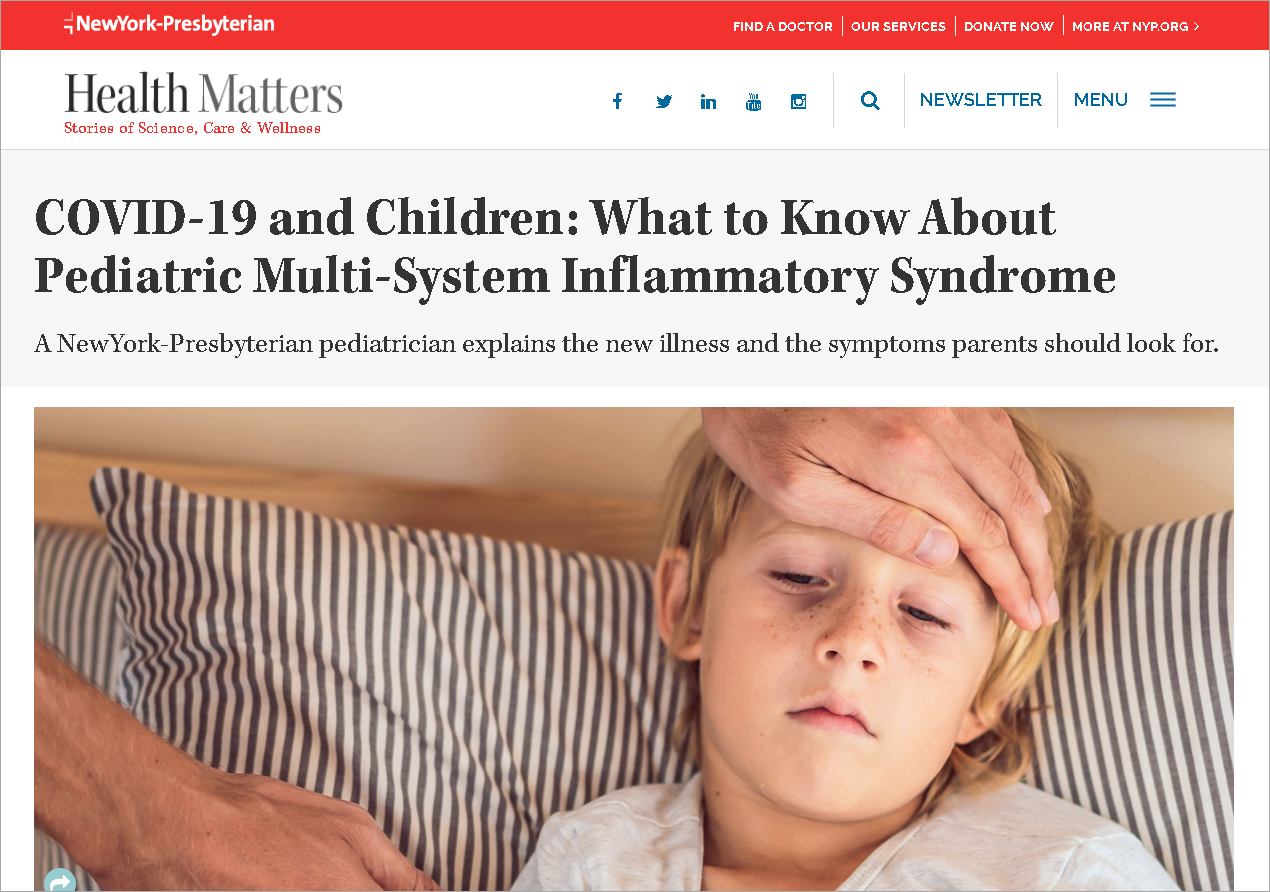 In turn, you might think to create and articulate well-researched content about COVID-19 from a provider's perspective, being as specific as you can in answering common questions that your patients and website visitors have. If you're offering in-person services to your patients, for instance, make that clear as day on your website and make it easy for patients to quickly answer questions or book an appointment.
Some frequently asked questions might include:
Can I still receive routine and emergency care?
What are you doing to keep staff and patients safe?
Have you implemented any new cleaning, examination, or treatment procedures?
How do I check-in to my appointment? Am I required to wear a mask? Gloves?
The CDC website is updated regularly with common questions and answers; start here and nuance your messaging to fit into your brand voice while being empathetic and clear in your communication.
2. Information About Telehealth
Many providers now offer telehealth services as an alternative to in-person visits, or blending the two for on-going care plans in an effort to limit the number of patients visiting their offices. It may feel like old news to you, but telehealth services are still very new for many patients. You need to educate them about how it all works.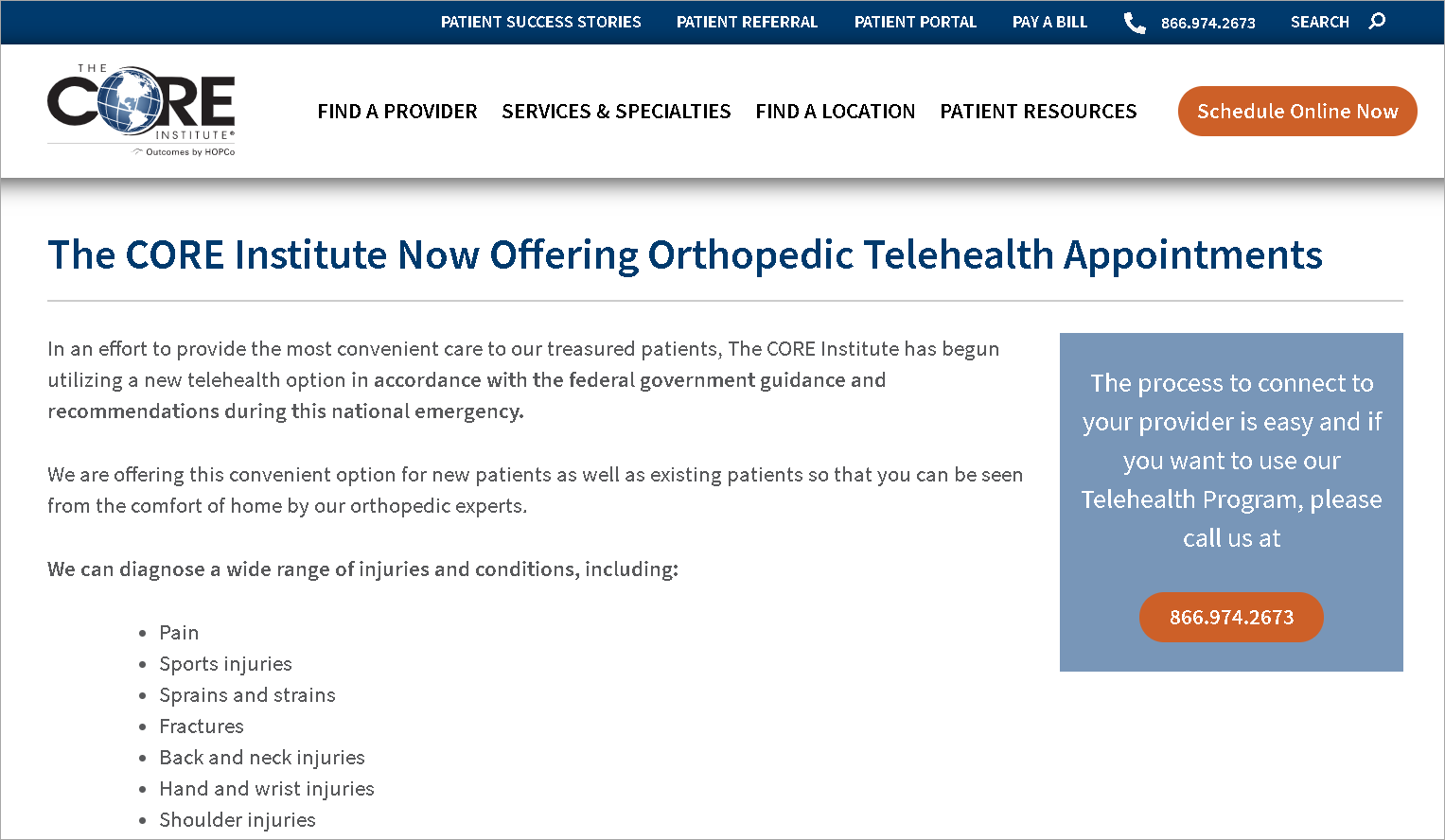 Once again, you'll need to re-examine your specific patient journey and create new content that addresses both telehealth services and in-person services like x-rays, MRIs, and surgery. We recommend developing as comprehensive a picture as possible for your patients, ideally with a step-by-step guide for each care option, links to online scheduling, what they can expect for follow-up communications. Be sure to also include a telehealth-specific FAQ, for example:
Does insurance cover telemedicine?
Will the appointment costs differ from traditional visits?
Can the doctor actually help me virtually?
How do I set up a virtual care appointment?
Should I postpone my _____ surgery?
What will my surgery follow-up care plan look like?
Once somebody books an appointment, send automated emails with information that will be easily accessible to them when their appointment comes.
3. Staying Healthy at Home
You can also empower your patients to be good stewards of their health while at home by providing educational content specific to your medical specialty. It's likely that you have a lot of this content already, so before you reinvent the wheel, identify pieces during your content audit that can be tweaked, repositioned, and repurposed.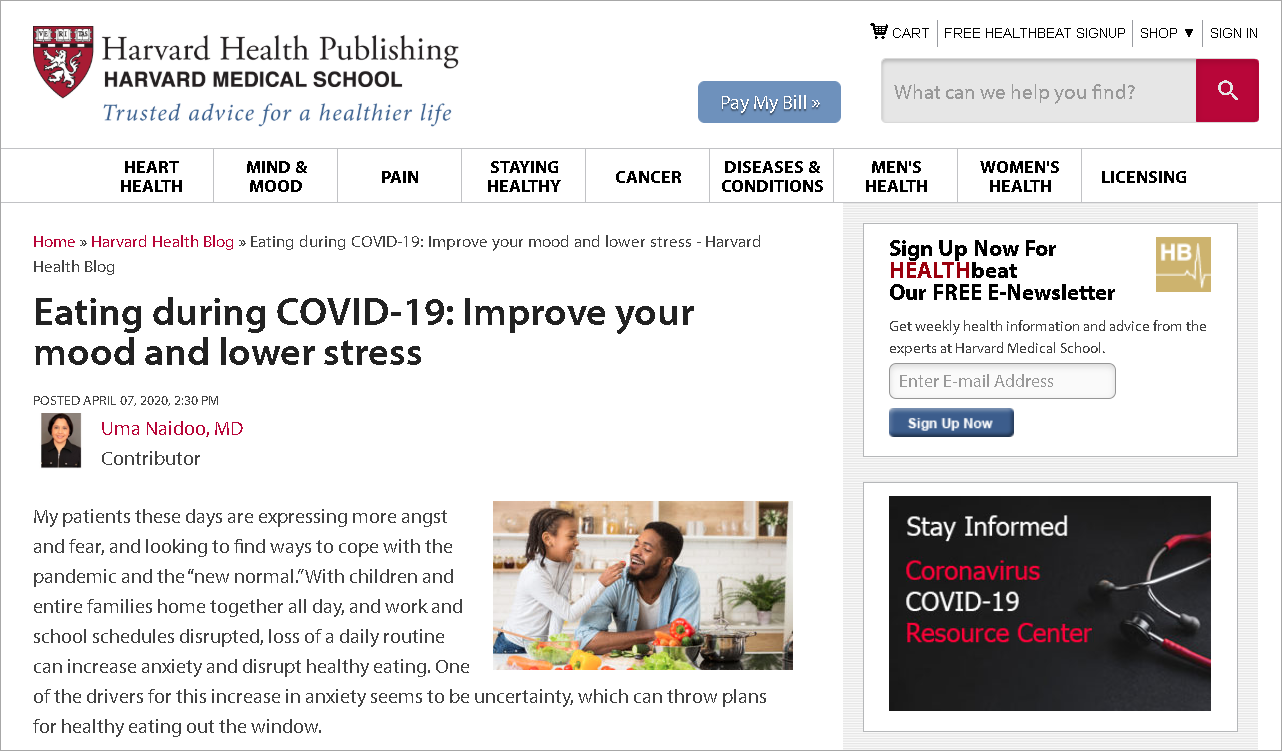 Consider what's relevant to your brand and useful to people who need the services you provide. There's likely existing demand for your expertise! According to Chief Marketer, there are several trends emerging around how, for example, people search for content on YouTube during this "new normal." Stress reduction, remote work, and home workouts are among them. Consider framing some of your content to help your patients within those focus areas.
Here are some specialty-specific examples:
Optometrists
"Reduce eye strain while working at home"
"The best rated blue-blocker glasses on the market for every budget"
"How to protect your eyes when every meeting is a Zoom call"
Chiropractors, Orthopedic Surgeons, Physical Therapists
"Stretches you can do at home to reduce back pain"
"Setting up an ergonomic workstation using household items"
"Six exercises to prevent knee damage"
Mental Health Specialists
"Tips to ease anxiety during stressful times"
"Creating a corner of calm (even if your house is chaos)"
"A quick ten-minute meditation for your lunch break"
By developing and refreshing this type of content for your website, you're also creating a whole arsenal of fresh material to share via user-behavior triggered pop-ups and automated emails to existing patients, or those who sign up for more information through your site.

You can also share this content to your social media pages to meet your users where they are and bring them to your website. If you have time, consider creating short videos for your social media sites to connect with your audience in a more personal way.
Content That Uplifts and Inspires
Cultivating a positive brand image in the eye of your consumer by making their day a little better can go a long way.  Search Engine Journal reported findings on two new surveys in the UK and the US that pointed to what people are really looking for in their streaming content right now: uplifting, educational, and informational content.
It's okay to talk about COVID-19 and its impact on your patients' lives. Pretending that it isn't there certainly isn't going to win you more trust in the eyes of your consumers. Only, we recommend approaching the topic sensitively and with validating information.
People are experiencing a lot of different emotions throughout their days, whether it's anxiety, depression, helplessness, overwhelm, or even guilt at feeling pretty OK when everyone else is falling apart. They are relying heavily on creative content to help get them through these difficult emotions and experiences.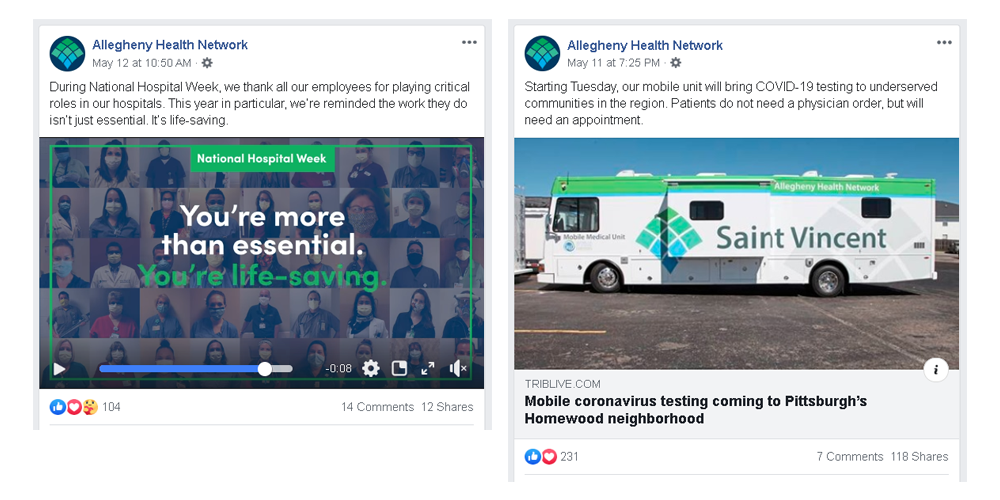 Here are a few ways to connect with your patients, web visitors, and social media networks in an uplifting way:
Patient success stories that tell the stories of patients who have overcome difficult circumstances. Windsor Healthcare Communities does this and it's wildly successful in generating community support and excitement.
Community news and involvement updates around how your organization or a fellow neighborhood business has given back to your local community.
Essential worker tributes that highlight how your healthcare workers have gone above and beyond to help your community.
Using Data to Identify Your Audience's Information Needs (Given the Circumstances)
As you develop content, stay relevant to your audience's needs by doing your due diligence and remaining abreast of evolving circumstances. First and foremost, check your own statistics and marketing analytics to determine any trends that are showing up in your audience across Google Analytics and social media metrics. Determine which pages, blogs, and posts are receiving the most engagement.
Also, examine which types of content (educational vs. uplifting, video vs. graphical) are attracting the most engagement. What's resonating? Are people asking similar questions, or does there seem to be a misunderstanding around certain topics?
Examine your email metrics, too. What are people clicking and engaging with? What information isn't getting through? This data can be used to rethink your subject lines, the links you include, and the way you're presenting information.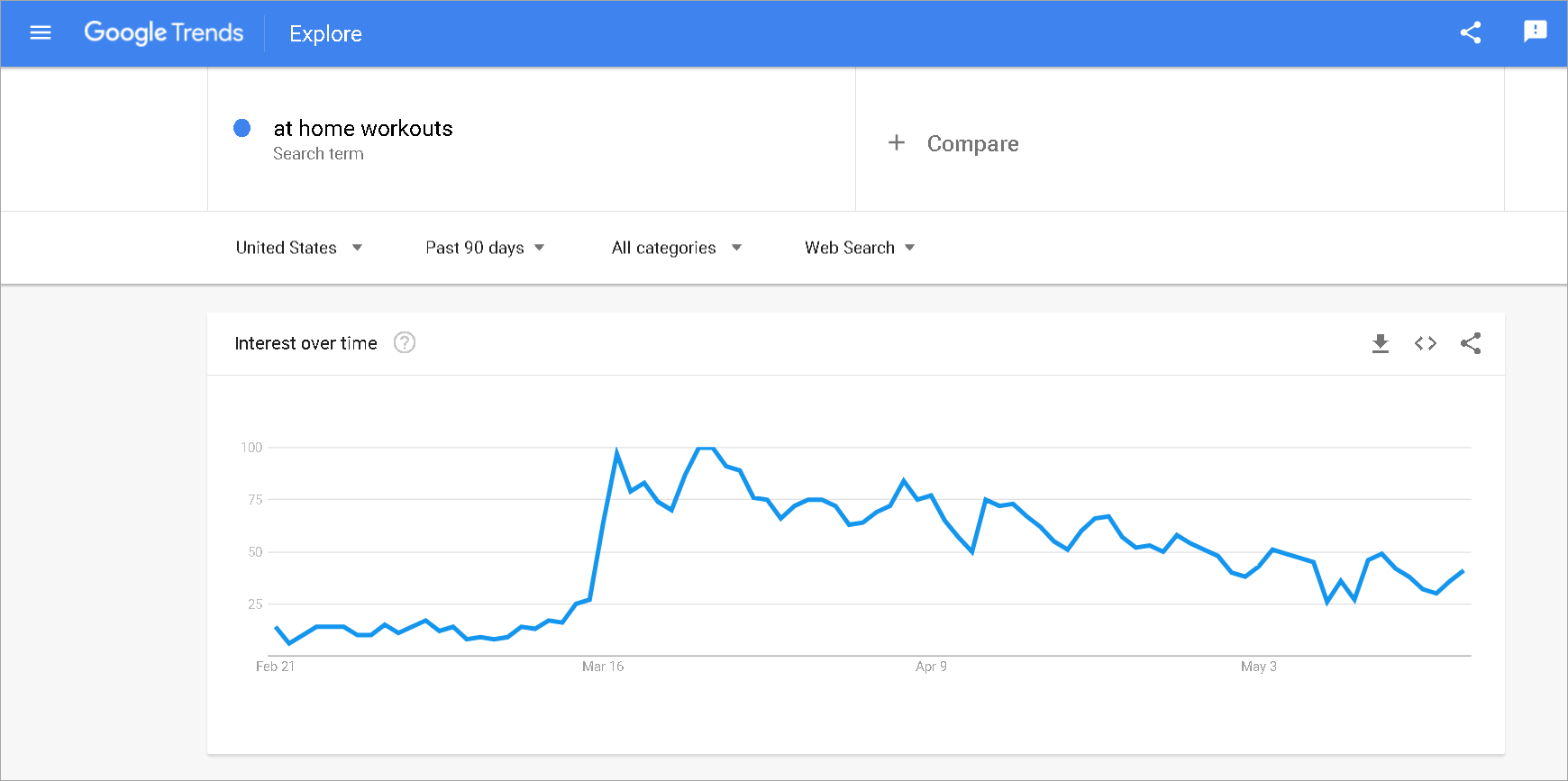 Take advantage of outside analytics, too. Pay close attention to Google Trends to identify trending search topics and keywords. Here's an example of thinking slightly outside of the box: in Colorado, within the Food and Drink category, whipped coffee and dalgona coffee are two of the top five search terms. If you work with patients who have diabetes or are concerned with weight loss, you could speak to the health implications of this sugary and caffeinated treat, and perhaps offer alternatives.
You can also check out what similar healthcare providers are offering in their content and see how their audiences are responding to them. Stay attuned to what your audience and answer their needs from a factual, health-based perspective.
In "These Trying Times," Let Your People Guide You
The world needs more reliable information and uplifting content and, as we've seen, healthcare providers are at the very top of America's list of most trusted resources. You have a rare opportunity to capture your audience's attention and win their trust at precisely the time they are most available and most concerned about their health. Don't take this opportunity or responsibility lightly, and deliver content that gives people what they need.
As you continue to develop and deliver content, monitor how it's being received across all of your platforms. Keep a close eye on changing circumstances in your area and with your patient demographic, and continue delivering based on the evolving needs of your community. By doing so, you will remain at the forefront of people's minds when they are ready to invest in their healthcare again.