So, you're merging new acquisitions, and you need to integrate and centralize marketing functions. Sounds like fun! Well, maybe not fun. But you're wise to centralize marketing after a merger. Today, centralization is a must in the private equity world. Not only does it ensure brand consistency with standardized policies/procedures, but it also enables greater marketing efficiency and cost reductions.
If you're reading this, you already know how vital marketing centralization is. The question is, how do you go about it?
Why and Where to Prioritize Marketing During PMI
Typically, the whole "centralization" discussion focuses on centralizing administrative and operational functions like staffing, operational software, call centers, billing and accounting, etc. And while this is all well and good, I'd posit that integrating and centralizing digital marketing is just as important. It helps you maximize efficiency and profitability, for one, while building far more effective marketing campaigns.
Ultimately, private equity firms must build a solid digital marketing foundation when bringing companies together, one that will allow them to find efficiencies, innovate, and grow. What follows are five best practices that we've put together for more scalable marketing practices post-acquisition.
1. Establish Strategic Direction and Align the Leadership Team
Whether a private equity firm decides to centralize marketing during PMI or not, the need for a cohesive strategic marketing direction across brands will be there. The question is, will getting there be a struggle or an opportunity? By centralizing marketing during PMI, firms can first and foremost eliminate disparate silos. That means no rogue locations or offices that don't adhere to marketing strategy.
Why is this so important? First, when the silos come down, everyone works together to advance the company, rather than just their own business. Second, collaboration and communication are typically a lot better, with marketing teams sharing insights to grow the DSO as a whole. Finally, marketing will be better suited to act as one unit, leading to stronger relationships with the executive team and better marketing alignment overall.
How to Centralize Strategic Marketing Direction During PMI
It's time to bring the marketing heads together to get aligned. We've seen some PE firms orchestrate a PMI "kickoff," bringing together key executives and marketing stakeholders for a presentation and discussion. Ideally, this kickoff establishes the company goals, marketing goals, roles, and responsibilities in no uncertain terms. The team should walk away with a clear understanding of the organization's broader value proposition and how marketing supports it.
This is also an opportunity to address organizational marketing objectives and challenges while laying out a roadmap for moving forward. This will get everyone on the same page in what will likely be a cadence of regular meetings and milestones. Moving forward, you can use regular meetings to share performance reports, provide location-specific updates, and generally build better relationships across organizations, departments, and teams.
2. Audit Your Marketing Tech Stack with Prejudice
Another advantage to marketing centralization is that the process can reduce redundancies and save costs across the marketing tech stack. For one, you can leverage buying power from collective locations to negotiate better licensing deals. In terms of eliminating redundancies, here are some examples:
Customer relationship management (CRM): One software license with centralized visibility into customer records, deal progress, marketing attribution, and other insights across locations and business units.
Marketing automation software: Roll out new automations to many locations from a single platform.
Call tracking: Bring all the call data, analysis, and insights into one place to better extract actionable insights. See: Why You Need Call Tracking at Your Healthcare Organization.
Social media management: Bring social media channels together under one management platform for a more comprehensive view of reporting, mentions, interactions, and brand sentiment.
Listing management tools: Bring all listings, reviews, and ratings into one place using a tool like Yext or Bright Local.
Marketing analytics: Get a more comprehensive and transparent view of core marketing analytics across locations.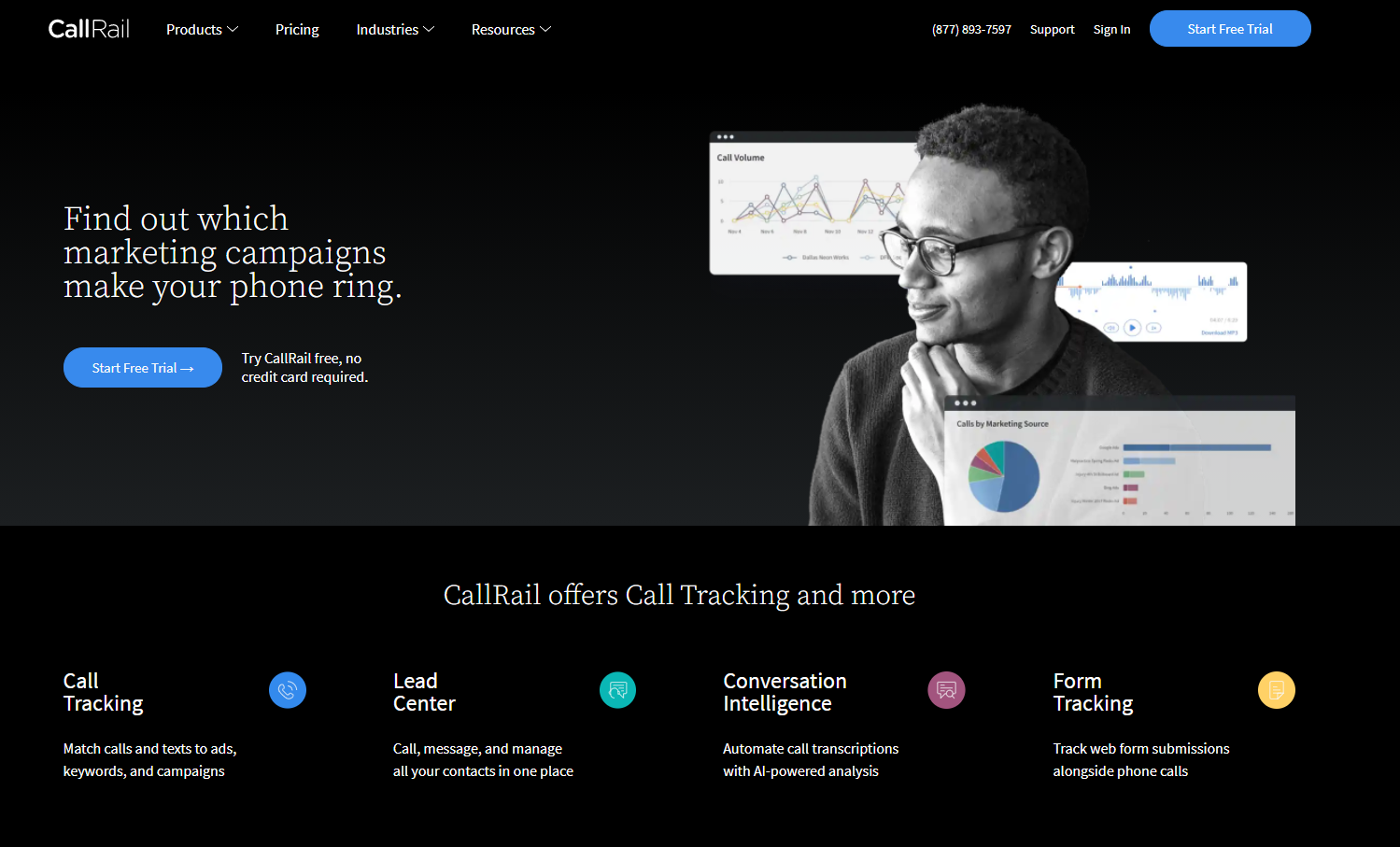 How to Centralize the Marketing Tech Stack During PMI
The first step is to conduct a comprehensive audit with prejudice. Be clear about your objective with this audit: to know what you're starting with first and identify gaps and overlaps. This is a key part of digital due diligence.
From there, make a thorough assessment of your marketing goals. What tech will help you meet your goals? If you've identified your market is most receptive to email, for instance, how are you using marketing automation to support this objective? How will you know if you're meeting goals if not? Do you have the right analytical tools to track performance?
Your audit and assessment will lay the groundwork for a competitive market analysis. This is your opportunity to see what other individual businesses and consolidated groups are doing. What innovations are out there that might make your group faster, more scalable, and profitable?
Finally, make a concrete plan that all stakeholders can see and understand. Set clear responsibilities and don't move too fast! You'll need to factor in any downtime needed for migrations, for instance. Create redundancies to prevent issues. And make sure to formalize and formally communicate this plan to all stakeholders.
3. Get Your Marketing Teams On the Same Page
Now is the time to invest in the people that support your PMI brand strategy and goals. This is a very common, if tricky, part of the mergers and acquisitions process. But you might be able to find significant efficiencies by reducing the headcount of unnecessary roles.
Here's How to Align Marketing Teams During PMI
Start with your new brand strategy and use it to guide the assessment of your marketing teams. This assessment is a core part of marketing due diligence, in which you consider:
How do the marketing teams compare from company to company?
Does one company bring specific strengths? Market experience? Digital aptitude?
Can one team manage specific aspects of the strategy?
What are the existing marketing agency contracts at each company?
Which roles and responsibilities are duplicated across teams that don't need to be?
What's the status of open roles at each company, and how many of these still need to be filled?
Think about how you'll align staff with your new strategy and required marketing functions. If you're planning on incorporating things like product marketing, events, content, and marketing operations, consider how a marketing agency might supplement your in-house team.
With this baseline assessment and alignment complete, you'll be in a much better position to build the new organizational structure and clearly communicate responsibilities.
4. Build a Data Analytics Pipeline that Drives Outcomes
There's a lot of evidence out there to support the notion that the groups with good data practices are more profitable and successful. Put simply, when marketing technology is centralized, it's easier to access/analyze data. Centralization allows you to share insights and collectively improve marketing performance.
Instead of each location acting independently, a centralized team works together to better understand customers and put insights into action. Under this model, you can set performance benchmarks across regions, reveal insights with greater ease (why is one location succeeding or struggling), and address problems before they escalate.
How to Centralize Data Analytics
Start with determining what you need to know. Do you need centralized data analytics and reporting across the entire gamut of marketing activities? How will you monitor and share performance reporting for things like pay-per-click (PPC) advertising, social media, and search engine optimization (SEO)? Do you have a plan for integrating multiple data warehouses?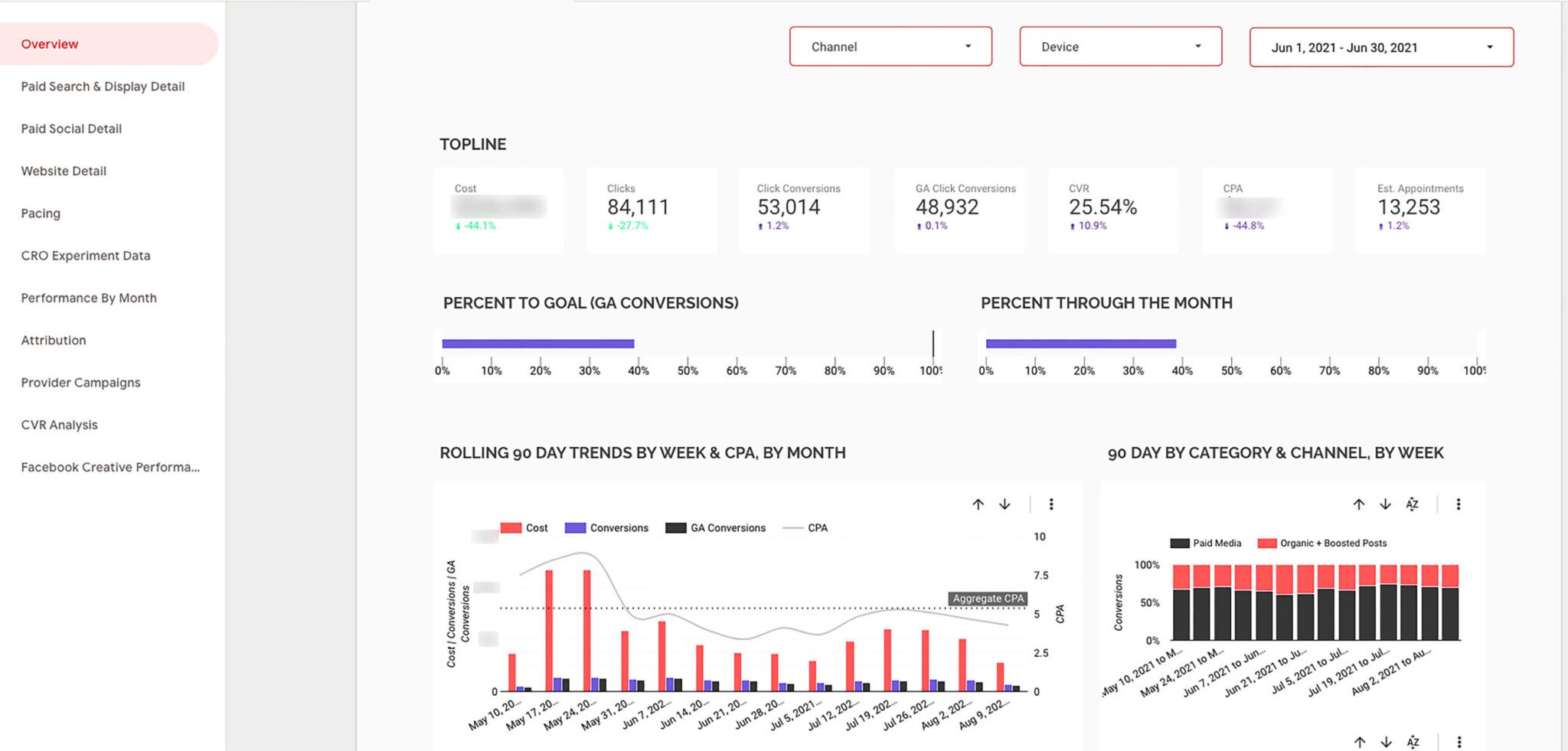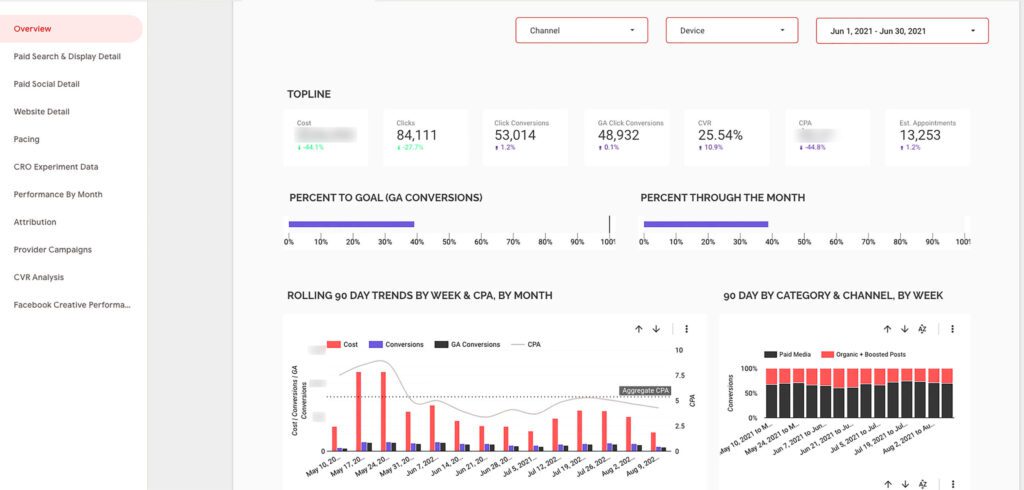 The answers to these questions will likely differ from organization to organization. Still, they'll provide a good starting point for building the technology structure and reporting to get the insights you need to grow and scale.
5. Present a Polished and Consistent Brand
The last thing you want during the PMI period is brands without a plan. While there are a number of ways to integrate brands during PMI—six, according to McKinsey & Company—it can be quite challenging to bring new companies together. Brand loyalty can run strong, and people get set in their ways, especially for brands that were built and maintained independently up until the acquisition.
Post-acquisition, however, a hodge-podge of brands and conflicting messaging can torpedo the whole thing. Centralizing marketing ensures you can build a unified brand identity and message, which helps you establish a stronger position in the market and build brand equity and awareness.
How to Centralize Multiple Brands
Luckily, there are already tried and true frameworks for creating unified, rock-solid brands. Here's what we recommend:
Develop a plan for folding new acquisitions under an existing brand or creating an entirely new brand. Does one brand have a stronger market position? Stronger SEO rankings? Better website? Popular social followings? Conduct a thorough analysis and think of the future when answering these questions.
Determine your brand strategy by establishing, formalizing, and communicating your value proposition, messaging guidelines, and so on to provide clear guidance across M&A activities. Most brands build comprehensive brand positioning documents for this purpose (a single source of truth).
Align all channels and websites with new guidelines. Centralize all "approved" files, logos, images, and so on, so employees can easily access them across the group. This step usually requires the cooperation of a lot of different teams and stakeholders.
Audit and review for consistency across channels on a regular basis.
Finally, Do More By Doing Your Due Diligence
To recap, here are our five best practices for centralizing marketing post-acquisition:
Establish Strategic Direction and Align the Leadership Team
Audit Your Marketing Tech Stack with Prejudice
Get Your Marketing Teams On the Same Page
Build a Data Analytics Pipeline that Drives Outcomes
Present a Polished and Consistent Brand
While these five focus areas above occur during PMI, you can significantly accelerate PMI by doing your digital due diligence before your acquisitions ever occur. To learn more, read: Why These 5 Parts of Digital Due Diligence Are Essential To Proper Valuations.