The healthcare industry is changing rapidly, and 2023 is on track to be full of surprises. Healthcare organizations that want to stay ahead of the curve need to pivot their strategies based on this changing landscape. To help out, we've compiled new ideas and recommendations from six healthcare marketing leaders, focusing on how they believe the industry is evolving in 2023 and what that will mean for your healthcare marketing strategy in the months to come.
What are your top marketing investments in 2023?
Where are marketing leaders investing their efforts in the year ahead? According to our pool of experts, SEO will be a top priority, along with maintaining a focus on quality content. This doesn't come as a surprise considering recent economic uncertainty squeezing advertising budgets. SEO remains a more budget-friendly long-term play that supports organic patient acquisition. 
Tip #1 – Invest in SEO
Healthcare marketers are specifically taking advantage of hyperlocal SEO opportunities, such as optimizing Google Business Profiles for all their locations and generating reviews. It often gets neglected, which can have serious impacts on your visibility on Google Map Pack. Paul Gruensfelder, Vice President of Marketing, Select Dental Management, says that "Obviously, where you rank on the page is really important, but [Google] maps is super important. We're in a local business, we provide a local service, and I would tell you, that's where I want to be primarily.
What the Experts Are Saying: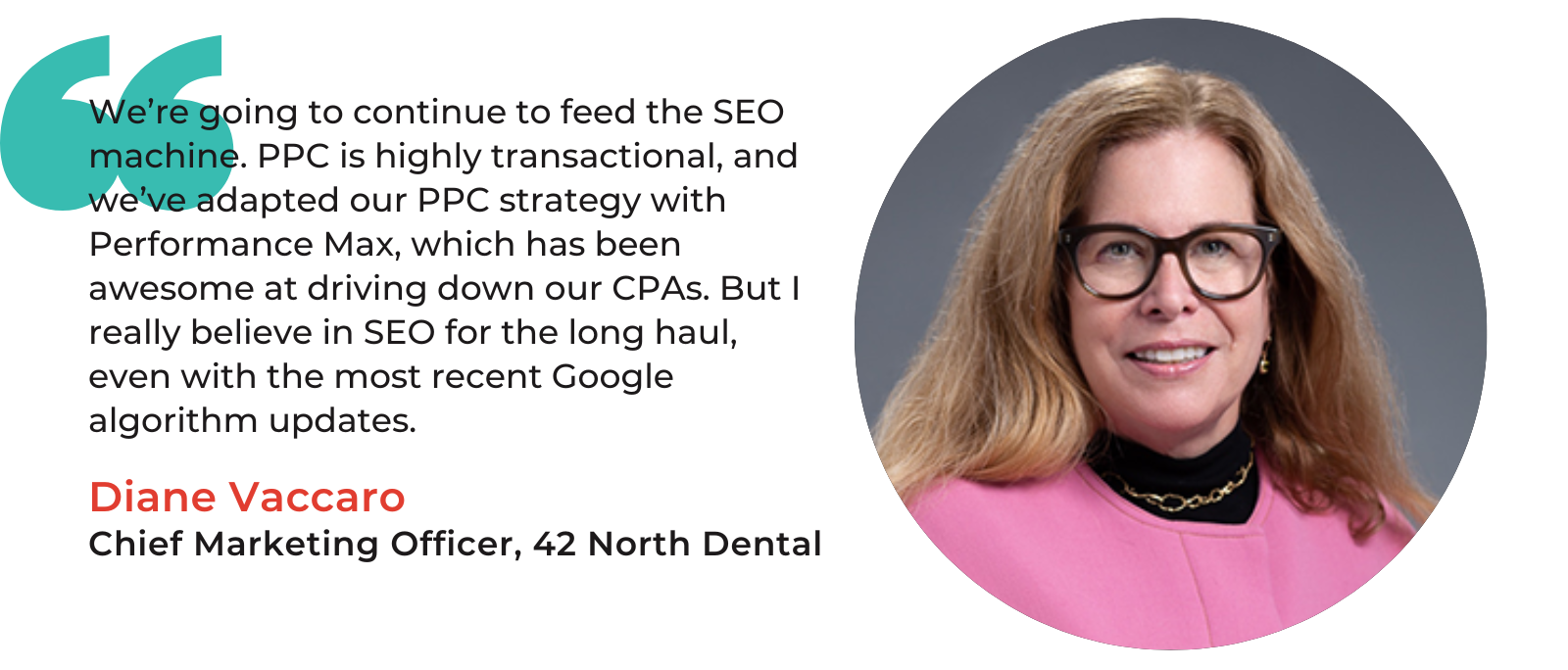 Tip #2 – Create Valuable Content for Each Stage of the Patient Journey
As for content, our group of experts recommends focusing on creating valuable—and relevant—content for patients. Don't be scared to adopt new channels or formats. The digital world is rapidly changing, and embracing new ideas can help you gain a competitive edge. 
Providers are increasingly adding channels like TikTok to their media mix to create authentic content to reach patients on the channels they use daily. This has been especially true for mental health, women's health, and pediatric providers, where social content can help educate consumers and build awareness and trust.
In addition, some are taking an even more personal approach by publishing provider-led blog articles and treatment pages. This lends authority, credibility, and a unique perspective to content, helping it rank over generic keyword-stuffed articles. With Google pushing for more helpful content, this type of "straight from the source" content definitely qualifies as helpful for all the right reasons.
And yes, everyone's favorite topic these days—AI—also has legs here. Healthcare marketers are incorporating AI technology like ChatGPT into their overall content strategy but using it as a marketing tool rather than the end all be all. As we mentioned in our recent post about AI chatbots, embracing AI with caution is key—working with this new technology brings real value, but the time hasn't yet arrived to let it drive the ship when publishing healthcare content. 
What the Experts Are Saying:
"Yes. We're at an early phase, and when I think about the usefulness of ChatGPT. There's a lot of work that would need to happen. Ultimately, there needs to be some ground truth. It's predicting the next word, but it doesn't have any concept of what a ground truth is. When we're thinking about the types of approaches that would work on the fly in healthcare, I would say that we're pretty far. The doors open to at least start thinking about what the path to get there looks like." —Chris Hemphill, Sr. Director, Commercial Intelligence, Woebot Health
"Our doctors are writing our blog content right now, which is huge. I basically did a bunch of keyword research and a bunch of research based on what I'm hearing, and then I assigned topics to our doctors and then optimized them after because I don't pretend that I'm the expert, right?" —Theresa Porcaro, Marketing Director, Pelvic Rehabilitation Medicine
What is an untapped patient acquisition strategy for 2023?
Even the most skilled healthcare marketer might not be taking advantage of all their options. That's why we always ask about the untapped and the overlooked strategies when determining marketing opportunities in a new year. Our pool stressed the importance of the following:
Tip #1 – Focus Your Efforts on Patient Access
Organizations increasingly realize the importance of meeting patients where they are. Why? Because healthcare marketers recognize that they often get caught up in new technologies, channels, and numbers and forget about the whole reason they are here—patients and patient care.
That means providing them with the best user experience and focusing on patient access. One significant part of this is having an online scheduler. Providing this feature to patients is essential, no matter who your patients are. Some organizations are even shifting their focus to new channels for acquisition, such as LinkedIn, engaging in ongoing conversations, and meeting patients where they are.
What the Experts Are Saying: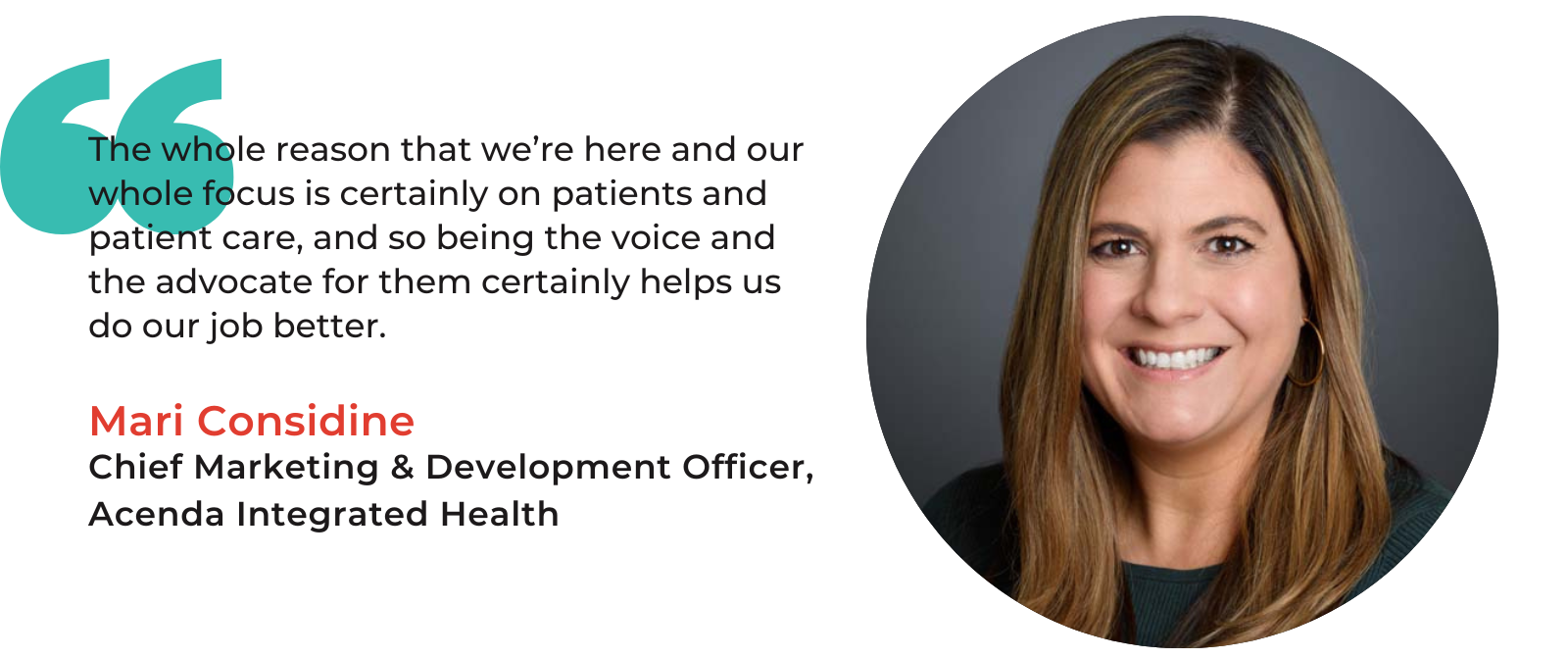 "I would say the only thing that I constantly think about is just meeting the patients where they are. I think the more that we as like a medical community, whether it's as marketers, or as doctors can show them that, "We're actually here for you. We hear you." We can do that before they even step in the office with content and show who we are and do that with our marketing efforts." —Theresa Porcaro, Marketing Director, Pelvic Rehabilitation Medicine
"LinkedIn was a very big surprise for us as far as our success. We really try to focus our content on workplace dynamics, workplace behavioral health and wellness, and that really has been a success for us. Very different from others." —Mari Considine, Chief Marketing & Development Officer, Acenda Integrated Health
"I am not a millennial, but seriously, I don't want to pick up a phone and call anybody. Ever. I want to schedule online. If you don't have an online schedule or a plan to get there, or HIPAA-compliant forms, I noticed a chat around HIPAA, having a HIPAA-compliant form to sign up with, those are the kinds of things to drive more conversions is really, really important." —Diane Vaccaro, Chief Marketing Officer, 42 North Dental
Tip #2 – Collect Patient Insights
What's one of the best ways to tailor your marketing strategy directly to your target audience? By collecting patient insights. It can't be said enough—It's vitally important to understand what patients want, need, feel, and get frustrated about. What surprises them, disappointments them? What are their desired outcomes? This information can help refine your positioning and unique selling proposition and enable you to develop a messaging strategy that genuinely resonates with patients. 
Healthcare leaders are on board, realizing how vital patient insights are for connecting with patients.
Where can you go to understand what patients are saying, feeling, and wanting to know? Our experts say you must conduct surveys, join Facebook groups, and participate in forums. These efforts will help you identify what patients care about and help you to address that through marketing.
What the Experts Are Saying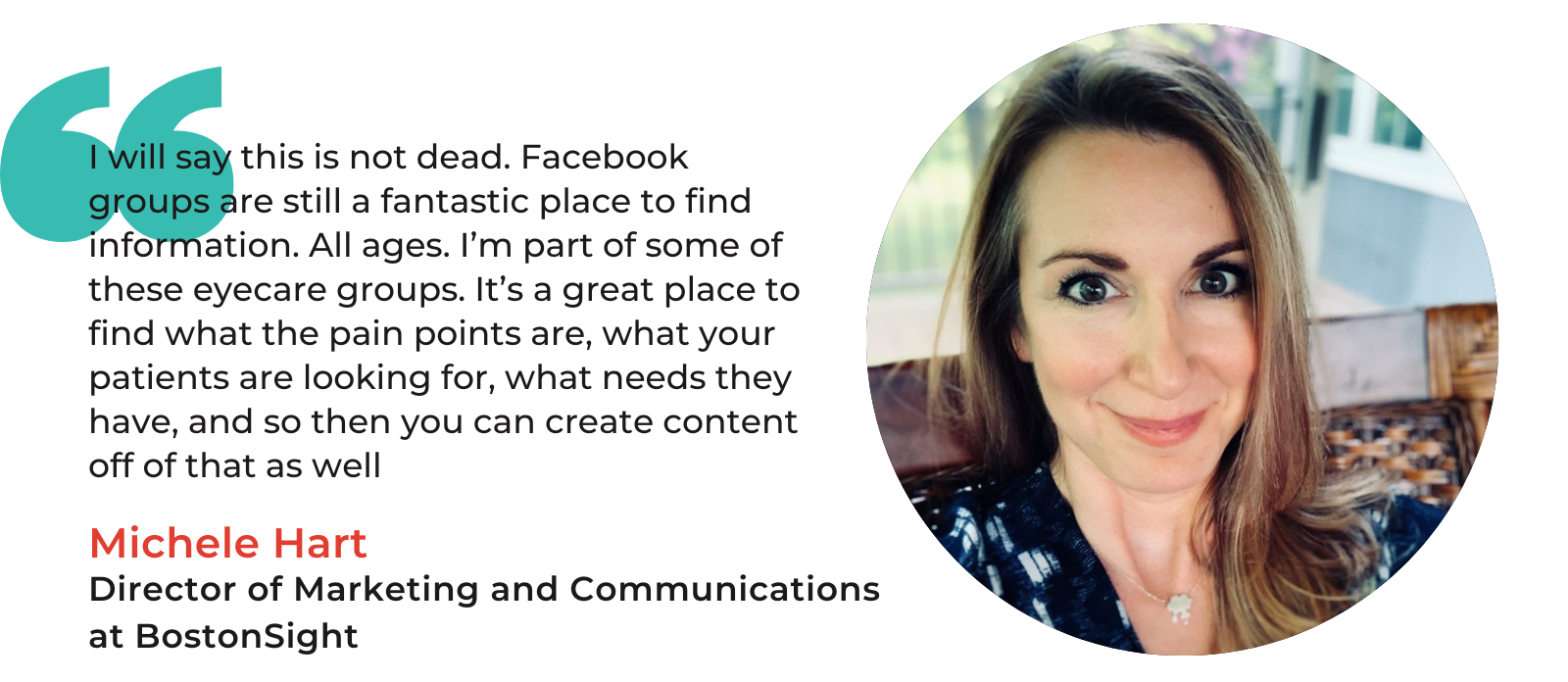 How is your organization preparing for a recessive economic climate?
Some say it's coming, some say it's not. It's always best to be prepared, however, and savvy healthcare marketers should be thinking about how to prepare for a potentially recessive economic climate in 2023. What are the experts recommending? Here are some tips:
 Tip #1 – Continue to Invest in the Channels That Matter
Healthcare organizations are realizing they actually need advertising dollars to generate demand at scale when adding providers to a practice. They aren't pulling back on spending during uncertain times but are instead evaluating where money is going, really analyzing their data, and continuing to invest in channels that are proving to drive the most conversions and patients.
 Tip #2 – Focus on Convenience and Accessibility
Take measures that focus on ease of access and invest in better marketing technology. One expert with whom we spoke, Michele Hart, Director of Marketing & Communications at BostonSight, told us she's noticed that, since COVID-19, patients are less willing to travel far distances. Getting fitted for their PROSE lens, however, can sometimes take around 2 weeks. To address this, BostonSight has started to use technology that scans the eyes and gives patients better data so that they can get to that fitting end point much more quickly.
Tip #3 – Invest in Marketing Technology & Automation
Another pro tip? Continue or expand your investment in marketing tech and automation solutions. Make sure that patients are receiving emails, SMS texts, etc., with information about their appointment beforehand, and ensure they receive timely surveys after their appointment, as well. Meeting patients where they are, giving them educational information, and answering their questions before they have them are all crucial pieces of the puzzle in 2023.
What the Experts are Saying:
Here's how Mari Considine considers and evaluates new opportunities and economic volatility:
"We have set goals, set plans, yet we're always ready to pivot. Yet, sometimes, mid-year, I think everybody gets a little antsy to super pivot, and it's never a good idea. So I think for us this year, instead of doing that, we're going to stay focused on what our original plans were. Again, we'll pivot if necessary, with the economy, there are a lot of unknowns out there. But if we see this great concept or we see competitors putting a lot more budget into a certain area, we're going to examine it carefully. We're going to stay true to our goals and plans. We have to be confident in what we decided the last year."
Conclusion
With these healthcare marketing insights and predictions in hand, you'll be ready to conquer 2023. Leveraging these recommendations in your healthcare marketing program in the coming months will give your campaigns the necessary edge they need to excel in potentially tumultuous times.