What are On-Site Elements. … and Why do They Matter?
On-site elements are the basic features of a webpage that help search engine crawlers, as well as actual users, discern what exactly a page is about.
Certain elements — title tag, URL and meta description — appear on search engine results pages (SERPs) as "snippets" and influence whether a user senses a site is worthy of a visit.
The elements which appear on SERPs, however, are not the only elements crawled by search engines.
All on-page copy and the headers that accompany them contain information for crawlers and, more importantly, provides users with the actual substance of a page.
If a user finds the content valuable, they will spend a while on the page and maybe click through to another page or two on the site – thus decreasing the bounce rate, increasing the average time spent on site and signaling to the search engine that the site is a useful result for the search query.
All of the on-site elements working together will increase the likelihood that the site will continue to rank for that keyword.
How to Optimize On-Site Elements?
Title tag – The on-site element (along with the main content) that exerts the greatest influence on crawlers, the title tag should contain the most important keyword as close to the beginning of the tag as possible and should comprise about 65 to 70 characters. This estimate is general because the title is actually measured by pixel length (about 512 pixels, according to SEO Moz). To test a title's length and see what it will look like on a SERP, use SEO Mofo's Snippet Optimization Tool.
Every title tag on a site should be unique and relevant to the page it represents. To ensure that there are no duplicate title tags on a site, use a tool such as Screaming Frog's SEO Spider, which (among other features) generates a list of all title tags on a website. This allows you to compare and assess the tags quickly and effectively.
URL – Like the title tag, a page's URL offers crawlers information regarding the page's content. It also helps users understand and navigate a site. URLs should contain a primary or related keyword, be as short as possible for ease of navigation and exhibit breadcrumb structure.
Meta description – While not critical for rankings, meta descriptions greatly impact a page's click-through rate by users and should be thoughtfully optimized.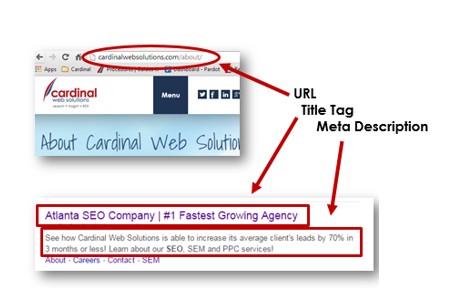 In order to attract a user's attention with digital marketing and convince them that the page the description points to will benefit them, write meta descriptions that "sell the click," not necessarily the product or service the website ultimately sells. The goal is to get a click-through so that the site can do its job of facilitating the sale.
Keep your meta descriptions short and pithy: The maximum length that Google displays is 156 characters, and SEO best practice recommends a minimum length of 135 characters. Make each word count.
Headers – Headers (H1 through H6) provide additional clues for crawlers concerning a page's topic and thus should intelligently employ targeted keywords. The H1 tag is the most important header and should feature a form of the primary keyword. Subsequent headers (H2 through H6) are of decreasing importance for rankings.
In addition to affecting rankings, headers serve to break up text on the webpage, making the reading experience easier and clearer for users.
Ensure that headers are unique and pertinent to each page.
Image optimization: alt text and filenames – In addition to both helping crawlers confirm the subject of a given page and impacting image search results, image alt text serves users with impaired sight who rely on reading software to describe website images to them. Image alt text should describe what the picture illustrates:
Alt text should also correlate with the surrounding content since search engines check for relevance between the two elements.
Image filenames primarily provide clues to search engine crawlers regarding the topic of the page. Best SEO practices for franchises and businesses advocate using a version of the targeted keyword in the filename.
Content – As important as the title tag, great content is critical to a crawler and user-friendly site.
Seek to provide relevant and unique information on each page, and ensure that each page's content fits the SEO-recommended length of at least 300 to 500 words. Because recommended content varies by industry, it is also helpful to check competitors' pages that rank well for targeted keywords. A word count tool such as Word Counter is useful for this task.
Optimizing each page on your site takes time but is well worth the effort, both to improve rankings and improve user experience. Take time today to evaluate your site or contact a trusted SEO agency in Tampa such as Cardinal Web Solutions for expert assistance.
Want more information on how to maximize your SEO? Download our eBook today for 4 Secrets to Great SEO!