Search Engine Optimization (SEO) as defined by Wikipedia "is the process of affecting the visibility of a website or a web page in a search engine's "natural" or un-paid ("organic") search results." Visibility is often seen as the most important result SEO can provide for a franchise or small business. However, without optimizing for conversion rate, you can double or triple visibility without seeing a significant gain in sales or leads. In 2014, many businesses will become aware of this fact, and realize that SEO isn't just about acquiring mass backlinks or stuffing keywords onsite to reach the top of the Search Engine Results Page (SERP). Instead, a major and often ignored part of SEO is making sure that visitors also become more likely to convert.
It's best to think of visibility and conversion optimization as pieces of a puzzle. The key to success is uniting these two pieces together into a cohesive strategy. This means shifting from the traditional "I need to be at the top of Google" approach, and instead focusing on increasing the conversion rate for existing traffic. Once you've come to terms with this sacrilege, some extremely important areas to visit for conversion rate include calls to action, easy contact forms, social/local listings, reviews, etc.
More businesses will realize over time that they need to start paying attention to these factors, and begin to better manage their overall digital presence. They will use onsite trust factors and off site reviews to stand out, and communicate trust and authority to potential customers. This will increase their conversion rates, and those conversions come from somewhere (your potential customer base). So, the longer you wait, the greater your chance of getting left behind. As competitors hone their strategies, it will become ever harder to keep up. Have I got your attention? Good. So, let's take a page from Google's book "Focus on the user and all else will follow" and accelerate your digital marketing strategy for 2014.
Step 1 – Brand Management
Make sure that your brand is properly being represented in all digital platforms and on any local listings. With Google's latest algorithm changes, the SERPs include more local service review sites like Yelp, Kudzu, Angie's List, City Search, Thumbtack, Better Business Bureau, Home Reports and Home Advisor – just to name a few. That means Google is pushing consumers to better educate themselves about your business, and increase their ability to compare you to competitors.
From the standpoint of our Tampa SEO company, of course you want backlinks from the sites mentioned above. However, you also want to take it a step further by making sure you have positive feedback on these listings. If a customer locates your listing on Yelp, and your reviews are less than favorable, they most likely aren't going to click through to your website. Instead, they may decide to search for a competitor with better reviews. Even if a user clicks through to your website from a listing with bad reviews, their trust is decreased and they are less likely to convert.
Tip: Google Search Your Company to see what sites you're being listed on.
Want an easy way to find existing sites your website is being listed on? Just simply type the name of your company into Google. Example: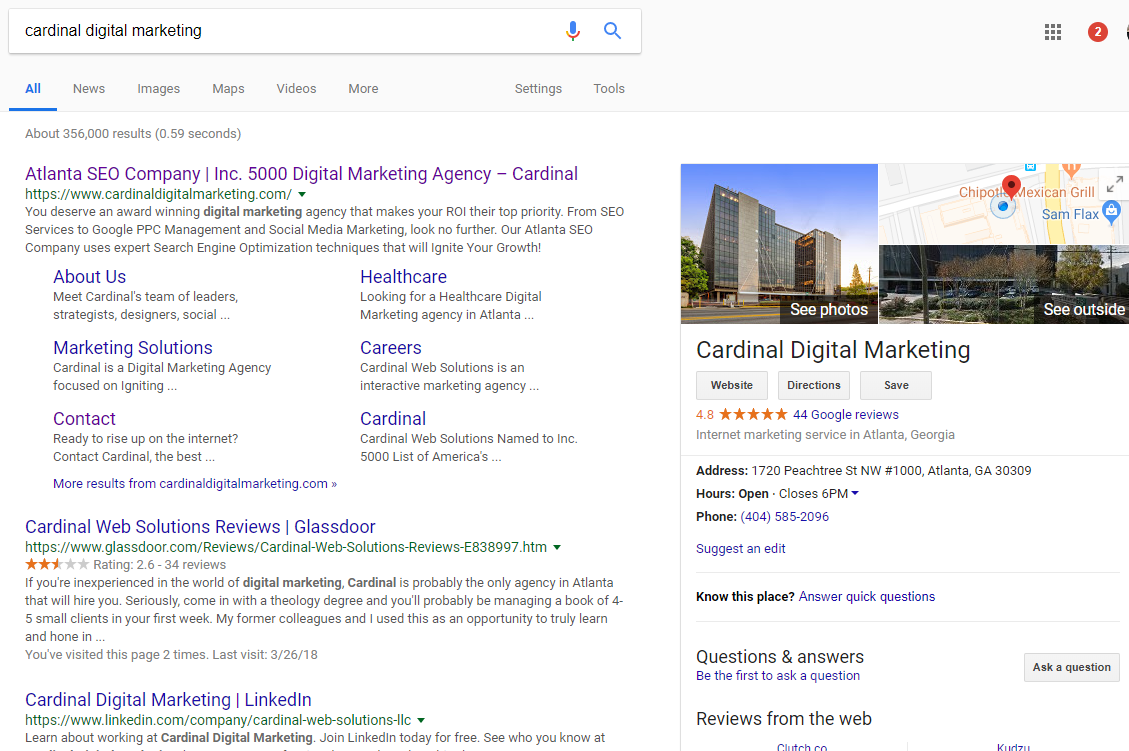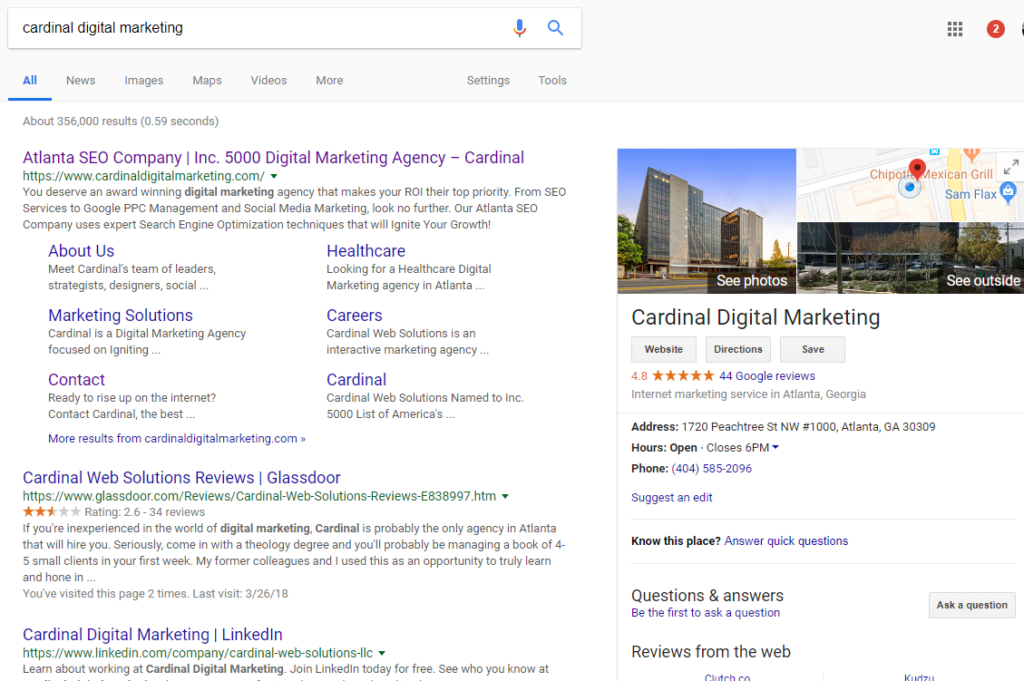 If you don't see a list of other social profile or local review websites for your company, then you need to start creating these profiles to showcase your services and highlight customer ratings. From a branding perspective, when someone researches your company, you want all the search results for that first page to be positive. This doesn't just affect your customers; it can also affect the type of talent you can attract to your company.
Whether you're a large company or a small mom and pop shop, you don't want to find your business listed on websites like RipOffReport.com or Consumer Affairs.  This immediately creates distrust and can deter any potential customers from doing business with you. This is where social media can help, for example creating a Facebook page for your business with a positive brand image to push negative items off the first SERP.
Tip: Provide existing customers with incentives for leaving you a review online.
Don't buy into social media being crucial for improving your brand awareness? Then read this article from the Wharton School of Business from the University of Pennsylvania about major companies, JPMorgan Chase and American Airlines, using social.
Step 2 – Conversion Optimization
Now that a potential customer has clicked on your site, you must maintain their interest and show them why they should pick you over a competitor. Conversion optimization is an important part of the customer centered SEO process for restaurants or other type of businesses because there is little point in ranking for a couple of keywords when you have a bounce rate of 70% or higher.
What is bounce rate? Bounce is the measure of people who left your website without viewing any other pages aside from their initial landing page. If you want to learn more about analytics and how it can help your small business, feel free to contact us.
So how do you lower your bounce rate? Easy, just put yourself in your customer's shoes and look at your site via the devices in which customer would normally look at your site (desktop, mobile or tablet).
Now, try to set any personal preferences aside and ask yourself the following:
Does this website render properly in multiple devices and browsers?
Does it communicate what the business is about?
Are products and services being showcased?
Does it convey trust and authority?
Is there a clear call to action (phone call or contact form)?
These are some the basic questions any business owner should confidently answer when looking at their site. Keep in mind that although everything may look great to you, it's common to that find users don't share the same sentiment. That's why most business owners tend to work with a web design agency to help them develop a beautiful website that also provides intuitive navigation, organized site architecture and clear calls to action. Web design agencies can also provide A/B testing services to test multiple designs for ongoing conversion optimization. The wonderful thing about creating optimized landing pages is that you are also helping your SEO and PPC strategy in allowing them to better rank organically or increase their quality score due to relevancy.
Tip: Run Google's Page Speed Insights for a list of recommendations for desktop and mobile.
Don't see the value in optimizing for multiple devices? Here's Google Executive Chairman Eric Schmidt, confirming that "Mobile Has Won" in 2014.
Step 3– Content Marketing
Last but not least, I want to touch on a very important resource that most small business owners tend to forget about: Existing Customers. Client retention is crucial to any small or large business, not just in sales; but, also in taking your digital marketing strategy to the next level.
What do I mean by this? Well, existing customers can be huge for improving your brand management in 2014. For example, you can provide incentives to existing customers for leaving you positive reviews on sites like Yelp, Google+, etc. You can also run contests on social media that allow your existing customers to showcase your product or service. The idea is that you want to turn your existing customers into brand evangelists, so they voluntarily help you increase brand awareness.
In addition to social media, you can also use more traditional methods like e-newsletters to help maintain a positive relationship with existing customers. Best of all, you can even write blog posts and press releases about your various customer interactions focused on more traditional SEO (backlinks). However, always remember that content marketing isn't about creating blog posts as much as creating engaging content for your audience, and continuously improving brand image.
Tip: Use social media to drive traffic to your blog.
Your digital marketing strategy isn't that different from traditional marketing, and any company (regardless of size) that isn't utilizing both approaches is leaving a lot on the table. Ultimately, what every business owner should do in 2014 is to take advantage of Google's recent algorithm changes, instead of dreading them. Optimize your digital presence both on and off-site and focus on increasing conversion rates for new and existing users. If you do this, you will see a drastic improvement in your digital marketing efforts for both SEO and PPC, and you will drive your competitors crazy.
Tip: If you're interested in any of the above services, feel free to contact our Atlanta SEO Specialists to learn more!
Sources:
searchengineland.com/5-colorful-sketches-on-conversion-optimization-117338
smartinsights.com/customer-relationship-management/social-crm/aidar-model
radware.com/NewsEvents/MediaCoverage/2013/New-Study-Shows-Strong-Correlation-Between-Slow-Sites-and-Brand-Perception
searchenginewatch.com/article/2320358/5-Ways-to-Have-Killer-Content-in-2014