Taking a business from zero to sustainable growth is no easy feat. Aside from the talent it takes to make this happen, the most successful businesses all have one thing in common: passionate leaders.
These company leaders dedicate their entire lives to growing their company. But at some point during that growth, it becomes evidently clear brands need to rely on others to help them take their business to the next level.
But how do you, as the leader of your company, hand over some of the control (and fate) of your business to a marketing partner? How can you be certain that this partner agency will be as committed to your success as you are?
If you're in search of a marketing agency to expand your brand's reach, there are a number of attributes you should look for in that partnering agency, including:
Someone who's wholly committed to your ROI, not their own profits
A partnering agency that specializes in digitalmarketing (not traditional advertising)
A team that embraces data and uses that data to make effective changes quickly
A partner that remains on the cutting edge of the latest technologies and trends
We discuss each of these attributes in separate articles; however, here we'd like to focus on finding a marketing partner that doesn't follow the herd.
The cookie-cutter approach is alive and well….and boring.
When's the last time you searched online for a marketing agency? In case you haven't done so yet, go ahead, give it a try. Here's what you'll likely find: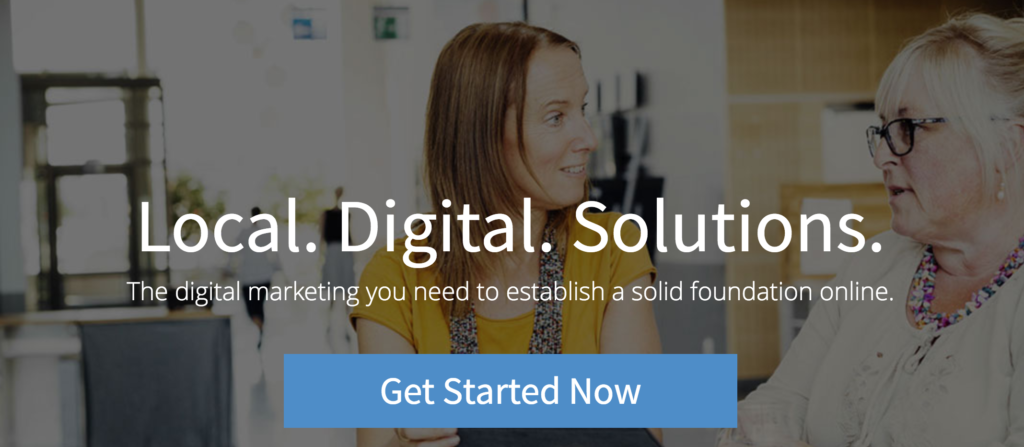 We don't mean to say you'll find this exact website (we've withheld the name of the agency). What we mean is you'll likely come upon websites that look a lot like this. Words like "digital marketing" and "local", as well as promises such as:

That all sounds great. Obviously you want to put your business in front of your customers (and ahead of your competition!), but if you look past this marketing jargon and actually read the messaging between the lines, what you'll find is most marketing agencies don't have a whole lot of substance aka quantitative results to share with you.
And, if their website lacks substance, just imagine what your campaigns will look like!
Here's the problem: Far too many agencies lack the creativity and, well, gravitas, to come up with new ideas on how to market your business. Instead, what they do is take what already exists, give it a 5-minute makeover, and call it their own.
Here's what we mean. We did a quick search for "Digital Marketing Agencies", adding the term "Tucson" and "Houston" into our search. We then clicked on two random entries that popped up on page one. Here's the one for Houston:

And now for Tucson:
Not much difference in these two messages and that, right there is the problem.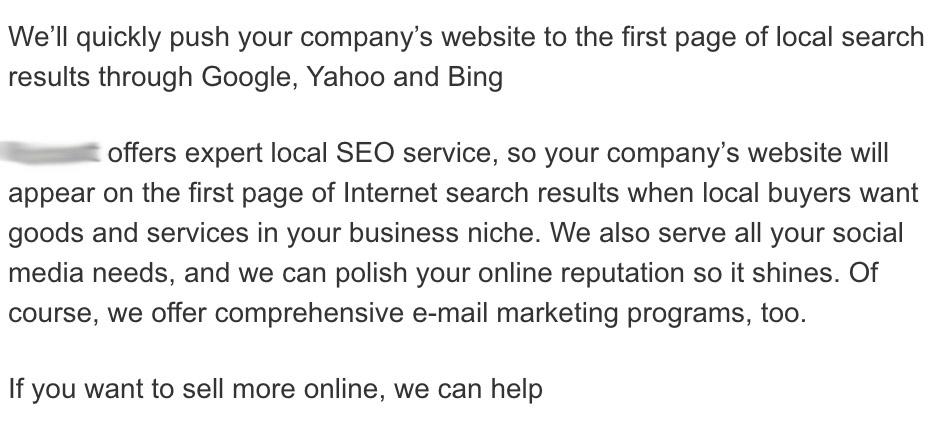 Now, don't get us wrong. When it comes to digital marketing, there are, in fact, certain strategies and techniques that are so effective that their worth duplicating … to a point.
SEO
Social Media Advertising
Paid Search
These pillars of digital marketing are hardly disputable. When conducted correctly, these strategies work. Period.
However, within each of those components is a world of opportunity. And that is what separates mediocre marketing partners from those that actually deliver on their promises.
You see, as important as it is to rely on proven strategies with your marketing, it's equally important to realize that if all you do is parrot others' approaches, eventually your brand risks becoming absolutely irrelevant.
Regardless of what phase your business is in, ensuring that your brand has its own identity, ensuring that it's staked its claim in the marketplace, is unquestionably what will preserve your legacy for years to come.
"The one who follows the crowd will usually go no further than the crowd. Those who walk alone are likely to find themselves in places no one has ever been before."
This quote has been credited to a host of folks, from Alan Ashley-Pitt to Albert Einstein. Regardless of who said it, however, the message rings true today, particularly when it comes to your marketing.
All of us know, in our hearts, the importance of differentiation. Yet for most of our professional careers (and personal lives) we've been trained to seek out the status quo.
But if you truly want a competitive advantage that stands you apart from others, you and your marketing partner have to work at it.
"Strong products and services are highly differentiated from all other products and services. It's that simple. It's that difficult." – Austin McGhie, Brand Is a Four Letter Word
There's a very good chance that you and your team have already worked hard to establish your own brand identity. You very likely have a unique selling point (USP).
All of this is well and good, but the work you've done to differentiate your brand is moot if your marketing partner doesn't complement this with their strategies.
Here's a glimpse into what we mean.
Take, for example, a simple search for the term "Mechanics."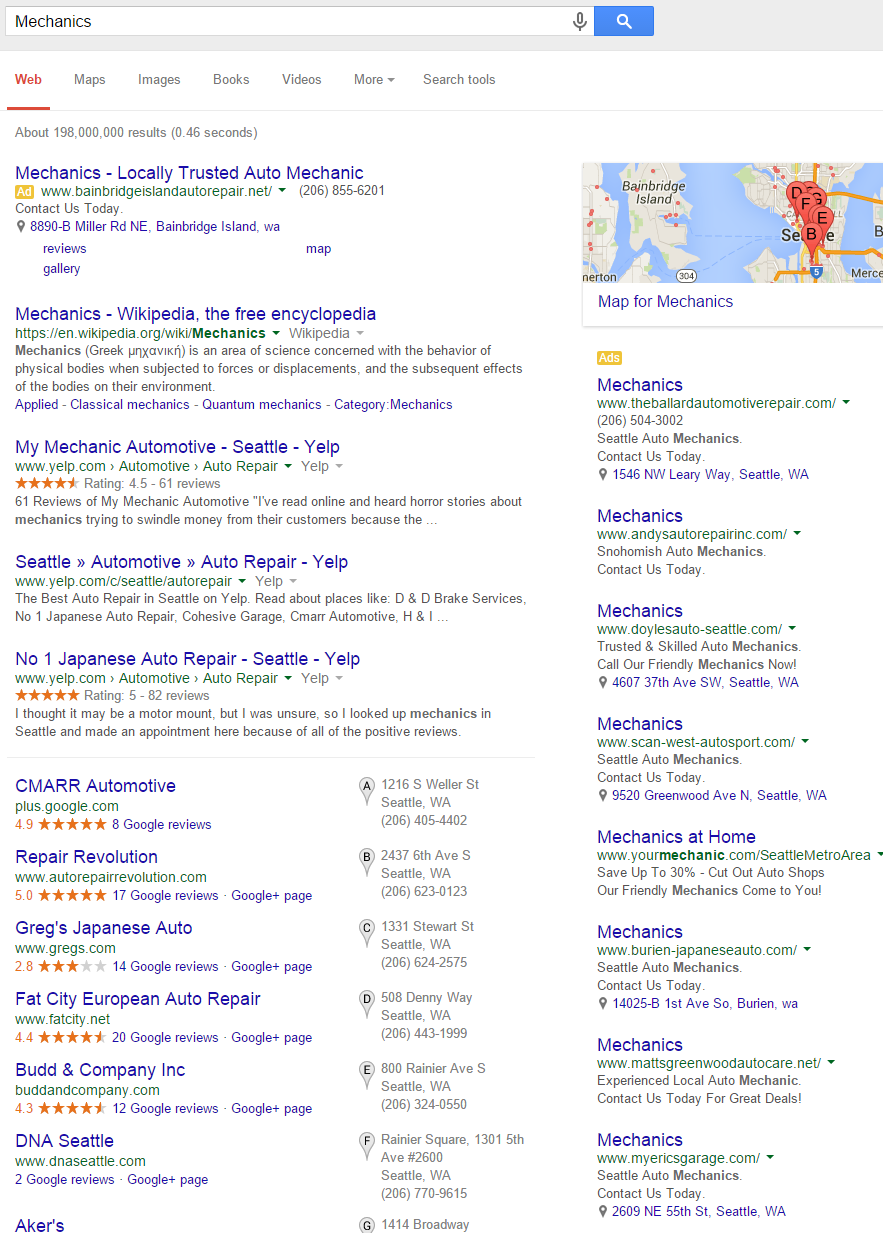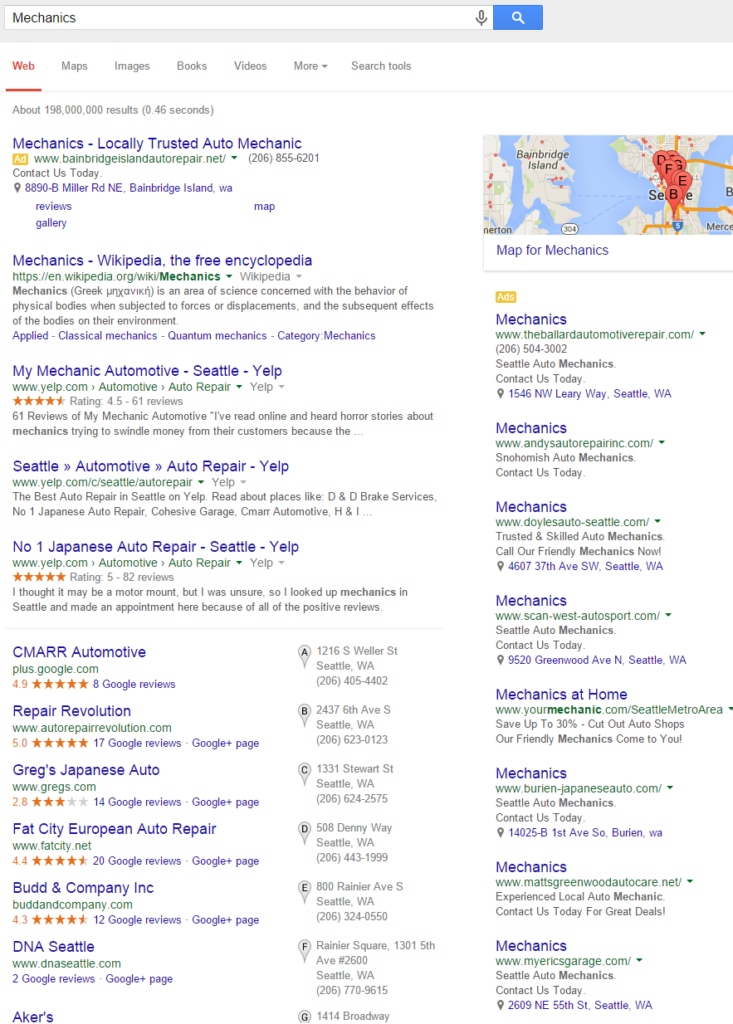 Focus your attention on the ads for this page, located at the top and on the side (this image was taken prior to Google redesigning their SERP pages).
First, we'll admit that searches like these are locally influenced, in that your ad is likely to show up if your business is near the location of the searcher.
That being said, that doesn't mean you can't find a way to stand out from the crowd of other advertisers who chose to use the word "Mechanics" alone, in their ads.
The problem is, when you partner with a marketing agency that approaches each campaign with a just-the-facts-ma'am perspective, you're bound to get lost in the crowd.
Which one of those ads on the side would you click on? Do any of them actually stand out to you?
Probably not.
Creative marketing partners know how to use the foundations of good practices (such as implementing keywords) to craft unique stop-me-in-my-tracks messages for their clients.
Just look at the difference with these ads below: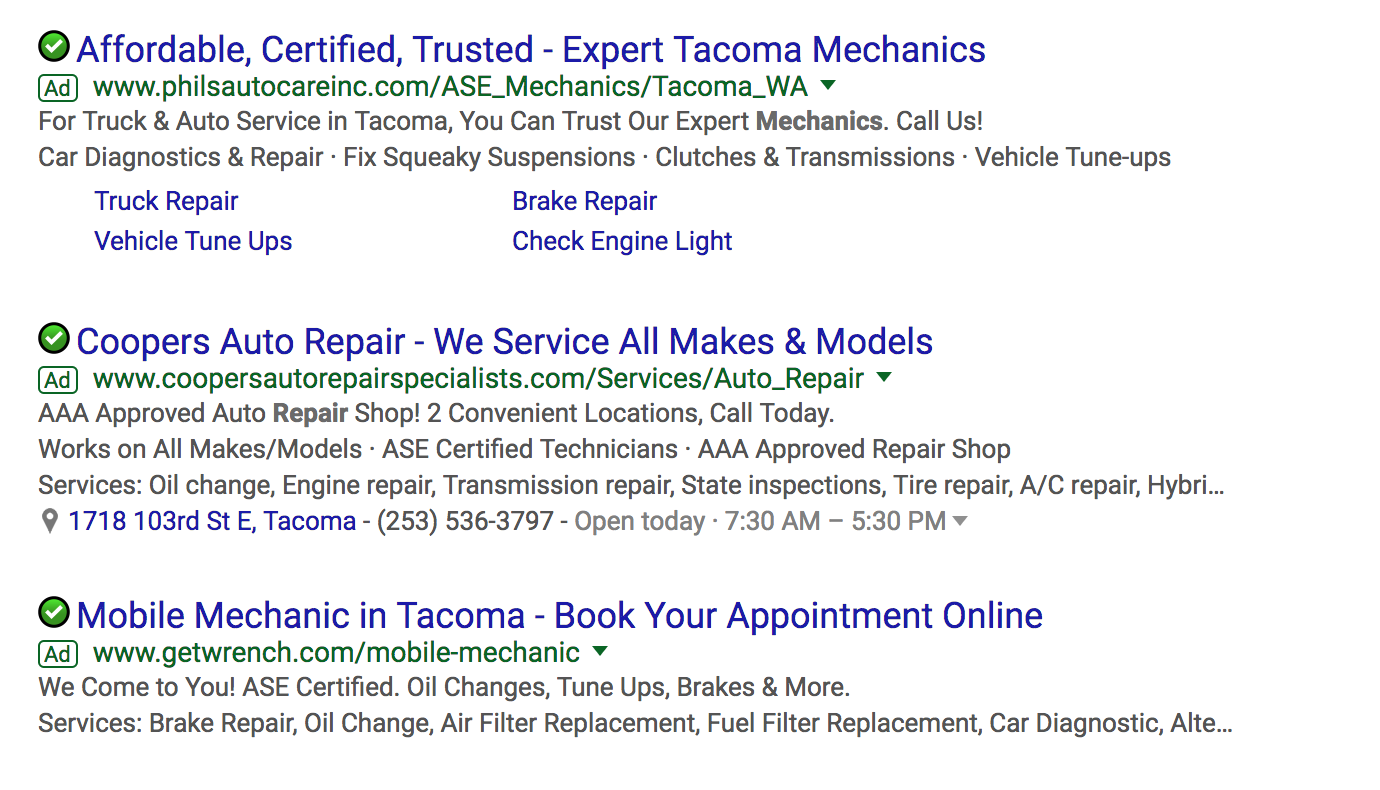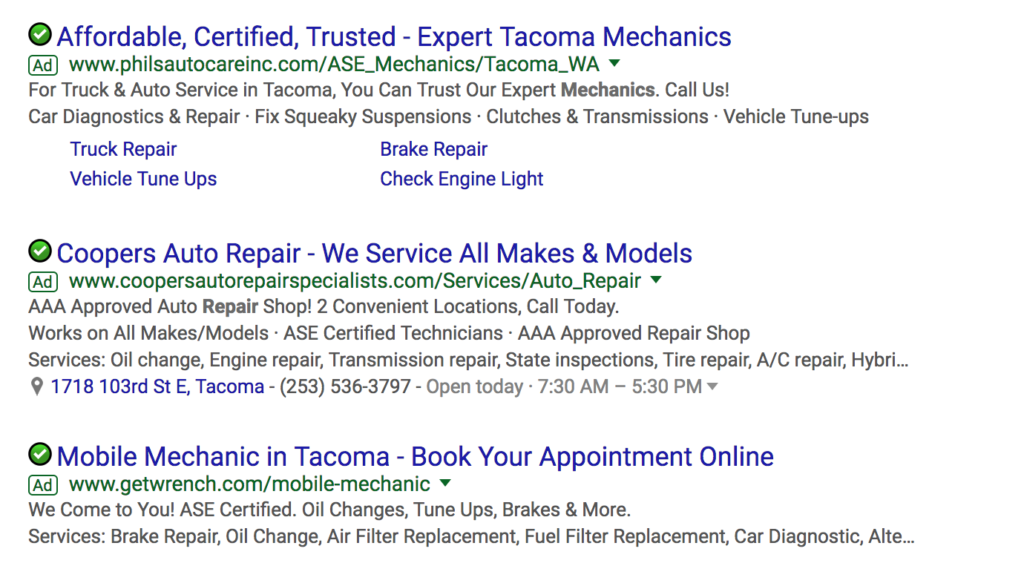 Two of the three ads use "mechanic", but that doesn't matter. Each brand bid on the term "mechanic", making their ad appear. And each ad is unique in its own way.
The first ad addresses the consumer's pain points immediately. The second ad speaks well to prospects who might have a unique car make or model, and the third ad is incredibly unique, in that it's a mobile mechanic.
It's that third ad that really calls out to us. Now, not everyone wants or needs a mobile mechanic, but, really, who wouldn't love to not have take (or tow) their car to the shop?
This third ad is an example of a marketing agency that knows how to think differently without compromising the proven tenets of marketing.
We could provide the same exact examples for your organic marketing as well. If you or your marketing team has optimized your on-page content in the past, have you ever looked at how the meta titles and descriptions of your pages help you stand out?
If your page titles look anything like this:

Then you have some work to do.
This title, above, is just an attempt to rank for certain keywords (Brooklyn SEO, Web Marketing). What it doesn't do is try to pull a human reader in.
Compare that to something like this:


While this title could be better, it's certainly a step up from the first example. It poses a question and speaks to the potential customer. If these two pages showed up next to one another on Google, we're certain EyeCarePro would get more clicks.
From your AdWords copy to your SEO strategies, social media ads and more, you want to make sure your brand looks and sounds different or else, what's the point?
But when a marketing agency can't even differentiate its own messaging on its website, why should you trust it to differentiate yours?
Beyond words – taking a new approach to your strategies
So far we've talked about some pretty specific ways that you, or your marketing partner, can differentiate your brand from others.
But when it comes to choosing the right marketing partner, it's not just about the words you choose.
It's about the strategies you implement.
We talked earlier about how certain approaches (like SEO, Reputation Management, Paid Search) are extremely effective in delivering results.
But it takes more than launching a paid search campaign to see results. Again, it goes back to going against the grain and finding ways to get your brand noticed.
For a paid search campaign, a conventional marketing agency might recommend conducting keyword research, bidding on the top-performing words, and crafting standard, straightforward copy that ensures your ad is seen by the right audiences.
All that is fine and well, although we've shown you the results of that type of conventional thinking in our mechanics example above.
An agency that thinks outside the box might suggest an entirely new approach to your paid search strategies.
For example, have you ever implemented remarketing strategies to try to convert folks who've visited your pages?
Even if you have, a marketing agency with the confidence – and talent – to think outside the box would likely suggest unique ways for you to use remarketing to increase your leads.
At this point in the game, countless brands use remarketing. Consumers are turning a blind eye to it… unless you know how to stand out with your messaging and placement.
Not to toot our own horn, but check out one of the ads we use for our own remarketing purposes.

This ad only appears to folks who have visited our website, meaning they're at least somewhat familiar with our brand.
Our goal is to show prospects that we know how to reach their audiences. Both the messaging – and placement – of this ad do just that.
And, of course, remarketing isn't right for all brands, nor should it be the only arrow in your quiver. Marketing agencies that don't follow the herd won't rely solely on past successes of others to dictate the strategies they implement for their clients.
Rather, they look at each distribution channel as an opportunity to make an impact. They embrace these challenges as obstacles and brainstorm ways to make your brand be the one brand that audiences can't live without.
Livestream Video. Chatbots. Instagram/Snapchat Stories. All of these are either platforms or technologies that your prospects use, but that marketers and brands have yet to master. By choosing a marketing partner that boldly goes where no brand has gone before, you can establish your company as a trailblazer, rather than just another face in the crowd.
Visionary marketing partners prevent your message from getting stale
So many marketing professionals unknowingly subscribe to the adage, If it ain't broke, don't fix it.
That's a recipe for disaster. Often times, marketing campaigns and initiatives deliver tremendous results … initially. Over time, that success wanes. What happens is that the campaigns are either wholly abandoned, or put on autopilot, while your marketing partner builds a brand new campaign.
Then, that cycle continues.
On paper, all looks well. Your marketing strategies are delivering a return. But look closely and you'll realize that's not necessarily accurate.
Creating a system where you operate short-run campaigns in start-and-stop fashion isn't the way to build an audience. It's not how you develop a cohesive story. The reason that so many marketing partners approach their work this way is it's easier to come up with a shiny new idea, and see results, than it is to nurture and develop an existing idea.
But that latter strategy is how brands will enjoy long-term growth. Think of the Dos Equis campaign for the most interesting man in the world. The beer brand could have easily abandoned that campaign after a few ads; instead, they ran with it for years.
But, in order to do that successfully, they and their marketing partners had to find a way to tweak the campaign to keep it relevant and compelling.
Doing that takes a great deal of creativity and critical thinking.
And that's what you get when you partner with a marketing team that doesn't follow the herd. Rather than reactionary strategies ("Google's updated their algorithm, let's create a campaign to leverage it!"), your marketing partner will create proactive strategies ("Our research of your marketplace leads us to believe that if we develop a Live Stream strategy around your product, you'll see tremendous growth").
How do you know your marketing partner is a leader, and not a follower?
OK, so you know you need to avoid marketing agencies who promise the same dang things that every other agency does.
But how can you be certain that the agency you partner with is, in fact, ready to blaze trails with your brand?
You can learn a tremendous amount from their website. While most agencies will discuss, to some extent, the same types of strategies they use (think SEO, Social Media, Content Marketing, etc.), only those confident about their successes will place an emphasis on proof.
Let's revisit the agency website we found from a simple search: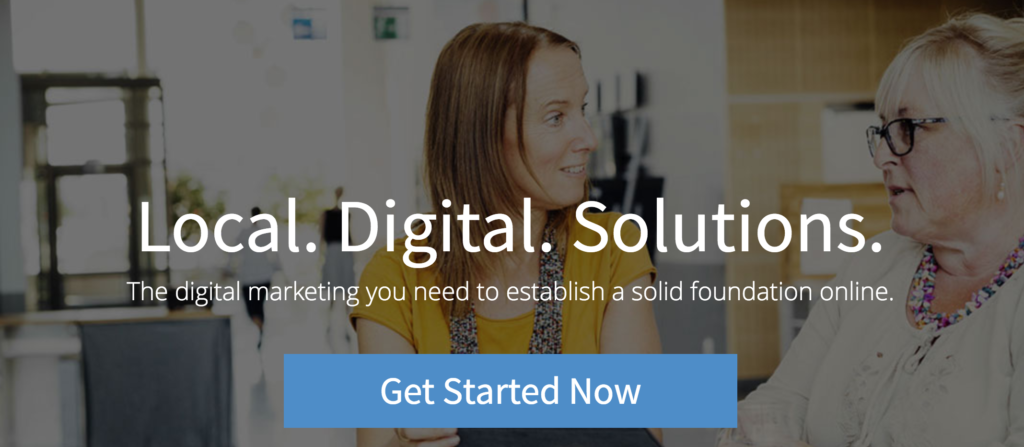 What, about that image above, makes you want to "Get Started Now." We're hoping your answer is nothing.
If so, then good. You're cautious with your commitments and demand more than simple marketing to win you over.
Again, not to toot our own horn, but take a look at our home page: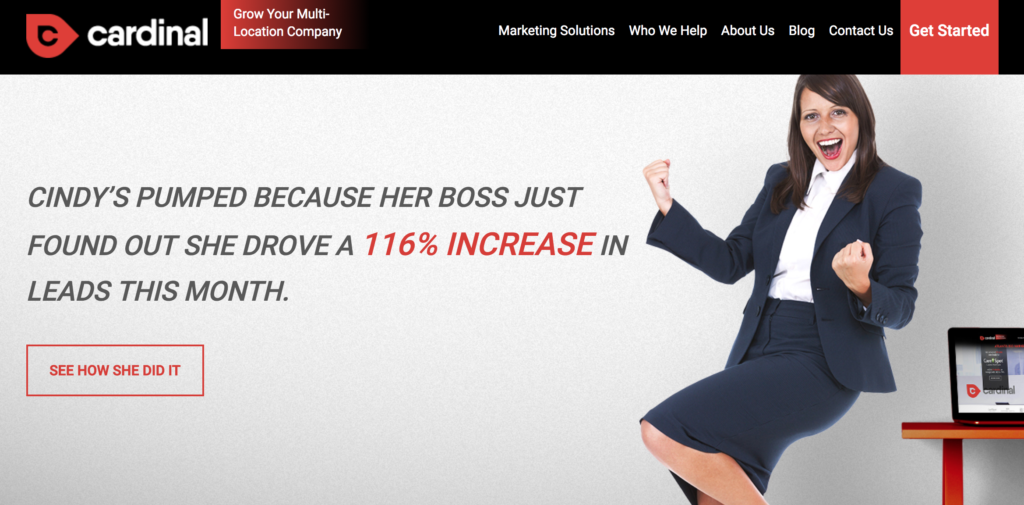 The difference should be striking. We don't actually ask our visitors to "Get Started Now" because, well, we know these visitors aren't ready to commit.
They want proof. Good thing we don't shy away from it.
Our homepage layout was actually the result of an extensive internal conversation with our team. For years we had something similar to the "Get Started Now" image because, frankly, everyone was doing it.
So it must work, right?
Somewhere along the line though, we got to thinking: Isn't our goal to be different? Don't we want to focus first on our visitors, and less on the status quo?
When we posed that question, it laid the foundation for a website redesign.
And that, in itself, is yet another example of why your brand would benefit from partnering with an agency that isn't, shall we say, conventional. Agencies like ours are never content with the "as is."
Even if the "as is" is working.
Because to us, there's always a better way. A different way. A unique way to develop a message and share that message with the world.
So, what say you? Is your brand ready to stand out among the masses? Is your business looking to do things a little different?
If so, then at all costs avoid partnering with agencies that spit out the same ol' same ol' on their website and in their sales pitches.
Ask them point blank: How will you make my business stand out?
The answer to that question will tell you everything you need to know.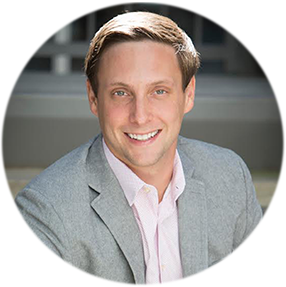 Alex Membrillo
Founder and CEO
Alex Membrillo is the CEO of Cardinal, a digital marketing agency focused on growing multi location companies. His work as CEO of Cardinal also recently earned him the honor of being selected as a 2015 and 2016 Top 20 Entrepreneur of metro Atlanta by TiE Atlanta, Atlanta Business Chronicle's 2016 Small Business Person of the Year (Rising Star), and the 2015 Digital Marketer of the Year by Technology Association of Georgia (TAG).