Organic website traffic is pure gold if you know how to use it to your advantage. The important thing to remember is that unlike paid or direct traffic, organic visitors came to your website by clicking on one of your pages or posts that Google ranked high. As a result, there's a very good chance these visitors have never heard of you or your practice.
And that, right there, is why so many medical professionals out there don't understand how they can get a lot of web traffic, but fail to make conversions.
They're not speaking the right language to these organic visitors!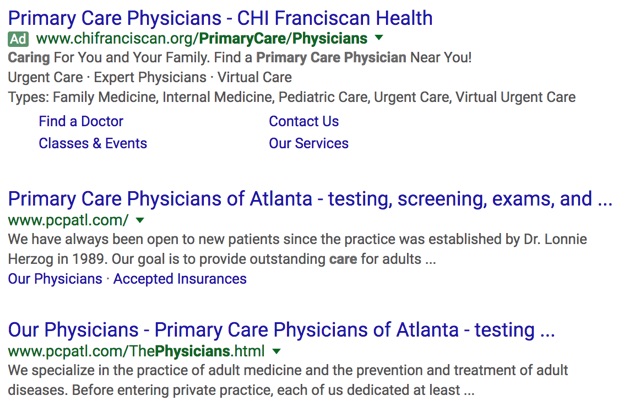 Ranking high on Google's search engine results pages is just the first step of converting your organic traffic. Because most of your organic visitors don't know who you are, the next step is providing an experience, on your web page, that leads your visitors to a deeper relationship and, hopefully, a conversion. Our plastic surgery advertising agency uses this strategy.
How do you make this happen? Well, for starters, you have to know who your visitors are and what they want to see when they stumble on your site.
For that, you first need to know where your visitors are entering your site.
With SEO, your homepage is not your most important page
There'll be times when your organic visitors will come to your site from your homepage. But most won't. Each of your pages and posts is far more focused on the long-tail keywords that are more likely to rank.
For example, in Google, we typed in: benefits of plastic surgery. Among the results we got back, was this one:

When we click on that page we come to a specific blog post, and not the homepage for Norman H. Rappaport.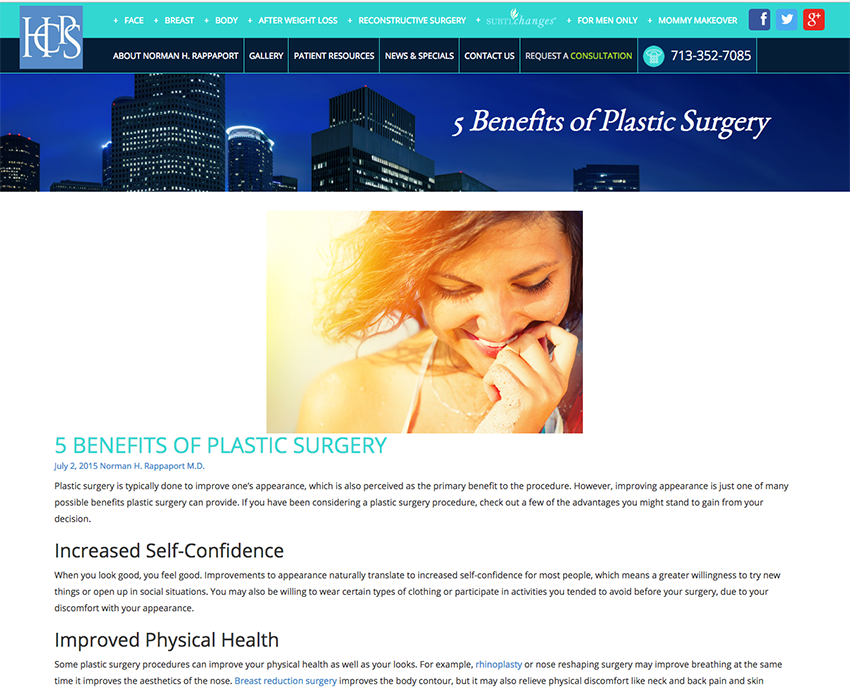 Each of your individual pages and blogs presents an opportunity for you to create yet another doorway into your site, and when designed and crafted properly, those doorways can lead to actual conversions.
One of the ways we help maximize our clients' SEO return on investment is to spend time digging through their site analytics. By doing so, we can determine where organic visitors are regularly landing on their websites. This, in turn, will help us to see which pages and posts Google values the most.
During our research, if we determine that the search terms that lead the most traffic to our client's site don't align with their core business strategy, and don't match the language used by their patient personas, we pause. Before we take another step, we adjust the website content so that it better aligns with our client's overall goals.
Perform an audit
We suggest you also conduct a thorough website audit to ensure your site is easy to navigate through and is free of glaring errors.
Your site might be massive in size. If it is, then start with the pages and posts that gain the most traffic (per your analytics research). Check all the body links, calls to action, forms, content and more.
Also update any language that might need some sprucing up due to new technologies, language or laws.
Remember: If you have any typos or grammar errors, you might destroy any trust you had built with your visitors up to that point.
Examine your content flow in Google Analytics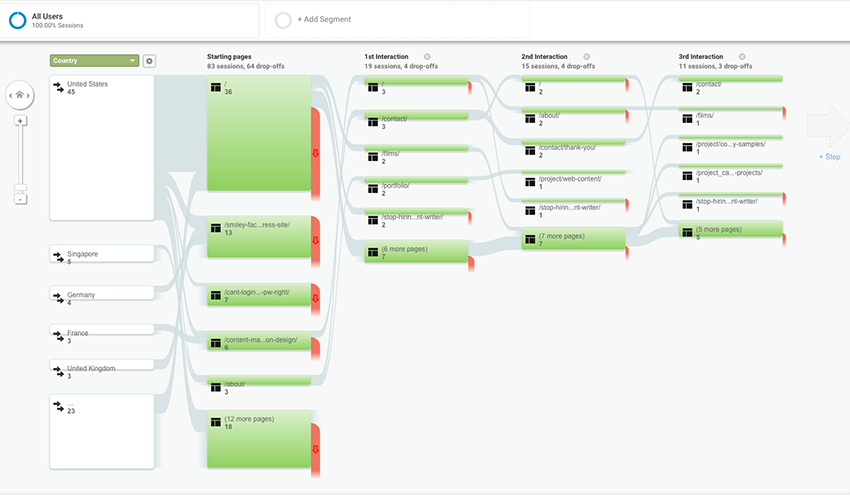 Google Analytics' User Flow tool does a pretty good job of showing you what pages your visitors land on, and what pages they go to from that page. It also shows you at what point your visitors decide to leave your site completely.
Take some time to look at the trends in user flow throughout your website. Take note of where your readers are coming from, where they're going, and where they leave. Ask yourself: does this make sense? Could I simplify the process for my visitors? Does it seem like one page, in particular, is forcing my visitors to leave?
Remember, you're trying to lead your visitors to conversion (such as making an appointment, filling out a consultation form or contacting your office). User Flow can help you determine if there's something on your site sending your visitors running for the hills.
Provide relevant next steps – don't go all in unless it's time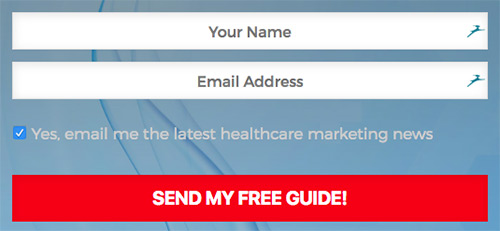 Often times, we find our clients pitching just one call to action throughout their site: Schedule an Appointment or Get Your Free Consultation.
While that CTA is effective in certain instances, it may not work for every one of your visitors. For example, if a visitor lands on your blog about the benefits of plastic surgery, then to your "schedule a consultation" page, then heads to your "about us" page, that's generally a good sign that they don't know enough about you yet and aren't ready to commit with a consultation.
Simplify and soften the process a bit by creating a page that's all about you and your practice and send your blog visitors to that page first. Then, from that page, you can send them to your consultation page.
Again, User Flow will help you determine any trends that demonstrate a need for you to alter the experience you provide for your visitors. Better yet, invest in a tool like Hotjar or Crazy Egg. Use the tool for your top-performing pages to get real-time insights into how users interact with your content.
For example, do your visitors scroll all the way to the bottom of the page? Do they see your CTA? Do they hesitate before they click on a link? Do they reread certain sections? These insights will help you understand exactly where breakdowns in your "flow" occur.
Create lead magnets your visitors simply can't resist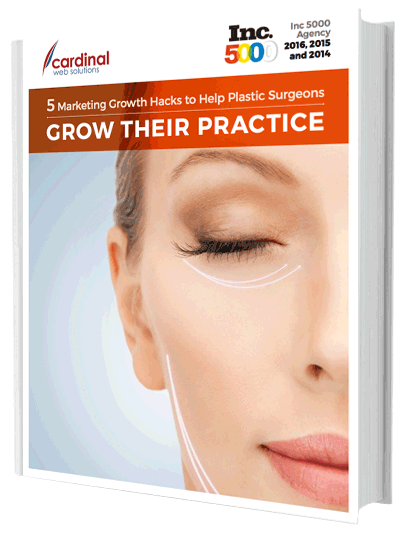 This article is designed to help you convert your organic traffic. But until now, we've focused more on content and flow, and not much on conversions.
That's for good reason.
You can't really design irresistible opportunities for conversions if you don't have a clear understanding of who your visitors are, and how they got to your pages.
Now that you do, it's time to focus on your landing pages or signup forms.
Whenever you present a signup form to your visitors, it should always be a 'give to get" situation. What benefits will your visitors get by giving you their contact information?
For medical professionals, the go-to offer is the free consultation, and that certainly can help. But not always. What if your visitor isn't ready to commit to a consultation?
Take, for example, someone who stumbles on the website for an ophthalmologist after conducting a search for Do I really need an eye doctor.
This visitor found a blog called "10 signs you really need to see an eye doctor" on Google and clicked on the link. Now that she's on the blog post, she reads the content to the end and finds a call to action promoting a guide: How to Find the Best Eye Doctor in Your Community. In order to read this guide, she has to provide her contact information, but because it's a logical next step for her – based on the blog she read – she's more inclined to provide her information.
And now that ophthalmologist has her contact information and can market to her directly in the future.
Traffic is great – but it's not everything
Optimizing your medical website pages for search engines is a great way to get more traffic to your site, but if you aren't taking the time to identify the weak points in your content process, you could be wasting time, energy, and effort (not to mention potential patients) along the way.