It's no secret that advertisements aren't wholly trusted by the folks who view them. To make matters worse, many people don't initially trust lawyers or law firms. When you combine those two elements together – ads for law firms – what you get is an end product that will struggle to build trust with your prospective clients.
But all is not lost.
There are ways to use paid ads online and in social media effectively for your law firm so that your prospects are left with a positive impression of you and your practice.
It all starts with knowing your message and sticking to it.
Be brand consistent
Our Charlotte SEO company sees a lot of law firms out there use interesting tactics in order to get leads. Using ads to promote lead magnet guide books like "Georgia's Guide to Filing an Accident Report" can be effective in getting leads.
And there's nothing wrong with that.
That is if that type of language and approach is consistent with your firm.
More important than trying to come up with a way to get more leads with digital marketing is to ensure that the messaging you include in your ads is consistent with your branding.
Don't compromise your voice for a few prospects.
Take, for example, this Facebook ad for Sanford Heisler Sharp, LLP: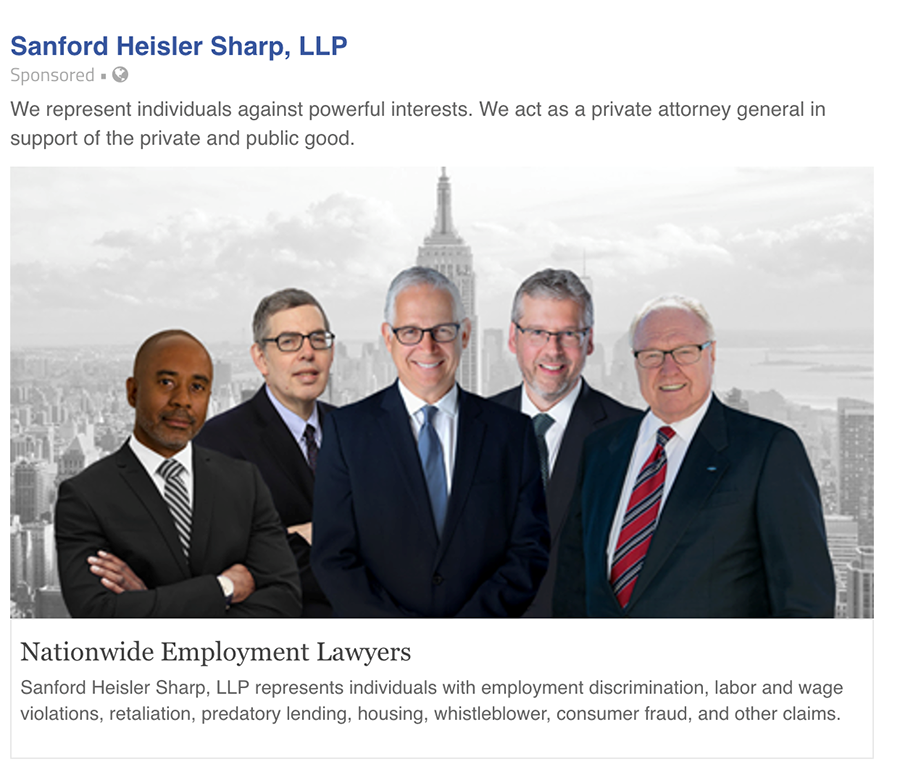 There's nothing "salesy" about it. It's straightforward, clear, and professional, which clearly represents the branding and reputation set forth by the law firm.
We're not saying you have to be boring with your ads; just make sure that you don't lose sight of the type of experience you want prospects to get from your content.
We love this ad promoted by Layfield & Barrett: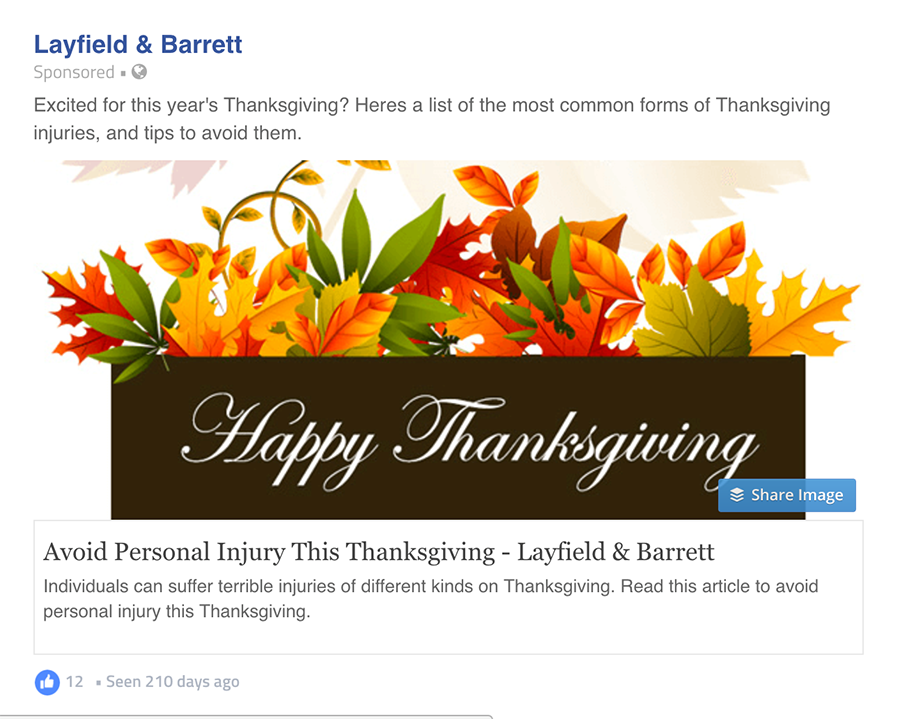 Here's why:
It's not just an ad that promotes the firm's services. It's a timely ad (Thanksgiving) that offers readers valuable content they might enjoy or find worthwhile (avoiding injuries during the holidays).
This ad leads folks to a blog post that provides detailed information about how to avoid personal injuries during Thanksgiving – it's not a hard sell.
What this does is help promote Layfield & Barrett's branding, demonstrates that they're willing to help folks be safe and reminds folks that if they need a personal injury, then the helpful team at Layfield & Barrett are just a click away.
When you follow this approach, your readers will walk away feeling like they just got their hands on some quality content from thought-leaders in the field. This, in turn, could lead toward a conversion when your services are needed.
Create headlines that represent your true purpose
Look at the headline in the Layfield & Barrett ad above:
Excited for this year's Thanksgiving? Here's a list of the most common forms of Thanksgiving injuries and tips to avoid them.
That headline accurately explains what readers can expect if they click on the ad. The ad leads readers to a blog article that discusses common Thanksgiving-based injuries (cooking injuries, traveling injuries, slip and fall, etc.).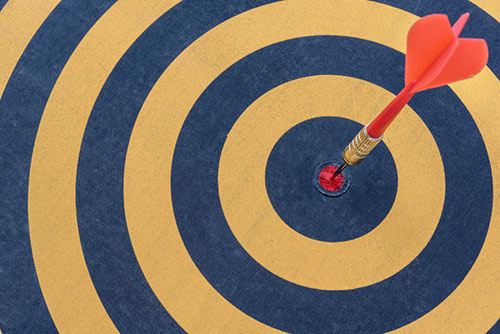 Plain and to the point.
The only way to establish long-term trust with your prospects is to ensure your content delivers on the promise made by your ad's headlines.
So, how do you do that?
Here's a quick strategy you can implement: show your headline to someone who's not directly affiliated with your law firm. Have that person write a summary of what they think the content you're promoting will be, based on the ad headline alone.
If you find that their summary doesn't match your content, then you should adjust your headline (or, if necessary, content) accordingly.
Know how to improve your ad performance
Social and paid advertising is all about test, analyze, and improve. This ensures that your ad dollars are spent wisely. Use each network's analytics to analyze engagement signals and click-through-rate (CTR). You'll want to replicate what works and refine what doesn't.
But here's the thing. We've seen far too many law firms focus on what we refer to as vanity metrics, like click-through-rate, to determine the performance of an ad.
What you want to do is measure what matters most, based on the purpose of your ad.
For example, in the Thanksgiving ad, the firm is promoting editorial content. For an ad like that, it's a good idea to measure elements such as time on site and page views. For ads that funnel folks to a conversion page (like a free consultation page), you're better off measuring the number of email signups and form completions.
Ads can leave a bad taste in the mouths of your prospects. But you can change that.
Consumers have long been trained to distrust ads and, in many cases, lawyers. The quicker you accept that, the quicker you'll be able to make adjustments to your law firm's ad strategy. Paid and social ads are a tremendous way to expand your firm's reach to a wider audience. With the tips above, your ads will be able to deliver positive user experiences built to attract qualified leads and convert them into prospects.