Ranking in Google's Local 3-Pack is a coup that should cast a smile on the face of any marketer or business owner. Just look at how prominent these 3 fortunate law firms are: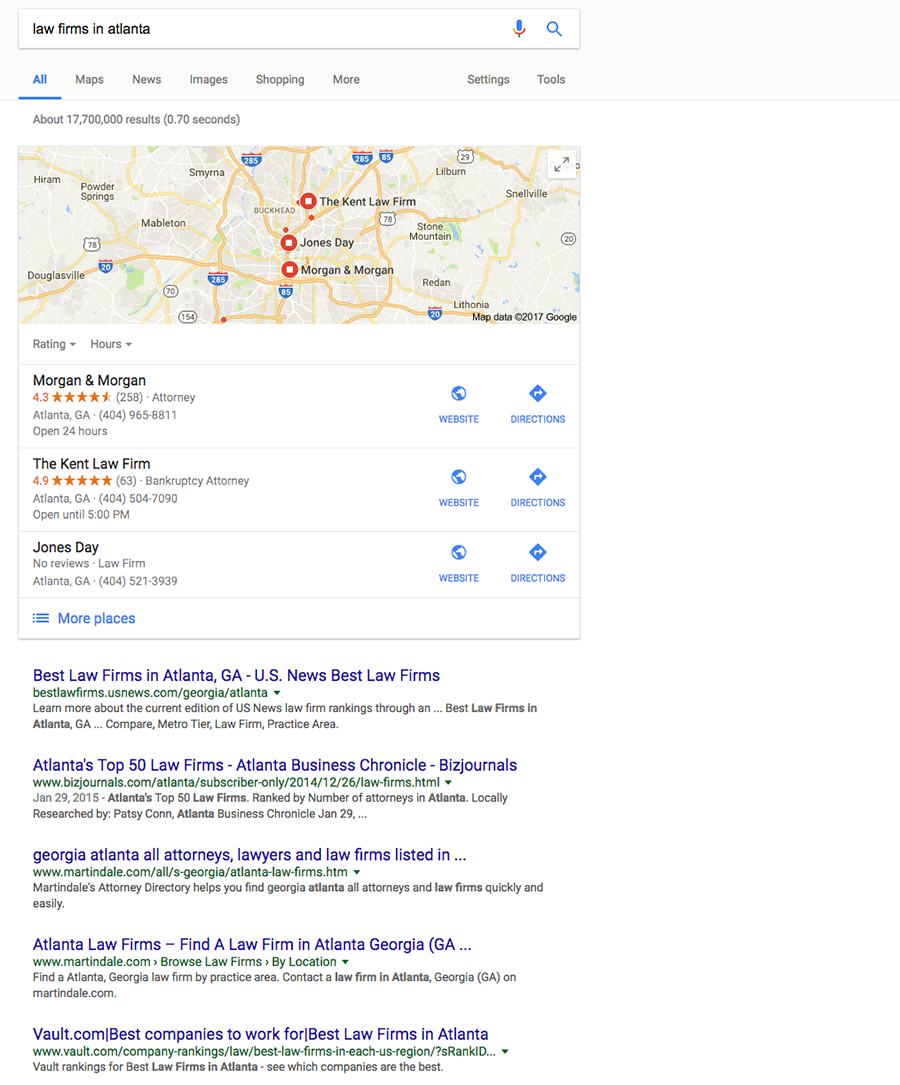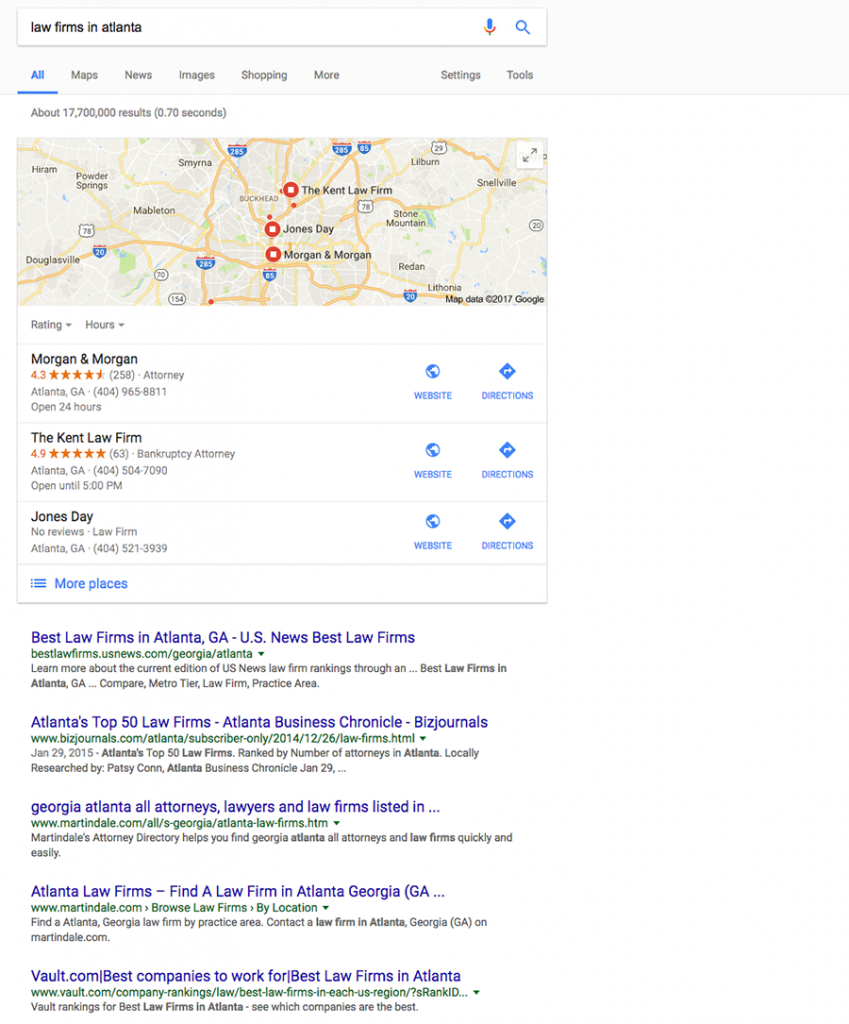 But here's the thing – ranking in this coveted 3-pack is hard. That's not to say you shouldn't strive to get ranked there. Local SEO is a fantastic way to grow your business, but with 3-Pack competition heating up this year, we think it's about time you consider altering your local strategy.
What do we mean? Glad you asked. Here are a few ways to approach your local digital marketing strategies for 2017 and beyond:
Optimize for "near me" searches
Near-me searches have been on the rise for the last five years and are expected to keep on growing. We're not making this up; just check out the data from Google Trends for the past five years: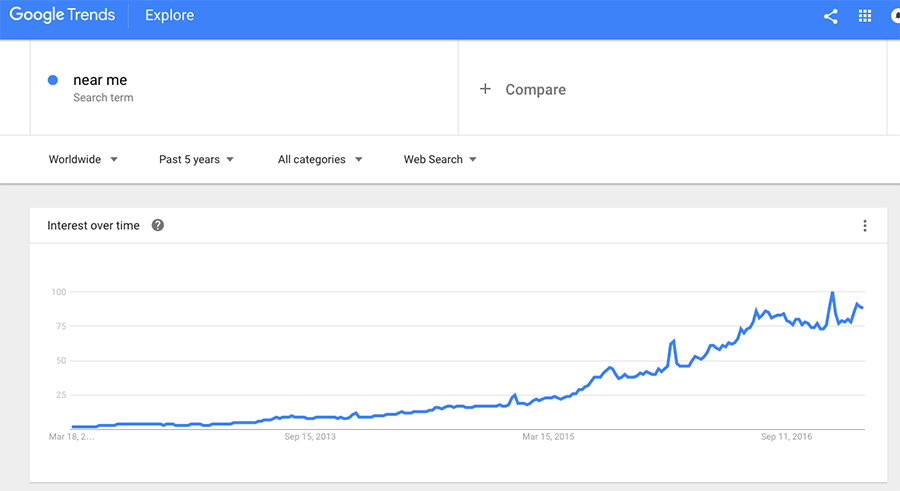 Optimizing your site for "near me" searches is just about one of the most important things you can do to make your website more discoverable.
Get into the paid ad game
In our own experience, we've found that our clients have the most success when they rank strongly organically, locally, and have paid placements. This just increases the amount of real estate you consume across the web and helps you get in front of the eyes of prospects you're looking to woo.
Speed up your site
Your website should load in the 90th percentile on Google's Page Speed Insights. But you can also check how fast your website loads with a tool like GTMetrix. We feel pretty confident saying that Google reduces the visibility of slower websites, so no matter what type of great content and strategies you have in place if you have a slow site, you'll lose out on opportunities.
Kickstart your review generation strategy
Did you know that earlier this year Google changed the review threshold to only one review? That means Google now gives all businesses review scores based on any number of reviews you have. You can see in the example below, the last company, Viewcrest Cleaners & Laundry, has just 2 reviews but is given a score: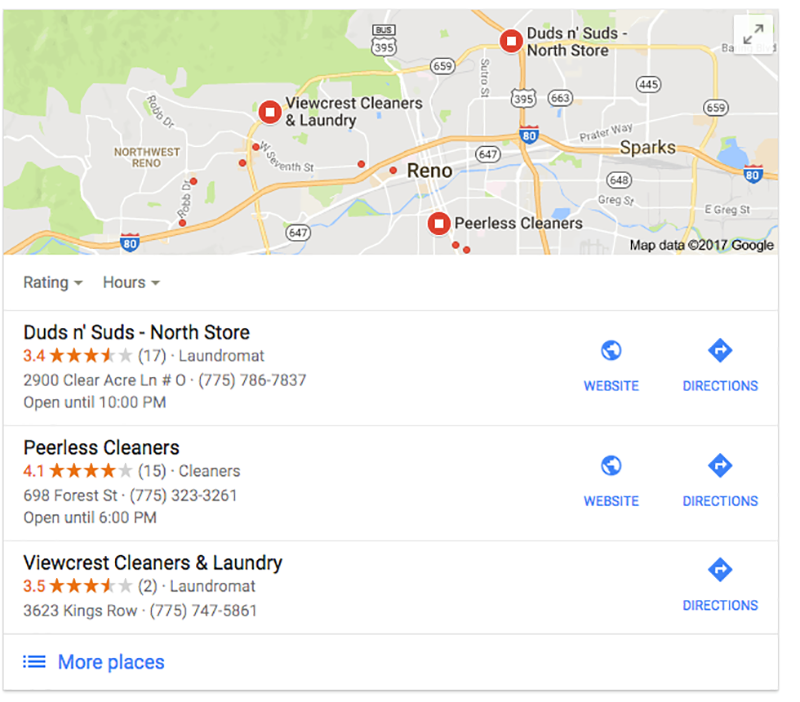 There's a lot of reason to cheer for this, although admittedly we're not too sure how we feel. It doesn't seem like Google is taking any serious measures to reduce review spam or penalize manipulative businesses yet.
Regardless, reviews matter. Users can sort results based on review stars, meaning the more reviews you have the better your CTR likely will be.
So how do you get more reviews?
Luckily, at this point, Google's current Review and Photo Policies don't prohibit the direct solicitation of reviews (unlike Yelp). So, start by soliciting past customers on your list!
If you have a small number of contacts here's what we suggest you do:
Create a list by screening the happiest clients. Then sort these by who has a Gmail account, so you can prioritize your work
Call your prior contacts directly, and ask them how the service they received was. Then let them know you have a favor to ask and that the company's overall job performance is partially based off of client feedback. Then indicate that you plan to send a follow-up email if it's OK.
Send that follow-up email. You can actually use this page to create a link for customers to write reviews.
Send a follow-up email to ensure that your recipients got that first email.
Bask in your review!
This process works great for low-volume businesses. If you have a lot of contacts, you may want to use an automated service or agency to get you through it.
A lot of reviews can be very powerful. Check out Fox Airsoft's results: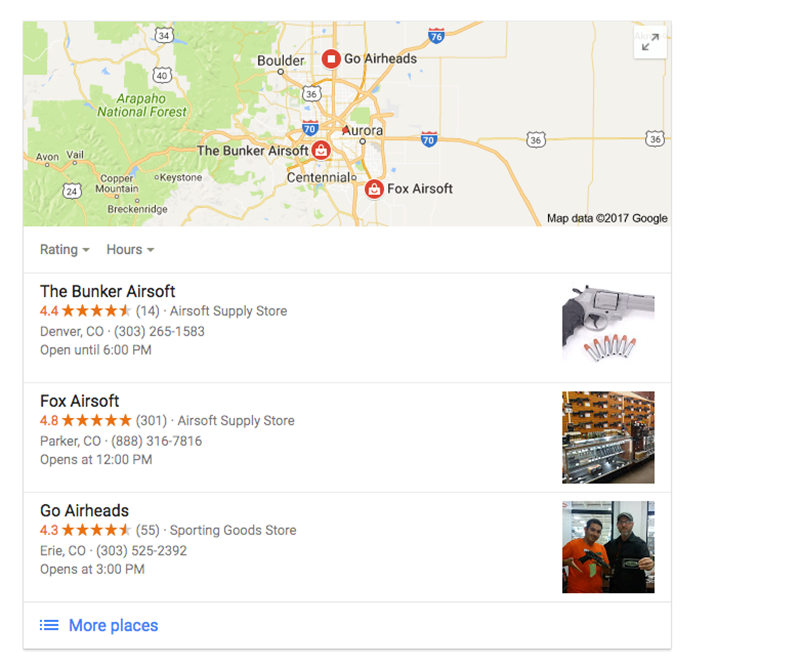 They are lightyears ahead of their two other competitors (and the number of reviews they have likely helped them rank in the 3-Pack). Many prospects will click on their entry first, just because 300+ reviews is pretty dang impressive.
Get high authority (and relevant) citations
You don't need thousands of citations to do well on Google. In fact, if you have thousands of citations, you probably have a lot of spam linked to your site. We don't need those. What we do need is highly relevant directories to either your city or niche.
One way to achieve this is to think about the awards your business is eligible for or was nominated for. You can strive to get linked citations from these sites, which will boost your ranking. But don't ignore your industry/local directories either. Sure, they might not have the oomph of Yelp, but their links to your site certainly have value.
Stay on point in 2017
2017 will be one heck of a year for local search. If you want to succeed, we suggest you diversify your strategies to get more traffic, leads, and conversions. It's nice to strive for the Local 3-Pack directly, but if you take an alternative, roundabout approach, you may find yourself reaping the rewards of a local strategy done right.