Of course you've heard about how businesses can benefit from being on social media, but have you ever considered what it takes to successfully implement a campaign? Previously, we discussed building a social media calendar each month for a franchise. Because social media algorithms are constantly changing to monetize social platforms, posting organically is no longer enough to get in front of potential customers (nor is it as effective).
Understand that it takes a lot of knowledge to grasp reporting once the campaign is complete, but developing a social media advertising strategy for a restaurant or any other type of business is quite simple.
What you need:
Top goal/objective (likes/followers, conversions, website traffic, etc.)
Creative (images, videos, ad copy etc)
Ideal audience/target market: location, age, gender, etc. (not sure? implement tests to feel out your network.)
Campaign Objective
What do you want the user to do once they have interacted with your online advertisement? Through social media advertising, you are able to include multiple objectives to satisfy a variety of the audience's needs. Advertising campaign objectives are broken down based on the social media platform, however each platform provides similar features to make tracking more consistent.
Of all of the objectives available, our Nashville internet marketing company knows that most companies choose to run campaigns that will lead to conversions after they have built a sound social media following. Conversions provide the best opportunity to track the success of a social media campaign that will ultimately help you grow your business.
A little education on the different types of conversion objectives:
Checkouts: The number of conversions that happened on your website as a result of your ad. These conversion pixels are placed on the "Thank you" page once a purchase has been made. 
Website conversions: The number of conversions that happened on your website as a result of your ad.
Registrations: The number of times a registration was completed on your website as a result of your ad.
Leads: The number of new leads you acquired on your website as a result of your ad.
Key Web Page Views: The number of times a key page was viewed on your website as a result of your ad.
Adds to Cart: The number of times something was added to a shopping cart on your website as a result of your ad.
Facebook and Twitter provide great information for setting up advertising campaigns through their respective platforms, but it is always best to let a professional manage your online advertising campaigns.
Along with conversions, you have the ability to track engagement with your website once the potential customer reaches the landing page. Google Analytics allows us to measure entire websites based on onsite and offsite traffic. We have the ability to track several inputs, but here are a few that we like to consider:
Referrals: identify where the social traffic is originating to produce the most leads
Landing pages: for advertising purposes, it is a unique web page that a visitor will land on after clicking the link provided in the ad
Conversions: prove which social networks have the highest impact on your bottom-line
Users flow: determines where users are coming from and where they are going once they land on your website or unique landing page
User flow is a vital resource when it comes to tracking user behavior. Once the user clicks the backlink on the ad, we are able to track their web browsing behavior on the website.
The technical side of social media advertising is fun for me, but most considerate it boring.
Creative
The next step to creating a social media ad is the creative.
Each social media platform requires different specifications for creatives, so you have to be sure that you design for each unique platform. Below you can see the differences in ad sizes, and how each ad will appear within the platform.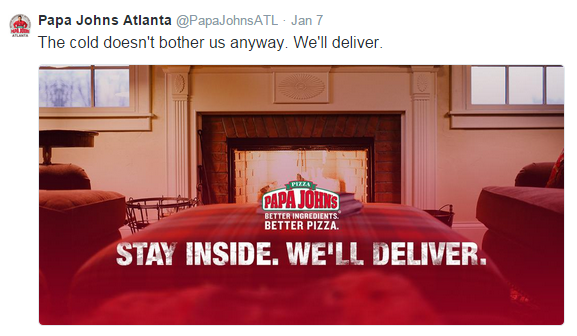 Facebook states that, "If your image is larger or smaller than the dimensions specified in the Ads Product Guide, it will be automatically resized to fit in the ad," but we suggest 628×1200 pixels to be safe.
Twitter suggests creating images that are 440×220 pixels, however there are abilities for Twitter image expansion if you are feeling creative.
Social media images must be compelling in order to attract customers. Given the high quality of photography and graphic designers saturating the market, gone are the days of taking pictures with your smartphone camera. Quality photos can make or break your social media ad campaign.
Targeting
The most important feature about social media advertising is that it helps us identify who your target market is, and how you should engage with them. Having a social media content calendar can only get you so far on a digital platform.
Through advertising, we have the ability to identify target markets and segment them into categories. This way we can isolate people, and develop a unique social media content strategy for lawyers or other professionals that truly pertains to your ideal customer.
There are several contributing factors that play into creating a social media advertising campaign, but with the right tools and the right people, your business will take flight.
If you need help creating a Social Advertising Strategy like Papa Johns, contact Cardinal Web Solutions today for a complimentary strategy audit.