Most people assume that building a content calendar requires writing a simple Facebook status update and incorporating the same simple message across other social media channels like Twitter, Google+, LinkedIn, etc.
Wrong.
Planning a well-developed content calendar requires a multitude of concepts, including: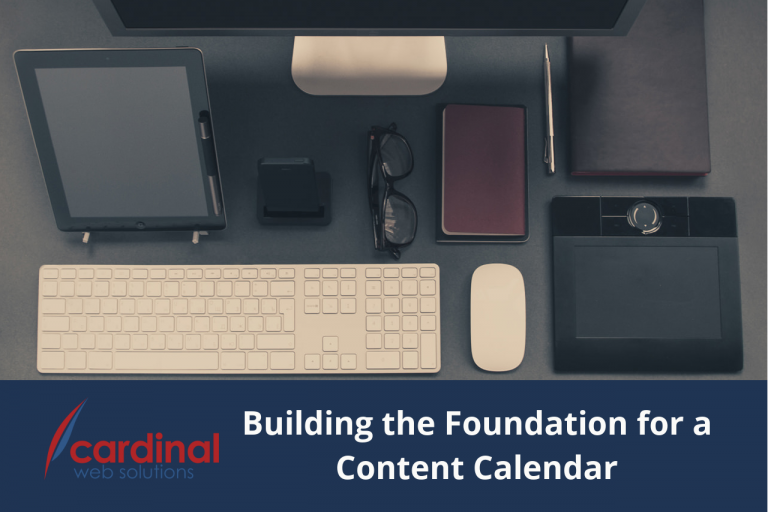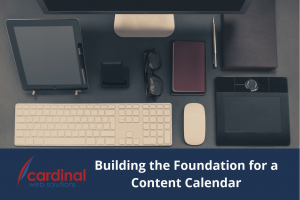 Developing a social media strategy
Establishing a brand voice
Research on local markets
Basic knowledge of design
Knowledge of marketing and advertising efforts
Link tracking
Blog schedule planning
Reporting
There are several moving parts that all have the ability to work seamlessly, if planned perfectly.
It takes a solid execution from multiple departments to coordinate all of the marketing efforts into one brilliant campaign.
If you are having trouble with this, the social media team at Cardinal Web Solutions would like to help you plan your brilliant campaign.
Develop a Social Media Strategy
The first step requires the most concentration.
Developing a social media strategy encompasses everything involved in creating a content calendar.
Consider a social media strategy the blueprint for a building (cliché, I know). A blueprint outlines the structure and lays down the foundation of what is expected. It is not the finished project, but it defines how the finished project will appear from a top level perspective. Use your strategy to develop an overall theme that will apply throughout your content calendar. Everything that your content calendar includes should reflect, in some way, on the strategy in place.
If you cannot connect the dots between the content that you are posting and the overall strategy, then our content is not appropriate for calendar.
Establish a Voice
The second step to building a sound foundation for a content calendar is determining your brand voice.
The idea is to establish a voice that resonates with your ideal followers after you decide on this voice, tailor your messages to reflect what your followers want to hear.
Depending on the age of your company, your brand voice may already be established due to pre-existing efforts in a non-digital platform, i.e. traditional advertising.
Research Local Markets
To help establish your brand voice, consider researching the local markets.
Researching the local market will help you understand:
How people use language in the local market
Their online interests/how they spend their time online?
Understand how people in your market communicate with one another, you will know how to tailor messages to them. Using appropriate lingo will help you define the right voice for your demographic.
Understand that you will put the most research into understanding your online audience.
Once you have established following that you are comfortable with, the next step is to understand them.
There are numerous tools that allow you to find the information that you need, but the best approach is to listen online. Use the tools that are given to you. Almost every social media platform has their own version of "analytics" that can help you identify which posts work best for your brand, which demographic that you should target and much more.
Once you have identified whom you are talking to and how they communicate, you can start creating messages for them.
Basic Knowledge of Design Terms
Updating a status on Facebook or tweeting a simple message is not enough anymore.
In order to get your message across, you need to incorporate images that stand out amongst the other posts in a user's feed.
If you are able to create your own images, that's ideal.
If not, you need to understand how to effectively communicate with your designer to make sure that they know exactly what you need.
Promotions and Advertising Efforts
Sometimes we work with clients that run their own promotions in-house.
We love this!
It gives us access to relevant content that we can push through the client's social channels. When planning a content calendar, make sure that you have a column inserted specifically for any promotions or special messaging from your client. This way, you have several posts to incorporate into your existing messaging for your content calendar.
Link Tracking                                                                                                            
Link tracking is the one of the most important aspects of social media that is often overlooked.
Everyone understands why it is important to have social media, but they do not have a firm grasp why social is pertinent. This is when link tracking comes into play. By placing the right code on your links, you have the ability to see where your online traffic is coming from, and how users are engaging with your website.
Blog Schedule
Does your brand have a blog?
Are you scheduling content on a weekly basis?
Yes, awesome!
Incorporate your blog schedule into your content calendar, but make sure that it ties in with the overall message that you are trying to convey to your audience.
Reporting
Having an understanding of social media reporting can help you identify what the best options are for your brand. Analyze your followers and which social media posts they are engaging with the most. You can find this information within each social media platforms analytics.
Why is all of this information important?
Building a content calendar requires more than just writing a simple message or posting a picture. It takes a complete understanding of every detail from marketing promotions to blog schedules to ensure that you are sticking to a consistent message online to support your overall strategy.
Interested in more tips on how to get the most out of your social media strategy? Download our eBook today.