 See how we increased lead volume & lowered
the cost per lead for a renowned Atlanta law school



75% decrease in cost per lead over 10 months

Overview
Higher education is competitive not only for students, but for the institutions themselves. Attracting the brightest and most motivated young minds requires a healthy digital presence. After evaluating various local digital marketing agencies, Atlanta John Marshall Law School (AJMLS) decided to partner with Cardinal Digital Marketing based on its proven track record of lead generation in the higher education space.
The objective of this partnership was to proactively increase student lead volume for the AJMLS Atlanta campus and measurably increase brand awareness in the surrounding areas. Through Google paid search (PPC) and social media advertising campaigns, the partnership yielded 30% reduction in ad spend for the same amount of leads (admissions applications) versus the cost per acquisition they were achieving in-house.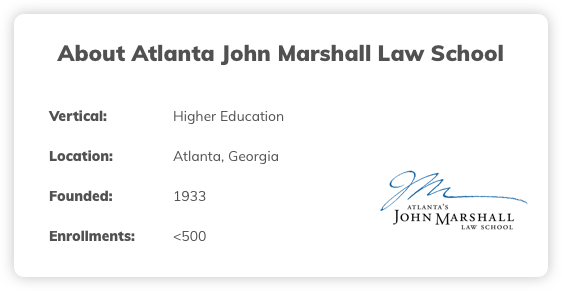 Strategy & Tactics
To build brand awareness and drive applications to AJMLS at a lower cost per acquisition, the Cardinal Marketing Team managed all paid advertising, including pay per click (PPC), remarketing display advertising, and social media advertising. This included all creative, including graphic design and copywriting, as well as a custom landing page to appeal to and convert prospective students. See examples of the creative advertising below as they appear in their various channels.
From a strategic perspective, the AJMLS and Cardinal teams realized that a flat-spend model, which the school had been running in the past, was not delivering sustainable cost per lead. Together, the teams were able to align monthly advertising with the school's typical applicant volume throughout the year, helping to drive the efficiency and cost-effectiveness of the marketing program overall.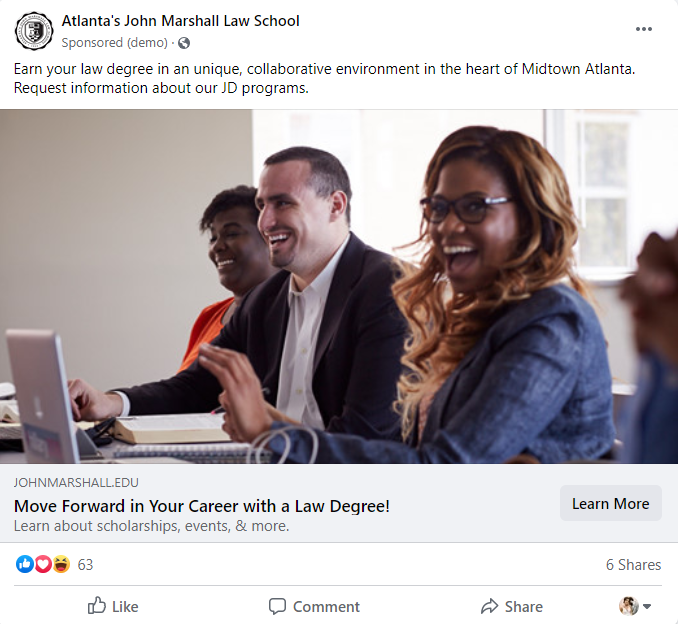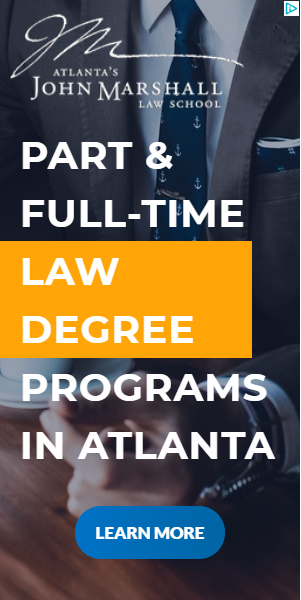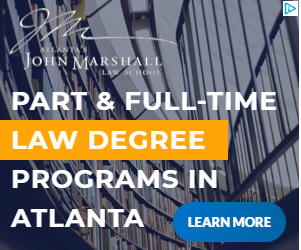 Results

75% decrease in CPL over 10 months

As the relationship between AJMLS and Cardinal progressed, so too did the measurable results. The combination of simultaneous, targeted paid advertising campaigns on search, social, and digital channels, as well as closer alignment to actual applicant volume, led to continual improvements in cost per acquisition.
Specifically, over the course of ten months, this blended advertising program created consistent efficiency improvements in advertising CPL for AJMLS.
From September 2018 to July 2019, CPL dropped from $186.83 to $48.88, a 75% decrease. This dramatic decrease was achieved while still delivering the same volume of leads month in and month out.
About Atlanta's John Marshall Law School
Founded in 1933, Atlanta's John Marshall Law School (AJMLS) is a private law school located in Atlanta, Georgia. AJMLS provides the opportunity for legal education to both traditional and non-traditional students who show promise of making positive contributions to the profession, legal system or society. The school is dedicated to preparing highly skilled, ethical, and professional lawyers who possess a strong social conscience. Visit the AJMLS website: https://www.johnmarshall.edu/.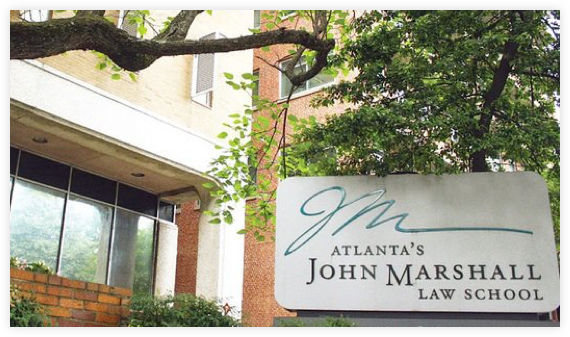 Ready to Rise Up on the Internet?
Fill out the form to get started!