High-growth vet brand dominates new markets with targeted media strategy.
Overview
Empowering a Growing Vet Brand Across an Expanding Network
CityVet had an ambitious goal to expand into 8 different markets, which required a strategic partner they could trust for guidance during this growth journey. 
The veterinary organization had been actively opening new clinics and making acquisitions in unfamiliar markets, including Colorado. Despite a strong presence in Texas, they were less well-known in key metropolitan areas such as Denver and needed help.
After establishing our partnership with CityVet in 2022, our strategy has been aimed at driving new clientele to their priority locations, particularly in new markets where their locations are not attracting enough clients.
Cardinal's hands-on approach involves continually optimizing and pivoting patient acquisition strategies. By closely collaborating with CityVet and leveraging the most robust analytics, we have been able not only to identify locations that need more spend and effort but also to provide flexible solutions to the network of clinics in support of their ongoing growth and expansion.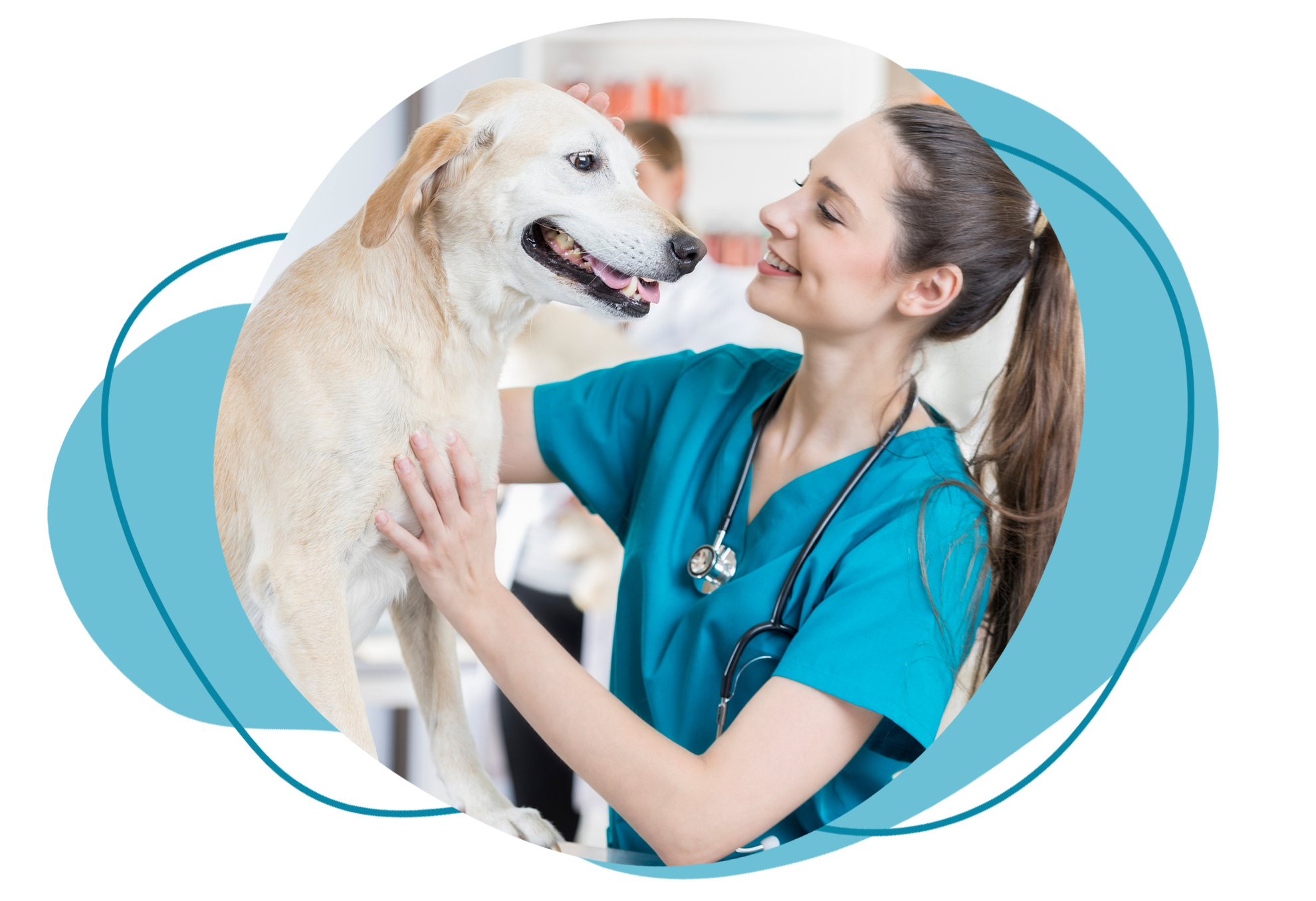 About The Company
CityVet
A private-equity-backed veterinary service provider, CityVet has grown from one practice to more than 30 clinics, since its start 20 years ago. This veterinarian-owned and veterinarian-led organization offers medical, surgical, and dental care for animals, as well as grooming, boarding, and specialty therapies. With locations in Dallas, TX, San Antonio, TX, and Denver, CO CityVet's network now includes both branded (30) and non-branded (3) locations.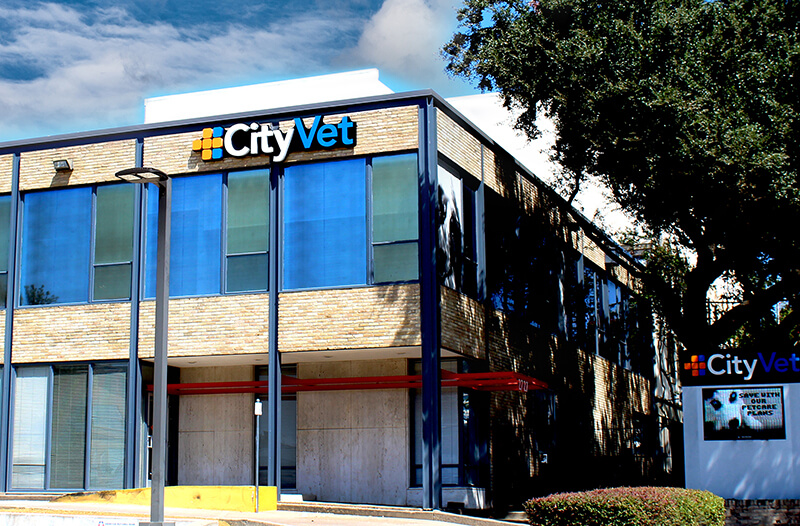 Challenges:
De novo locations in new markets were not attracting enough clients
Building brand awareness and having new locations stand out in highly competitive markets were proving difficult
Goals:
Increase lead volume in new markets and leverage higher-quality ads to maximize visibility

Lower cost-per-acquisition and maximize the efficiency of their marketing budget

Launch provider recruitment campaigns designed to increase visibility amongst pools of prospective vets.
Step 1
Driving Significant Savings & Engagement with PPC
In addressing CityVet's paid media strategy, we started by restructuring their existing Google Ads account to enhance cost-effectiveness and boost conversions.
We concentrated on running high-intent, bottom-of-the-funnel ads for all locations, with an emphasis on their new Colorado sites in Capitol Hill and Highlands Ranch. New talent recruitment campaigns were also a priority, as we wanted to heighten CityVet's visibility among potential veterinary candidates.
The comprehensive approach we took to CityVet's paid media strategy resulted in significant savings for the client. It also led to increased client engagement, contributing to CityVet's brand recognition and easing their expansion efforts into new markets. Our recruitment campaigns also reinforced their talent acquisition efforts, ensuring that CityVet could assemble a skilled workforce to match their growing presence across the West.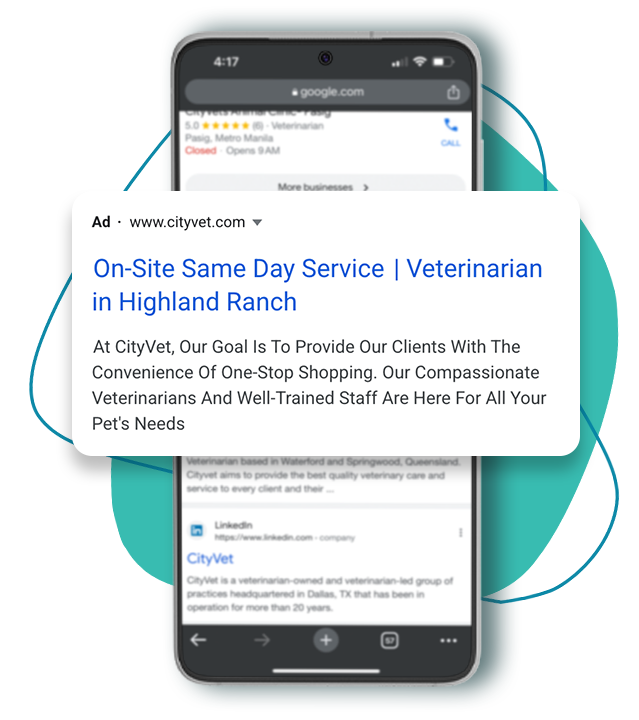 Our Hands-on Management Approach
Focusing on Quality & Specifics to Attract New Market Clientele
Account Structure
We focused on optimizing all of CityVet's pre-existing ad campaigns, separating ad groups by location.
It was important to zero in on nine priority locations so that our budget wasn't spread too thin across their 20+ locations. This location-based approach was determined by zip code and/or mile radius, not just by the city, to attract as many relevant new clients as possible.
Keyword Strategy
After conducting research and evaluating performance, we then developed our strategy focused on bottom-of-the-funnel, high-intent "near me" search terms.
Through our analyses, we found that targeting by location brought in more high-quality leads that converted than targeting specific services or treatments.
Ad Copy
CityVet's existing copy was too broad and casting too wide of a net. To be most effective, it would need to be more focused on leads that were most likely to convert.
Our strategy centered around responsive search ads (RSA), which provided us with key data on the best assets for a given campaign and ad group combination.
Step 2
Attracting the Best Talent with Targeted Campaigns
Next, we tackled talent recruitment, creating a separate Google Ads account for these initiatives.
Our recruitment campaigns for CityVet ran from Nov 2022 through March 2023 and involved a solution-based keyword search strategy, targeting terms such as "vet job near me" and "dvm career." This approach allowed us to reach candidates in these key markets. To enhance outbound recruitment efforts, we also created compelling and engaging display ads for DVM jobs at CityVet.
Our talent recruitment efforts resulted in 630,000 total impressions, 1,200 total leads, 18% CVR for search ads, and 43% CVR for display ads for CityVet, giving them the edge they needed to recruit the best candidates in a competitive space.
Step 3
Leveraging Analytics to Optimize Strategy
Analytics were another key part of the puzzle. In order to accurately gauge the impact of marketing initiatives, we established robust analytics that we could use to identify lead types and then quantify the leads each location generated. We could then leverage all that data to refine and perfect our algorithmic bid strategies. 
We also developed custom reporting dashboards featuring critical KPIs, which allowed us to engage in dynamic tracking of campaign performance for each location. This data-driven approach allowed us to adapt our budget allocations and media strategy to suit the needs of individual CityVet clinics. It also gave us the ability to pinpoint opportunities for optimization, leading to a spike in lead volume and a reduction in cost-per-click.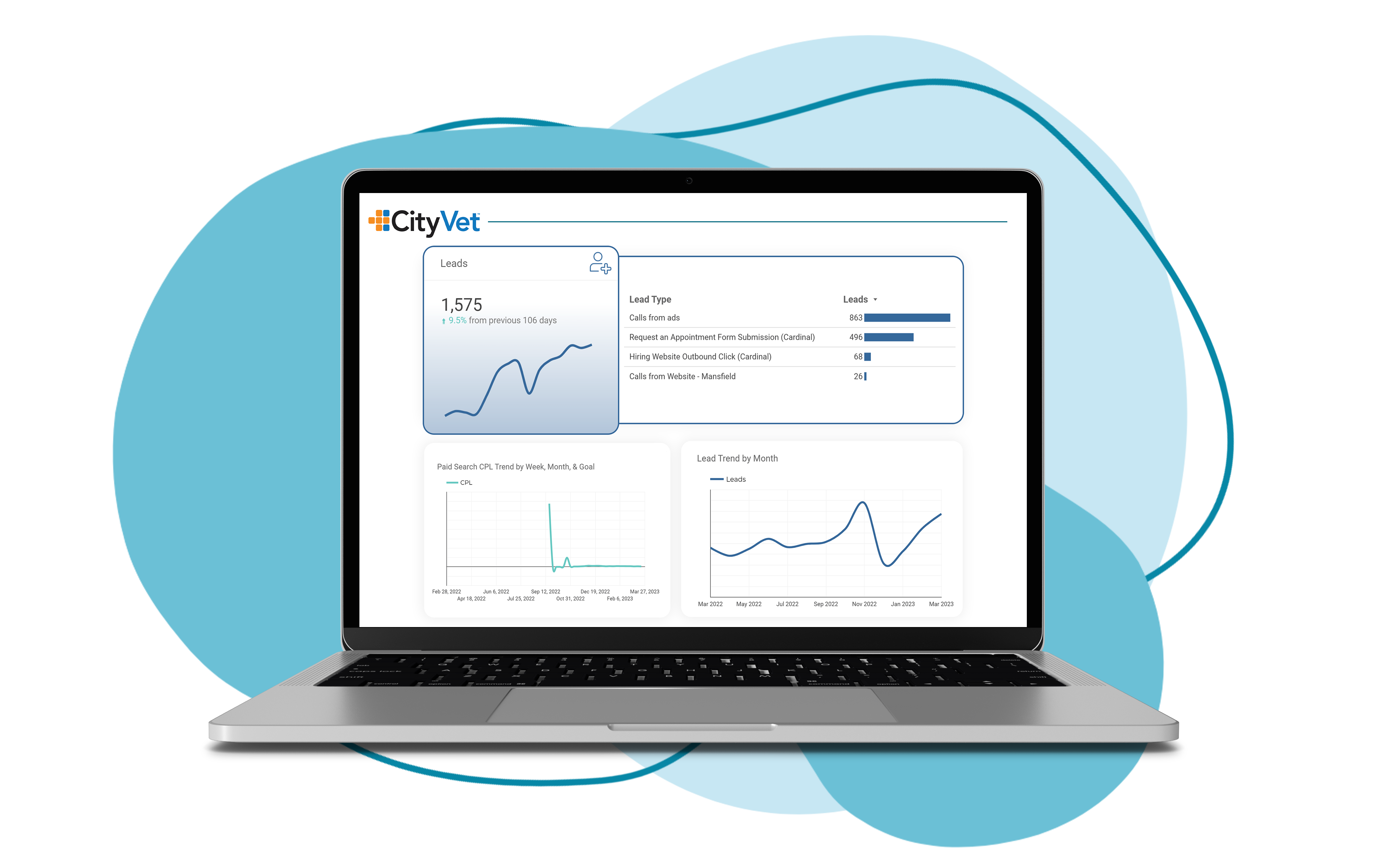 Our Results
Increased Clicks for Similar Spend & Edge Gained in a Competitive Market
Thanks to Cardinal, CityVet has made the most of its marketing budget while driving even more conversions. On the path to even greater success, they have opened two new locations since our partnership and have made a name for themselves in these new markets as they continue to grow in previously uncharted territory. 
From January 2023 to April 2023, CityVet saw an 82% surge in conversions coupled with a cost-effective 37% decrease in the cost-per-conversion (CPC).
From February 2023 to April 2023, they saw a 33% increase in CVR, as well as a 29% increase in total impressions.
We are continuing to work with CityVet to test new strategies, implement new technology, and optimize their marketing initiatives so they can continue exceeding business goals in the years to come.