How Smile Workshop's New Digital Marketing Strategy Helped it Secure Acquisition by a DSO
Company Overview
A Family-Owned Practice Ready for Acquisition
Smile Workshop (Ideal Dental) has built a strong reputation as the leading family dentist in North Texas. Their dentists, orthodontists, oral surgeons, endodontists, and pedodontists have helped many families with a variety of dental needs, from cleanings to cosmetic treatments.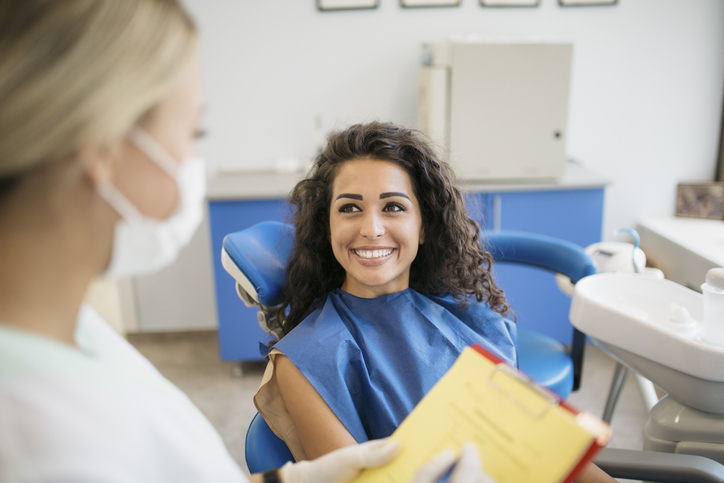 Challenges:
Balance patient flow with operational capacity
Find a way to scale up marketing efforts
Replace existing agency
Address high CPA and low CVR
Clean up digital performance
Goals:
Scale SEO and PPC efforts to cost-effectively drive more patients to the current locations
Increase patient acquisition
Find an agency with the prescription for success based on previous client engagements.
Keep CPA under $40
The Problem
Find a way to scale up marketing efforts
Smile Workshop (now Ideal Dental, which is part of Deca Dental) is a full-service dentistry family with locations in Dallas, Cedar Hill, Timber Creek, Balch Springs, Denton, Hurst, San Antonio, and Amarillo. The Smile Workshop team prides itself on top-tier care, convenience, and affordable services.
Around the time Smile Workshop first engaged Cardinal Digital Marketing, their in-house marketing team was facing stiff competition. Their prior agency couldn't get them under a reasonable cost per acquisition. Fast forward, and our combined strategy has yielded a steady upward trend in digital marketing performance and a solid patient pipeline. In fact, our strategy worked so well that Smile Workshop was acquired by a DSO!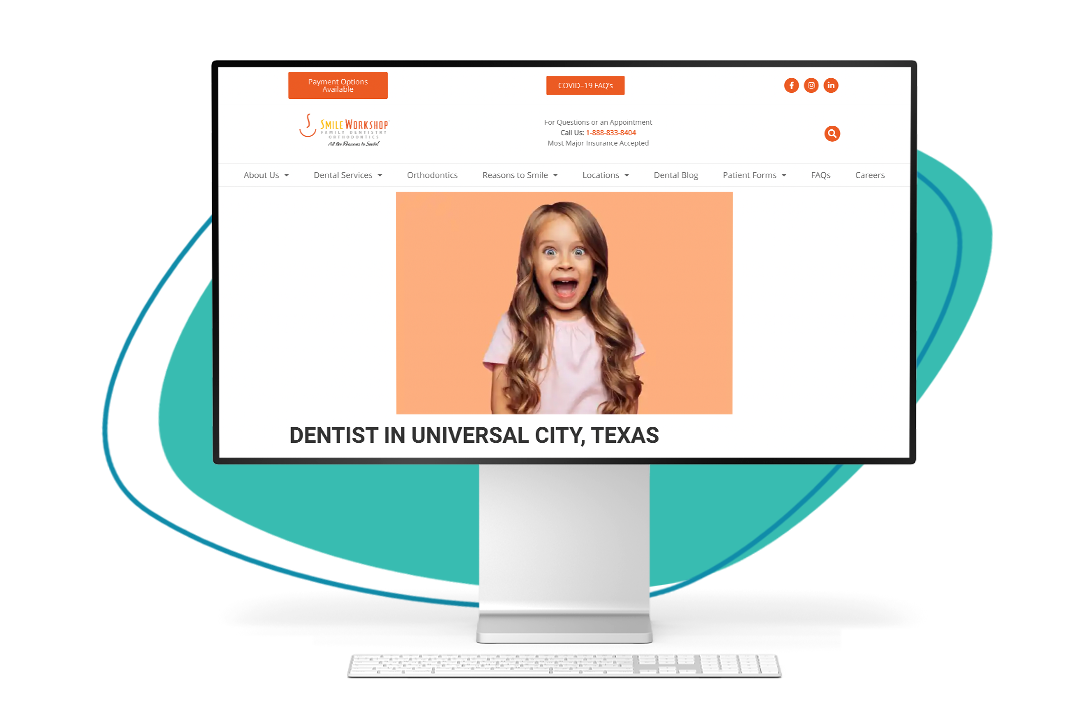 The Strategy
Part 1: Restructure and Optimize Paid Search Campaigns
Cardinal launched a complete restructure for Smile Workshop's paid search program, including one brand campaign and one non-brand campaign per location. The team also created specific campaigns for orthodontics/dental implants. We also enabled tracking for BirdEye chat to account for users who submitted their information on the website's chat feature.
Once we'd launched the improved build, we revisited the core strategy every three months to ensure continuing success. For example, we needed to exclude current patient IPs from new customer lists to ensure the paid search budget was going toward new patients.
Here are some of the problems we encountered and our playbook for addressing each.
Devised CPA goals based on historical performance and conversion value. Ideally, we'll move to target ROAS once conversions are assigned appropriate values.
Deploy RSA across the entire account to increase CTR.
Exclude converters for 100-150 days to reduce wasted spend on people coming to the site for other reasons.
Test removing all bid modifiers other than device modifiers to see how campaigns perform.
Adjust device modifiers to be weighted by performance.
For the overhaul, we used a location-based approach. The campaigns would highlight the specific services that each location offers. The only place we honed in on the targeted campaigns was for dental implants and orthodontics.
Overall, the budget has stayed relatively consistent over time, while conversions have steadily increased. This indicates the efficacy of our optimizations and audience strategy. Indeed, each account was structured to have these campaigns:
Part 2: Refresh Paid Social with New Structure and Creative
To stay relevant and competitive while enabling better testing, new paid social creative was a priority for Smile Workshop. As such, our team refreshed ad creative on a monthly basis, with a focus on incorporating humor (dad jokes!) into the ad concepts. We created GIFs, videos, and static images around seasonal themes (spring, fall, etc.).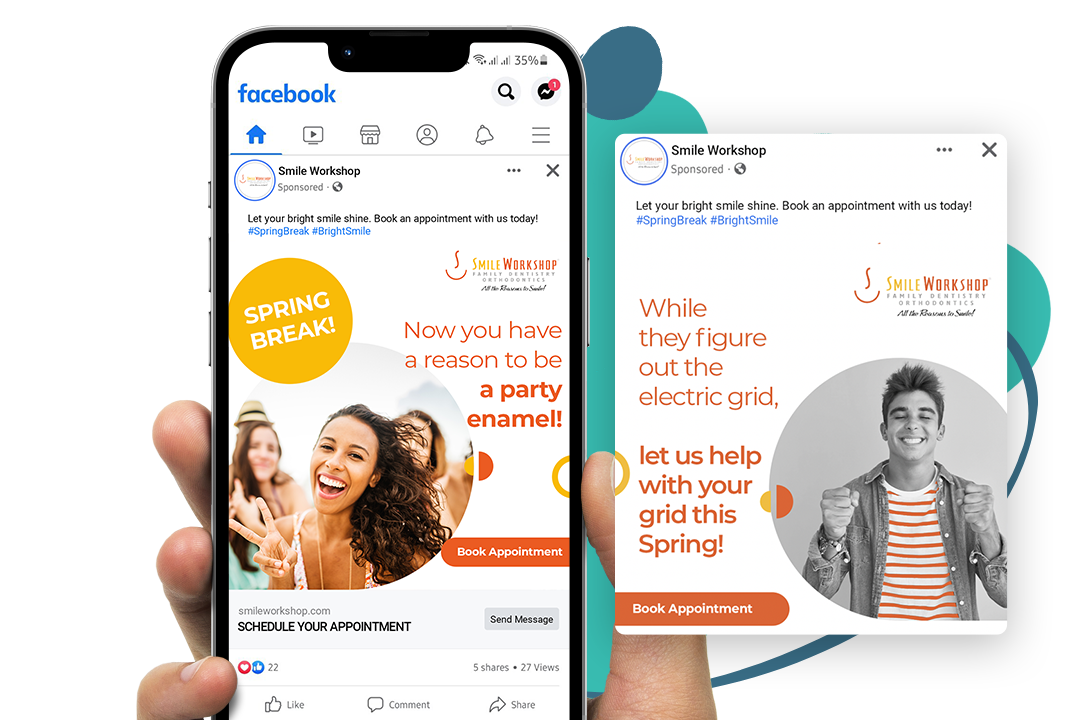 Build New Campaign Structure
In an ideal world, the structure of a Facebook account should include a 20% awareness layer (video views, reach, link clicks) and an 80% conversion layer. Conversion audiences tend to be remarketing and 1-3% lookalikes, depending on reach. Concurrently, spend against upper funnel interest audiences should be a minimal part of the total budget—it's often more cost-efficient to target these campaigns using the video view objective.
These were the core tenets behind our restructure of the Smile Workshop paid social campaign. We were confident that, for less than $0.10, we could have users spend more than two minutes with the Smile Workshop brand, helping to build rapport and awareness. Also, we knew that a well-managed paid social campaign could drive lower or equivalent CPAs compared to non-brand searches.
Tell Compelling Stories
We used two videos for every static ad to engage and develop the correct ratios for each placement. We made sure to vary the content, using patient testimonials (even if they are UGC as social proof). We also tested longer-form content to showcase the most critical value propositions. Finally, we told stories in which our audience was the focus of the story.
Part 3: Build an Organic Lead Pipeline
The SEO strategy for Smile Workshop had a simple goal: build a strong organic lead pipeline that captures qualified prospects who are actively seeking dental services. Specifically, we wanted to rank Smile Workshop higher for non-brand terms in their locations (for example, Amarillo Dentist, New Braunfels Orthodontics, etc.).
To achieve this end, we focused on location page optimization. Prior to Cardinal, Smile Workshop had multiple pages targeting each of their locations that were, unfortunately, cannibalizing each other (with respect to SEO). Our consolidation project instead redirected low-quality content toward a centralized location page. We then optimized the location pages to improve UX and utilize more relevant service keywords.
Of course, the SEO strategy didn't exist in a vacuum. We augmented SEO with highly optimized media campaigns—campaigns that both capture hand raisers and drive top of the funnel awareness. We also provided real-time, custom reporting that helps Smile Workshop track main KPIs and ensure that campaigns are successful.
Establish a Strong Technical Foundation
Technical SEO is the foundation to a website's long-term success. With an easily crawled site, Google will have an easier time discovering pages and ranking content. As such, we helped Smile Workshop conduct a technical SEO audit and implement technical SEO best practices.
Invigorate the Content Strategy
Our on-page optimization strategy involved improving keyword rankings and developing a content strategy to increase the number of ranking keywords. We made sure to align content with industry trends and the business calendar. Below, you can see some examples of the SEO content we built:
Shore Up Off-Page SEO
Once we started publishing high-value, SEO-rich content regularly, we focused on growing the number of high-quality links to the Smile Workshop site. By nurturing a healthy backlink profile, we generated quality backlinks regularly, helping improve the site's ability to outrank the competition.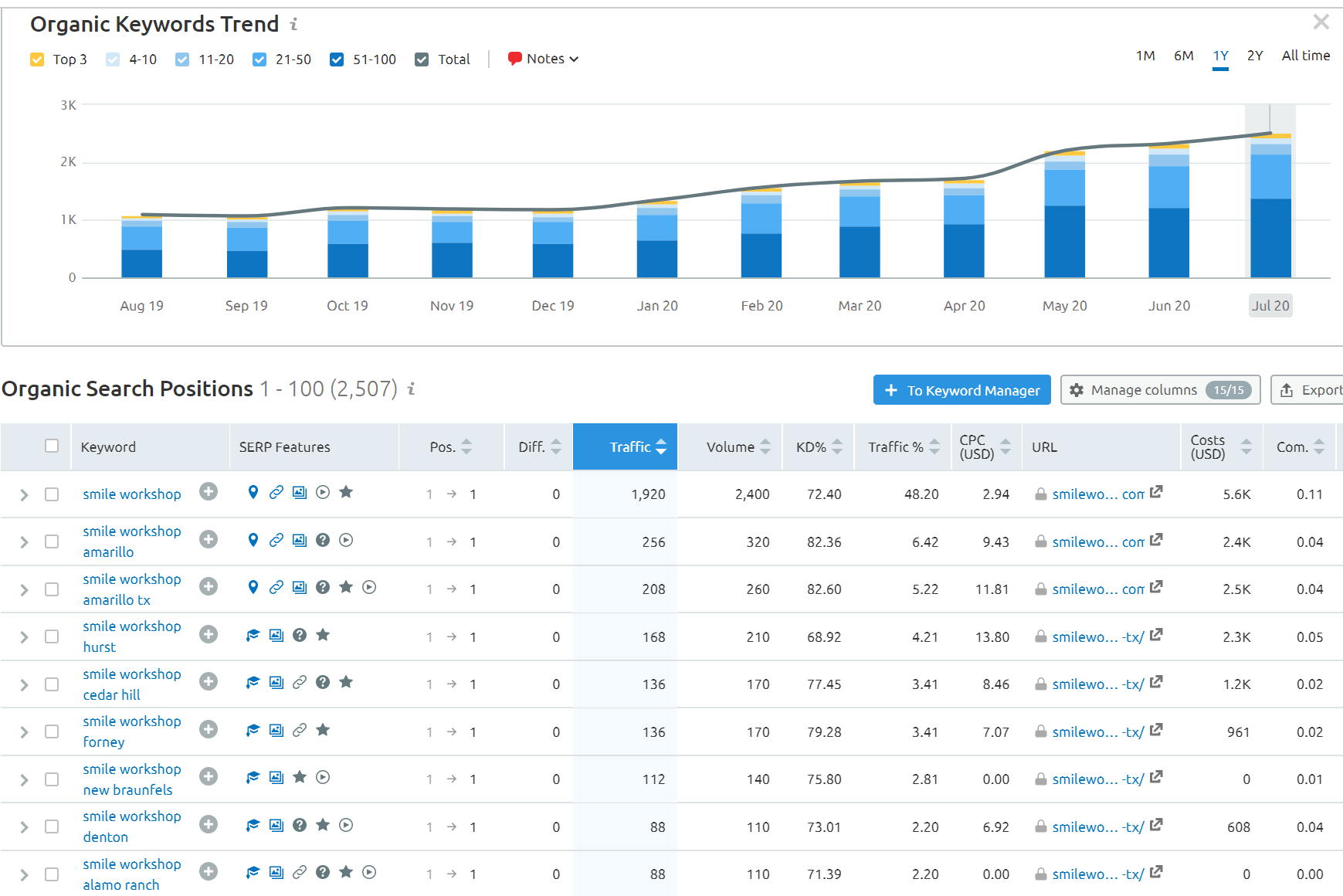 Increase in location page traffic
from <1000 sessions/month to a peak of 2800 users in Jan 2022
The Results
Rapid Growth and DSO Acquisition
Today, custom dashboards provide insights across all digital marketing initiatives for Smile Workshop. Since kicking off with Cardinal, the growth has been tremendous. On the PPC side of things, we've seen a 103% increase in CTR, 106% increase in clicks, and an 11% decrease in CPA. Overall, new PPC campaigns have created more than 10,000 conversions—a 155.8% increase. Conversion rate is up 24%, too. On the SEO side of things, we've seen a 24% increase in new users, alongside a 19% increase in sessions.
Smile Workshop has boosted new patient acquisition significantly while keeping its cost per acquisition beneath $40 throughout the campaigns. As a result of this tremendous growth, Smile Workshop attracted the interest of Ideal Dental, a nationwide DSO.